Remember Simran from DDLJ faking getting dizzy after fasting for Karwa Chauth? While it definitely was a cute moment on screen, in real life women go through worse. Fasting for a partner or for the lambi umar of the husband is ingrained in Indian culture. Several women still continue these traditions, sometimes going without drinking water for hours. And while the sentiment behind it might be great, logic says that it can be harmful to your health. Also, if it is such an important practice, why is it that only women do it and not men?
With this question, TC46 is highlighting this tradition that demands more from women than it does from men. The choice to fast should be the woman's and new trends like husbands fasting for their wives should be encouraged. Or as some say, ditch fasting, let's get eating!
Bharatiya Naaris Musings About Fasting For Your Spouse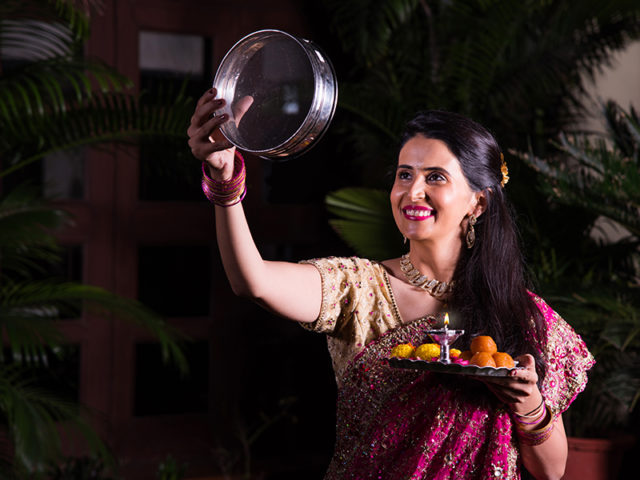 TC46 put out a post on Instagram here saying, "Solah Somwar, Teej, Shivratri, Karwa Chauth – Hindu women fast for a good partner and for their husband's health and long life frequently. Do you ever wish religious traditions had a day where husbands would have to fast for their wives?". And received a ton of responses where women shared their thoughts about fasting for their spouse. Here are 15 women sharing their thoughts on this outdated thinking style.
"My husband did fast for me equally and pampered me throughout the day!" – Hinal*
"It was our first Karwa Chauth and we were fasting together. It was out of pure love, no obligations at all." – Kitty*
"A lot of men fast for their wives nowadays. And I feel that's okay if you actually want to do it. And it's okay to not do it if you don't want to fast. Your feelings and your faith are more important." – Anushka*
"Yes 100%! Today, women go out of the house for work. They too risk their lives. So the men should fast for the well-being and long life of their wives." – Niharika*
"I have always wondered – why does anyone fast for someone? Let there be food!" – Beena*
"Agar fast karne se achha partner milta toh har husband apne wife ki help karta with household chores, uske career ko support karta. Har kaam mein responsibility dono ki equal hoti!" – Jaya*
"If husbands can just respect their wives, in public and private, that would be fine for now!" – Soni*
"Everyday a woman takes care of the house, the family, chores and more. Many manage all of this along with a career. Isn't that enough? Why add the burden of fasting?" – Kimaya*
"Agar fast karne se husbands ki health achhi rehti ya unki umar lambi ho jaati, toh saare pati 100 saal se upar jeete. Isme kya logic hai? Wife ko bhookhi rakhne se sirf use takleef hoti hai. Bina paani kiye pure din ghar ke kaam bhi karne padte hai. I don't believe in vrat at all." – Sakshi*
"Nahi raha jaata yaar din bhar without food, paani ka toh pucho hi mat. Mere toh cramps aa jaate hai paani na piyu toh. And we can take care of each other's health in several different ways. Motivate each other to work out, get tested regularly, eat healthy and so many more. Leave these age-old traditions in the past and move on." – Chitra*
"I celebrated Karwa Chauth in my own way. My husband and I woke up ate, he cooked breakfast. We did some household chores and then cooked lunch together. We spent the afternoon watching a movie and ordered take out at night. That's love!" – Veda*
"It's okay to not want to fast. Not everyone can go hours without eating or drinking water. It's physically impossible. And if the roles were reversed, I wouldn't want my husband to fast for me either." – Aashna*
"No re. Let's just chuck this whole fasting thing for all. There's so much more to life!" – Tia*
"How about we skip this whole 'fasting for someone else' trope'? How about a new trend like 'surprise your spouse with their favourite food'? Or 'promise to take a full body checkup together'?" – Srushti
Intermittent fasting for health as advised by your doctor is a completely different thing than your traditional fast. But fasting without precaution or guidance can be harmful to your health. Let love be a healthy, wholesome interaction rather than a forced participation!
Disclaimer: Please note that the responses have been translated and edited for clarity. Names have been changed to respect privacy.
Do you have a story to share or an experience you would like to highlight on TC46? Connect with us on Instagram today!