Unlike new year celebrations in various parts of India where the New Year is celebrated in March, Parsi New Year – known as Navroz, isn't celebrated in the same month or for the same reason. For all parts of India, their New Year is celebrated to celebrate the harvest season. But for Navroz, the reason behind celebrating the day is completely different – about which we will discuss in the article here. This year, the Parsi New Year or Navroz festival will be celebrated on 16th August.
The History & Significance Of Parsi New Year
The Parsis follow the Shahanshahi calendar, which does not count for a leap year. Parsis are natives of Persia, their religion being Zoroastrianism. The religion was founded by Zarathrustra in Persia. Parsi New Year is also referred to as Jamshed-i-Nouroz, named after king Jamshed of Persia. He is greatly revered among the Parsi community for having founded the Parsi calendar, about 3000 years back. To explain the term "nav", it means new while "roz" implies day. Navroz festival seeks to renew the spirit of kindness and patience, forgive and thanks, cleanse oneself of past misdeeds, feast and celebrate new beginnings. It also aims to repent the sins and mistakes committed.
Customs And Traditions Followed On Navroz
Homes and workplaces are thoroughly cleansed to give life a fresh, new start.
Old, unwanted possessions are discarded.
Homes are dressed up in bright colours, flowers, and rangolis.
Scented rose water is sprinkled on family members and guests.
On the day of Pateti, Parsis dress up in their traditional attire – kusti vest and dangli for men and gara sarees for women.
They visit the fire temple known as Agiyari and worship Ahura Mazda in the form of fire. Milk, jasmine flowers, and sandalwood are offered to the Holy Fire. They request the Holy Fire to purify their mind, body, and soul of misdeeds and evil thoughts, so they can start life afresh with positivity. They also ask for the good health and prosperity of their loved ones, and offer donations to the needy.
Parsi families visit friends and relatives, and exchange gifts and good wishes. Non-Parsi friends also join in the celebrations.
Families and friends feast with delicious Parsi delicacies like Berry Pulao, Mutton Dhaansaak, Patri Ni Macchi, Salli Boti, Chicken Na Farcha, Custard, Jalebi, and more.
6 Unique Ideas For Parsi New Year Gifts
Here are some ideas for gifts for Parsi New Year that you can consider gifting your host on Navroz celebration.
1. Wall Hanging Of A Parsi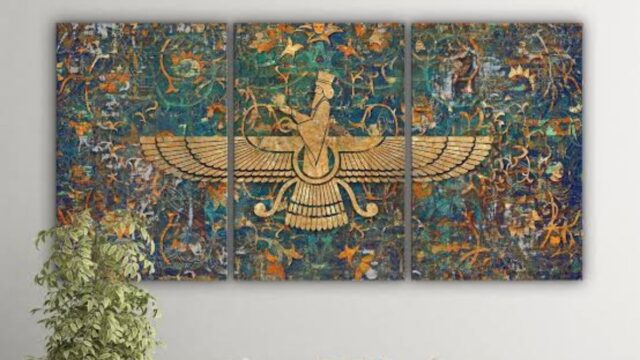 An impressive portrait of a Parsi gentleman or lady, dressed in traditional wear, will hold great meaning to your host on Parsi New Year. It will act as a decor piece of great value, enabling your host to display an element of their indigenous heritage and culture. If you can paint, there's nothing better than giving your unique touch to the gift through strokes of your brush. Or else, you can simply look for a painting that you know your host will love to get as a gift.
2. Diary With Block Print Cover
A utilitarian gift like a diary will never be left unappreciated by your host. Look for one with intricate golden or silver designs on a dark background and wait to see your host mighty impressed with your choice of gift. You can buy a diary or, if you can eke out some time, you can paint a few flora and fauna on the diary's cover for your host to have a bit of you at their home.
3. Zoroastrian Pendant
Hmm… a nice idea for a host who is fascinated by jewellery and loves to dress up a little bit. Scourge on the internet to see whether you can get your hands on something like this or visit your favourite accessory shop where you think you might find something like this. It doesn't have to be of real gold or silver, it can be a costume jewellery trinket that will enable your host to flaunt his/her culture on regular days and special occasions.
4. Assorted Dry fruits Platter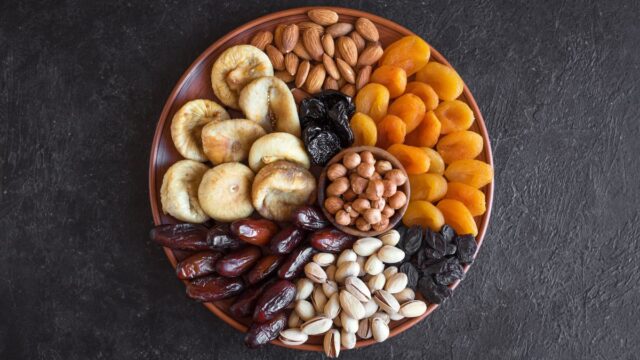 A gift that will never go out of style and will always remain a favourite among all. Whether you want to have them as a snack or want to add them into your culinary specialties. Invest in a box of dry fruits comprising almonds, pistachios, cashews, and raisins and see that happy smile on your host's face.
5. Books On Zoroastrian Culture
For a host who loves to know more about his/her own culture or would like to be initiated to it, this is one of the best gifts that you can consider. A gift that will not go to waste. Get your hands on a couple of bestsellers and, ta-da, you're sorted with your gift idea for Parsi New Year.
6. A Tea/Coffee Mug
A very cliche gift idea but one that will always find use in the kitchen. Get your hands on a tea/coffee mug with Parsi prints, so your gift idea is not a predictable one. The mug can have a Zoroastrian quote or Zoroastrian cultural symbols.
Parsi New Year or Navroz is a sacred day of the year for the Parsis. It seeks to ask for forgiveness for the misdeeds done in the past year and looks forward to starting life on a fresh note. Navroz celebration day is also an opportunity to make memories with friends and family members over fine wine and dine, after celebrating the day according to Zoroastrian culture.
Open up like never before and participate in conversations about beauty, mental health, menstrual & sexual health, and more. Desi women, join our community NOW!