Hailed as the festival of lights, colours play a huge role in making up the spirit of this tyohar. People bring out colourful outfits, paint their houses anew and, most importantly, rang jhalakta hai from the fascinating rangoli designs that adorn the floors.
Rangolis are an integral part of our culture and are known by various names like alpana, aripoma, and kolam around the country. It's an ancient art that has been passed from one generation to the other for ages. It comes in so many vibrant, colourful, and intricate designs and patterns. Although a rangoli usually has a geometrical structure and follows symmetry. There's a solid reason behind that, don't know what? Read on to find out.
Cultural Significance Of Rangoli Designs
Drawing rangoli is considered auspicious according to Hindu dharma during special occasions and religious ceremonies. They are thought to have spiritual significance and benefits. The vibration of a rangoli is said to change as its colour, design, and form. There have been numerous resources that suggest that rangoli designs attract and transmit the energies of principles that deities are associated with. The devotees are said to have felt a range of emotions, including spiritual energy, divine energy, divine consciousness, and serenity, which get expressed through rangoli.
Women used to chant hymns and sacred bhajans while creating rangoli and patterns in ancient times. Rangoli for Diwali or other auspicious occasions, in particular, must have a spiritual angle to create energy centres that can have a positive impact on people. Rangoli patterns create energy pools that motivate and channel positive energy in people. Rangolis were also environmentally-friendly because they were made from natural materials such as sindoor and haldi.
Rangoli design is critical for channelling the energy level. Choose a round design if you want to tone down the energy. Go for designs with sharper sides if you want to achieve high energy levels. Rangolis are considered a science of creating energy by spiritual gurus, so the design, symbols, lines, and colours all play an important role.
Yeh toh ho gaya theory, now let's get to the ground! From tulsi vivah rangoli designs to those that depict Lord Ganesha, from circular beauties to sharp edged border rangolis, there's so many options to go creative with!
10 Rangeen Rangoli For Diwali
1. Colourful Peacock Design Accentuated With Florals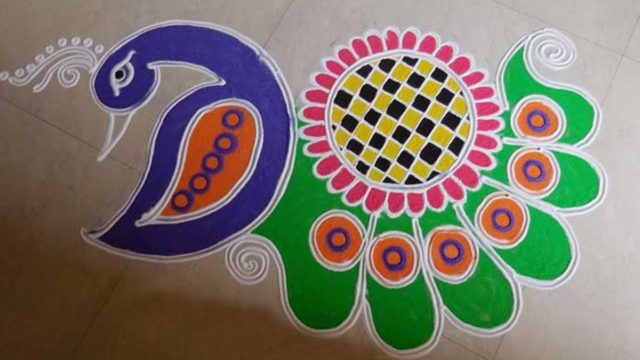 Begin by sketching the outline of a peacock and then add flower petals and other traditional patterns around it. Fill up the peacock with eye-catching colour combinations. After colouring, use chalk powder to fill in the leaves and flowers. You can create chequered patterns within the florals and fill it up with contrasting hues to introduce a touch of contemporariness. Go for an easy rangoli design for Diwali or draw an elaborate one with complex strokes.
2. Flower Rangoli Design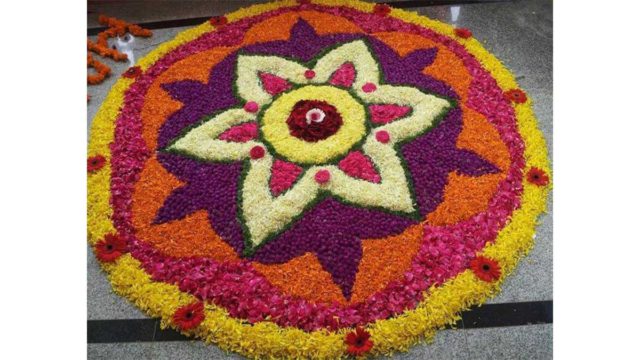 This flower rangoli design is evergreen because it uses distinctly different coloured flower petals – a little bit hatke from the ones crafted from rangoli colours. Begin by drawing the outlines of the circles and flower petals. Then, fill up the vacant spaces with flower petals of contrasting colours. The colours of this type of rangoli can be customised based on the availability of flower petals, as well as the design and occasion. When you have a special occasion at home, use the design above with enchanting colour combinations to express your creativity.
3. Sanskar Bharti Rangoli Design Or Round Rangoli Design
Traditional Diwali rangoli design of a symmetrical circular shape is one of the most common ones that you get to see on festive occasions. Such simple designs are commonly referred to as 'sanskar bharti rangoli', in which a specific design is chosen and drawn in a circular pattern. Because such designs take up more space, you will mostly see them on the entrances of buildings or even a home, provided there is enough space to navigate around it. It is difficult to draw this entire design with perfect symmetry and it takes years of experience and practice to get it right. Not sure whether you have that confidence and precision? Draw a semi-circular shape of rangoli instead.
4. Simple Yet Intricate Rangoli Design
It appears simple at first glance, but drawing this sleek design takes hours of hard work, patience, time, and a practised hand. With sharp curves and circles, such designs are quite a piece of art. It makes use of less colour contrasts but requires more effort. It appears elegant due to its sleek design and minimalistic colour scheme. Colours and diyas can be placed to enhance the appearance of such designs. Planning a simple rangoli for Diwali that is stunning at the same time? Look no further. To achieve accuracy with intricate designs like this one, use a stencil and make this rangoli with dots. You can add this as an addition to your tulsi vivah rangoli.
5. Swastika Rangoli Design
A swastika has immense relevance in Hinduism. It is believed to call upon positive energies and, hence, is integral to starting a new life experience on a good, auspicious note. Paint the swastika in your rangoli design with the colours of your imagination – vibrant colours such as red and green, orange and yellow, blue and yellow, red and navy blue. Sketch geometric patterns keeping the auspicious sign at the centre and colour them too with dynamic hues.
6. Paisley Rangoli Design
One of the most popular desi motifs is paisley. And during traditional festivities, you will see them at every turn. Sketch one large paisley and fill it up with other traditional motifs, or draw small paisleys one beside the other to create a circular shape. Place diyas at strategic places in and around the rangoli to make it a wonderful work of art for any occasion!
7. Border Rangoli Designs
This rangoli design is always unquestionably impressive. Similar to a circular rangoli, it holds its distinctiveness with the desi patterns along its outer circumference. You can either draw these motifs one after the other or draw them at regular intervals. Fill in the colours to reflect the festive mood and voila it'll be done.
8. Textual Rangoli Design
Rangolis needn't always be traditional and contemporary designs or a blend of these elements. You can experiment with textual ones as well. You can add texts like "Shubh Deepawali", "Shubh Dhanteras", and the like and then sketch a traditional pattern – anything that suits your mood or is aligned to the design you've decided on beforehand. For instance, you can draw a bright diya or a Lord Ganesha, elements that suggest the festival of lights.
9. Corner Rangoli Design
If you don't have enough space at home for an elaborate rangoli or want to draw multiple rangolis other than the one that attracts the centre of attention, here's your cue. In the corner, you can see various rangoli designs with various colours and patterns. Draw a triangular shaped rangoli that graces the corner of the room with traditional and modern patterns that you fancy and finally fill it up with vibrant shades of colours.
10. Abstract Rangoli Design
This is modern art right on your floor. Not everyone has to interpret what the design actually denotes or each of us might interpret it differently. You can also take inspiration from traditional designs and give them your own touch to give a unique flavour. Don't forget to fill it up with a wide range of colours because that's what Diwali is about, right? So #BeALittleMore traditional but with a modern touch with this rangoli design.
People love a well-decorated house, just as they do well-dressed people, especially at festivals. Rangoli not only helps your home attract positive vibes, but also makes your guests feel even more special when they visit. The colour and design express your creativity while also bringing peace and harmony. What rangoli designs caught your eye?
Open up like never before and participate in conversations about beauty, entrepreneurship, mental health, menstrual & sexual health, and more. Desi women, join our community NOW!