Engrossed in the day-to-day of life, swamped by work or always on the go, as you hustle for the big ones – living an active life can get hectic. As you rush in and out knocking tasks off your to-do list, it can leave you with little or no time to care for yourself and your diet. Eventually, you turn to order food from the always-flying and super brisk delivery partners that offer junk and fried frozen food leading to an unhealthy lifestyle and unwanted weight gain.
In collaboration with The Channel 46, Gurmeet Arora, Founder of Flax & Flax.fit, talks about how a keto diet is the way ahead for a healthy lifestyle and shares 5 delish keto recipes that you can whip up in a few minutes.
5 Keto Main Course Recipes You Can Enjoy For Lunch Or Dinner
Healthy eating can become monotonous if it's not tasty. Keto recipes are a good alternative because they focus on your macros. The idea is to eat a high-protein meal packed with good fats and complex carbs. This means you don't need to eliminate food groups and can still enjoy all your favourites like cheese, meat, pasta, and other ingredients that are otherwise written off as unhealthy. Here are five keto recipes that will make sticking to a diet, sooo much easier!
5 Keto Recipes To Get Started
1. Keto Penang Chicken Curry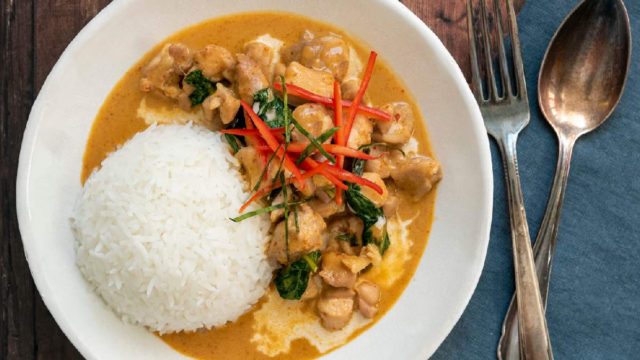 A blend of red thai curry paste and peanuts in a delish coconut curry served with a stir fried finely chopped cauliflower, which is a great substitute of rice.
Ingredients
Red Thai curry paste
Coconut milk
Kaffir Lime Leaves
Chicken
Jaggery/ Erythritol
For Veg Stock
Lemon grass
Thai Eggplant
Peanut butter
Oil
For Fried Rice
Cauli rice
Carrot
Lime juice
Basmati rice
Spring onion
Light soy sauce
Garlic
Peanuts
Method
Heat the pan, add oil, add red Thai curry paste, add kaffir lime leaves, lemon grass, Thai eggplant, and sauté well.
Next, add veg stock, cook well and then add peanut butter and coconut milk and Erythritol.
Add salt and keep it side.
Heat the pan, add oil, add garlic and sauté well.
Add chicken, salt, and black pepper and cook well.
Add red Thai curry gravy, assemble in a bowl and garnish with spring onion.
Heat the pan, add oil, add carrot and garlic and sauté well.
Add basmati rice, spring onion, salt, black pepper and garnish with peanut.
Serve with Keto Penang Chicken Curry.
2. Teriyaki Salmon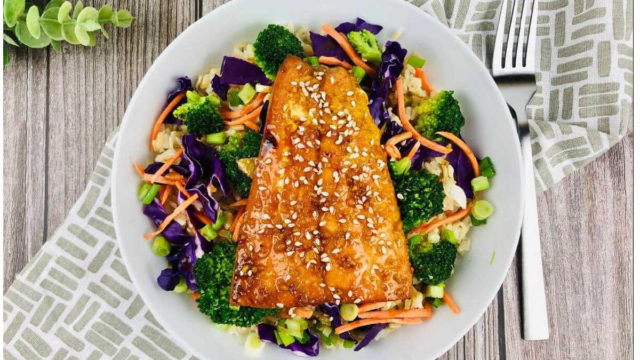 A grilled salmon fillet, topped with flax teriyaki sauce, which is made with dates instead of sugar, and ladled with a side of broccoli and black rice
Ingredients
Salmon Fillet
Flax Teriyaki
Garlic
Oil
Lime juice
Broccoli
Spinach
Sesame seeds
Method
Take a bowl, add clean salmon fillet, add flax teriyaki, oil, garlic, fresh lime juice, salt and then marinate it for 40 minutes.
Heat a pan, add oil and sear the marinated fish fillet.
Then, place it in an oven for 6 minutes.
Heat the pan and add oil, garlic, spinach, and sauté well.
Next, add pepper.
Assemble and cook fish fillet on a plate with blanch broccoli, garnish with sesame seeds. and serve with sauté spinach.
3. Keto Veggie Pesto Paneer
Ingredients
For the mixture
Malai Paneer
Broccoli
Zucchini
Red Pepper
Mushroom
Olives
Oatmeal bread
For the sauce
Almond milk
Garlic
Black pepper
Salt
Oil
Pesto dressing
Method
Cut the vegetables like broccoli, zucchini, red pepper and mushroom, and heat the pan.
Add garlic and sauté all vegetables well.
Add olives, add pesto dressing and almond sauce
Next, add salt and black pepper.
Assemble in a bowl and serve with Toast Oatmeal Bread.
4. Keto Shepherd's Pie With Cauli Crust
Flavoured chicken mince cooked in a ragout, topped with creamy pumpkin and sweet potato mash.
Ingredients
Chicken mince
Onion
Carrot
Celery
Leek
Garlic
Mix herbs
Tomato pelati
Demi Glace (knor)
Oil
For the crust
Sweet potato boiled
Cauliflower puree
Almond milk
Method
Heat the pan and add oil.
Add finely chopped garlic, onion, celery, carrot, leeks and sauté well.
Add mixed herbs and tomato concasse, salt, and black pepper.
For the crust, take grated sweet potato and add pumpkin puree, almond milk, and mix it well.
Assemble the chicken mix in the base in a bowl with the crust on top and place in the oven for 8 minutes to bake.
5. Keto Paneer Mangodi
Ingredients
Spinach
Kale
Gram flour
Ginger garlic paste
Malai paneer
Psyllium Husk
Amaranth Flour
Oil
Garam masala powder
Kasuri methi
Method
Blanch kale and spinach and make a puree. Keep it aside.
Heat the pan, add oil, and sauté.
Next, add ginger garlic paste, and blanch the kale and spinach puree.
Cook well and then add salt, garam masala powder and kasturi methi.
Take Mangodi and sauté well. Add palak kale gravy.
Assemble in a bowl and serve with Amaranth roti and Indian salad.
Open up like never before and participate in conversations about beauty, entrepreneurship, mental health, menstrual & sexual health, and more. Desi women, join our community NOW!