The winters are upon us again. This season brings along with itself the nostalgia of being cuddled in a comforter, sipping on hot chai/coffee (sometimes even accompanied with healthy winter snacks. While the cold gloomy days do demand high calorie winter foods and indulgences, this is also a time to strengthen our bodies and nourish them with winter superfoods that can save us from common winter-borne illnesses like stomach infections, pneumonia, bronchitis and influenza. The harsh weather conditions not only affect our entire system, but also make our skin dry and our hair dull. Eating healthy winter foods along with warm drinks for winter goes a long way in ensuring a happy and healthy body and soul.
10 Indian Superfoods You Should Consume This Winter
Our dadis and nanis were a treasure trove of important information on warm foods for winter. It is only now that the world is taking note of superfoods like
1. Ghee
Ghee deserves a special mention amongst the other winter foods as it consists of good healthy fats which help the body in conserving energy during the harsh winter season. It is common for laddoos and winter snacks to be made in the winters with all these good fats like ghee,
2. Nuts
Nuts like jaggery and sesame seeds give the body its daily dose of indulgence, immunity and nutrition. The good fat in nuts like almonds, walnuts, and hazelnuts are a boon for your overall health.
Read: 7 Desi Winter Drinks That Will Warm Your Body (& Your Heart)
3. Dates
Dates are as effective as nuts in keeping your body warm during teh cold, winter months, apart from being rich in nutritional value. While these have been an integral part of the Indian diet for times immemorial, we have just started understanding the health benefits that they have in store for us.
4. Jaggery
Jaggery is instrumental in cleansing our respiratory tract and stomach clean, hence, preventing us from colds, coughs, and gastroenteritis.
5. Kahwa
The Kashmiri tea definitely marks it to the list of healthy winter foods. It reached its peak of popularity during the pandemic when every social media gave out different kahwa recipes to keep our immunity high. Laden with nutritional properties of the Indian masalas that are brewed into it, kahwa is a must-have especially during winters.
6. Masala Chai
Similar to kahwa, the juices of Indian spices that seep into the flavours of the desi masala chai is beneficial for your body, specifically during chilly winters. Apart from keeping your body warm, it boosts immunity from inside too.
7. Kanji (Fermented Water)
Kanji is also an integral part of the healthy winter foods list. An oft-prescribed favourite of our dadis and nanis, this is yet another immunity boosting drink that you cannot overlook during winters. 
Read: 6 Must-Try Desserts With Coconut
8. Winter Veggies
Winter season vegetables like mustard leaves (sarson), fenugreek leaves (methi), radish (mooli), beetroot, sweet potatoes, spinach and green peas work wonders for the body as they replenish the body's nutrition that tends to get depleted in the winters. These vegetables keep the body warm and healthy, enabling it to battle the cold, without falling sick.
9. Grains
The grains typically used in Indian households during the winter seasons include pearl millet (bajra), sorghum (jowar), Millet (ragi) and corn (makki). All of these flours are great for consumption in the cold as they are low in gluten, low in sugar and very dense in nutrition.
10. Herbs, Seeds & Powders
Tulsi (basil) protects against fever and colds by strengthening the immune system. Ginger in the powdered or sliced form, mixed with lemon juice, honey, and salt, is known for the same qualities. No wonder, more of these ingredients are added to teas, dals, and vegetables in winter to make the most of its immunity-boosting qualities. It's for the same reason that sweets like til ka ladoo, and badam and til chikki are so popular when the weather turns chilly.
5 Classic Winter Recipes Of India
1. Sarson Da Saag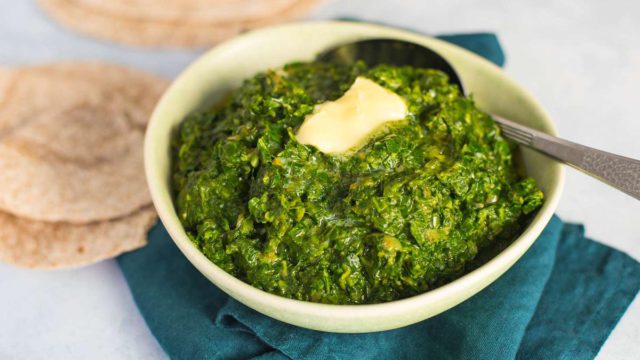 No winter foods list can ever be complete without the mention of this dish. Sarson da saag with makke di roti used to be a delicacy enjoyed only in Punjab but today, this iconic dish has found its way on the winter menu in almost all parts of the country (even abroad). Sarson (mustard leaves) are found only in the winters and do a great deal of good for the body. The taste of these leaves is enhanced by slow cooking it with spices.
Ingredients:
4 cups mustard leaves (washed and chopped)
1 cup spinach leaves (washed and chopped)
1 teaspoon cumin seeds
1 tablespoons oil
2 tablespoons ginger garlic paste
2 onions (chopped)
1 teaspoon coriander powder
1 teaspoon red chilli powder
½ teaspoon turmeric powder
1 pinch asafoetida
Salt per taste
Prep Time: 20 minutes
Cooking Time: 30 minutes
Steps:
Boil the mustard and spinach leaves with 2 cups of water in a pressure cooker till they are cooked.
Strain the excess water from the greens. Put them in an ice water bath to stop the cooking process.
Blend the leaves to make a coarse paste.
Heat oil in a pan. Add the cumin seeds and let them splutter.
Now add the asafoetida and onion. Cook till the onion is translucent.
Add the ginger garlic paste and cook till the raw smell of garlic is gone.
Add the green paste, red chilli powder, turmeric, salt and coriander powder.
Cook the saag for 20 minutes on a slow flame, stirring continuously.
You may add some cream/ghee to the dish while simmering for a rich and creamy texture.
Serve hot with makke (corn) ki roti or wheat rotis.
2. Thukpa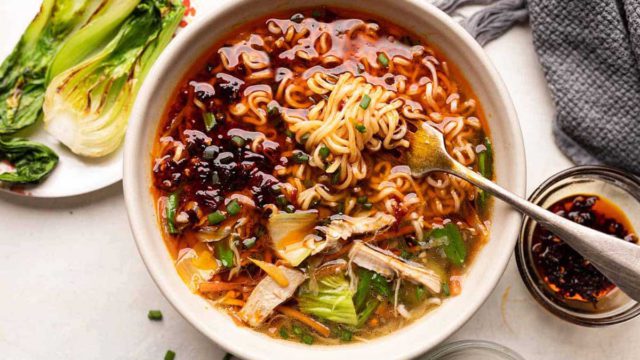 There is nothing as comforting on a cold day as a piping hot bowl of soup. A delicacy very commonly eaten in north east India and Nepal, the thukpa is a flavourful soup that is packed with the freshness and goodness of a variety of vegetables. One can go as creative as they like with this dish as the vegetables can be added or eliminated according to taste, meat and seafood can be incorporated, and noodles can be included to make it a filling one pot meal.
Ingredients
(for the soup base)
3 tomatoes
1 teaspoon chopped ginger
1 teaspoon chopped garlic
¼ teaspoon schezwan peppercorns
1 green chilli
1 onion
For the dish
2 tablespoons oil
1 litre vegetable/chicken stock
½ cup julienned carrots
½ cup sliced green peppers
5 sliced mushrooms (optional)
1 cup chicken shredded (optional)
Noodles (optional)
Salt to taste
Pepper to taste
Juice of 1 lemon
spring onions for garnish
Prep Time:15 minutes
Cooking Time: 25 minutes
Steps:
Make a paste of all the soup base ingredients. You may add some water to get a fine paste.
Heat the oil in a pan.
Add the soup base to the oil and cook for 5-7 minutes till the oil separates.
Add the vegetable/chicken stock and bring the soup to a boil.
Add the shredded chicken and let it cook until half done.
Add the carrots, peppers and mushrooms and continue to boil the soup.
If using noodles, boil and strain the noodles separately.
Add the salt, pepper and lemon juice to the soup.
Take a portion of noodles in a bowl, top with the soup and garnish with the spring onions.
Serve hot.
3. Bajre Ki Roti With Jaggery
Including bajra (pearl millet) is eaten in all Indian households during the winter season. This is because bajra has a high starch content that enables energy generation in the body. This process causes an increase in blood circulation and as a result, leads to higher body temperature. This is amongst the very popular healthy winter recipes because these rotis are high in nutrition and keep you full for longer.
Ingredients
2 cups bajra atta
1 cup hot water
A pinch of salt
1 tablespoon ghee
Wheat flour for dusting
Prep Time: 15 minutes
Cooking Time: 20 minutes
Steps:
Mix the bajra flour and salt together in a board vessel.
Add the hot water slowly and knead into a soft dough.
Let the dough rest for 10 minutes.
Add some more water and knead the dough again.
Take a small ball of the dough and dust it with wheat flour.
Since bajra has no gluten, you can line the rolling board with a plastic sheet to prevent the roti from sticking to the board.
Gently roll the dough into a roti either by patting it with your palms or with a rolling pin.
Apply water on one side of the roti and place it on a hot tawa.
Allow the roti to cook before flipping it gently.
You may add some oil/ghee to the sides of the roti while cooking.
Take the roti off the tawa when it is cooked on both sides.
Serve the bajra roti with some ghee on top and jaggery on the side.
4. Dates Kheer
Anytime there is mention of winter desserts, kheer is the first name to pop up. This easy to make dessert can be enjoyed hot or cold and is enjoyed by people of all age groups. What's more is that there are so many types of kheer that one can easily pick one depending on their taste and preference. Dates are the best winter foods because they satiate the sweet tooth and are rich in important nutrients like calcium, fibre, iron and vitamins.
Ingredients
12 dates (seedless)
3 cups whole milk
1 tablespoon ghee
4-6 cashew nuts
Prep Time: 10 minutes
Cooking Time: 20 minutes
Steps:
Warm half cup milk and leave the dates to soak in it for 45 minutes.
Take a thick bottomed pan and leave the milk to simmer and reduce. Stir continuously.
Once the milk has reduced to half, take it off the heat.
Make a fine paste of the soaked dates and milk.
Mix the paste with the milk.
Chop the cashews into small pieces.
Heat the ghee in a pan and fry the cashews till golden brown.
Add the cashews to the prepared kheer.
Serve the kheer hot or cold.
5. Gajar Ka Halwa
Red carrots are a common sight during winters and there is no better way to use these winter superfoods than to make evergreen winter sweets like gajar ka halwa. An easy winner amongst all the winter dishes, no winter get together is complete without this dish. This rich and tasty halwa laden with ghee and nuts melts in the mouth and is a favourite in all parts of the country.
Ingredients:
500 grams carrots
2 tablespoons mixed nuts (chopped)
2 cups whole milk
4 tablespoons ghee
1 teaspoon cardamom powder
3/4th cup sugar
Prep Time: 30 minutes
Cooking Time: 60-75 minutes
Steps:
Peel and grate all the carrots.
Heat one tablespoon of ghee in a pan and fry the nuts. Keep them aside.
Add 2 tablespoons of ghee in a heavy bottomed pan and add the grated carrots.
Cook for 4-5 minutes till the raw smell of the carrots is gone.
Add the milk to the carrots and cook them on slow flame, stirring continuously.
When the mixture starts to dry up, add sugar.
As the sugar cooks, the mixture will become runny again.
When half of the moisture is absorbed, add two tablespoons of ghee to the mixture.Continue cooking.
Add the cardamom powder and fried nuts and cook the gajar ka halwa till it reaches the right consistency.
Serve hot.
We usually feel hungrier during the winter months, and it is only fair that we indulge in these delicious traditional winter foods and hot winter drinks with our friends and family. The fact that all the above-mentioned winter special recipes include winter superfoods makes their consumption not only enjoyable but also beneficial to the body. A good diet during the winter seasons can go a long way in keeping the body, skin and hair unaffected by the cold and difficult weather conditions.
Open up like never before and participate in conversations about beauty, entrepreneurship, mental health, menstrual & sexual health, and more. Desi women, join our community NOW!