The fruit coconut is a versatile one. From starters and main meals to snacks and desserts, it's made its well-deserved place on our tables. And, oh, its oil works well as a medium for frying too. Its distinct taste and aroma have made their way to our hearts and occupied a massive spot right there.
So, on World Coconut Day (2nd September), let's celebrate the unique flavours of the fruit through 6 absolutely lips-smacking desserts.
1. Coconut Muffin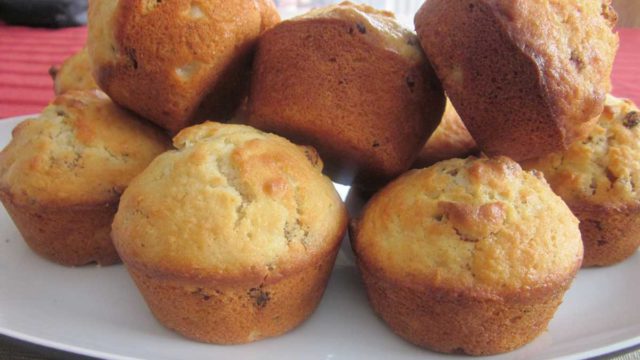 Preparation Time: 5 minutes
Cooking Time: 20 minutes
Ingredients
½ cup light coconut milk (at room temperature)
¼ cup virgin coconut oil
3 tbsp granulated sugar
1 large egg
½ cup + 2 tbsp flour
¾ tsp baking powder
A pinch of salt
¼ cup sweetened coconut flakes
Method
Preheat the oven to 375°F and place four cups with liners in a muffin pan.
Melt the coconut oil, in case it is not in the liquid form already, and add sugar and coconut milk to it. Stir in the ingredients well.
Add the egg and well it thoroughly.
Pour baking powder, flour, and salt and whisk again.
Divide the above batter into the four cups of the mould and then sprinkle 1 tbsp of grated coconut over each of the batter.
Put it in the oven and bake for 18-20 minutes. Insert a toothpick, and if it comes out clean, it means your muffins have been perfectly baked.
Serve warm and store in an air-tight container at room temperature for not more than 2 days.
Read: 3 Onam Sadhya Recipes (& Significance & Traditions Of The Festival)
2. Coconut Pudding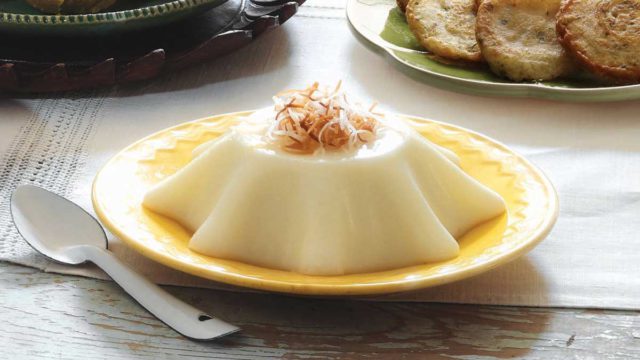 Preparation Time: 10 minutes
Cooking Time: 10 minutes
Ingredients
400 gms condensed milk
250 ml milk cream
1 cup fresh coconut milk
1 cup full-fat cow milk
1 tbsp vanilla extract
5 gms to 10gms agar agar (China grass sheets)
1 cup water
½ cup grated coconut
Method
Take milk cream and condensed milk in a bowl.
Then, add full-fat cow's milk, vanilla extract, and coconut milk, and stir all the ingredients to mix them well.
When the mixture comes to a boil, switch off the heat, and keep it aside.
Soak 5 gms of agar agar in 1 cup of water for 5 minutes. Bring it to a boil and then let it simmer till the agar agar has melted completely.
Strain and pour into the pudding mixture.
Add the grated coconut, pour into serving bowls, and refrigerate it for about 4 hours.
3. Coconut Ice Cream
Preparation Time: 10 minutes
Cooking Time: 10 minutes
Ingredients
1½ cup coconut milk
½ cup of full-fat cow's milk or additional coconut milk, or any other milk of your choice
⅓ cup sugar or any sweetener of your choice
⅛ tsp salt
1½ tsp vanilla extract
Method
Take all the ingredients together in a bowl and whisk them well.
Freeze the mixture in a bowl or ice cube trays, and then blend it in a high-speed blender.
Freeze this mix again for a firmer texture.
Read: 7 Swadisht Main Course Recipes Using Rose Water
4. Coconut Cookies
Preparation Time: 10 minutes
Cooking Time: 10 minutes
Ingredients
1 cup butter
2 large eggs
1 tsp vanilla extract
1 tsp baking soda
2½  cups all-purpose flour
2½  cups grated coconut
1 cup light brown sugar
1 cup granulated sugar
½ tsp salt
Method
Preheat the oven to 350°F and, meanwhile, line the baking mould with parchment paper and keep it aside.
Pour butter, brown sugar, and granulated sugar in a mixer and blend till for 2 minutes on medium speed.
Add vanilla, eggs, salt, and baking soda and whisk until smooth.
Add the flour and switch on the mixer again, this time on low speed.
Use a cookie scoop to scoop up a portion of the batter and place it on a prepared baking sheet, with each dollop of the batter placed 2 inches apart.
Bake for 9 to 10 minutes, or until the cookies are golden brown around the ends.
Leave the cookies out to cool down for about 3 to 4 minutes in the oven itself and then transfer it to the wire rack to cool completely.
5. Coconut Bread
Preparation Time: 30 minutes
Cooking Time: 30 minutes
Ingredients
¾ cup grated coconut
¾ cup coconut milk
3 large eggs
1 tbsp fresh lime juice & zest
1 tsp vanilla extract
4-ounce unsalted butter (melted)
2 cups all-purpose flour
2 tsp baking powder
¾ cup granulated sugar
½ tsp salt
For the Glaze
¼ cup castor sugar
1 tsp lime juice
1 tsp water
Method
Preheat the oven to 325°F and, meanwhile, grease a loaf pan with baking spray and keep it aside.
Bake the coconut flakes in the oven at 300°F for 10 minutes or till you see some parts of it turning brown.
Take a large bowl and add coconut milk, eggs, lime juice, melted butter, and vanilla extract and whisk well together.
Then take the baking powder, flour, sugar, and lime zest in a small bowl.
Add the flour mixture to the wet mixture in small quantities, stirring continuously.
Next, add the grated coconut.
Pour batter into the loaf pan, place on the middle rack, and bake for 50 to 60 minutes. Let it cool completely before you can use the glazing.
Combine the lime juice and sugar in a small pan, and add water, if necessary, to get the desired consistency. Whisk thoroughly.
Spoon the glaze over the top surface of the coconut loaf, allowing it to trickle down the sides.
Cut into slices and serve.
6. Coconut Rum Balls In Hot Chocolate
Preparation Time: 5 minutes
Cooking Time: 0 minutes
Ingredients
2 ounces of coconut rum
6 ounces of hot chocolate
Whipped cream (for garnish)
Grated coconut (for garnish)
Method
Pour coconut rum into an Irish coffee glass or any glass of your choice
Pour chocolate over it and stir well.
Top with whipped cream and grated coconut, and serve as a boozy dessert.
Open up like never before and participate in conversations about beauty, entrepreneurship, mental health, menstrual & sexual health, and more. Desi women, join our community NOW!