Moms are moms for a reason! They have a solution for every problem, especially when it comes to cooking. There's probably one tip that pops into your head immediately when you're asked to share cooking tips from your mom because you've heard it so many times. Whether your mother had strong opinions about how to season food or mastered the art of perfect cookies, the moms in our lives have always been one of the best resources when it comes to navigating a kitchen. Who needs Google when you have a mother?
15 Genius Cooking Tips TC46 Followers Learned From Their Moms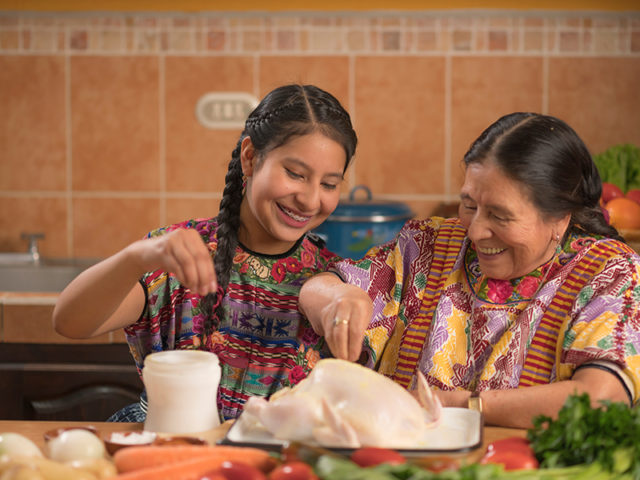 TC46 put out a Mother's Day giveaway on Instagram here asking "What's a food/cooking trick you've learnt from your mom to make any recipe more delicious?" Hundreds of people offered advice that was sweet, funny, and seriously helpful. See below for 15 of the most memorable responses shared by our followers!
"If you've added more than the necessary amount of salt (which happens to most of us), worry not! Just add a little water to your sabzi, so that it soaks the excessive salt and brings the salt level down." – Sona
"Using coconut oil in traditional dishes only enhances the taste. Like, idlis can be eaten by just adding coconut oil over the dry chutney or even over plain idlis or puttu and even the south Indian patra/patroda." – Aditi
"Substituting sugar with jaggery while making desserts or even simple everyday tea, helps keep your sugar levels in control and also does not compromise with the taste!" – Gazal
"My mom is both traditional and modern. When I taught her how to make pancakes, she taught me to use honey instead of maple syrup over them. And honestly, I like this taste better!" – Anoushka
"Adding honey to sweet delicacies to make them sweeter. I've always had a sweet tooth and this is one hack that I will definitely be teaching my kids. Adding honey over vanilla ice cream or adding honey to curd and replacing sugar with honey in smoothies. It makes it a quick, tastier and healthier dessert." – Rashi
"Whenever you're bored with your basic dal, add a tadka with dried red chilly and curry leaves in ghee to dal after it's cooked. This will prove to be like magic, giving your dal bahar ke khaane vaala taste!" – Simone
"I used to struggle with making chapatis, so my mom told me that for soft chapatis add little bit of milk while kneading the chapati dough and it has worked wonders for me!" – Heena
"The most important tip told by my mom is to always cook everything with love. It will automatically make your food tastier." – Nisha
"Even after I put the exact amount of salt or spice mentioned, somehow my food will always have a little too much of it. So my mom said that if any vegetable is extra spicy or has extra salt, just add yoghurt or malai to it. And god! that works!" – Ritu
"My mom and I share the love of baking, so she told me a secret baker's perfume. Put a tiny dab of vanilla extract behind your ear when you're baking…then you will smell like cookies the rest of the day." – Neha
"The most innovative trick I learnt from my mum was making coconut flour from shredded coconut to replace our regular flour. I always use this now to make cakes, muffins, etc for my family. It not only makes the recipe more delicious but healthy too!" – Manisha
"This is a utensil saviour hack that I learnt from my mom. If steel utensils are burnt don't worry, just add 1 tsp of baking soda,1tsp of vinegar,1 tsp of detergent powder and water. Let it boil and after a while, all burnt pieces will just float over and your utensil will be as good as new!" – Kashmira
"My sweet mumma taught me that adding a little bit of sugar makes many foods even better. She added a tiny bit of sugar to her boiled squash, cream gravy, and spaghetti sauce to name a few, and so do I and so does my daughter!" – Richa
"My mom always says that the food you make isn't important. The people you're feeding are. I always think about this when I'm cooking." – Parul
"Being from a North Indian family, ginger and garlic in our dishes are like lemons in nimbu paani. Add ginger-garlic paste to the gravy when it is half-cooked and then later cook it properly. It makes the sabzi extremely delicious!" – Tanu
Mothers are often among the first and most significant influences we have growing up, tasked with helping to teach us the ropes of life and typically providing our first exposure—and only—access to self-care guidance and goods. Put these excellent, tried and tested tips to use and get the most beautiful results! Don't forget to share in the comments, the fabulous tips given by your mothers!
Disclaimer: Please note that the responses have been translated and edited for clarity. Names have been changed to respect privacy.
Do you have a story to share or an experience you would like to highlight on TC46? Connect with us on Instagram today!