According to a 2022 report by the World Health Organization (WHO), more than 1 million people acquire an STI every day worldwide. And in most cases, it's asymptomatic. In fact, a majority of sexually transmitted infections show little to few symptoms and stay silent in the human body. It is one of the main reasons why they often remain undiagnosed for a long time.
The only way to protect yourself against an STI is to get yourself tested periodically. Diagnosing and intercepting an STI as early as possible is the best way to manage, treat, and often even cure it. This is why The Channel 46 was on the lookout for the most comprehensive STI testing panel for sexually active women in India. And we found it!
The Pinky Promise Advance Panel is not just a comprehensive way to test for STIs, it's also tailor-made by a gynaecologist for Indian women. But, before we share all the details about the panel, let's take a look at why testing for sexually transmitted infections is so important.
What Is An STI & How Is It Different From An STD?
STIs (Sexually Transmitted Infections) are generally transmitted during sexual activities like vaginal, anal and oral sex, through skin-to-skin contact (in some cases) or via the exchange of bodily fluids among people in whom the infection is active. However, the transmission is not just restricted to sexual contact. The bacteria, virus, or parasite-led infection can get transmitted through non-sexual activities too (like sharing of infected needles).
Often, the terms STIs (Sexually Transmitted Infections) and STDs (Sexually Transmitted Diseases) are used interchangeably. To define them better, STD is a disease that results from STIs, the onset of which can be tracked through the presence of infections. These infections are caused when pathogens that have entered the body multiply, start disrupting the regular functioning of the body or cause damage to it, in turn becoming STDs.
Did you know?

Medical experts opine that the usage of the term STD can be misleading as the term "disease" indicates a severe health condition, which is not always the case.
However, not all infections that enter the body develop into STDs. For instance, most cases of HPVs do not cause health problems and disappear from the body without leaving any traces. It is only when an HPV infection manifests through genital warts or cervical cancer that it is considered an STD.
Medical experts opine that the usage of the term STD can be misleading as the term "disease" indicates a severe health condition, which is not always the case. As a result, the term "infection" is usually considered more appropriate. Technically, the debate on STI vs STD is unfounded.
4 Of The Most Common STIs In Women In India
Chlamydia: Caused by bacteria, chlamydia usually does not manifest through outward symptoms during its early stages. But it can cause health problems over the long run, if not treated at the right time. At times, when the symptoms do become apparent, they are very similar to that of some other STIs. Hence, regular screenings and doctor consultations are essential to keep the condition under check.
HIV: One of the most prevalent types of sexually transmitted infections, HIV is perhaps the most well-known and feared STI. Being HIV positive indicates you have the infection. When left undiagnosed and untreated for a long time, it can develop into acquired immunodeficiency syndrome (AIDS), which is classified as an STD. In fact, it takes several years for HIV to weaken the immune system enough to develop into AIDS. While there is no cure for AIDs currently, the disease can be managed with medication.
Gonorrhea: Caused by the bacterium Neisseria gonorrhoeae, Gonorrhea is an STI that usually targets warm and moist parts of the body like eyes, throat, anus, vagina, and parts of the female reproductive tract like the uterus, cervix, and fallopian tubes. This infection is common among women. When left untreated, the infection can lead to long-term health conditions and even infertility in some cases. Antibiotics can treat it effectively and control the risk of aggravation of the condition.
Genital Herpes: This STI causes painful, fluid-filled blisters called herpetic sores, which can burst and ooze pus. Genital herpes can be broadly divided into two categories: HSV-1 and HSV-2. While HSV-1 is often classified as oral herpes and typically causes cold sores around the mouth and lips, it can in some but rare cases lead to genital sores. More often than not, sores around the genital and rectum area are caused by HSV-2. Broadly speaking, HSV-2 typically tends to cause sores below the waist area.
The Most Common STI Signs You Shouldn't Ignore
The Most Common STI Signs You Shouldn't Ignore
As discussed earlier, most STIs do not show any symptoms. And therefore, it becomes quite difficult to know if you have an STI or not unless you get tested. If not treated at the earliest, these STIs can prove to be fatal and may not even be curable. So do not wait for the STI symptoms to show. Instead, get tested and be relieved about your sexual health status!
| | |
| --- | --- |
| SYMPTOMS OF STDs IN FEMALES | |
| Bumps or sores on the genitals or the oral or rectal area | Heavy menstrual bleeding and/or bleeding between periods |
| Swollen and sore lymph nodes, especially in the groin | Pain or burning sensation during urination |
| Painful bowel movements | Unusual vaginal discharge, with or without foul odour |
| Unusual vaginal bleeding | Painful sex |
| Lower abdominal pain | Rashes on hands and feet |
| Fever, headache, fatigue, and sore throat (early STI symptoms) | Sudden weight loss |
| Diarrhoea | Shortness of breath and cough |
5 Factors That Put You At Risk For An STI
Age: Women below the age of 25 are more susceptible to getting infected with STIs as compared to older women. Biologically, women's bodies are smaller at this stage, exposing them to the risk of tears during intercourse. Additionally, their cervixes aren't developed enough to protect themselves against STIs like gonorrhea, and chlamydia, among others. Also, younger women usually engage in taking more risks during sex and are likely to have multiple partners as compared to those over 25.
Unsafe Sex: Condoms and other methods for safe sex do not guarantee 100% protection against STIs. However, they do reduce the risk of their transmission to a significant extent. Hence, the use of internal or external condoms is a must while you are engaging in sexual intercourse, even when you are using birth control pills or an IUD (intrauterine device).
Multiple Partners: The more partners you have, the higher the risk of being exposed to an STI. Often, people with multiple partners usually partner with those who have multiple partners, increasing the risk of a Sexually Transmitted Infection getting transmitted by multi-folds.
History of STI: Being infected with an STI makes people more susceptible to contracting another STI. Inflamed, irritated and blistered tissues are an easy target for pathogens, raising a person's chances of contracting another type of STI simultaneously.
Serial Monogamy: Serial monogamy or dating one person at a time, but several of them one after the other, may also expose you to the risk of contracting an STI if you have unsafe sex. Having a single partner at a time often makes women inclined to not use safe sex precautions at all. If you indeed have been infected, results of STI testing are not always accurate until you've been living with the infection for a considerable time. By then, you may have moved on to your next "exclusive" partner, implying he/she will get infected too, while the source of your infection remains undetected.
Ready To Get Tested? Book An STI Panel On The Pinky Promise App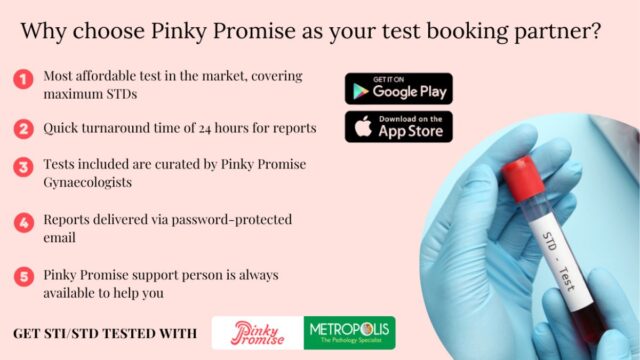 While many service providers and diagnostic laboratories offer STI testing, it can be confusing because the average woman sitting at home may not know which individuals tests need to be added to her cart. Taking the guesswork out of a situation that can already make you nervous, Pinky Promise has put together a panel of diagnostic tests as recommended by expert gynaecologists on their board. These tests are specific to the most relevant STIs that affect Indian women. Adding another layer of credibility, the tests are brought to their users in partnership with Metropolis Healthcare—India's largest and only multinational chain of pathology labs and diagnostic centres.
The STI Panel on the Pinky Promise app is available in two versions:
The Basic Panel comprises 8 different tests.
The Advance Panel includes one additional test along with those in the Basic Panel.
8 STI Tests In The Pinky Promise Basic Panel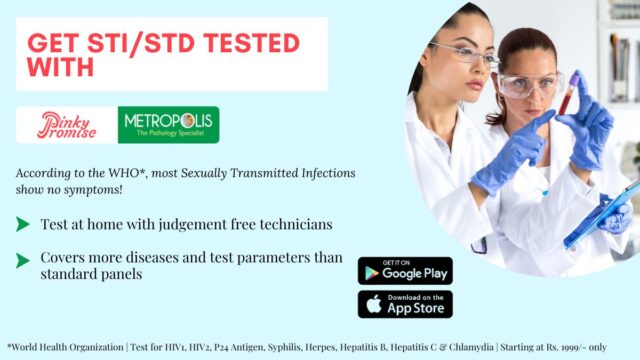 The test is highly affordable as it covers more diseases and parameters than many other standard tests available in the market in the same price range.
Here's what they're testing for:
HIV 1: This test looks for antibodies to human immunodeficiency virus type 1 (HIV 1). Antibodies can be defined as proteins that are manufactured by the immune system to protect your body against foreign invaders like HIV.

HIV 2: This evaluates the presence of antibodies of human immunodeficiency virus type 2 (HIV 2) in your blood. The genetic difference between HIV 1 and HIV 2 is that an individual taking HIV 1 medical test may not test positive for HIV 2, which is comparatively more difficult to diagnose. You may have to undergo a separate HIV 2 test to analyse the presence of this antibody.

P24 Antigen: This test analyses the levels of p24 in the blood which is an early indicator of HIV infection. P24 antigens can be detected earlier than HIV 1 and HIV 2 viruses. Therefore, for people who have had unprotected sex recently and want to get tested for HIV, this is the most recommended test as it helps detect the antigen early and manage and cure the same.

Hepatitis B: The hepatitis B titer test evaluates whether you are immune to the hepatitis virus, either due to vaccination or as a result of previous exposure.

Hepatitis C: Hepatitis C or HCV antibody test, also known as anti-HCV, checks for the presence of antibodies to the hepatitis C virus in your bloodstream. A positive result indicates that you have been infected with the virus.

Syphilis: This test analyses the presence of antibodies of syphilis, the most common type of STI, in your blood. Traces of this virus confirms that you have been diagnosed with syphilis.

Chlamydia (IgG): Chlamydia IgG Antibody Test, also referred to as Anti-Chlamydia Antibodies IgG Test measures the presence and level of Anti-Chlamydia Antibodies IgG in your blood. Apart from diagnosing the presence of chlamydia, it is also effective in analysing asymptomatic pelvic inflammatory disease (PID) as well as tubal damage after repeated instances of PID.

Chlamydia (IgA): Chlamydia IgA Antibody Test detects the presence of IgA antibodies that develop in response to active chlamydia infection (one of the most common types of STI). The test may also be recommended to identify infertility and other disorders that are known to be caused by chronic chlamydia infection.
Pinky Promise Advance Panel
The Advance Panel consists of Herpes (HSV IgG) and all the 8 tests mentioned above. Herpes (HSV IgG) identifies the IgG antibodies or immune proteins that your body manufactures in response to the viral infection. This way, it diagnoses the presence of the virus in the body.
All the tests are undertaken in complete privacy and your medical results are confidential. They are shared via a password-protected email within 24 hours of sample collection by the phlebotomist.
3-Step Process For Sample Collection With Pinky Promise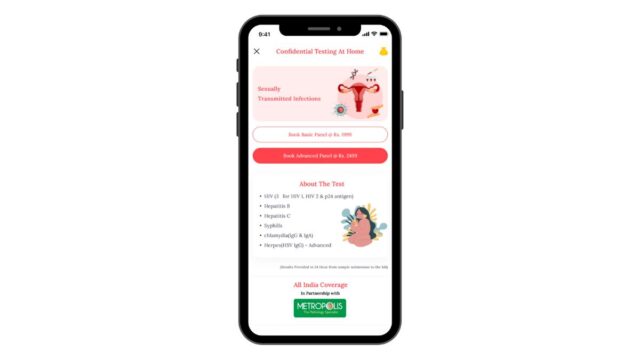 You need to book a slot on the Pinky Promise app and make the payment online.
Once the order is registered, you will receive a confirmation message from Metropolis. An assigned phlebotomist will call to confirm your address for sample collection before they visit.
The phlebotomist will then take the patient's sample and submit it to the lab for testing.
Free Follow-Up Consultations With A Gynaecologist To Discuss Your Report
Pinky Promise has onboarded a host of highly-trained and qualified gynaecologists. After you receive the report, you can consult a gynaecologist for free on their app. The doctor will discuss your report with you in detail and share expert advice based on your health markers.
The doctors on the Pinky Promise app hold degrees in M.B.B.S., OB-GYN, D.G.O.,, and D.N.B. They have a minimum 8 to 12 years of work experience consulting in renowned hospitals like Jaslok Hospital, SRCC Hospital,, MGM Hospital, Hinduja Healthcare, Wadia Maternity, RN Cooper, Sant Muktabai General Hospital, to name a few.
Always remember that since most STIs are asymptomatic. Testing is the only way to know if you have an STI. Moreover, when detected at an early stage, most STI treatments may be effective in curing or managing the infection altogether. So, take charge of your health and get tested today!
Book STI Panel Tests at Pinky Promise at a competitive price of Rs 1,999.
Open up like never before and participate in conversations about beauty, entrepreneurship, mental health, menstrual & sexual health, and more. Desi women, join our community NOW!