What's better than sitting in the sun and enjoying a hot cup of tea on a lazy winter afternoon? Indulging in a few pieces of your favourite winter delicacies, i.e. gajjak and chikki! This traditional delight is the perfect blend of taste and nutrition and is a hit among people of all ages! A mixture of nuts, seeds, jaggery etc, chikkis are rich in flavour and quite filling. And as long as consumed moderately, this tasty treat can also prove to be great for your health.
To make the most of the health benefits of chikki, you need to be sure that it does not contain unhealthy ingredients. And the best way to do this is by preparing your own batch of gajjak and chikki at home.
To get you started, we have curated a list of 7 simple yet delicious gajjak and chikki recipes for you to try this winter. Let's take a look!
7 Delicious Yet Healthy Chikki Recipes That Are Worth A Try
1. Groundnut Chikki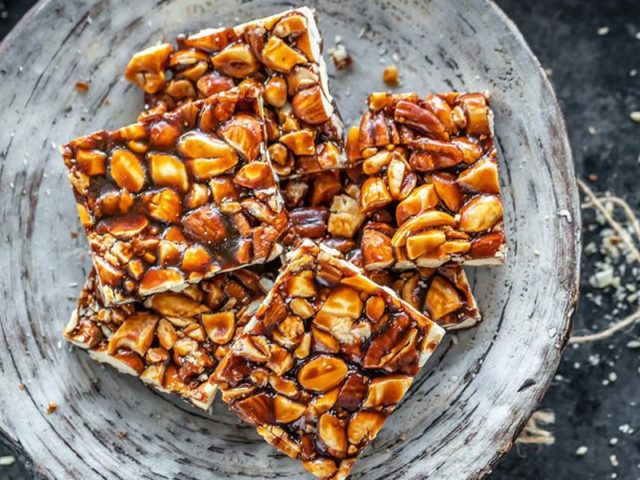 This is perhaps the most common variety of chikki. Nevertheless, groundnut chikki remains a favourite among those who enjoy this sweet delight.
Ingredients:
70 grams groundnuts
30 grams jaggery
Method:
Roast the groundnuts well but be careful not that they do not blacken.
Remove the brown skin of the groundnuts.
Take a little water and put the jaggery in it. Let it dissolve.
Now, add groundnut to the mixture and cook for a few minutes.
Once cooked, pour the mixture into a greased plate.
Let the mixture cool down. Once cooled, cut the mixture into the desired shape.
For a quick and easy badam chikki recipe, use almonds instead of groundnuts. Or better still, take equal quantities to both the ingredients to make the perfect homemade peanut and almond chikki.
2. Crushed Peanut Chikki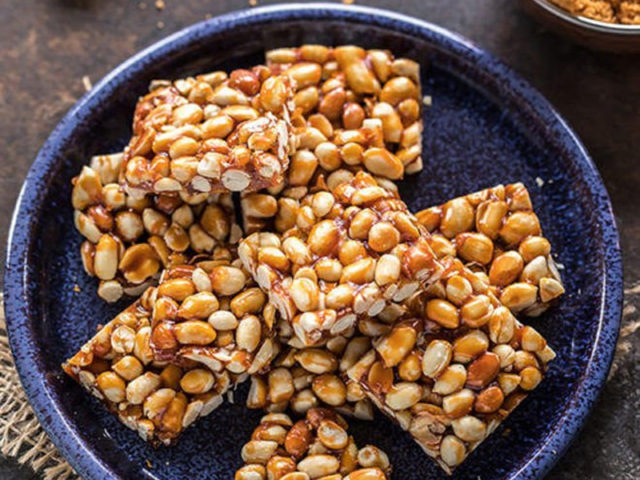 This soft peanut chikki recipe is perfect for those who are not a fan of the hard texture of regular chikkis. It is also a great option for younger kids who find it hard to eat regular chikkis.
Ingredients:
70 grams peanuts
30 grams sugar
Method:
Roast the peanuts, remove the upper skin and then coarsely ground the roasted nuts.
Take about one tablespoon of water in a pan and heat. Now add in the sugar and let it dissolve but be careful the sugar doesn't stick to the pan.
Once the sugar is dissolved, start adding the peanut powder. Mix well to avoid lumps. Let the mixture cook for around 5 minutes while stirring occasionally.
Once the peanut chikki mixture has cooled, pour it on a greased plate and spread it evenly.
Let it cool off before cutting the chikkis into desired shapes. Enjoy your soft peanut chikki!
3. Til Gajjak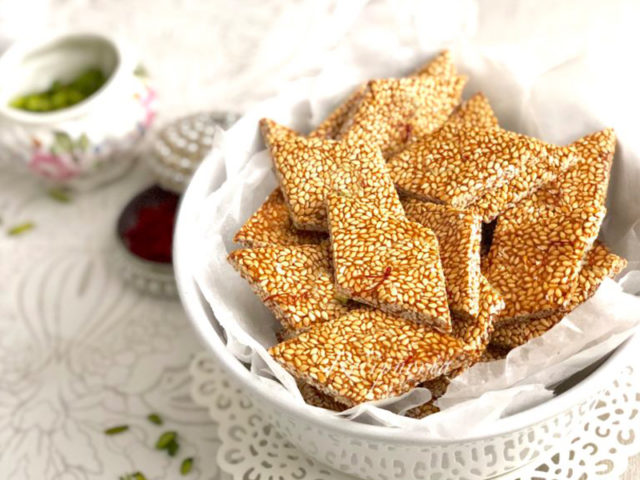 If you are in no mood to put in a lot of effort, keep it simple by following this quick and easy til gajjak recipe.
Ingredients:
1 cup sesame seeds
1 cup jaggery (dark brown or normal)
2 teaspoons ghee
2 teaspoons cardamom powder
½ cup water
Method:
Start by dry roasting the sesame seeds until they begin to crackle. Keep aside the roasted seeds.
Cut the jaggery into small pieces. Mix the pieces with water and bring the mixture to a boil. Lower the gas and simmer for a few minutes (7 to 10 approx) to make a thick syrup. You will know it's done when you drop a little of this mixture in chilled water and it forms a ball. If the mixture is not cooked, it will spread immediately when dropped into the water.
Now add the roasted seeds, ghee and cardamom powder to the mixture. Mix well.
Pour the mixture over a tray (greased). Let it sit for about half an hour. Cut the til chikki into the desired shape and enjoy!
4. Dry Fruit Gajjak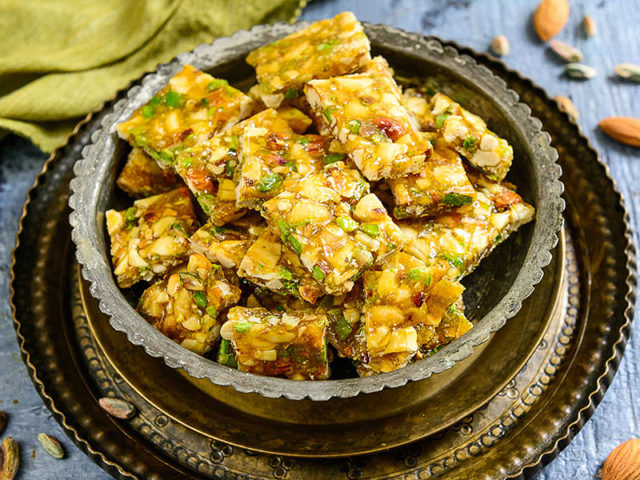 This nutrient-rich delicacy is not only appealing to the taste buds but also is a reliable source of instant energy!
Ingredients:
1 cup sesame seeds
1-2 teaspoons ghee
200 grams jaggery
100 grams finely chopped dry fruits (cashews, almonds, pistachios)
50 grams peanuts
Method:
Roast the sesame seeds until they start to turn brown.
Spread the properly roasted seeds on a plate or tray to cool off.
Roast the dry fruits and peanuts on low flame. Make sure they are not over-roasted or blackened.
Once roasted, keep aside the roasted nuts and peanuts. Pour ghee into the pan and add in the jaggery. Allow the jaggery to melt. Make sure to mix it well to keep it from sticking to the pan. Do this for about 1 to 2 minutes.
Once the jaggery is melted and warm, add in the sesame seeds and mix well to avoid lumps. Keep the flame low.
Now add in the dry fruits and peanuts and mix. Let the mixture cook for about 2 minutes.
Once done, take the mixture off the stove and spread it evenly on a greased flat dish. Let it cool.
Once the mixture has cooled, cut it into the desired shape. Now let the dry fruit chikki cool down to room temperature.
Store your dry fruit chikki in an airtight container and it will stay fresh for about a month.
5. Cashew Chikki Recipe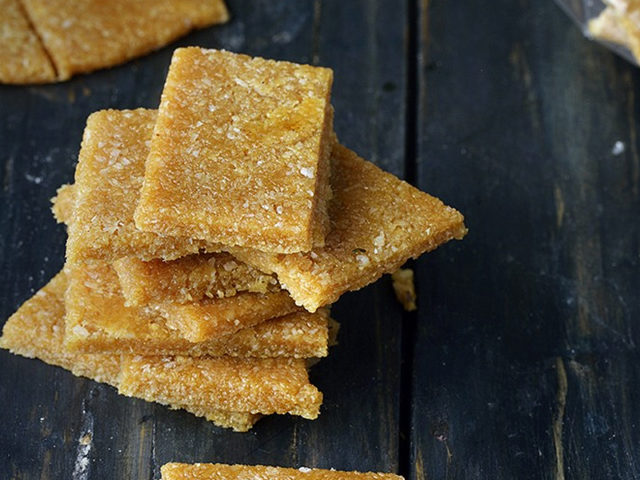 Almonds and peanuts are common choices for making chikkis but let us not forget the highly nutritious cashew nuts. Here is how you can use cashews to make chikkis.
Ingredients:
70 grams cashew nuts
30 grams jaggery
Method:
Put the cashew nuts in a pan and roast over low flame. Break the roasted cashew into smaller pieces.
Now break the jaggery into smaller pieces and put it in water. Heat to dissolve the jaggery in water.
After that, add the cashew pieces and mix well.
Let this mixture cook for about 2 to 3 minutes.
Take a greased dish or plate and pour the mixture onto it. Spread evenly and let it cool.
Once cooled, cut out the chikkis in the desired shape.
6. Multiseed Mix Chikki Recipe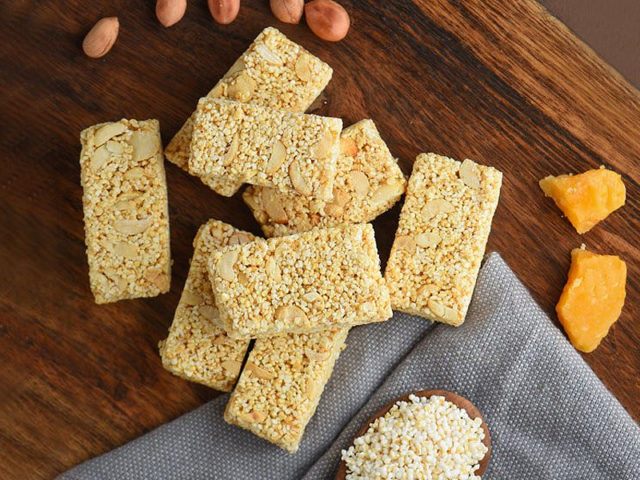 The health benefits offered by multiseed are no secret. But did you know, you can use this amazing ingredient to make chikkis? Let us show you how.
Ingredients:
10 grams halim seeds (garden cress seeds)
10 grams black til (niger seed)
10 grams flax seeds
10 grams pumpkin seeds
10 grams watermelon seeds
10 grams sesame seeds
40 grams jaggery
Method:
Heat a flat tawa (frying pan) for about a minute before adding in flaxseed.
Roast for around 2 minutes while stirring constantly. Once done, remove the seeds from the pan and keep them aside. Now do the same for the halim seeds, pumpkin seeds, watermelon seeds, sesame seeds, black til. Each type of seed needs to be roasted separately.
Now take the roasted seeds in a bowl and mix.
Heat around 2 tablespoons of water and add the jaggery to it.
Once the jaggery melts in the water, add the seeds. Mix and stir constantly to keep the mixture from sticking.
Now take a greased steel plate or dish and pour the semi-solid mixture on it. Let it cool for about 30 minutes.
Once cooled, cut the chikkis into the desired shape and enjoy.
Enjoy one to two chikkis a day. Keep the remaining chikki in an air-tight container and it will stay fresh for 7 days. To increase the shelf-life to 15 days, put the container into the refrigerator.
7. Oats And Walnut Chikki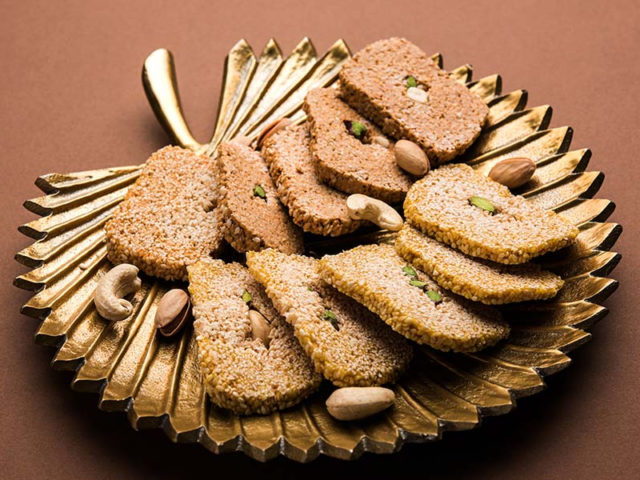 Sweetness, taste, crunch and health, this unique chikki recipe offers all this and much more. This delightful dessert is a great option for kids who are fussy eaters!
Ingredients:
1 cup quick-cooking rolled oats
¼ cup chopped walnuts
¼ cup chopped jaggery
1 teaspoon ghee
Method:
In a non-stick pan, dry roast the oats on a medium flame for around 4 minutes. Keep aside the roasted oats.
Now heat the ghee in the pan and add in the jaggery. Keep the flame on low. Mix well and keep cooking for about 3 minutes. Make sure to stir continuously.
Remove the pan from the flame. Add in the walnuts and roasted oats and mix well to avoid any lumps.
Immediately transfer the mixture on a greased plate and use a greased rolling pin to even it out.
Cut the semi-cooled mixture into desired shape. Let the chikkis cool completely.
Keep the chikkis in an airtight jar at room temperature to enjoy them for up to 3 to 4 days.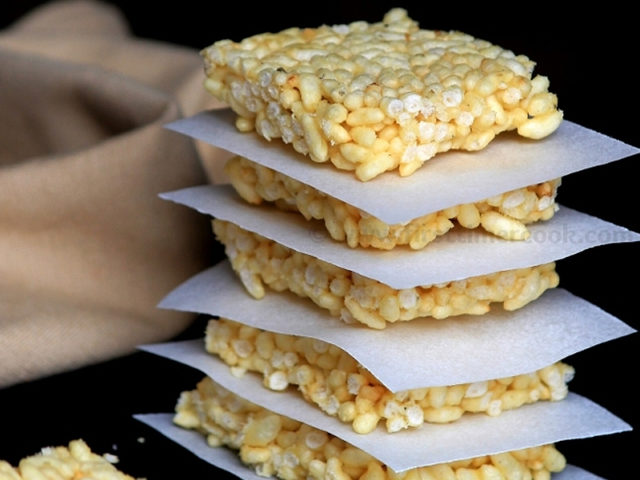 Store bought chikkis often contain preservatives, liquid glucose, artificial flavouring substances and other unhealthy ingredients. Follow these simple recipes to make fresh and healthy chikkis at home. The best part is, you can tweak the recipes according to your own preferences. Other chikki recipes you can try out include murmura chikki, rajgira peanut chikki, almond til chikki, walnut chikki, dates chikki and more. Happy cooking!