From lighter clothing choices to eating ice cream almost every day, summers can be great fun. While summer might not be your favourite season, you can love the kind of food you get to enjoy. And a nice evening with a glass of cold lemonade is definitely a good time! Lemonade is definitely the most refreshing drink during the summer season. Lemons are high in vitamin C, tasty and healthy. Lemons are one of the most versatile fruits which you can enjoy in a lot of ways. From drink to desserts, lemons fit everywhere and also enhances the taste of your favourite chicken curry. And even if lemonade isn't your drink, there are plenty of healthy, natural alternatives you can try. Shop for Kombucha at the Red Dot Shop and relish the lemon zinger flavour. And if you want an alternative to your regular shikanji recipe, here are 10 amazing lemonade recipes you can make this summer!
10 Lemonade Recipes That Make For A Perfect Summer Drink
1. Strawberry Watermelon Lemonade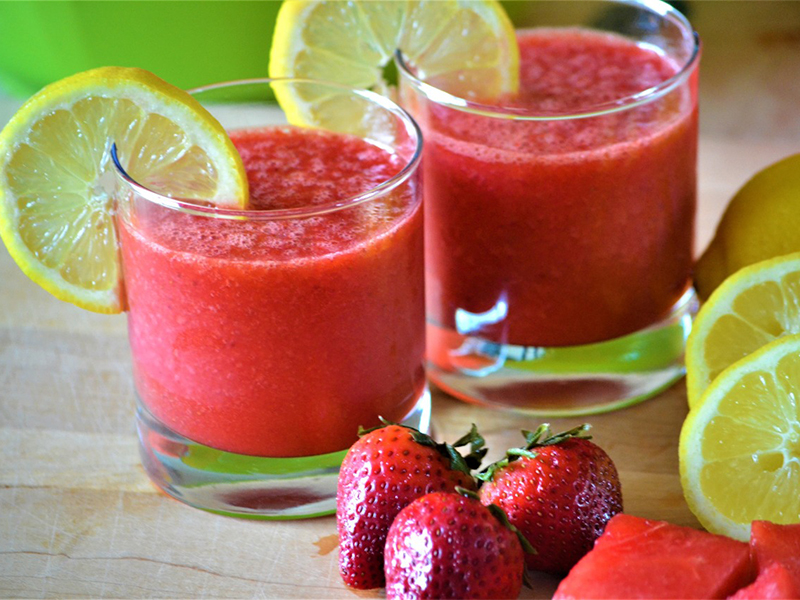 This drink is as yummy as it sounds and not to forget super healthy too. To make it healthy, you can just cancel out the sugar as watermelon and strawberries are sweet fruits anyway.
Prep Time: 20 mins
Ingredients:
2 cups of boiling water
2 cups of strawberries
1 watermelon
¼ cup sugar
Frozen lemonade concentrate
3 tablespoons of lemon juice
Ice cubes
Method:
Take the sugar and put it in boiling water. Let it dissolve completely in it.
In a mixer, put the strawberries and watermelon and blend them.
Pour the blended fruit mixture through the strainer into a larger jar.
Stir in lemonade concentrate, sugar water and lemon juice.
This strawberry lemonade can be served with ice.
2. Spiked Lemonade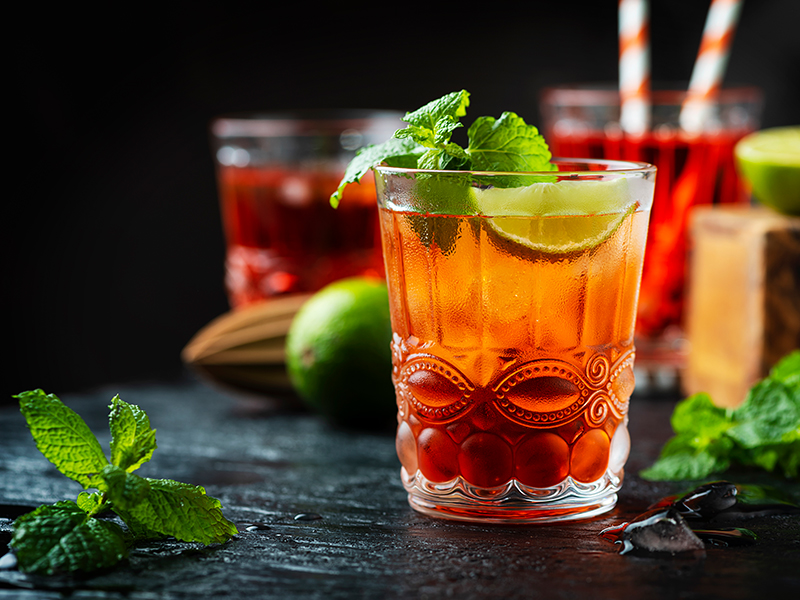 This recipe can take your normal nimbu paani game to the next level. Try it out to have a perfect lemonade drink for those party nights at home.
Prep Time: 15 mins
Ingredients:
2 cups of sugar
5 cups of water
1 tablespoon of lemon zest (grated)
2 cups of lemon juice
1 cup of light rum or vodka
8 cups of ice cubes
Method:
Combine the sugar with 1 cup of water and lemon zest in a large saucepan. Stir and cook over medium heat till the sugar is dissolved.
Switch off the heat and stir in the lemon juice and remaining water.
Stir in the vodka or rum.
Place the ice cubes in a tall glass for each serving and pour in the drink.
Garnish with some lemon slices.
3. Summer Lemon Tea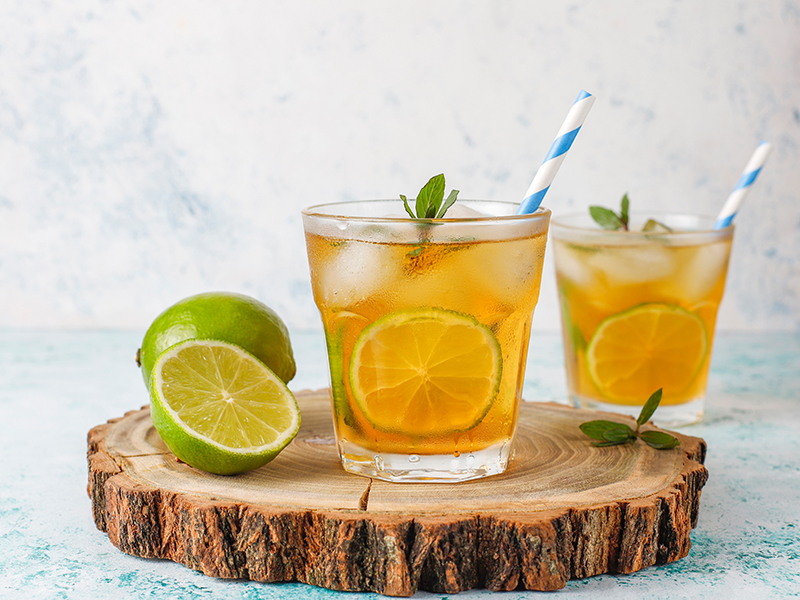 Love lemonade and tea? Well, then this one's for you. Enjoy a nice summer lemon tea on the evenings you feel like replacing your chai with a more fun drink.
Prep Time: 15 mins
Ingredients:
14 cups of water
6 black tea bags
1 cup of sugar
¾ cup of orange juice concentrate
¾ cup of lemonade concentrate
Fresh mint leaves
Lemon slices
Method:
Pour 4 cups of water into a saucepan and boil it.
Remove the heat and then add tea bags. Cover for 3-5 mins and then discard the tea bags.
Stir in the sugar and water that is remaining.
Refrigerate till it's chill
Garnish with some lemon slices.
4. Orange & Mint Lemonade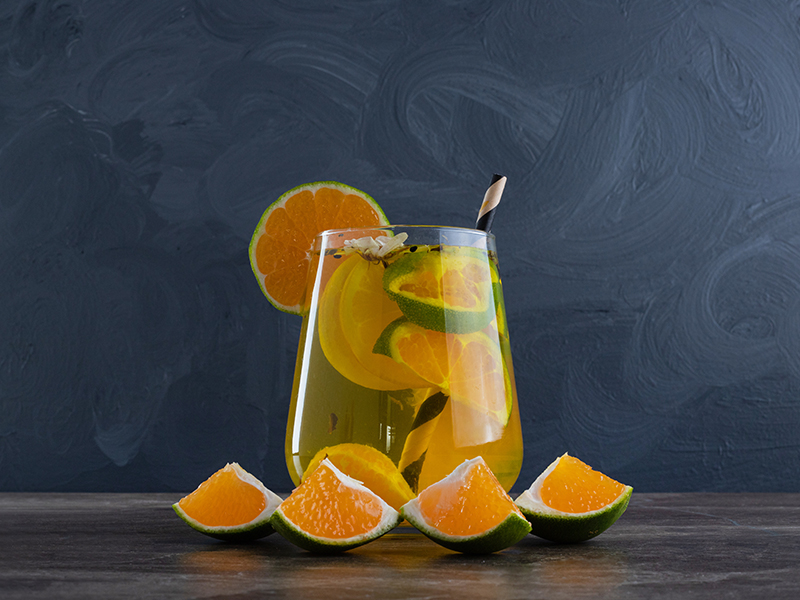 When mint enters the conversation you know we are talking about refreshing. And oranges are all-time favourites. This is how you make Orange and Mint Lemonade on the days you need a quick refreshing drink.
Prep Time: 15 mins
Ingredients:
5 lemons
1 glass of Orange Juice
1 glass of water
1 cup of sugar
4-5 Mint leaves
Method:
Pour some orange juice and squeeze lemons into a container.
Add some water, mint leaves and sugar and mix it well.
Store it in the fridge to chill.
Pour this orange and mint lemonade in a glass with ice.
5. Frosted & Frozen Lemonade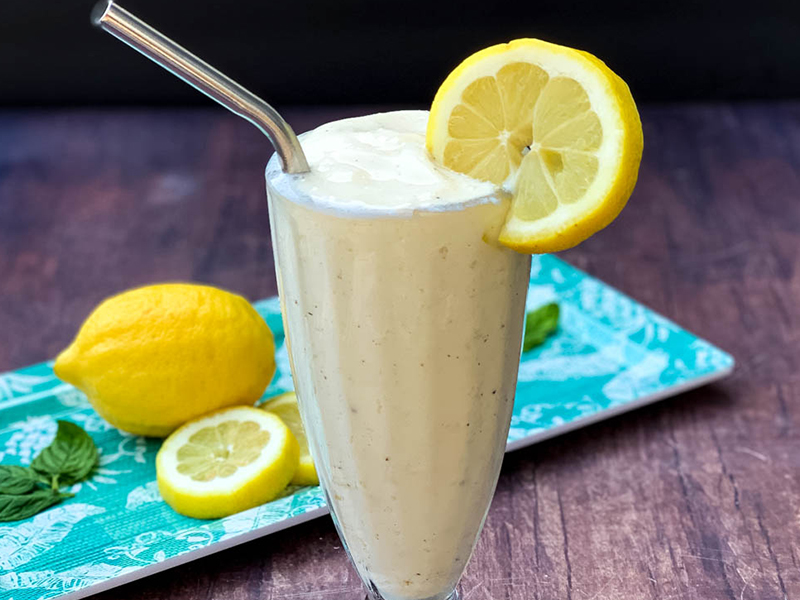 Summer and ice cream go hand in hand. So we had to include this delicious ice cream in the list! If you love ice creams, you're going to love them.
Prep Time: 10 mins
Ingredients:
⅓ cup of lemon juice
3 tablespoons of sugar
2 cups of vanilla ice cream
2 cups of water, preferably cold
Method:
Take water and put some ice cubes in it.
Pour in lemon juice, ⅓ cup of that water and sugar into a blender and blend.
Add vanilla ice cream to that blender jar and blend again till all of it is combined.
Serve with a spoon!
6. Berry Lemonade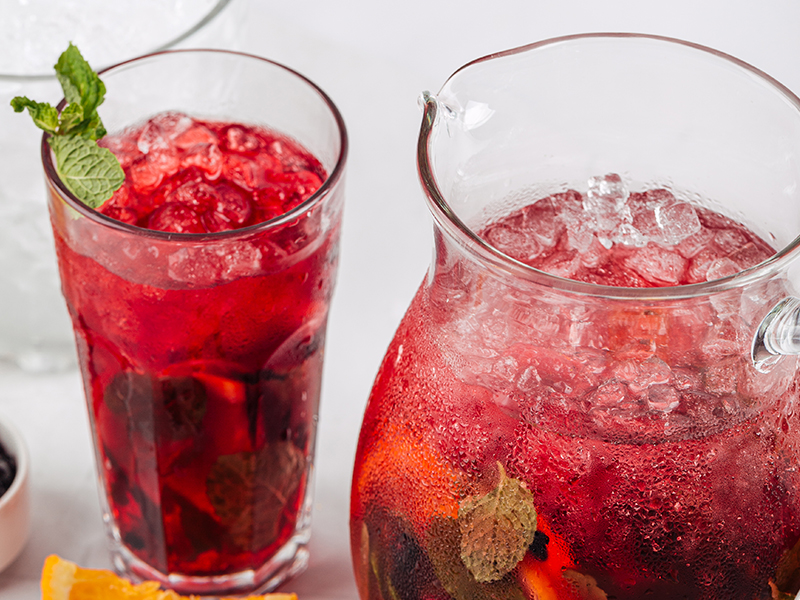 Berries are fun and yum, here's how you can make lemonade with them.
Prep Time: 25 mins
Ingredients:
14 cups of water
3 cups of sugar
25 lemons
12 cups of raspberries (if you can't find raspberries you can always put raspberry juice)
4 cups of strawberries
Method:
In a saucepan pour 3 cups of water and the sugar over medium heat till it dissolves. After that, turn off the heat and let it cool. Take the sugar and put it in boiling water.
Juice up 20 lemons.
In a mixer, put 8 cups of raspberries and blend till it's smooth. Strain in through a fine-mesh strainer.
Now in a gallon container put the sugar syrup you just prepared with lemon juice as well as the raspberry puree. Place it in the fridge to chill.
Take a jar and stir together the concentrate and the remaining two cups of water with raspberries and fruit slices. Serve with ice.
7. Guava Lemonade Fizz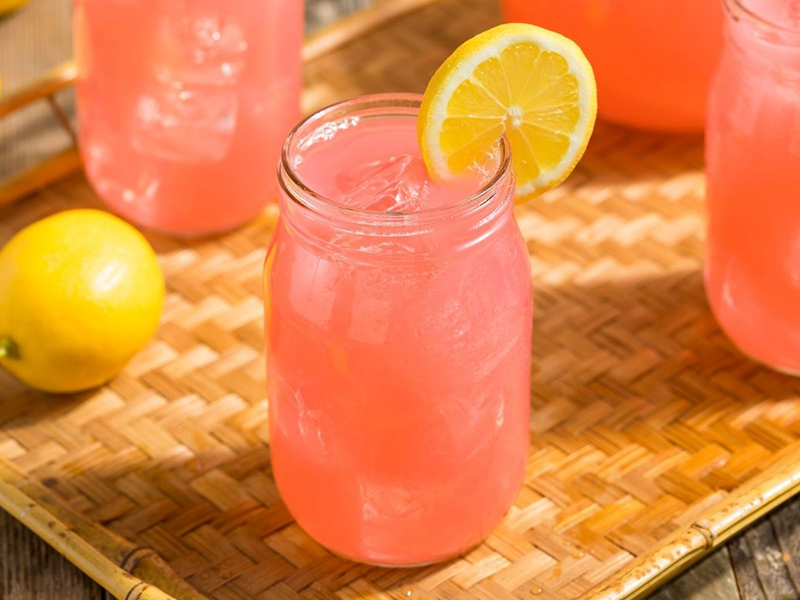 One of the simplest drinks ever, this guava lemonade fizz is a favourite. To make it apt for the kids you can cut out the alcohol and it'll still taste good.
Prep Time: 10 mins
Ingredients:
60 ml of Vodka
1 cup of guava juice
1 tablespoon of fresh lemon juice
Soda or sparkling water
Cherries
Method:
Take a glass and combine the vodka and lemon juice. Lightly stir.
Add guava juice to it and stir again.
Add some soda to fill the glass and combine it all.
Serve with some cherries on top.
8. Coconut & Basil Lemonade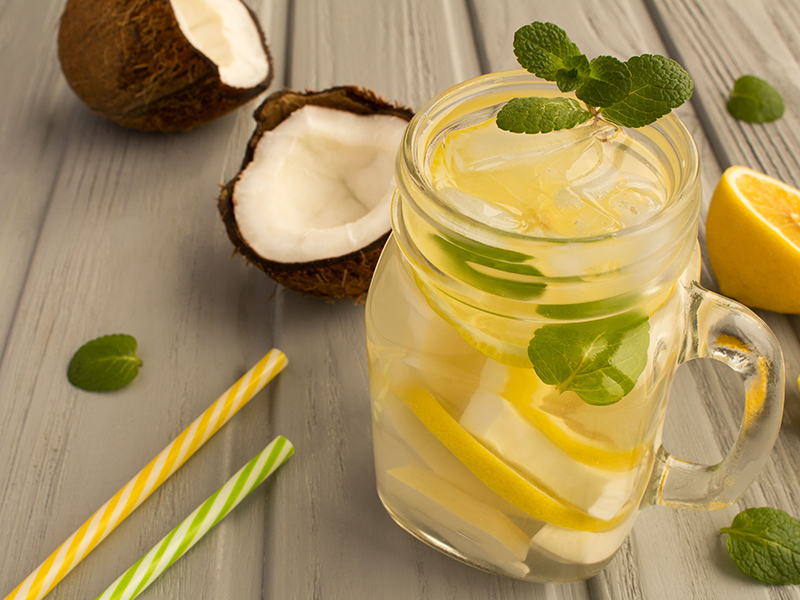 Who knew coconut can be used in a lemonade? Here is a simple Coconut & Basil lemonade recipe you can enjoy at home.
Prep Time: 10 mins
Ingredients:
3 cups of water
½ cup of lemon juice
½ cup of sugar
2 tablespoons of coconut cream/syrup
½ cup of frozen berries
Ice cubes
3-4 basil leaves
Method:
Take a large bowl and combine water, lemon juice and coconut syrup in it. Stir it well till the sugar dissolves. Cover and keep it in the fridge to chill.
Transfer the mixture to a serving glass and add berries.
Lastly, add some ice cubes and basil leaves. Your own coconut and basil lemonade is ready!
9. Pink Lemonade Slushie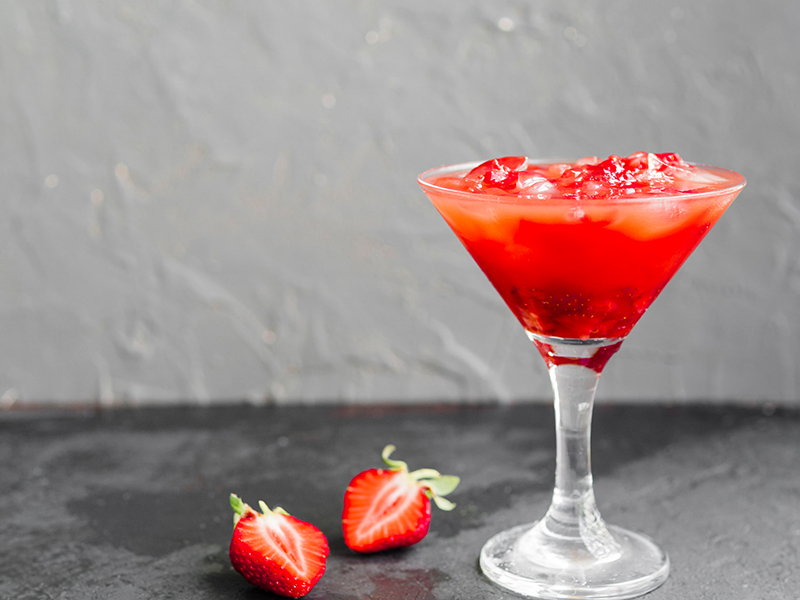 You must have had one of these in a restaurant, but trust us it's super easy to make at home too!
Prep Time: 15 mins
Ingredients:
2 cups of cold water
One cup of frozen pink lemonade concentrate
Frozen raspberries
2 cups of ice cubes
500 ml Limca
Method:
In a blender add half the water and lemonade concentrate with the frozen raspberries and half the ice. Cover it and blend until it's all combined.
Repeat the same procedure with the leftover ingredients.
To serve, add the lemonade mixture in a glass and pour Limca. Stir gently and your pink lemonade is ready.
10. Carrot & Cucumber Lemonade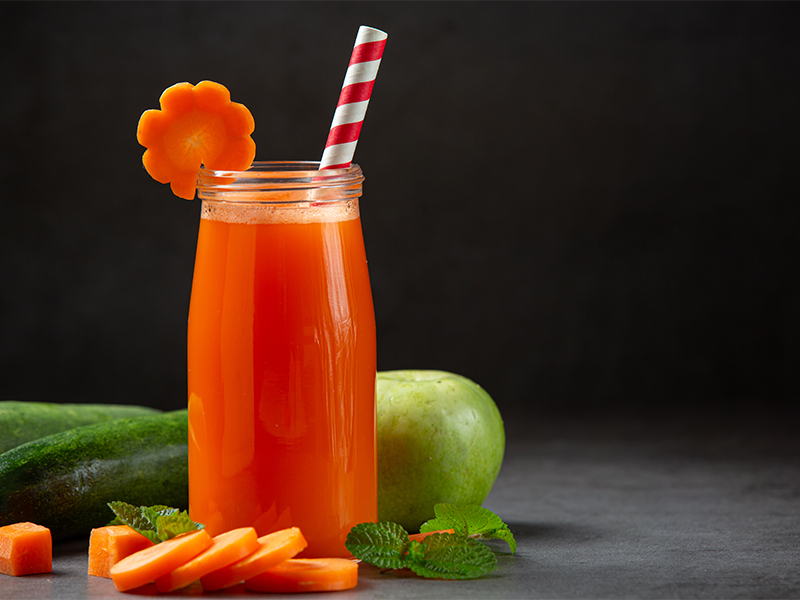 This is definitely one of the most nutritious drinks on the list. Makes it perfect to have with breakfast, lunch or on its own.
Prep Time: 15 mins
Ingredients:
1 cup of peeled and chopped carrot
2 cups of water
3 cups of pineapple juice
1 cups of lemon juice
½ cup of cucumber
Coldwater
Ice
Lemon Wedges
Method:
In a medium saucepan add carrots and water to boil till the carrots and cucumber are cooked and soft.
After it has cooled down add the mixture into a blender and add 1 cup of pineapple juice.
Transfer to a pitcher and stir in the pineapple juice and lemon juice. Let it chill
Serve with ice and garnish with lemon wedges.
These are some of the amazing lemonade recipes that can be a great update to your normal shikanji recipe. The best part about these homemade lemonade recipes is that they are super easy to make and can be enjoyed by the whole family anytime. Try these delicious recipes and share your favourite in the comments below.