Guess what is the main ingredient to creating a wonderful house décor? Decorating glass bottles. With a couple of paints, tubes of glue, strings, and a sturdy glass bottle there is virtually no limit to the pieces of art that you can create. You could wrap the glass bottles in twine or jute ropes, or you could paint them with glass paints, or you could etch them in acid, or you could bake them with paint, or you could frost them for an icy look, or you could cover them in pearls, the sky's the limit! When it comes to glass bottle crafts there are no set rules to limit your creativity, you can literally create anything you want to.
There's no limit to creativity when it comes to home decor and some desi brands showcase the abundance of talent in India. Buy home decor at the Red Dot Shop and decorate your house with the work of local artisans. Here are 7 DIY glass bottle decoration ideas that'll bring magic to the interior of your homes and give you some inspiration to create your own masterpieces.
7 Simple DIYs For Decorating Glass Bottles
If DIY glass bottle craft ideas are what you are looking for, then this list is perfect for you. There is nothing more aesthetically pleasing than a neatly decorated house.
1. Acrylic Painted Glass Bottles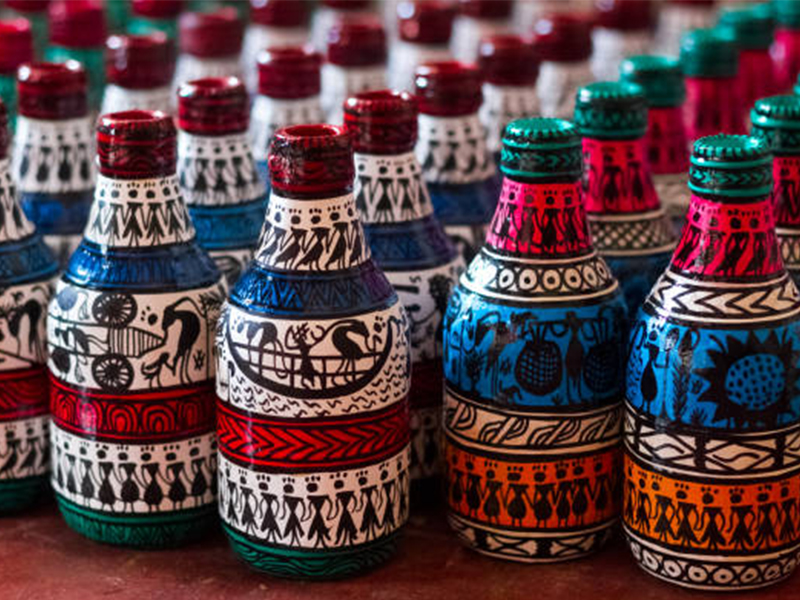 These glass bottle crafts are easy to make and offer a modern look.
You Will Need:
Pearl acrylic colours
Clear tape
Wool/thread
Small sponge
Method:
Once you have all your items, pick a glass bottle of your liking it could be a wine bottle or a mason jar, or any other glass bottle you can find.
Now carefully put strips of your clear tape around the width of your bottle. Keep equal spacings between each strip.
Keep adding strips until there are two fingers of a gap between the last strip and the neck of the bottle (the area where it tapers to form the mouth).
If you are working with a narrow-mouthed wine bottle, leave three to four fingers of a gap.
Now in a small dish pour out a small amount of the acrylic paint of your choice. Take the small sponge and dip it in the paint.
Do not press, just gently dip and get some paint on the sponge. Dab the sponge along the surface of the bottle that is uncovered by the strips.
The best way to do this is to hold the bottle from its mouth and rotate it as you dab. It might get messy so be careful with your clothes. You can mix up the paint if you want, be creative and paint the bottle as you like. Let the paint dry and then remove the strips.
Now take the woollen thread and stick one end of the thread to the bottle body just above the last strip. Wrap the remaining portion of the bottle and secure the free end with a dab of hot glue. Voila! Your home décor glassy bottle is done.
2. Rangoli Styled Glass Bottles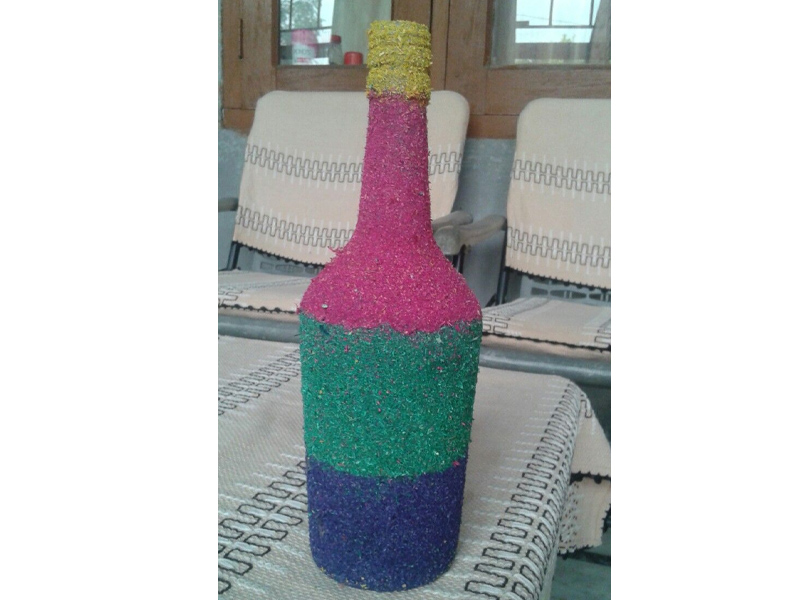 If you are looking for some traditional glass bottle decoration ideas, then this will be more suited to your taste.
You Will Need:
Rangoli colours
Glue
Tape
Paintbrush
Method:
Take your bottle of choice and put a tape at the bottom, two fingers above the bottom ridge. A wide narrow-mouthed bottle suits this painting glass bottles ideas.
Now pour some glue into a small dish and empty the rangoli colours in a bowl.
Take some glue on the brush and paint the bottle under the tape.
With the glue still wet, pour your rangoli colours gently into the glue.
Do the same for the top side. Once the rangoli colours dry out, remove the tape and your glass bottle home décor is ready.
3. Glass Jar Lamp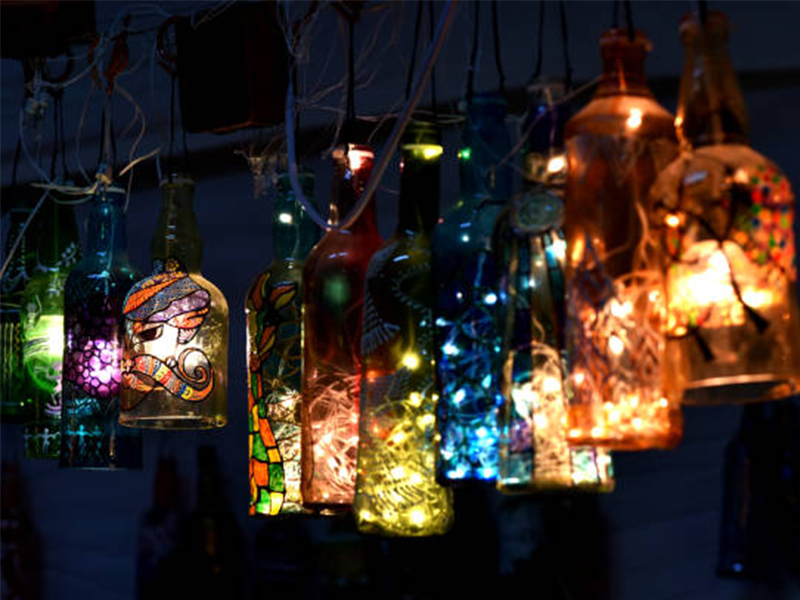 If decorating glass bottles is your ultimate passion then this project will give you the utmost satisfaction.
You Will Need:
Transparent Pearls (flattened on one side)
A hot glue gun
A scented-candle
Method:
This project works best with a wide-mouthed mason jar. Take your mason jar and clean with tissue paper, making sure there are no dust particles on the surface.
Use your hot glue gun and put a small dab of glue right in the centre of the pearls
Stick the pearls to the jar, starting from the bottom. Leave adequate space under the pearls so that the jar sits steadily on a flat surface.
Keep pasting pearls going in a clockwise manner around the jar.
Once you are done put in a lighted scented candle and enjoy the light beam being refracted and reflected by the pearls as you relish a candlelight dinner with your loved one.
4. Glass Artificial Aquarium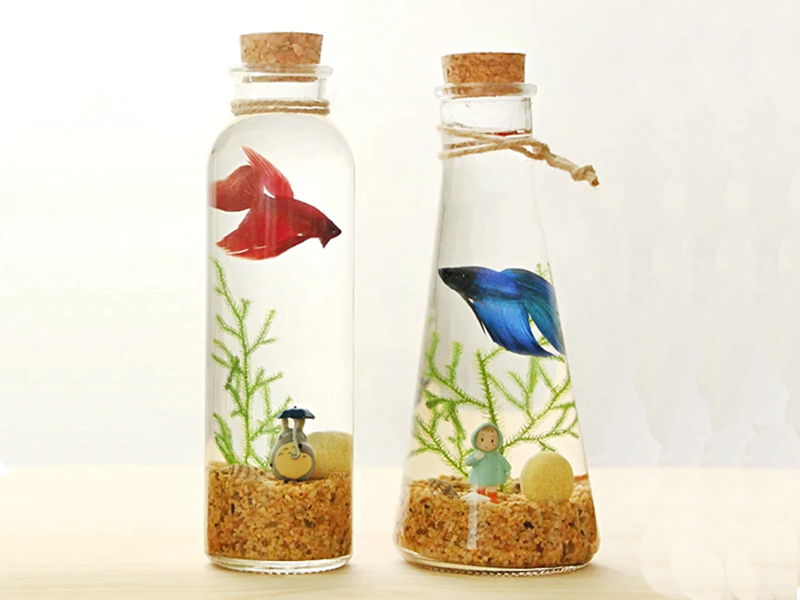 This glass bottle craft idea is worth all the time and effort. The end result will add the perfect oomph to your home decor.
You Will Need:
Big mason jar
Small sea rocks
Seashells
A handful of sea sand
Marbles
Hot glue
Thread
2 tiny plastic fish
Method:
Take your mason jar and clean it thoroughly with water and make sure the glass is perfectly transparent. This glass bottle decoration idea hinges on a perfect transparent view inside the glass.
Now put it in your sea sand followed by the sea rocks, marbles, and seashells
Tap the jar slightly so everything is fixed in place by the sand.
Now carefully pour in water and fill the jar just below the neck. Keep in mind the fish will be dipped in the water so fill accordingly.
Now add some glitter if you want to give a little sparkle. Make sure your rocks, marbles, and seashells are not overcrowded.
Now take the lid of the jar and invert it. At the underside of the lid, attach two threads using a dab of hot glue.
Now attach the free ends of the threads to the fishes and carefully close the jar after dipping the fish. A hassle-free aquarium is ready. Enjoy looking at it while taking a break from your studies.
5. Spray Painted Vase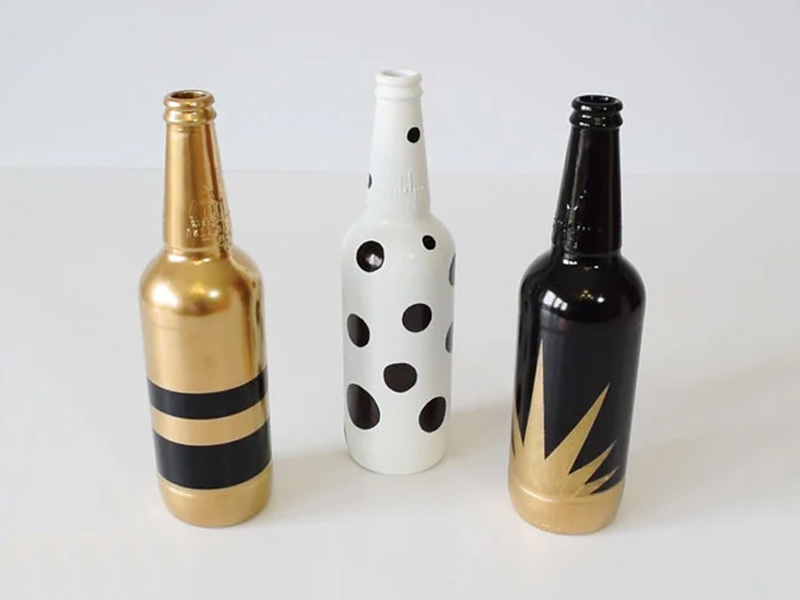 If you are looking for an easy way to create a phenomenal glass vase, then this is perfect for you. Create a bouquet of flowers in a bottle and dazzle your guests with this decor piece!
You Will Need:
Spray paint (Black)
Red ribbon
A small bow
Method:
Clean your wine bottle and spray paint it completely with the Black spray paint.
Spray in one direction only and apply two to three layers waiting at least three minutes between each layer.
Once the spray paint has dried, cut out two red ribbons and wrap them around the bottle leaving at least a two-finger space between them.
Stick them in place with hot glue. Put a dab of hot glue on the ribbon and stick it at the neck of the bottle just where the taper begins.
Add black roses or yellow roses to complete the vase.
6. Glass Painted Vase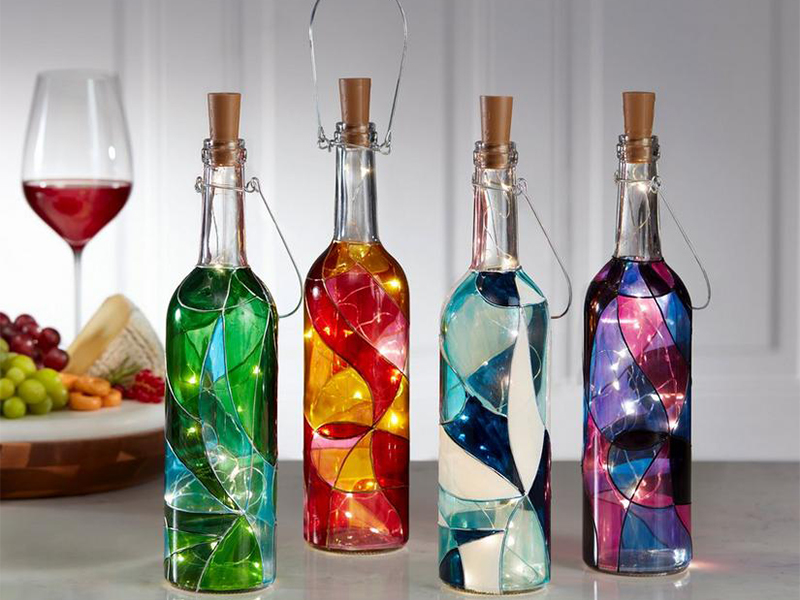 If you want to try painting glass bottles ideas then this one's for you. Make the perfect vase for some flowers you receive!
You Will Need:
Method:
Clean your bottle and remove any dust particles
Now take the black outliner that comes with the glass paints and start drawing circles of various sizes and shapes along the body of the bottle
After the pattern is drawn, take your favourite colours and fill in the circles
Wait for the paint to dry and then add your favourite flowers and you are done
7. Glass Photo Frames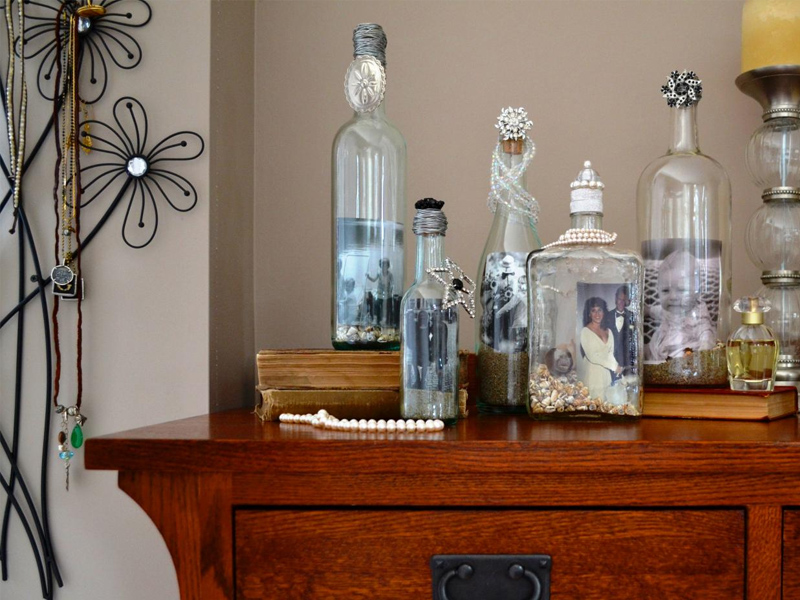 Bored with the traditional wooden frames? Or do you want to create an unforgettable gift? This DIY glass photo frame is just for you. It's super easy to make but has a rustic charm to it.
You Will Need:
A paper copy of the photo
A few tiny sea rocks
Marbles
A cork
Method:
Start off by cleaning the bottle thoroughly from the inside out. Remember it's all about the look through the glass so choose your bottle carefully.
Add in the sea rocks and the marbles.
Now carefully roll the paper photo and drop it into the centre of the bottle allowing it to unfold as your drop.
Use a fine paintbrush to get the picture in place.
Now place the cork and seal your memory.
You may also add decorations to the cork like a door handle or a brioche it is up to you.
With glass bottles being a staple in our everyday life, creating home decors out of them will add a new dimension to your home's interior while saving you some bills too. Always keep in mind glass bottle craft is limited by your creativity only. You can create literally anything you imagine from a bunch of glass bottles. So, stay crafty and test the boundaries of your imagination.