A jewel in the crown of achievements and honour, the Indian Padma awards are bestowed upon extraordinary citizens. And this year's award list saw a number of female trailblazers being honoured for exceptional contributions in the field of art and culture, business, social welfare. The Padma Awards are one of the highest civilian honours of India announced annually on the eve of Republic Day. The Awards are given in three categories: Padma Vibhushan (for exceptional and distinguished service), Padma Bhushan (distinguished service of higher order) and Padma Shri (distinguished service). The award seeks to recognize achievements in all fields of activities or disciplines where an element of public service is involved.
TC46 honours these iconic women recipients of the prestigious Padma awards and salutes their work.
Women Who Were Honoured With The Prestigious Padma Awards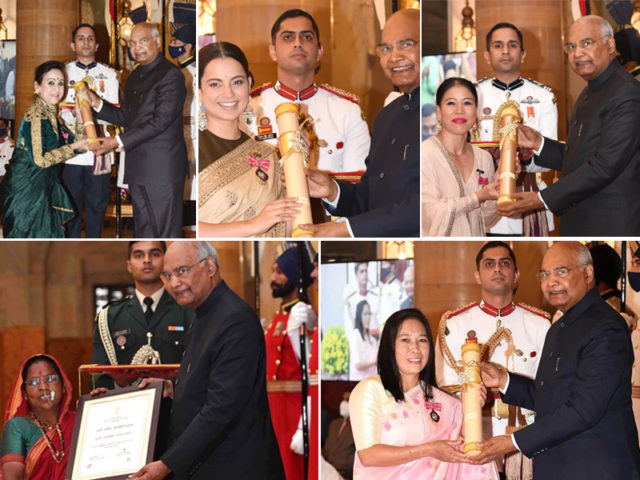 The Awards are given in three categories: Padma Vibhushan (for exceptional and distinguished service), Padma Bhushan (distinguished service of higher-order) and Padma Shri (distinguished service), and seek to recognise achievements in all fields of activities or disciplines where an element of public service is involved.
1. M C Mary Kom
Mangte Chungneijang Mary Kom OLY is an Indian amateur boxer, politician, and incumbent Member of Parliament, Rajya Sabha. She received the Padma Vibhushan for Sports.
2. Sushma Swaraj
Sushma Swaraj was an Indian politician and a Supreme Court lawyer senior leader of Bharatiya Janata Party, Swaraj served as the Minister of External Affairs of India in the first Narendra Modi government. She was the second woman to hold the office, after Indira Gandhi. She was awarded the Padma Vibhushan posthumously.
3. Krishnammal Jagannathan
Krishnammal Jagannathan is a social service activist from the Indian state of Tamil Nadu. She and her husband, Sankaralingam Jagannathan, protested against social injustice and they are Gandhian activists. The Indian government awarded her the Padma Bhushan.
4. Tsering Landol
Tsering Landol is an Indian gynecologist and one of the pioneers of women's health in the Ladakh Union Territory of India. She served at the Sonam Norboo Memorial Government Hospital, Leh.
5. PV Sindhu
Pusarla Venkata Sindhu is an Indian professional badminton player. Over the course of her career, Sindhu has won medals at multiple tournaments including Olympics and on the BWF circuit including a gold at the 2019 World Championships.
6. Dr Padma Bandopadhyay
Air Marshal Padma Bandopadhyay, PVSM, AVSM, VSM, PHS is a decorated former flight surgeon in the Indian Air Force. She was the first woman to be promoted to the rank of Air Marshal in the Indian Air Force.
7. Indira P. P. Bora
Indira P. P. Bora is a Satriya dancer from Assam, India. Trained in Bharatnatyam for 13 years under Guru Rukmini Devi Arundale and in Kuchipudi under the guidance of Guru Vempati Chinna Satyam, Bora has promoted and performed Satriya in New Zealand, the United States, and Vietnam.
8. Usha Chaumar
Usha Chaumar is a social worker from Alwar, Rajasthan, India. She is the President of Sulabh International Social Service Organisation, the non-profit arm of Sulabh International.
9. Lalitha and Saroja Chidambaram
The veteran Carnatic singer duo, Lalitha and Saroja Chidambaram, also known as 'Bombay Sisters' across the world were awarded the Padma Shri for their distinguished service to the Nation.
10. Oinam Bembem Devi
Oinam Bembem Devi is an Indian footballer born in Imphal in Manipur. In 2017, she was honoured with the Arjuna Award by the Ministry of Youth Affairs and Sports. She was nicknamed the "Durga of Indian Football" and is currently involved in spreading awareness about Women's football in India.
11. Tulsi Gowda
Tulsi Gowda is an Indian environmentalist from Honnali village, Ankola taluk in Karnataka state. She has planted more than 30,000 saplings and looks after the nurseries of the Forest Department. Despite having no formal education, she has made immense contributions towards preserving the environment.
12. Meenakshi Jain
Meenakshi Jain is an Indian political scientist and historian. A scholar on relations between caste and politics, she is currently an associate professor of history at Gargi College, Delhi. In 2014, she was nominated as a member of the Indian Council of Historical Research by the Indian government.
13. Dr Leela Joshi
Dr Leela Joshi is an Indian gynaecologist and social worker known for her work with tribal women and teenage girls suffering from Anemia in Ratlam district. Nicknamed as the Mother Teresa of the Malwa region, Dr Joshi was conferred Padma Shri in 2020.
14. Sarita Joshi
Sarita Joshi is an Indian stage, television and film actress and is a veteran actress of Gujarati theatre and Marathi theatre and also Marathi cinema. She is widely remembered for her role as Godavari Labhshankar Thakkar a.k.a. Baa in the Star Plus hit dramedy Baa Bahoo Aur Baby, for which she won many awards.
15. Ekta Kapoor
Ekta Kapoor is an Indian television producer, film producer and director who works in Hindi cinema and soap operas. She is the joint managing director and creative head of Balaji Telefilms Limited, which was founded in 1994.
16. Moozhikkal Pankajaksh
Moozhikkal Pankajakshi is an expert in Nokkuvidya Pavakkali a form of puppetry. She was awarded India's fourth highest civilian award the Padma Shri in 2020.
17. Rahibai Soma Popere
Rahibai Soma Popere, born in 1964, is an Indian farmer and conservationist. She helps other farmers return to native varieties of crops, preparing hyacinth beans for self-help groups. She is among three Indians on the BBC list of "100 Women 2018". Scientist Raghunath Mashelkar gave her the epithet "Seed Mother".
18. Rani Rampal
Rani Rampal is an Indian field hockey player. At the age of 15, she was the youngest player in the national team which participated in the 2010 World Cup. She has completed her schooling but was not able to get the graduate degree due to practice sessions and matches which were lined up. She plays forward on her team.
19. Kangana Ranaut
Kangana Ranaut is an Indian actress and filmmaker who works in Hindi films. Known for her versatility and portrayal of strong women in female-centric films, she has been described in the media as one of India's highest-paid actresses.
20. Trinity Saioo
Trinity Saioo, a former school teacher and a member of the Jaintia Hill Tribe in Meghalaya, is leading a silent revolution in her state by cultivating Lakadong Turmeric, a special variety of the spice that is native to Meghalaya.
21. Dr Sandra Desa Souza
Dr Sandra Desa Souza, is a renowned ENT Head + Neck + Cochlear Implant Surgeon. She is the pioneer of cochlear implants having performed at Jaslok the first cochlear implant surgery in India and Asia. She was the first woman in the world to do this surgery. She has been in practice for 45 years and was Director of ENT at Jaslok Hospital in 1979.
TC46 applauds the great work by these amazing women in varied fields and hopes to celebrate many more such iconic women in the future.