Every year Bhai Dooj comes around at the end of Diwali festivities to celebrate bhai behno ka pyara bandhan. It falls on the second tithi of Shukla Paksha of the Kartika month in the Hindu calendar. Families get together to celebrate this wonderful and wholesome occasion. Sisters pray for their brother's long and healthy lives and brothers give them gifts in return.
This festival is observed all across the country with equal enthusiasm. It's called Bhai Phnota in West Bengal, Bhai Tihar in Nepal and Bhau Beej in the states of Maharashtra and Goa. No matter the different names, the spirit of the festivals remains joyous and loving. This year, the festival will be celebrated on 27 October.
Bhai Dooj Significance & History
Bhai dooj history dates back to the Vedic period, when deities had a close relationship with their siblings in Hindu religion. Bhai Dooj is mentioned in several ancient Hindu scriptures as a festival of sibling bond. There are numerous stories associated with this day, two of them are about Lord Krishna and his sister Subhadra, and Lord Yamraj and his sister Yamuna.
Commemorating Krishna's triumph over Narakasur, when the former visits his sister Subhadra, she welcomes him with a teeka and sweets. Pleased by his sister's affection, he bestows good fortune and other boons.
In another story, Yama, the God of Death, comes to visit his sister Yami. She applies tilak to her brother Yama's forehead and gives him special delicacies prepared by her. They dine together and talk to one another to their hearts' content because they hadn't seen each other in a long time. They also exchange gifts, one of which Yami had crafted with her own hands. Yama then said that whoever receives tilak from his sister on this day will live a long and prosperous life. As a result, Bhai Dooj is also known as Yama Dwitiya.
How Is Bhai Dooj Celebrated?
Traditionally, brothers visit their sisters' houses for bhai dooj celebration. After the brother's arrival, the ceremonies begin with an aarti. This is followed by the puja and teeka karan. Laal teeka lagane ke baad, brothers give their sisters gifts, and they also exchange blessings. After this, comes the feast prepared by the sister. It includes tasty food items handmade with love.
Another ritual that is observed on this day is worshipping the coconut, which is then presented to the sister by her brother. All family members wholeheartedly take part in the ceremonies and click beautiful pictures sealing the auspicious day.
Bhai Dooj Puja Vidhi, Rituals & Traditions Commonly Observed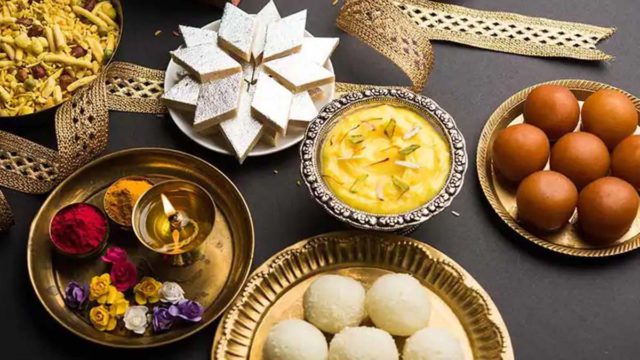 The main event of the bhai dooj celebration is the tilak ceremony and puja. Now that you've understood bhai dooj significance and importance, let's see how you can do the bhai dooj puja vidhi and what's part of the puja thali.
Here's a list of puja samagri you'll be needing:
Chandan
Ghee
Cotton wicks
Akshat
Sweets
Paan and supari
Dakshina
Flowers
Fruits
Kalava or mauli
Now follow the step by step guide to do the bhai dooj puja vidhi
Step 1: Get up early in the morning, take a bath, and put on fresh clothing.
Step 2: Gather all of the puja samagri.
Step 3: Draw a drawing of the khote raja, rani, sun, moon, and other characters.
Step 4: Light an oil lamp and point it south.
Step 5: Present flowers, dahi, rice, sweets, and perform tilak.
Step 6: Recite the Bhai Dooj katha and construct a cotton crown.
Step 7: After praying, have your brother face north-west and perform the tilak.
Here's the mantra that is chanted in the puja:
"Ganga puje Yamuna ko, Yami puje Yamraj ko, Subhadra puje Krishna ko,
Ganga Yamuna Neer Bahe, Mere Bhai aap badhein, phule phalein."
If you don't have a brother or your brother lives far away, you can also worship Chandra Dev, the moon god, for his long life. Because of India's vast diversity, Bhai Dooj Pooja is celebrated differently in different states according to their language, customs, and traditions, but with the same faith that links all the brothers and sisters of this nation.
Bhai Phnota in West Bengal is celebrated by sisters keeping a fast on this day and applying tilak to their brothers' foreheads. They treat their brothers to lunch after the tilak. In Maharashtra, Bhao means Bhai in Marathi, hence the name, bhao beej. The sister finishes the Tilak on the eve and prays for his long life.
Just like this, various states have various rituals and customs. But the core spirit lies in stretching family bonds, nurturing the bond between siblings and spreading love and joy.
And one of the best ways to show your love and affection to someone? Buying them gifts! Want some ideas for bhai dooj gifts for brothers and sisters? Look no further.
5 Unique Bhai Dooj Gifts For Brothers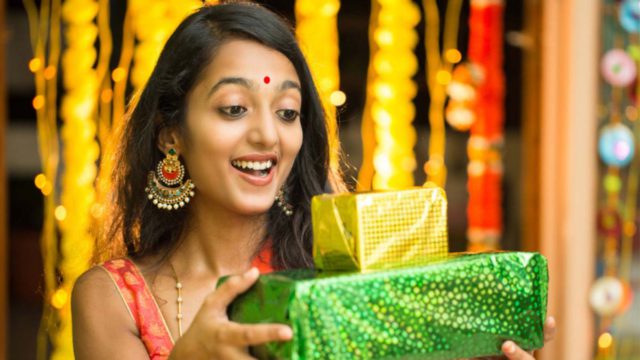 Whether you're looking for Bhai Dooj gifts for brothers or sisters, this list contains gift ideas that your sibling will definitely love.
1. Fitness Tracker
Because health is so important in today's world, keeping track of your sibling's fitness is now easy with an activity tracker that doubles as a watch and heartbeat monitor as your Bhau Beej gifts for brother or sister. It's a totally waterproof health bracelet with features like a speed counter and a calorie counter that records your daily fitness routine. Is there a more perfect all-in-one present? We don't think so.
2. Car Phone Mount
If your sibling loves driving, this is one of the best Bhau Beej gift for brothers and sisters all around the country. This phone mount for cars as a gift will help them maintain their eyes on the road. It will remain in the centre of their vehicle's dashboard, eliminating the need for them to look all the way down at the navigation.
3. Gift Vouchers
Know where your sibling loves to shop but don't know what to get them this year? The best solution is to get them a voucher (or two!) and let them have a field day. This way, they can get what they want and still call it a gift! One of the easiest bhai dooj gifts for brothers and sisters.
4. Noise Cancelling Headphones
Here's another present idea that everyone will adore. Active noise cancelling headphones are distinct from standard headphones that only feature cushioning. Instead, these headphones feature a microphone that takes up noise around you and plays a sound opposite to that noise to filter it out. These make the perfect Bhau Beej gift for brothers who love gaming.
5. Portable Charger
Gift your lifelines a lifeline for their phones. Truly one of the most useful Bhau Beej gifts for brothers and sisters everywhere. Your sibling will appreciate this gift even if they already own power banks, because you never know when you might end up needing this. Whether this is a Bhau Beej gift for brother or sister, they're going to love it.
Some other Bhau Beej gifts for brothers and sisters can be spa day cards, gift hampers, laptop bags, water bottles, etc.
You must realise how similar Raksha Bandhan is to this festival. But nevertheless, it has its own distinctions and traditions that set it apart. #BeALittleMore for your brother and sister this Bhai Dooj and spread dher saara pyaar. Happy Bhai Dooj!
Open up like never before and participate in conversations about beauty, entrepreneurship, mental health, menstrual & sexual health, and more. Desi women, join our community NOW!