A nine-day festival, dedicated to Goddess Durga and her nine avatars, each day of Navratri holds a special place in every Indian's heart. A celebration of lights, colours, music and dance, it concludes on the tenth day with Dussehra, honouring the victory of Lord Rama over Ravana. The nine different avatars of Goddess Durga are worshipped during the Navratri. The 1st day is dedicated to Goddess Shailputri, 2nd to Brahmacharini, 3rd to Chandraghanta, 4th day to Kushmanda, 5th day to Skandamata, 6th day to Katyayani, 7th day to Kaalratri, 8th to Mahagauri and 9th day to Siddhidatri. On Durga Ashtami, TC46 highlights the qualities women possess that are aligned with the characteristics of Maa Durga.
8 Qualities Every Woman Possesses Reflected In Maa Durga's Avatar
Goddess Durga represents the power of the Supreme Being that preserves moral order and righteousness in the creation. The Sanskrit word durga means fort or a place that is protected and thus difficult to reach. Durga, also called Divine Shakti, protects mankind from evil and misery by destroying evil forces (negative energy and vices—arrogance, jealousy, prejudice, hatred, anger, greed and selfishness). Goddess Durga is depicted as a warrior woman with eight hands carrying weapons of different kinds assuming mudras, (symbolic hand gestures) that represent her teachings.
1. Righteousness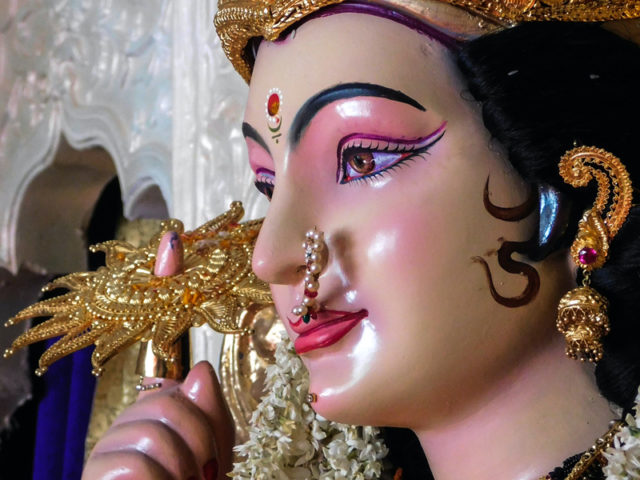 Maa Durga holds a chakra in her 1st upper right hand that symbolizes righteousness. Being righteous literally means to be right, especially in a moral way. From caring for the downtrodden and weak in society to standing up for her beliefs, a woman reflects this value in all walks of life.
Medha Patkar, Kiran Bedi, Laxmi Agarwal, Aruna Roy, Sunitha Krishnan, Arundhati Roy, Kriti Bharti, Manasi Pradhan and Saraswathi Gora are only a few of the long list of women activists that have been instrumental in changing many social evils.
Read here: 12 extraordinary naaris who are still fighting for your freedom and independence in various walks of life.
2. Radiance Of Positivity & Happiness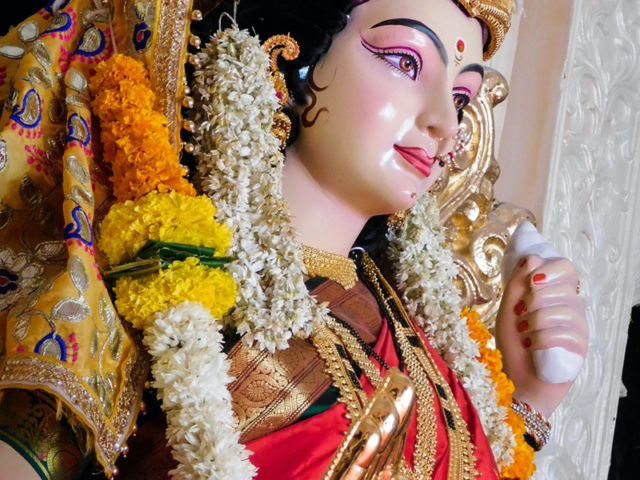 The conch in Maa Durga's first upper left hand symbolizes happiness. Women all over the world are a source of happiness for the family. The woman is like the sun, in several homes, that radiates positivity in the solar system filled with her loved ones.
Comedians Neeti Palta, Aditi Mittal, Sumukhi Suresh, Anu Menon, Kaneez Surkha, Radhika Vaz, Urooj Ashfaq are a few from an ever-growing list of women spreading joy.
3. Eradication Of Vices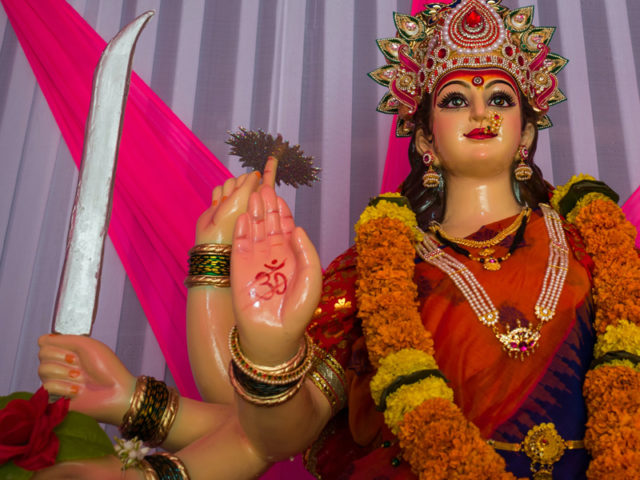 A sword in Maa Durga's second right lower hand symbolizes eradication of vices. A vice is a practice, behaviour, or habit generally considered immoral, sinful, criminal, rude, taboo, depraved, degrading, deviant or perverted in the associated society.
From voting for alcohol bans in areas spilling with drunk, jobless, abusive men to fighting for education of girls, Indian women are eradicating social evils that still prevail. Rashmi Anand, Vrinda Grover and Kamla Bhasin are a few working tirelessly to remedy society and make it a better place for all.
4. Upholding Values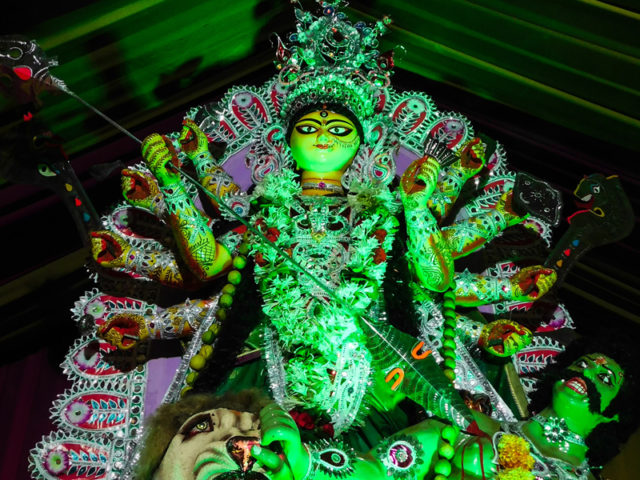 The bow and arrow in her second left lower hand symbolizes values. When women face difficulties in their lives, they stay true to their beliefs and values. Gender equality is the biggest pursuit of women's rights within the society of India, symbolizing values that fit the ever-changing, progressive world.
Trisha Shetty, an Indian activist for gender equity and the founder of SheSays, is a leading voice for human rights advocacy, especially advocating for gender-sensitive policies and law, quality education, youth and gender representation and preventing sexual violence in India. Supreme Court advocate Kiruba Munusamy, a human rights lawyer and Dalit activist, works on caste discrimination and gender violence cases.
5. Setting Boundaries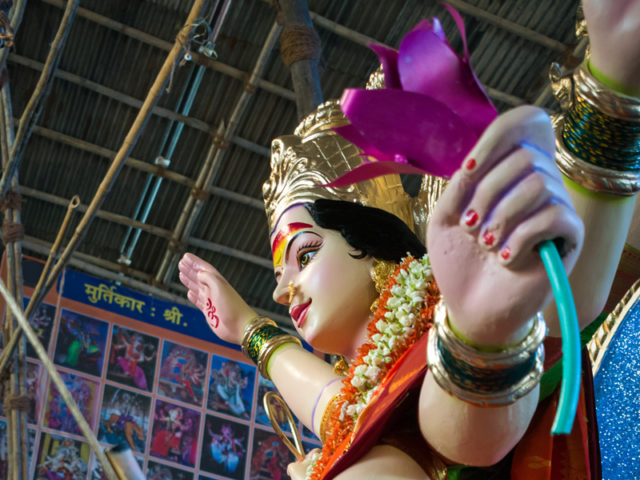 Maa Durga's lotus Flower in her third lower left hand symbolizes detachment. Women, especially today, need to set boundaries for self-care. Having seen generations of women, from parnani to nani and maa, being so emotionally attached to the family, society and morals that they lose their sense of self, today's woman is wiser.
Toilet: Ek Prem Katha's real life inspiration Anita Harre is a hero for highlighting India's constant struggle towards becoming a country where sanitation is not a luxury. Mumbai startup LXME is a one-of-a-kind platform with products curated for differentiated financial needs to help women set financial goals and independence.
6. Undying Devotion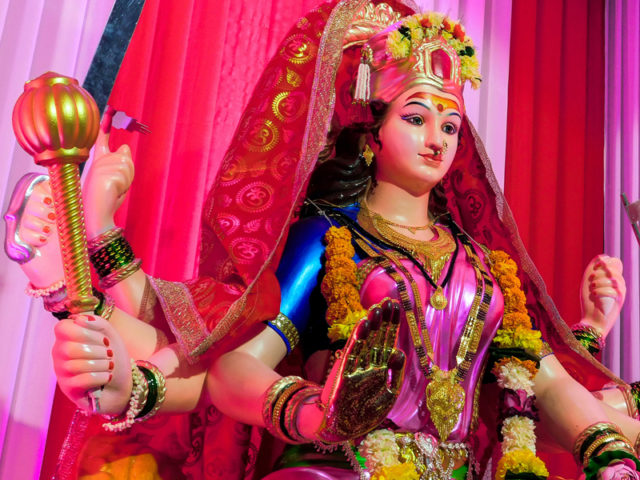 The club in Maa Durga's third right lower hand is the symbol of Hanuman and symbolizes devotion and surrender. Passion forms the crux of all goals women take on. One of the major contributors to Indian society has been the active participation of some very focussed and dedicated women.
Even history tells tall tales of women who were devoted to causes. Savitribai Phule, an Indian social reformer, educationalist, and poet from Maharashtra, worked tirelessly for women's education in the 1800s. Ramabai Ranade was one of the first women's rights activists in India, and the founder of Seva Sadan in Mumbai and Pune – an institution that trained thousands of women in various skills. Dr Vina Mazumdar was one of the first women to be involved in the 'twin movements' of Women's Studies and Women's Activism.
7. Building Courage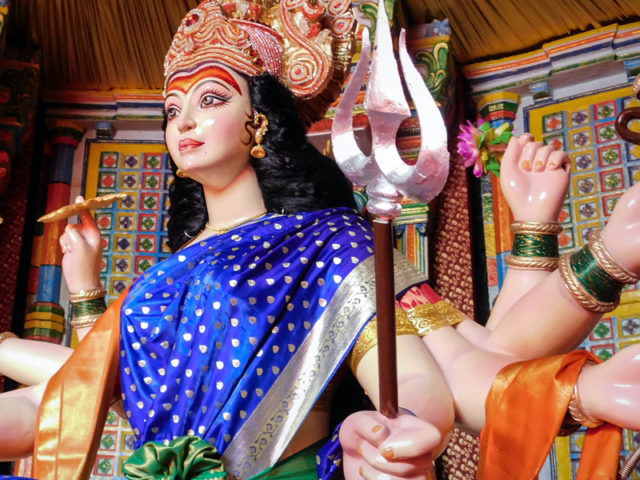 Maa Durga's trident or trishul in her fourth left lower hand symbolizes courage. Today, women have various platforms to showcase their courage and bravery. From starting mass movements that stand for women's causes to calling out evil and wrongdoing in the country, women are fearlessly sharing support for their peers.
Rani Durgavati, the ruling queen of Gondwana, was a warrior of immense bravery, wit and valour. Rani Lakshmibai of Jhansi was one of the leaders of the First War of Independence, and holds her place in history as a fearless warrior and a passionate patriot. Lakshmi Sahgal was a revolutionary fighting for India's independence, and an officer of Subhash Chandra Bose's Indian National Army. Kittur Chennamma was the ruler of Kittur in Karnataka, and the queen who opposed British rule in India.
8. Seeking Forgiveness Within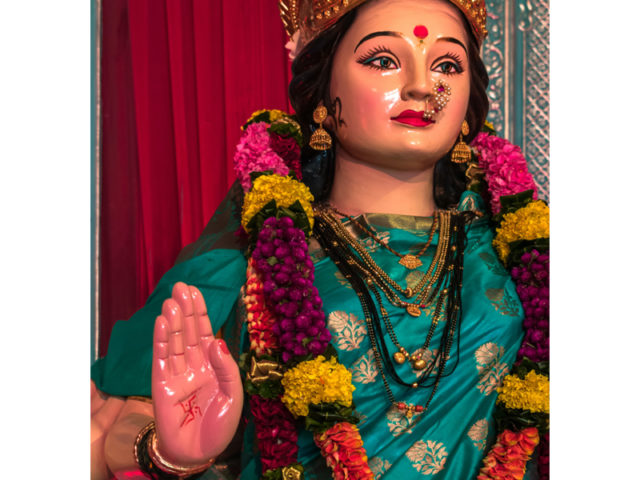 Maa Durga's fourth lower right hand is an open palm showering blessings and symbolizes forgiveness. Forgiveness is a virtue, but it does not come naturally for both sexes, according to a new research. The analyses revealed that men have a harder time forgiving than women do.
But more importantly, women are looking within to forgive themselves and other women around them. It's not abuse these women are forgiving, but rather the lack of awareness and education that led to mistakes in a patriarchal society. A maa forgiving the nani for not talking to her about periods is about learning from mistakes. In a society where periods were, and to some extent still are, considered taboo, women no longer hold grudges against other women simply for their lack of knowledge.
A woman is known with not just one but many names and has various facets of her own. Her qualities reflect those of Maa Durga and Navratri gives us the chance to celebrate them. So this Durga Ashtami, celebrate the women in your life!
8th to Mahagauri and 9th day to Siddhidatri. Also, know more about the navratri celebrations & puja vidhi here.