One of the major festivals celebrated all across the country, Navratri symbolises the victory of good over evil. It is also a time to renew your inner energy and welcome a fresh start. The word Navratri is a combination of two Sanskrit words – Nava which means 'nine' and Ratri which means 'night'.
The celebrations of this nine-day-long festival include fasting, puja, food, Garba, navratri vrat katha, aarti and lots more. Every puja during Navratri concludes with Navratri vrat katha. In fact, different states across the country have their own way of celebrating this pious festival of Navratri puja vidhi.
So, let's get started with discussing the history of Navratri katha, the significance behind each of the 9 days of the festival, celebrations, and fashion tips.
Navratri History & Origin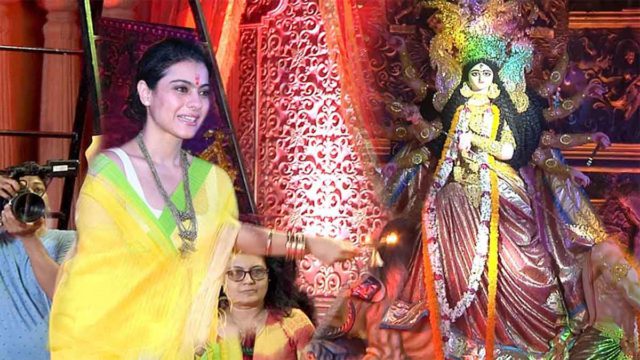 This ancient festival has a very interesting legend associated with it. Legend has it that Mahishasura, the extremely powerful demon king was granted immortality by Lord Brahma. However, there was a condition attached to the whole ordeal – he could only be defeated by a woman!
Drunk on power, Mahishasura attacked the three spheres (Heaven, Hell and Earth) knowing that no one could defeat or kill him. This worried the Gods who then joined forces to put an end to Mahishasur. Lord Vishnu, Lord Brahma and Lord Shiva came together to create Goddess Durga. The fierce Goddess fought a 15-day long battle with the demon king and finally defeated him on the day of Mahalaya, defining Navratri significance.
Fasting Ritual Of Navratri
Now that you are aware of Navratri history, let's dig deeper into the various rituals and traditions associated with the festival.
Navrat Vrat is observed to show devotion towards, and please Goddess Durga and seek her blessings. While some devotees fast through all the nine days, others fast in jodas (couple), i.e. the first 2 or the last 2 days.
Navratri significance lies in the fact that this is also a time for devotees to turn inwards and recharge their being with new energy. Fasting during this festival can make this inner journey easier – it helps cleanse your body, mind and soul. Through fasting, you can shed the restlessness of your mind and fill it with peace and calmness.
Navrati vrat is for preparing oneself for the upcoming seasonal change. Sharad Navratri marks the beginning of winter. During this period of Navratri puja vidhi, people tend to have lower immunity, making them more susceptible to catching various illnesses. The light and clean diet followed during fasting can help your body keep all these ailments at bay.
Implications Behind The 9 Colours Of Navratri & Each Of The Days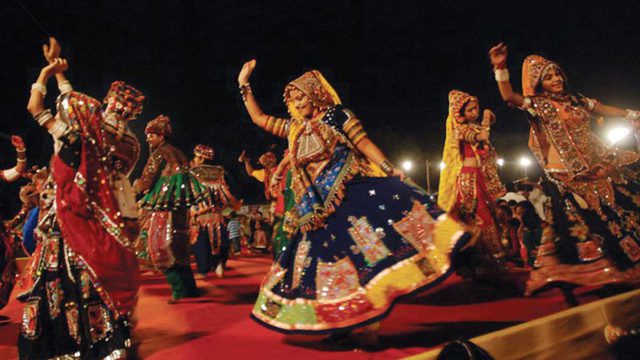 Each day of this festival has different Goddesses, rituals and Navratri colours associated with it. Let's take a look at Navratri celebrations associated with each day.
Day 1:
On this day, devotees worship the first form of Goddess Durga, goddess Shailputri. Out of all the 9 colours of Navratri, the colour associated with this day is yellow, which represents brightness and cheer, thus, starting the festivity on the right note. The ritual of Ghatasthapana, which marks the beginning of the nine-day festivity, is performed on this day. Devotees worship the Goddess and offer bhog in the form of ghee, halwa, khichdi, and rajgira ka laddoo, after the ritual of Ghatasthapana is completed.
Day 2:
This day is dedicated to Goddess Brahmacharini, the unmarried avatar of Goddess Parvati. Out of all the Navratri colours, the shade chosen for this day is green, which is associated with nature, energy and growth. Devotees worship the Goddess and offer sugar, singhare atte ka halwa, and kacche kele ki barfi as bhog.
Day 3:
Goddess Chandraghanta, who is the goddess of serenity and peace, is worshipped on this day as a part of the Navratri puja vidhi. Devotees pray to the Goddess to solve their problems and bring peace to their lives. They offer milk, sabudana kheer or makhana kheer for the bhog. Out of all the 9 colours of Navratri, he colour associated with this auspicious day is grey, which represents the ferocious mood of the Goddess.
Day 4:
This day is dedicated to the creative power of the universe, Goddess Kushmanda. Devotees observe a fast on this day believing that this can help them cure the diseases and pain they may be suffering from. Offerings like kuttu ke atte ka malpua are made to the Goddess. Out of all the Navratri colours, the shade chosen for this day is orange, representing energy and happiness.
Day 5:
The fifth day or Panchami is for honouring Goddess Skandamatan. The colour of the day is white, representing peace and purity. Navratri celebrations on this day consist of wearing new clothes and offering bhog in the form of fruits (especially bananas) to the Goddess. Dishes like kache kele ki barfi, lassi and kele ki sabzi are prepared.
Day 6:
On this day of Navratri katha, devotees worship Goddess Katyayani, the warrior Goddess. Wearing red on this day is considered auspicious. Red also represents vigour and action. Offerings of honey are made to please the Goddess.
Day 7:
Goddess Kaalratri, Goddess Durga's most ferocious form is worshipped on this day. People dress up in royal blue (which represents the powerful energy of the goddess), worship the Goddess and offer jaggery as bhog.
Day 8:
Day 8 or Ashtami is one of the most auspicious days of Navratri. This day is for worshipping Goddess Mahagauri, who stands for peace and intelligence. People worship the goddess to mitigate their sins and start afresh. The bhog offered to the goddess on this day is prepared with coconut. The colour of the day is pink, which stands for fresh perspective and hope.
Day 9:
Navmi is for worshipping Goddess Siddhidatri and from all the Navratri colours, the shade chosen for this day is purple, representing power and ambition. On this day, devotees break their 9-day long fast. All the forms of Goddess Durga are worshipped. The bhog offered to the Goddess consists of halwa, puri and chana.
4 Ways In Which Navratri Is Celebrated
Navratri is a time for reflection, fasting, feasting and dancing. Each day of the festival is dedicated to a different aspect of Sakti or the divine feminine principle. After ghatasthapana, Navratri vrat katha, and Navratri puja vidhi at home, offerings are made. Then, Navratri puja is held and rituals are performed to please the avatars of the Goddess.
Another popular ritual during Navratri is Kanya pujan. On the eighth or ninth day, nine young girls dress as the nine goddesses worshipped during Navratri. These girls are then given offerings like clothing and food on the day of Kanya pujan. Kanya pujan yet again proves how the feminine energy is worshipped during this festival.
In the western parts of the country, especially in Gujarat, Navratri celebrations include Navratri Garba and Dandiya-raas, two forms of traditional dances. Men, women and children, everybody participates in the Garba organised by various clubs and societies across the city.
While women look graceful in chaniya cholis, men look dapper dressed in turbans and kedias. The Garba dances are held for 10 days during Navratri and usually go on all night long right up to the wee hours of the morning. The Navratri Garba holds religious significance and is also performed to please Maa Ambe and celebrate her victory over Mahishasura.
4 Outfit Ideas & Styling tips For Navratri
After Navratri puja vidhi at home, it is the perfect time to bring out your best traditional outfits and put together a stunning desi look! Here are a few ideas to help you out!
Rock a simple but stunning look at Navratri puja and celebrations by teaming up a high-low kurta with a contrasting skirt or set of dhoti pants. Throw in a pair of jhumkas and an easy-to-carry dupatta and you are good to go.
If fusion fashion is your thing, go with an indo-western gown. To make it more apt for the festival, choose an outfit with embroidered hemline, neckline and sleeves and pair it up with well-coordinated jewellery.
For a more festive ensemble, pair a back chanderi lehenga with a voluminous dupatta (preferably multicoloured) and choli. Wear this outfit with your metal statement pieces for an elegant look.
Swirl in a half and half lehenga at the Navratri Garba night. This reviewed trend is quite a hit, especially among younger women. Choose a half-plain, half-patched lehenga outfit with a bandhej pattern, kalamkari, or a patola print and pair it with a contrasting chunni.
Navratri is all about new beginnings, fresh starts and renewed inner energy. It's a time to come together with family and friends and create some everlasting memories. So, put on your best attire and a smile and get ready to enjoy nine whole days of dancing, feasting and lots more! Happy Navratri!
Open up like never before and participate in conversations about beauty, entrepreneurship, mental health, menstrual & sexual health, and more. Desi women, join our community NOW!