Has your love life hit a rut? The thought of getting back into bed doesn't entice you enough as it did before. Then aap akele nahi hai. You're not the first one to experience this and nor will you be the last. Multiple studies conducted over the years have shown that while pleasure and satisfaction can hike up during your first year together as a couple, things start to slow down and take a route downhill later. 
Don't you get bored after eating the same daal chawal every day? So it shouldn't come as a surprise that your excitement is non-existent after having sex the same way with the same person. But udas mat ho, this is very common and this does not mean your sex life is over just yet. Agar you're ready to put in some time and effort, you can bring your bedroom wildness back and continue to delight yourself and your partner for longer than just a year.
Here Are 8 Ways For You To Spice Up Your Sex Life & Set It On Fire Again 
1. Don't Repeat What You Do In The Bedroom
Exactly what we talked about. Repeating the same things every day snatches away the fun and thrill from your intimate relationship. You should definitely think about experimenting with the way you approach foreplay and sex. A lot of couples keep rotating the same old sex positions and completely skip foreplay. 
If both of you are on the same track and understand each other well, it won't be difficult to change things up. You can try positions you've never before, mix in oils and foreplay. Keep some nights just for oral sex and focus on exploring your lover's body. This is a sure way to spice up your sex life.
2. Save The Date (Or Don't!)
Nothing beats an impromptu sex night, when you're both in the mood and ready to experience jannat. But planned dates can also be oh-so-amazing. Mark a day on both your calendars and dedicate a full night to just loving each other. You can cook dinner together (sexy, right?) or order takeout and get beneath the sheets. Turn off the lights and turn each other on.
Spontaneous nights and planned meets both work magic on your relationship. And researches have shown that couples who have sex regularly last longer, so keep in mind to save a date. This time, you could also help yourself reflect and introspect on what's working out for you and your partner and how you can up your game. 
Read 9 Spooning Tips To Improve Intimacy During Cuddle Time, Foreplay Or Sex
3. Bring Out The Toys
Think you're too cool for toys? Think again. If you have a male partner who thinks toys show that he's not "man enough", then he cannot be further away from the truth. In fact, surveys have suggested that couples who use toys together have higher sexual satisfaction.
You can start with a simple blindfold and see if you love the kink. Handcuffs, vibrators and lubes simply add so much spice to your sex life without being too time-consuming and complicated. If you're not sure how to go about it, have an open conversation with your partner, you might be surprised by the results. 
4. Set The Mood For The Night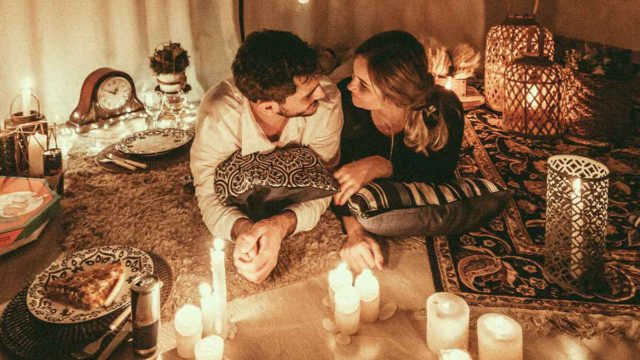 Table set with food and candles lit, coupled with the embracing aroma of the room and slow music playing in the background…sounds romantic and sexy, haina? Who could resist such a charm? You don't need to spend a thousand bucks to achieve the dream atmosphere, just some effort.
Dim the lights to the minimum, too bright light often makes people self-conscious and a room that is too dark may ruin the mood. Clean up your messy bedroom, haan! No dirty laundry on the floor. Dress up in sexy lingerie and spray your favourite perfume to stimulate all your senses. This is your kingdom and you're ready to win your partner's heart.
5. Verbalise Your Fantasies
Oh, we all have our own kinky fantasies that we want to try at least once in our life. Some common ones include having sex in public and experimenting with roleplay. But have you ever expressed to your partner what you want to do under the sheets? Perhaps not, right? So tell your partner what you want and he/she can do the same with you.
Next time you find yourself in the mood and things seem to be progressing, share your fantasies with your partner. This could be a part of your foreplay in the form of sweet whispering in your lover's ears as you strip and tease each. Tell your partner confidently what you want him/her to do and what you want to do. You could even think about leaving a note before you start on your sexcapade? Sounds way more fun than your regular sex nights, isn't it?
Read Dental Dams – The Oral Sex Protection You Didn't Know You Needed
6. Change Locations For Your Make-Out Sesh
Badalna sansar ki niyat mein hai. Changing locations can sometimes be enough to give your sex life that extra kick. This could entail having sex in several rooms of your own house (the kitchen for example) or even booking a hotel room. Couples with children may find it difficult to make out all over their house, so booking a hotel room can be a nice change.
It doesn't matter where you go, as long as you're both free and comfortable to be as loud as you want and truly explore one other's bodies.
7. Leave Your Partner Sexy Messages
This simple act goes a long way, trust us. At some point in your life, most of you must have passed or seen notes passed around in class. Remember your pehla crush? Oh, what golden days! Nowadays, texting and social media contradict the objective but don't forget about this long-forgotten art.
If you live with your partner under the same roof, leave love notes all over the place. If you're not staying with him/her, leave a message for him/her. This trick will benefit both of you because you will have to come up with creative ways to say things that will make them grin (or horny). 
8. Simple & Thoughtful Gifts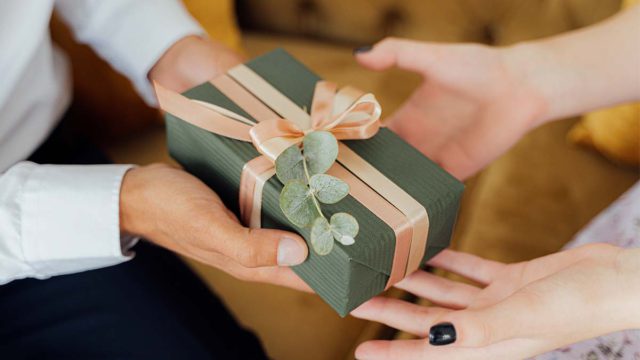 Many people in relationships believe that lavish and expensive presents are the only way you can convey your love and devotion to someone. Unfortunately, not everyone has the financial means to spend heavily on expensive gifts on a regular basis, which frequently results in, well, no gifts in the equation at all. Many couples overlook the fact that simple yet thoughtful presents have a greater impact because they are more imaginative. It means that you have made an effort and taken out time to make something for your partner. The value of that is simply unparalleled.
You can make a photo album, make a mixtape or write a jar full of love notes. This will rekindle the spark you both felt during your initial days of courtship or marriage.
It's a no-brainer that igniting your love life has a major impact on your relationship with your partner. #BeALittleMore open and daring to try new things with him/her. These 8 simple yet effective things will no doubt help you add jaan to your lowkey boring routine and spice up your sex life. You just need some time and effort to unlock the pleasure paradise with your partner.
Open up like never before and participate in conversations about beauty, entrepreneurship, mental health, menstrual & sexual health, and more. Desi women, join our community NOW!