Barrier birth control methods serve as contraception to control fertility, thus, helping in preventing unwanted pregnancies and protecting against sexually transmitted diseases (STDs). There are quite a few contraceptive methods already available, which constantly undergo technological changes to better their quality and effectiveness.
You can select from any or more than one of these methods as they suit you for the purpose of preventing yourself from being susceptible to STDs and also protecting yourself from unwanted pregnancy. Despite their tech advancements, there are no birth control methods that guarantee complete protection from STDs and pregnancy. Some of these birth control methods include male condoms, female condoms, birth control sponges, diaphragm, and cervical cups.
How Do Birth Control Methods Work?
All birth control methods are designed to either stop a man's sperm from reaching and fertilising a woman's egg or prevent the fertilised egg from getting implanted in the woman's uterus. 
4 Types Of Barrier Birth Control Methods
1. Male Condoms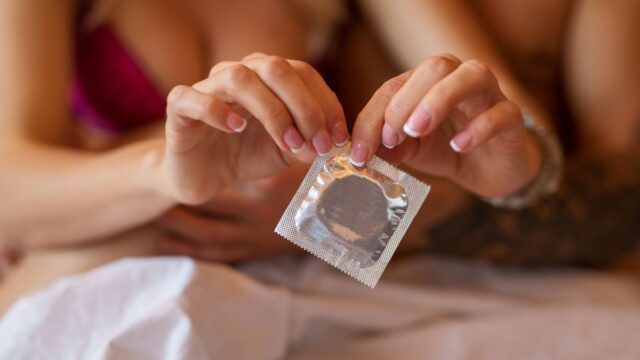 Also known as a rubber, this is a thin sheath slid into an erect penis before penetrating the vagina. This prevents the semen from passing through the vagina and reaching the ova, thus, preventing pregnancies. Male condoms are not reusable and they are one of the most efficient birth control methods. These are easily available at drugstores and grocery stores, and usually in most online portal portals as well. Made condoms are made of various materials, although the latex ones are generally the most effective in preventing pregnancies and STDs like gonorrhoea, HIV, and AIDS. they shouldn't be used along with petroleum jelly, lotions, or oil as that compromises their efficacy. 
2. Female Condom
Like male condoms, the female counterparts are also meant for one-time use. It comprises two flexible rings and measures 7.8 cm in diameter and 17 cm in length. The ring located at the closed end of the polyurethane sheath acts as the mechanism for insertion and an internal anchor when placed inside the vagina just before sex. The other ring remains outside the canal when inserted accurately. This too serves the same purpose as male condoms by acting as a barrier for the semen. A female condom should not be used at the same time as a male condom because there are high chances of both of them getting displaced, thus, defeating the purpose of using them as birth control.
3. Diaphragm
The diaphragm barrier method is a shallow latex cup that is accompanied by a spring mechanism in its rim, so it fits well in the vagina. Since they are available in various sizes, you need to undergo a pelvic examination to get the diagonal length of your vaginal canal measured for determining the size of the diaphragm that is the best fit for you. This is inserted into the vagina with spermicide just before sex and a spermicidal cream or jelly is applied inside the dome, which covers your cervix. Your doctor is expected to guide you through the process of inserting the diaphragm birth control method accurately. This birth control prevents pregnancy by serving as a barrier to the passage of semen into the cervix. It should remain in the vagina for at least 6 hours after intercourse but not more than 24 hours. 
4. Cervical Cap
The cervical cap birth control method for birth control is a soft cup-shaped latex device that is inserted into the cervix. It is of a smaller size than a diaphragm and comparatively needs more expertise to insert. This too needs to be fitted by a healthcare provider because it is available in varied sizes. The cap needs to be filled with spermicide before intercourse. It can be inserted 8 hours before sex and can stay for a maximum of 48 hours.
Effectiveness Of The 4 Barrier Methods For Birth Control
1. Male Condoms
As mentioned earlier, male condoms do not prevent STDs and pregnancies. However, their estimated chances of failure on using them accurately is a negligible 3%, although the recorded failure rate in the first year of use is 14%. Condoms are susceptible to breakage and slipping off the penis if the wrong kind of lubricant is used. For instance, if an oil-based lubricant is used along with a latex condom, there are high chance of the condom malfunctioning because the oil prevents the condom from being placed properly. 
2. Female Condoms
A male condom has a lower failure rate in comparison to female condoms. According to the U.S. Food and Drug Administration (FDA), the failure rate is recorded at a significant 21 pregnancies per 100 women every year.
3. Diaphragm
The effectiveness of the diaphragm birth control method can be determined by the age of the user, number of years and experience with its use, use of spermicide, and spermicide effectiveness. The average failure rate in the first year of use of the diaphragm barrier method is estimated to be 20%.
4. Cervical Caps
The effectiveness of the cervical cup depends on whether you've given birth before as that determines the shape of your cervix. It has a failure rate of 9% among women without children during the first year of use of the cap, and an estimated 20% among women who have delivered vaginally.
Advantages & Disadvantages Of Using The 4 Barrier Methods
1. Male Condoms
Advantages:
Male condoms are by far the most effective among all birth control methods, not only for preventing pregnancies but for reducing susceptibility to STDs. What's more, they are also readily available at drug and grocery stores, and at times, on e-commerce platforms as well. They are comparatively less expensive than the other options.
Disadvantages:
They often affect the enjoyment of sex. Some may also experience an allergy to latex. Not just that, slippage and breakage of condoms are also a possibility. Also, oil-based lubricants can cause damage to condoms, reducing their efficacy. 
2. Female Condoms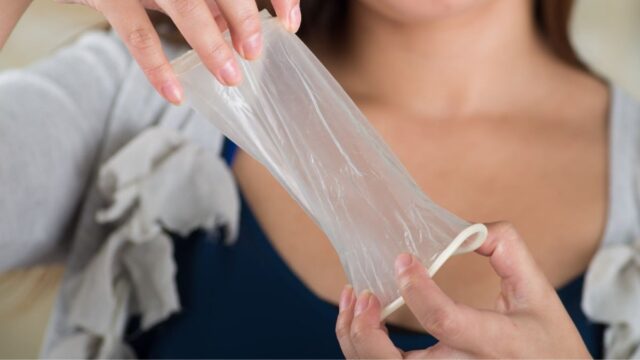 Advantages:
The female condom offers protection to the base of the penis and to the labia during sex. However, it isn't as effective as latex male condoms in preventing STDs. A silicone-based lubricant is inserted into these condoms, ensuring enough friction during sex. Unlike male condoms, it does not deteriorate with oil-based lubricants. To top that, it can be inserted for as long as 8 hours before sex. 
Disadvantages:
The lubricant used for female condoms does not comprise spermicide, a substance that destroys sperm. One of the leading disadvantages of female condoms is that it is difficult to be inserted and accurately placed in the vagina, and is prone to slipping off from its place during sex. It can cause Urinary Tract Disorders (UTIs) on being left in the vagina for a long time.
3. Diaphragm
Advantages:
Diaphragms place women in complete control of their use. It can also be inserted in anticipation of intercourse, leaving no chance of a barrier control not being used in the heat and haste just before sex.
Disadvantages:
Prolonged use of diaphragms on multiple instances of intercourse may increase the risk of UTI. It shouldn't be kept inserted for more than 24 hours as that increases the risk of toxic shock syndrome. You will also need the assistance of a healthcare provider to take you through the process of inserting it and keeping it in place to protect yourself from the risk of vaginal erosions. Despite all these precautions, there is a high chance of the diaphragm birth control failing in its purpose of preventing pregnancies and STDs. To add to the list, diaphragms need to be carefully removed from the vagina and then washed and dried for reuse.
4. Cervical Cap
Advantages:
It is one of the safest barrier control methods irrespective of the number of times it has been used. Unlike diaphragms, additional use of spermicide is not essential for every time you have sex. It also does not involve the use of hormones.
Disadvantages:
Cervical caps can cause erosions in the cervix, which may lead to vaginal spotting. The increased chances of toxic shock syndrome can also be a reality if left in the cervix for longer than it should be. This too, like the diaphragm, needs guidance from a healthcare expert in showing you its process of insertion and use. However, obese women may find it difficult to efficiently insert it into their cervix. Despite training and proper insertion, the failure rate is considerably high. You also need to present a history of normal results for Pap smears before this can be recommended to you. This method is also not effective in protecting against STDs. 
4 Tips To Consider While Selecting The Right Birth Control Method
When it comes to choosing a birth control method, there's no one-size-fits-all. What's best suited for you may not be the same for everyone else. Here are some hacks you should consider while selecting the most appropriate birth control for yourself.
Latex male condoms are by far the most effective among all the birth control options in preventing unwanted pregnancies and protecting you against STDs. Out of all the materials that male condoms are available in, the latex variety is usually the best bet.
Female condoms aren't as effective as male condoms because it is a challenge to make them stay in place. Also, they cannot be used along with male condoms, leaving you susceptible to unplanned pregnancies and STDs.
Cervical caps are usually the least effective of all the birth control methods because it's difficult to determine their size. As discussed previously, the size that will be appropriate for you depends on varied factors like whether you've had a vaginal birth before. A woman who has given birth through this process is most likely to experience difficulties in making the cervical cap stay in place during intercourse due to a comparatively enlarged vagina.
If you like unplanned sex, diaphragms may be a much-recommended option for you since they can be inserted up to 8 hours before intercourse, eliminating the scope of having unprotected sex. However, this birth control requires maintenance. They need to be properly cleaned and dried before they can be safely used again. So, if you're short of time, male and female condoms may be more suitable for you.
FAQs
1. What are barrier birth control methods?
Barrier birth control methods prevent semen from making its way through the vagina and reaching the uterus, thus, preventing unwanted pregnancies. That apart, they are also necessary for preventing STDs. Some common examples of barrier control methods are male condoms, female condoms, diaphragms, birth control sponges, and cervical caps.
2. How do birth control methods work?
Birth control methods are designed to either stop a man's sperm from passing through the vagina and reaching a woman's egg or prevent the fertilised egg from getting implanted in the woman's uterus. 
3. How effective is a female condom?
Female condoms are becoming increasingly popular in the recent past. They have their own share of pros and cons. They aren't as effective in preventing unwanted pregnancies and STDs as male condoms. A few ways by which it scores over male condoms is that it does not deteriorate with oil-based lubricants and can also be kept inserted for as long as 8 hours before sex. However, there is the risk of them slipping away from the required spot, thus, compromising its purpose. It can also cause UTIs (Urinary Tract Disorders) on prolonged use.
The effectiveness of barrier methods depends on various factors – your age, history of childbirth, sexual preferences and habits, to name a few. What suits your friend may not be the best suited for you. Hence, it is often recommended that you try out the various barrier birth control methods before zeroing in on one that is the perfect fit for you.
Open up like never before and participate in conversations about beauty, entrepreneurship, mental health, menstrual & sexual health, and more. Desi women, join our community NOW!