Desi snacks can be tasty and healthy too. And many health enthusiasts are swapping their indulgent spreads in favour of nut butters that are high in protein and packed with body nourishing good fats. Recently, we at TC46 asked our supporters on Instagram to share their favourite nut butter recipes to win products from our gourmet condiments brand partner, Native Tongue. And they did not disappoint! From healthy snacks to indulgent treats, home cooks and nut butter lovers flooded our post with amazing recipes that are easy to create and delicious to eat. Here are the top 10 winning recipes!
1. Spiced Nut Butter Laddos by Nidhi Agarwal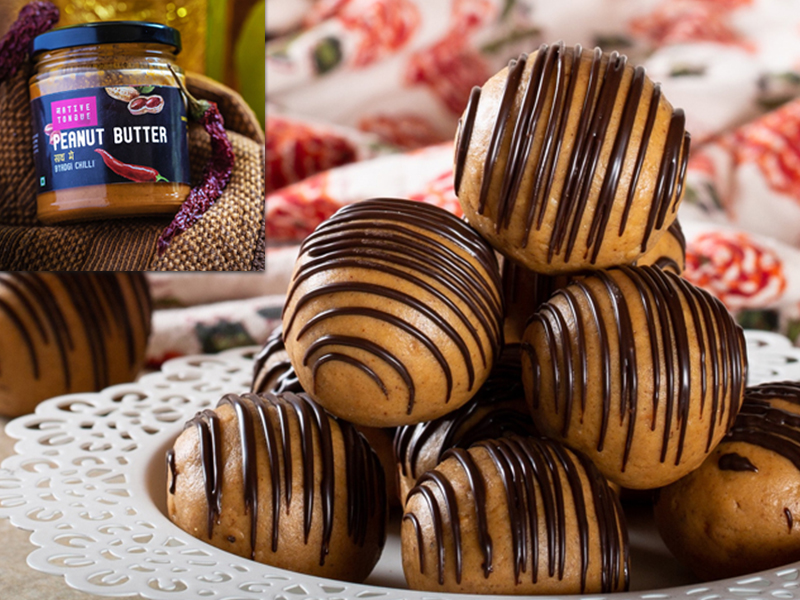 Ingredients:
Method:
Take all the ingredients in a bowl and mix well.
Form round laddos
And your Nut Butter Laddos are ready!
Refrigerate and keep in an airtight container to ensure freshness.
2. Peanut Butter Ice Cream With A Twist By Gaurav Pant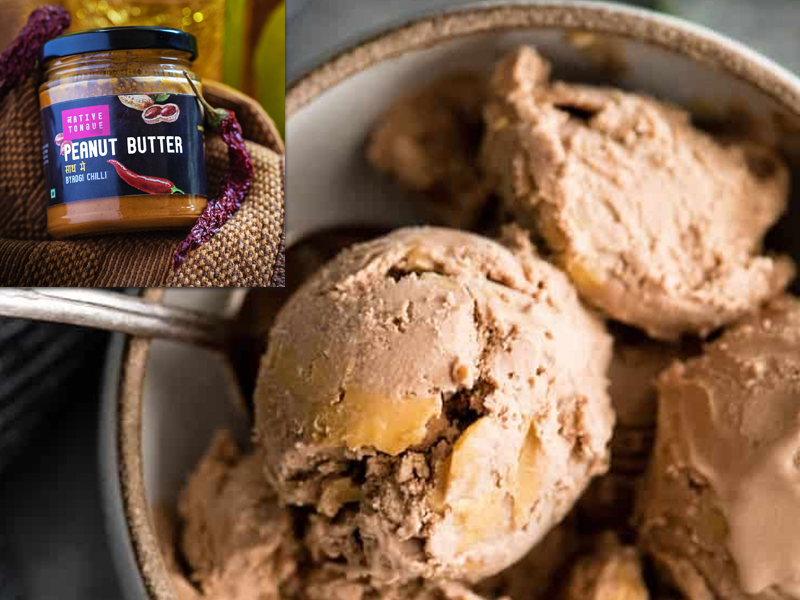 Ingredients:
Method:
Peel your bananas and put them in a ziplock bag. Freeze them overnight.
Add the frozen bananas to a food processor and blend until smooth.
Add 2 tbsps of peanut butter and continue blending until smooth.
Toss in pieces of jelly if needed.
Your instant peanut butter ice cream with a savoury twist is ready.
3. Nut Butter Snack By Vaishali Paakshale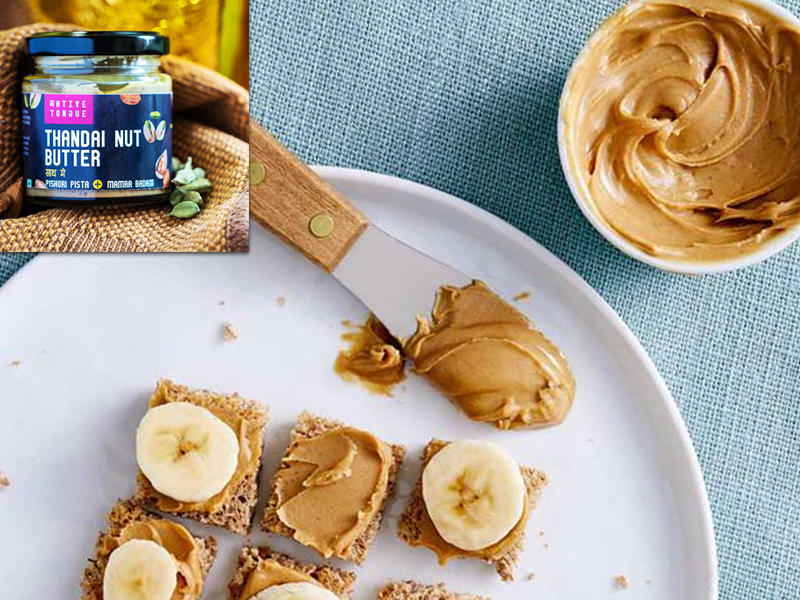 Ingredients:
Method:
Chop up your desired amount of bananas in circles.
In a bowl, add the cut bananas and top it up with a spoonful or more of almond butter.
Add a little gulkand to finish plating your nut butter and banana snack.
Your evening healthy and nutritious snack is ready!
4. Evening Roti Roll By Rehana Khambaty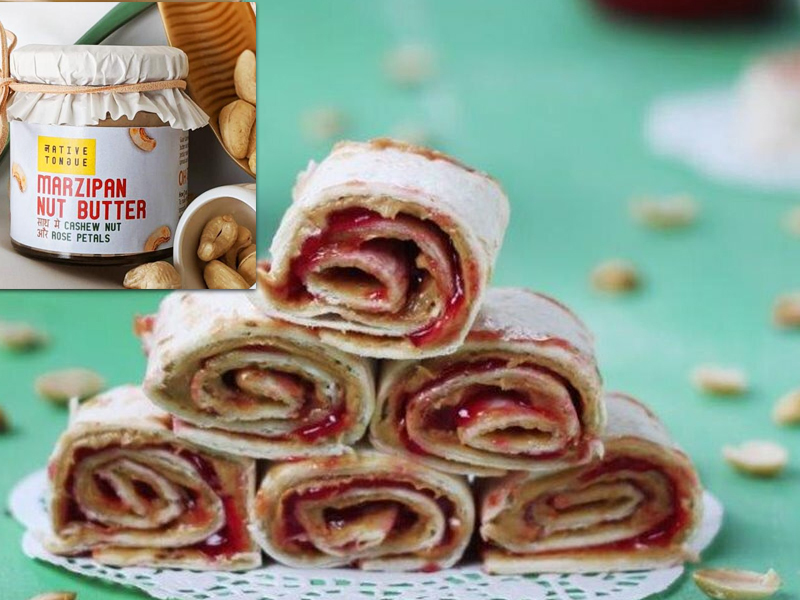 Ingredients:
Method:
A class tiffin recipe. Add a generous amount of nut butter to your roti.
Roll it in a cylinder and enjoy.
You can also add jam to your nut butter roti.
5. Coconut Butter Chiroti By Veena KN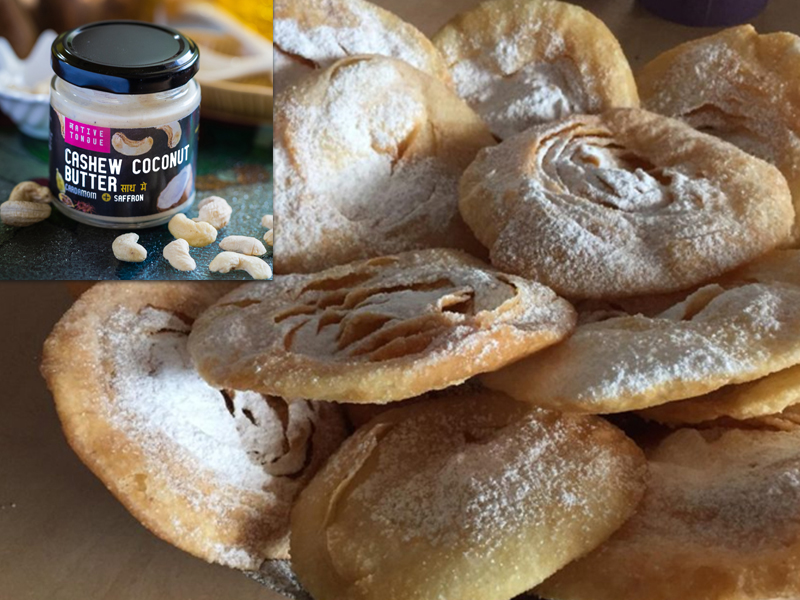 Ingredients:
Method:
Take a bowl, add 1 tbsp ghee, start whipping with your fingers until it becomes creamy. Next add 1 tbsp rice flour, whip again with fingers to form a uniform mixture.
Now add maida, chiroti rava, salt. Mix well with your fingertips to form crumbs. Add water a little at a time and prepare stiff dough.
Rest this dough for 15 minutes. In the meantime prepare ghee – rice flour paste. Add 2 tbsp ghee into a bowl, mix well using a spoon. Now add 2 tbsp rice flour, mix well until it becomes creamy. Keep this aside for further use.
Now make equal parts of the dough and prepare thin big rotis. Take one big roti at a time, spread little ghee-flour paste on the surface. Now place one more roti on the first and apply ghee- flour mixture. The same way makes alternate layers of roti and ghee-flour paste.
Make a tight roll of the roti. Cut them vertically into small bits. Now press this small dough so that you see concentric circles and roll into medium-sized pooris.
Heat oil on medium heat, deep fry these chiroties. Pouring hot oil on top of these while frying. Fry on the other side until they turn slightly golden. Store in an airtight container and stays good for two days.
Garnish with coconut butter or powdered jaggery. Tastes best with badam milk.
6. Almond Butter Barfi By Sneha Garg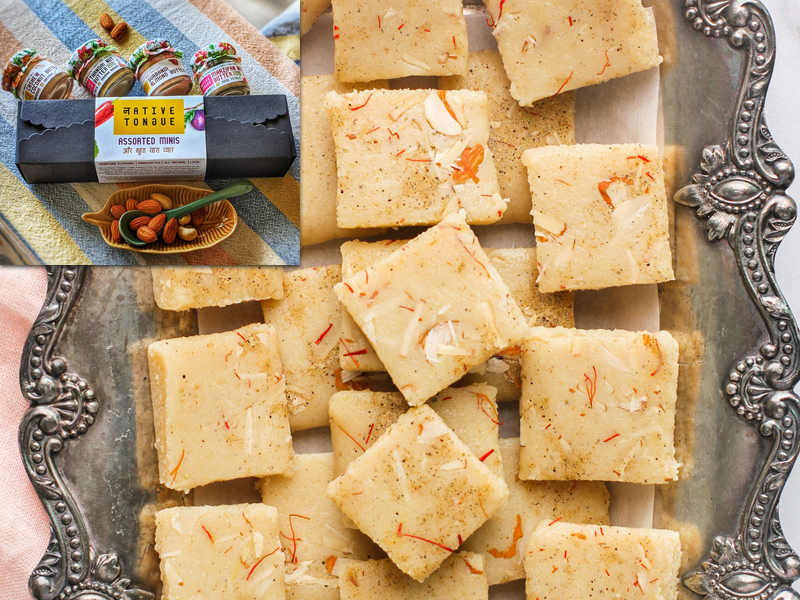 Ingredients:
Method:
Heat vegan butter and maple syrup over medium-low heat. Once melted, add almond butter and mix for a few seconds. Take off heat and continue to mix to make a smooth mixture.
Cool for a minute. Fold in salt, flavours, sugar and almond flour and mix in. Add more almond flour or regular flour or oat flour if needed until the mixture is somewhat a soft dough.
Pat it onto parchment to a 1/4 inch thick square. Sprinkle almond slivers or pistachio slivers and chill for at least half an hour. Slice and serve.
7. Granola Bars By Hina Gupta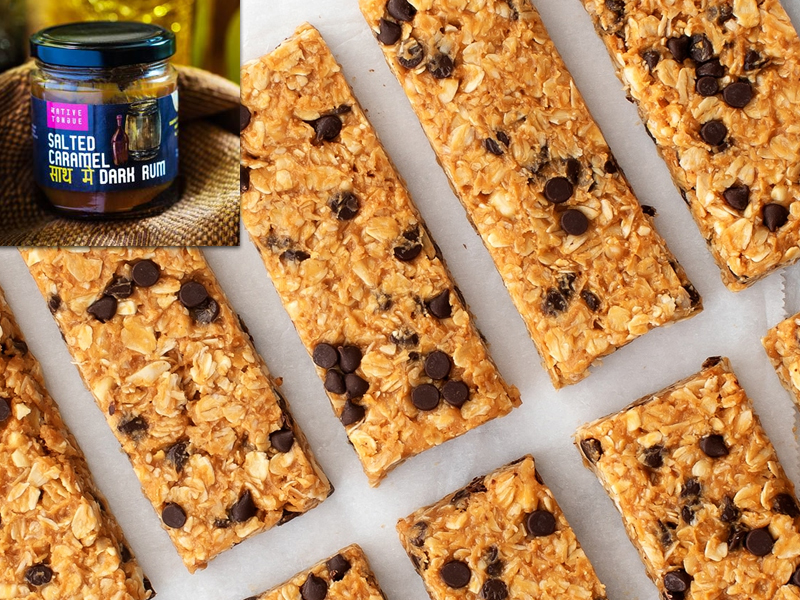 Ingredients:
Method:
Preheat oven to 350℉. In a large bowl, combine all ingredients and mix well.
Transfer mixture to a greased 9 x 9-inch baking dish, firmly pressing the mixture into pan in an even layer. 
Pro tip: for easy removal, line the pan with parchment. If desired, sprinkle additional chocolate chips over top, pressing them into the mixture.
Bake for 14-17 minutes or until the center is baked through. Start checking at 12 minutes as all ovens are different.
Let cool completely before cutting into 16 squares or 12-14 bars.
Drizzle with salted caramel sauce for extra deliciousness. 
8. Mixed Coconut Barfi By Meenakshi Bhatti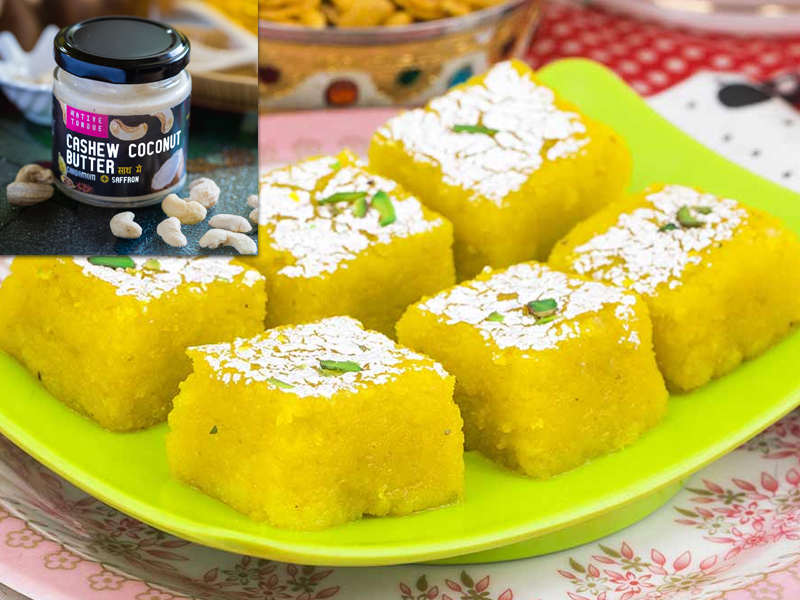 Ingredients:
Method:
Heat a non-stick kadhai over medium-low and add grated coconut, sugar, and cream. Mix them well till they are well combined. Continue to cook them while stirring continuously till the mixture turns yellowish golden in colour and starts leaving the sides of the kadhai.
Remove the kadhai from heat and add cardamom powder and confectioners sugar and mix well.
Grease a thali or a 9-inch square pan with ghee. Pour the mixture into the greased pan and spread it evenly.
Sprinkle finely chopped pistachios (if using) and drizzle with peanut butter. Let the coconut barfi set for an hour or so in the refrigerator. Slice the barfi into sixteen equal pieces.
Store in the refrigerator for a week.
9. Peanut Butter Milkshake By Marina Saha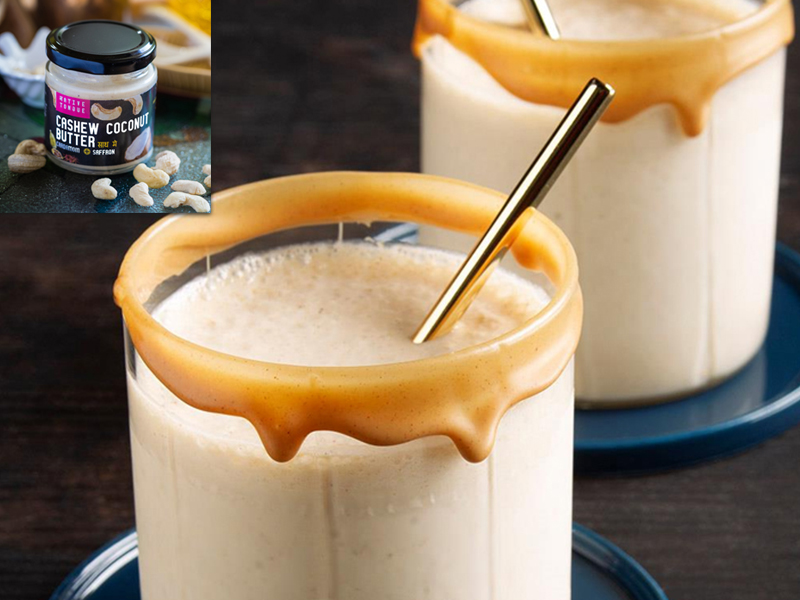 Ingredients:
Method:
Add bananas to a food processor and process until broken up into little pieces. Add peanut butter and process again.
As the mixture starts to come together, add the milk a splash at a time, allowing the mixture to get more smooth between each addition.
Once the mixture is totally smooth, add a dash of cinnamon and process for another 10 – 15 seconds. Taste and add a dash of maple syrup if needed (only if your bananas aren't totally ripe).
Transfer milkshakes into two jars. Top with peanut butter and stir gently with a knife so you get that swirling effect.
Enjoy immediately!
10. Peanut Payasam By Shaikh Zakiya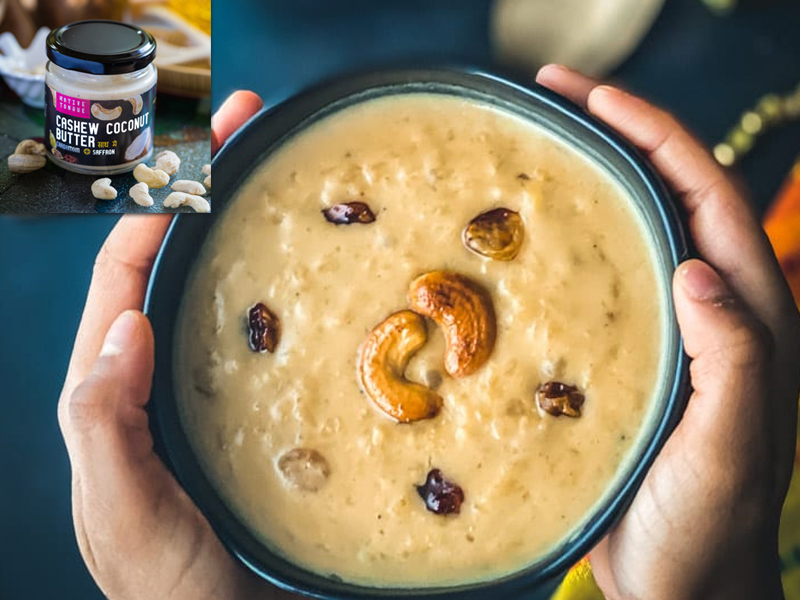 Ingredients:
Method:
Dry roast the peanuts and allow them to cool down.
Take moong dal in a pressure cooker and pressure cook with enough water for 3 whistles in medium flame.
Allow the pressure cooker to release pressure on its own. Open the pressure cooker and mash the dal. If required add sufficient water to mash them into a thick paste.
Mash the roasted peanuts with a finger so that the outer skin peels off from the. Remove the skin and discard them.
Grind the peeled peanuts in a blender with required water into a smooth paste.
Heat the mashed moong dal. Add in the groundnut paste.
Heat powdered jaggery with required water. Heat until it dissolves.
Add the jaggery syrup into the dal mixture. Add in the cardamom powder. Cook until they blend well.
Heat nut butter in a pan. Add in the cashews and roast them.
Add the butter and cashews into the payasam mixture. Cook for 2 minutes and switch off.
Delicious and creamy payasam is now ready to serve.
Nut butters like peanut butter or almond butter are the healthiest and yummier forms of the usual butter. Native Tongue's Smoked Aam Panna is perfect to cool down this summer. Shop for lip-smacking butters, from Native Tongue and check out their range of healthy delicious goodies at the Red Dot Shop.