Jai Ganesh, Jai Ganesh, Jai Ganesh Deva,
Deva Shree Ganesha, Deva Shree Ganesha,
Bappa Moriya, Moriya, Moriya Re,
Gajeshanaya Bhalachandraya Shri Ganeshaya Dheemahi
Whatever your choice of devotional song may be, the reverence that we all feel for Lord Ganesha is the same! Ganesh Chaturthi, one of India's most cherished festivals, is celebrated with great fervour and devotion. This ten-day festival celebrates the birth of the god of wisdom and prosperity. The final day is Anant Chaturdashi, better known as Ganpati Visarjan, which symbolises his return to heaven and the start of our long wait for his return.
When Does Ganesh Visarjan Take Place?
Ganpati Visarjan is usually celebrated on the 10th day of Ganesh Chaturthi, known as Anant Chaturdashi. We bid adieu to our favourite Ganeshji, who has been staying with us for the past 10 days. Although the timing during the day may vary in different households across the country, somewhere between the morning and evening, loving devotees say farewell to the god.
What Happens During Ganesh Visarjan?
The Ganpati Visarjan Vidhi, or the immersion ceremony of Lord Ganesha, is one of the most significant and emotional moments during the Ganesh Chaturthi, if not the most. The worshipped idol of Lord Ganesha is carried to any water body like a lake, river, or sea. Amongst prayers, the beloved god is dearly departed, so that he can return next year – Ganpati Bappa Morya, Agle Baras Tu Jaldi Aa!
Read: 8 Modak Recipes To Try This Ganesh Chaturthi
How To Perform Ganesh Visarjan At Home
Performing Ganpati Visarjan at home can be a deeply spiritual and personal experience. Here's a step-by-step guide on Ganpati Visarjan at-home ideas. For starters, you'll need the following materials:
An idol of Lord Ganesha (clay or eco-friendly)
A clean, shallow vessel or tub (for immersion)
Water
Flowers, leaves, and durva grass (for offerings)
Camphor or aarti lamp
Bell
Coconut
Red or yellow cloth
Incense sticks
Conch shell (optional)
Prasad (sweets or fruits)
Procedure:
1. Purify Yourself:
Start by taking a bath and wearing clean, preferably traditional, clothes. This prepares you for the sacred ritual.
2. Prepare the Idol:
Place the idol of Lord Ganesha in a clean and sacred area of your home, preferably the puja room. Light incense sticks and camphor, and perform aarti to invoke the deity's presence.
3. Offer Prayers:
Begin the ceremony by offering prayers to Lord Ganesha. You can recite his favourite mantras and slokas or simply express your heartfelt devotion.
4. Decorate the Idol:
Adorn the idol with flowers, leaves, durva grass, and a red or yellow cloth. This is a way of showing respect and love to Lord Ganesha.
5. Perform Aarti:
Light the camphor or aarti lamp and perform aarti while ringing the bell. Sing or chant bhajans dedicated to Lord Ganesha.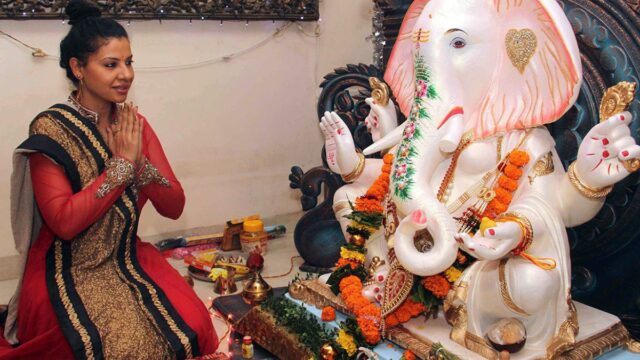 6. Invoke Blessings:
Seek the blessings of Lord Ganesha for your family's well-being, prosperity, and the removal of obstacles from your life.
7. Prepare for Visarjan:
Fill the vessel or tub with enough water for immersion. Place it near the idol.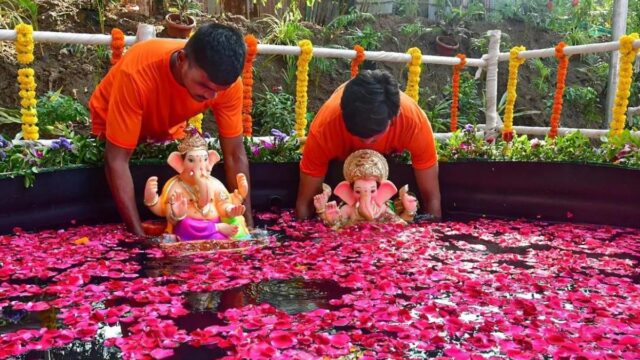 8. Immerse the Idol:
Gently lift the idol of Lord Ganesha and carry it to the vessel or tub filled with water. Before immersing the idol, say your final prayers and express your gratitude.
9. Final Farewell:
Slowly immerse the idol in the water, allowing it to submerge completely. You can chant "Ganpati Bappa Morya, Pudhchya Varshi Lavkar Ya" (which means, "Goodbye, Lord Ganesha, come back soon next year") while doing this. You may also play devotional music.
10. Offer Coconut:
Break a coconut and offer it to the water as a symbol of Lord Ganesha's blessings and your devotion.
11. Offer Durva Grass:
Offer durva grass (a type of grass with three blades) to the water as a mark of respect.
12. Pray for Blessings:
Pray for the blessings of Lord Ganesha for the upcoming year and thank him for his presence.
13. Close the Ceremony:
Complete the Visarjan ceremony by performing aarti one final time and ringing the bell.
14. Distribute Prasad:
Share the prasad (sweets or fruits) with your family members and any guests present during the ceremony.
15. Clean Up:
After the ceremony, clean the area thoroughly, including the puja room and the immersion vessel. Dispose of the materials responsibly and eco-consciously.
10 Innovative Ideas for Ganpati Visarjan Decoration At Home
Here are some creative ideas for Ganesh Nimajjanam decoration:
1. Floral Finale:
Create a stunning floral pathway leading to the immersion site. Use a variety of colourful flowers and petals to craft intricate designs. You can also make flower rangolis or patterns around the immersion spot for Ganpati Visarjan flower decoration.
2. Floating Lamps:
Light up the water with floating lamps or diyas. Place them in small decorative boats or simply let them drift on the surface, creating a magical and serene ambience as Lord Ganesha bids adieu.
3. Eco-friendly Decor:
For this Ganesh Visarjan decoration, opt for eco-friendly materials like biodegradable paper streamers, natural fibres, and clay diyas. These not only look beautiful but also minimize the environmental impact of the immersion.
4. Paper Lanterns:
Instead of Ganpati Visarjan balloon decoration, hang colourful paper lanterns around the immersion area. When lit in the evening, they add a whimsical touch to the ceremony, creating a mesmerizing sight as they sway in the breeze.
5. Traditional Umbrellas:
If you're looking for a traditional touch for Ganesh Nimajjanam decoration, cover the area with vibrant Indian umbrellas. These not only provide shade during the day but also add a pop of colour to the Visarjan ceremony.
6. Rangoli Art:
Create intricate rangoli designs around the immersion site using colourful rice, flower petals, or eco-friendly colours. These designs can be inspired by Lord Ganesha or other meaningful symbols.
7. Candles and Incense:
Set up candlelit pathways and incense sticks that infuse the air with soothing scents. This creates a tranquil atmosphere and adds a spiritual element to the ceremony.
8. Art Installations:
Consider setting up temporary art installations or sculptures related to Lord Ganesha or themes of renewal and nature. These can serve as focal points and enhance the visual appeal of the immersion area.
9. Community Art:
Involve your community in creating artwork or decorations for the Visarjan. This not only promotes unity but also brings a collective sense of joy to the celebration.
10. Biodegradable Offerings:
Instead of traditional materials, use biodegradable offerings like coconut shells, leaves, and flowers for the Visarjan. These offerings will naturally decompose and have less impact on the environment.
5 Smart Ways To Reuse Your Eco-friendly Ganesh Idol:
A few ways that you can reuse your ganpati idol are:
Repurpose as a decorative element in your garden.
Use it as a centerpiece for festive decorations in your home.
Transform into a creative art project for kids or adults.
Donate to local artisans for recycling into new eco-friendly idols.
Share with community groups for communal Ganpati celebrations.
Ganesh Chaturthi, a celebration of wisdom and prosperity, comes to an end with the emotional Ganpati Visarjan. Whether performed alone at home or outside with society, every devotee feels the same emotions – sadness at his departure, and eager anticipation of his return. As the idol submerges in the water, it leaves behind a message of unity and devotion, ensuring that the celebrations of Lord Ganesha continue to inspire and uplift for generations to come. Ganpati Bappa Morya!
Open up like never before and participate in conversations about beauty, mental health, menstrual & sexual health, and more. Desi women, join our community NOW!