The Indian kitchen is never short of condiments and oils, which give our cuisine its distinct taste, flavour, and aroma. But the benefits of these ingredients are not just restricted to cooking up a storm in the kitchen. Their benefits extend far beyond that in the form of desi nuskhe for our nails, skin, and hair, like heirloom secrets passed down generations. Talking about brittle nails today, you can easily use the benefits of some of these kitchen ingredients to your advantage, provided you know what ingredients to use and how to use them. 
Here are 11 kitchen ingredients that you should learn more about to nurse your brittle nails back to health.
1. Coconut Oil
Yes, coconut oil here too! There is almost nothing that a few drops of this oil cannot do for the good health of your skin, hair, and nails. It comprises the moisturising properties that your brittle nails urgently require to keep itself hydrated. Warm a few drops of coconut oil and massage it gently for just about 1 minute. This will improve blood circulation to the nails, making them stronger and even accelerating healthy growth.
2. Almond Oil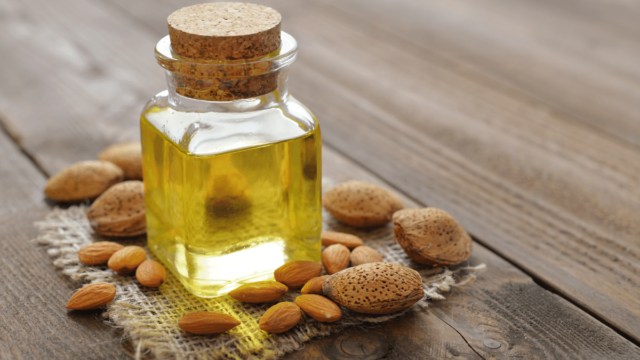 Almond oil is enriched with antioxidants and other essential nutrients that hydrate and nourish your nails from deep within. This prevents cracks from appearing on your nails, which are the first signs of brittleness. Mix 1 tablespoon of almond oil with a few drops of lemon, massage it on your nails or simply soak your hands in this mixture for about 2 minutes.
Read: 6 DIY Olive Oil Home Remedies For Nail Care
3. Tomato Juice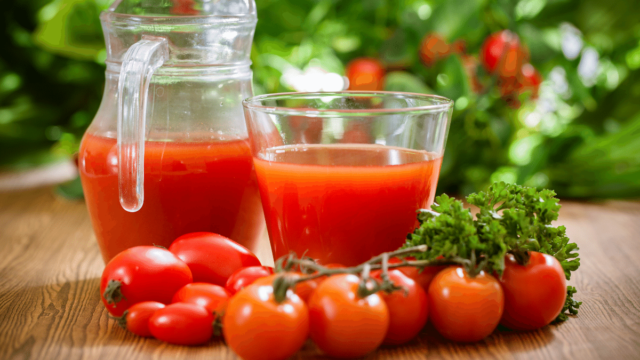 Tomato juice, much like almond oil, is also laden with antioxidants and protein, which are exactly what your brittle nails are looking for to heal themselves. And also enhance their strength and smoothness. Add 2 tablespoons of tomato juice to 2 tablespoons of rosemary oil, keep your nails dipped in this mixture for about 10 minutes, and then wash your nails off with water.
4. Lemon Juice
Lemon juice is powered with the goodness of vitamin C, a known antioxidant that combats free radicals and prevents further deterioration of the nail condition. Squeeze the juice of half a lemon, soak a cotton ball into it, and then dab it onto each of your nails individually. Finally, wash it off with warm water.
5. Orange Juice
Like lemon juice, orange too is loaded with vitamin C, the health benefits of which extend to your nails as well. To top that, it also comprises the goodness of folic acid that encourages nail growth. So, if it's winter and you have oodles of oranges in your fridge, make the most of it for your nails while biting into this juicy fruit.
Read: 10 Nail Colours Under Rs 300 That Are Full Paisa Vasool Beauty
6. Sea Salt
Pour a little bit of sea salt in water and give it a good stir till it dissolves in water. You can also add a few drops of lemon juice or wheat germ oil to this warm water solution and keep your hands soaked for around 15 minutes. Do this twice a day for at least one week to experience the benefits.
7. Apple Cider Vinegar
The alpha-hydroxy acids and acetic acid that apple cider vinegar contains works its magic on your brittle nails. It works as a hydrating potion, the lack of which is the root cause of your nail condition. Blend one tablespoon of apple cider in 2 or 3 cups of warm water, soak a cotton wool into it, and dab your nails with it to see the results for yourself within a few weeks.
8. Egg Yolk & Milk
This combo contributes all the essential nutrients that your nails lack, which is why you have brittle nails. It is rich in calcium and protein, among other ingredients, which nourish your half-dead nails back to life. The protein of the egg yolk and the calcium from the milk come together to give rise to this potent concoction that is expected to keep your nails moisturised, preventing them from drying up easily and leading to brittleness.
9. Beer
Replenish your refrigerator with a few beer cans, not for drinking it all up but for getting the beer out of your nails. That apart, you must have heard about the benefits of beer for your hair, but nails? Yes, it's effective for that too. Beer has been proven to contribute to the strength and growth of nails as a result of the silicon-enriched barley that it is made from. What's more, it also comprises selenium, biotin, and potassium – all of which are necessary for nail health. Studies have shown that just a small quantity of this alcohol is sufficient to give your nails the boost of health that it demands.
10. Tea Tree Oil
Mix 2 to 3 drops of vitamin E oil to tea tree oil and massage your nails gently with this solution. Do this twice a day for at least one month to see the amazing results for yourself. The antiseptic properties in tea tree oil and vitamin E oil are known for their antioxidant qualities, which works wonders for your brittle nails.
11. Argan Oil
The hydrating and softening properties of argan oil makes it one of the most effective ingredients for restoring the strength of your nails. Apart from treating your brittle nails naturally, you can also add a few drops of this oil to your mani-pedi routine for impressive results.
Open up like never before and participate in conversations about beauty, entrepreneurship, mental health, menstrual & sexual health, and more. Desi women, join our community NOW!