You need not spend thousands of Rupees just to take care of your skin and look good because beauty on a budget is very much possible. The next time you think of getting your hands on some of the best beauty products you may refer to this as we are listing out 25 items under 500 to make your vanity shopping budget-friendly.
25 Personal Care And Beauty Products To Build Your Budget-Friendly Vanity
1. Loreal's Magique Kajal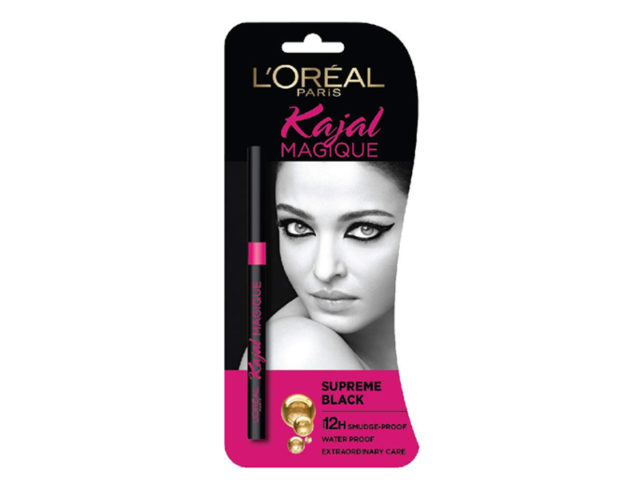 Loreal has been doing a great job with their Magique kajal bold as it truly gives you bolder eyes in about two strokes. You might have seen their advertisements with Katrina Kaif and her beautiful eyes wearing this kajal. It is quite affordable and definitely a match of yours if you are looking for something amazing without splurging a lot.
Price: Rs 350
Click here to shop for this bold kajal from Amazon!
2. Lakme's Eyeconic Kajal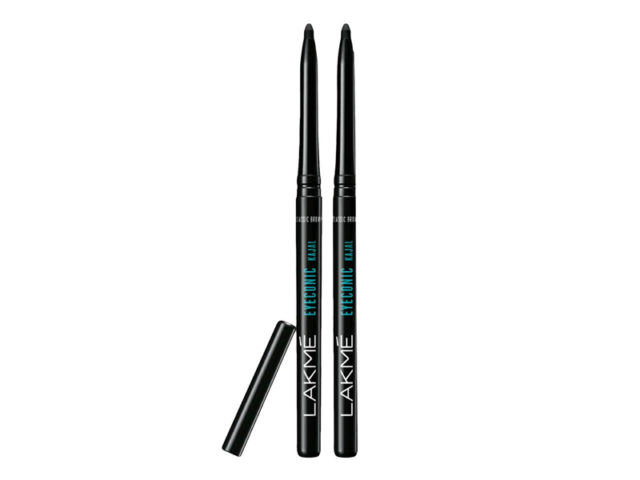 As the name suggests this one is really an iconic brand because of how easy on the pocket it is. It is a favourite of a lot of desi girls and has really good reviews. And how can we forget Bebo's stunning eye makeup look in the advertisement of this kajal? It is one of the cheapest options available in India but the quality is outstanding. This one definitely holds the potential to secure a place in your makeup pouch.
Price: Rs 185
Click here and shop this Lakme product on Amazon!
3. Maybelline New York's Colossal Kajal – Super Black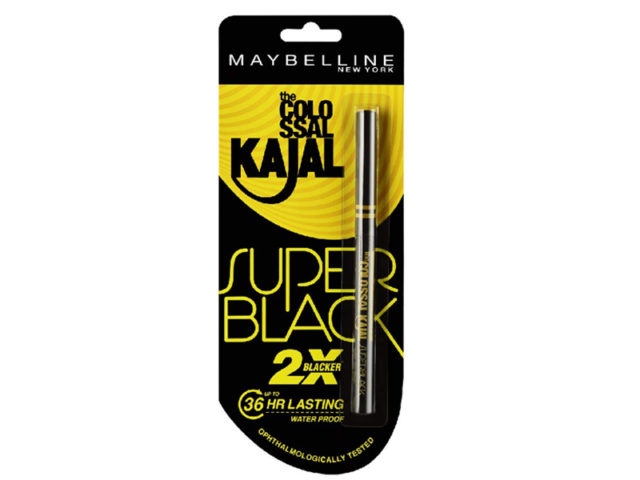 Maybelline is a drug store favourite of a lot of makeup lovers because the quality of their products is excellent. This kajal is no less, with a super black pigment you can get a flawless eyeliner look in just a stroke. You can obviously work this more if you want it to last for a day. As Alia Bhatt says, it is smudge-proof and can last for about 36 hours.
Price: Rs 309
Click here to get the Maybelline kajal at Amazon!
4. Elle 18's Eye Drama Kajal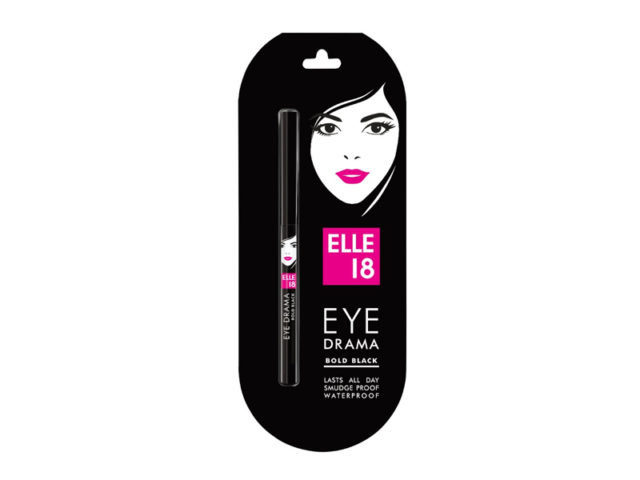 This one is at the lowest on the list when it comes to price but can still last for a day. It is smudge-proof and waterproof and a great deal for such a low price. If you want something to apply every day, this kajal can be your match.
Price: Rs 90
5. Colorbar's MesmerEyes Kajal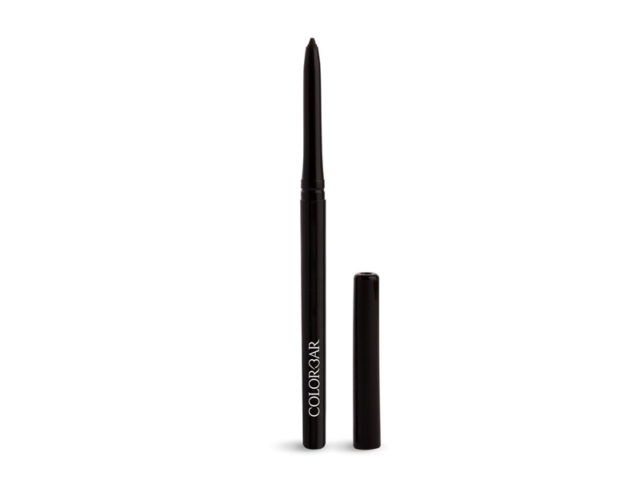 This kajal can become your favourite in no time because of how smooth it is to apply. It is long-lasting, easy to use and highly pigmented which makes it the best at its price. Colorbar does a great job with all its cosmetics so this product definitely deserves a chance.
Price: Rs 299
Click here to shop for the Colorbar kajal on Amazon!
Budget Shopper: Here are 10 long-lasting kajal pencils under Rs 500 with a great colour payoff.
6. Biotique Bio Berry Plumping Lip Balm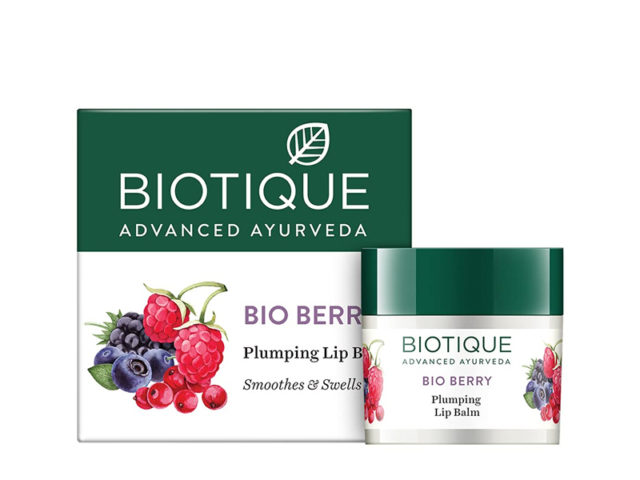 This plumping balm restores lip fullness for a voluptuous, bee-stung look and refined lip contours. Berries are one of nature's great sources of nourishing vitamins and antioxidants. Ripe berries also provide cooling, invigorating, aphrodisiacal effects to the skin and senses. It gives you perfect plumped up lips, moisturizes dry and chapped lips, is organically pure and preservative-free. And it is dermatologist tested for safety with no animal testing done. The colour leaves a natural tint and there is zero to minimal tingling with the application of this lip balm.
Price: Rs 175 for 12 gm
Click here and shop for this lip balm at Amazon!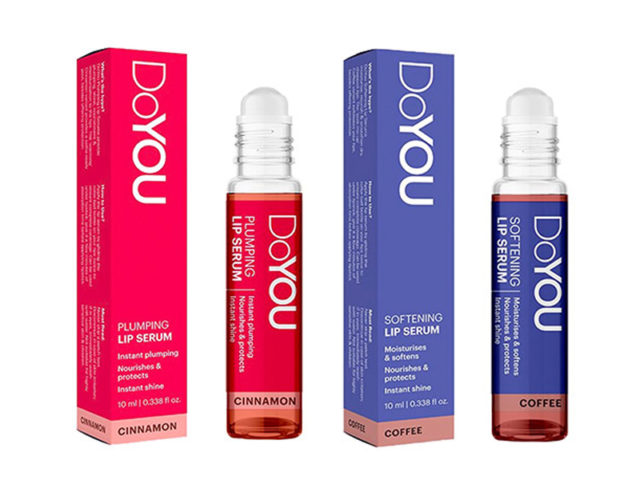 7. Juicy Chemistry Blood Orange & Rosehip Organic Lip Balm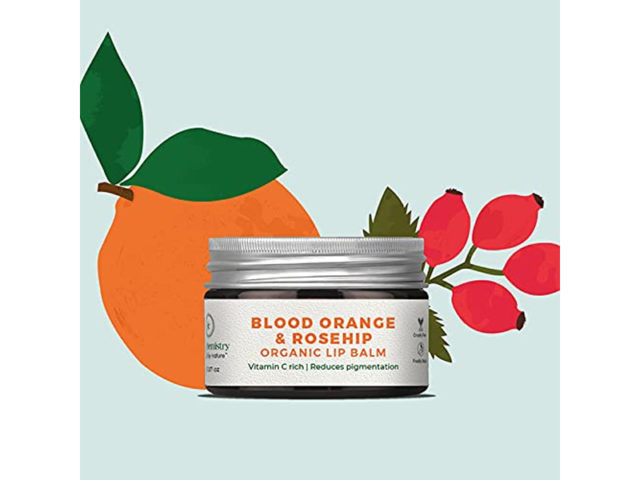 Perk up your parched lips instantly with this hydrating lip butter! Blood Orange provides intense nourishment and revealing soft and smooth lips. Anti-oxidant and fatty acid-rich Rosehip helps reverse the pigmentation and prevents the breakdown of the cell membrane of lips caused by the use of harsh lip products. Moisturizing oils of Avocado and Almond in this butter provides complete lip treatment to fight dry and chapped lips.
Price: Rs 350 for 5 gm
Click here to get this organic lip balm on Amazon!
8. Swiss Beauty Lip Primer Mask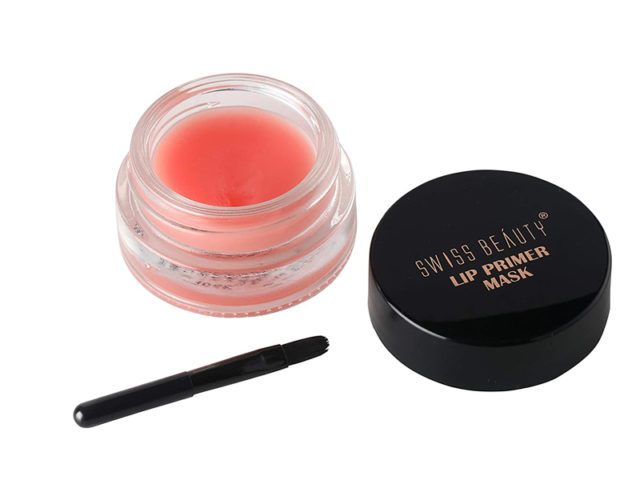 Swiss Beauty Lip Primer Mask has a soft balm-like texture that works as an overnight lip mask for soft and elastic lips. It helps lips absorb the skin-loving ingredients during 8 hours of sleep. This leave-on lip mask soothes and moisturizes lips overnight and its soft balm-like texture adheres to the lips and locks in moisture. It comes with a brush for easy application and leaves lips smoother and healthier-looking.
Price: Rs 249 for 4.5 gm
Click here and add this lip primer mask to you Amazon cart!
9. Organic Harvest Lip Balm High Gloss With Green Tea Oil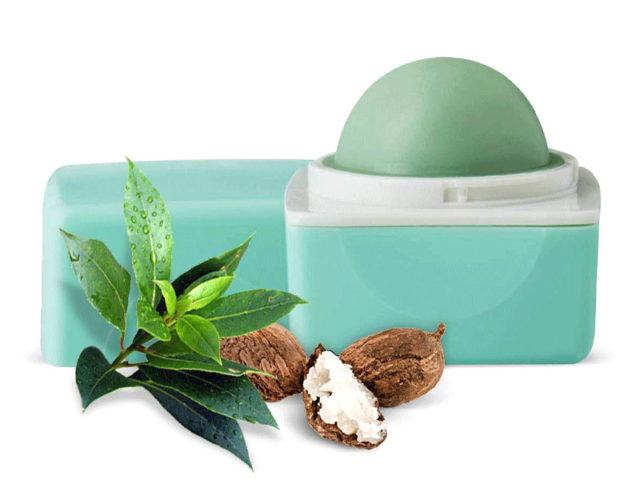 Organic Harvest Green Tea High Gloss Lip Balm is a neutral shade lip balm that will add gloss to your lips apart from keeping them moisturized for a good 6-8 hours. This lip balm is enriched with vitamin E and green tea oil and keeps your lips soft, supple all day long. It nourishes dry and chapped lips and keeps lips moisturized for 6-8 hours. It is free from beeswax, parabens, mineral oil, PABA and animal ingredients.
Price: Rs 199 for 10 gm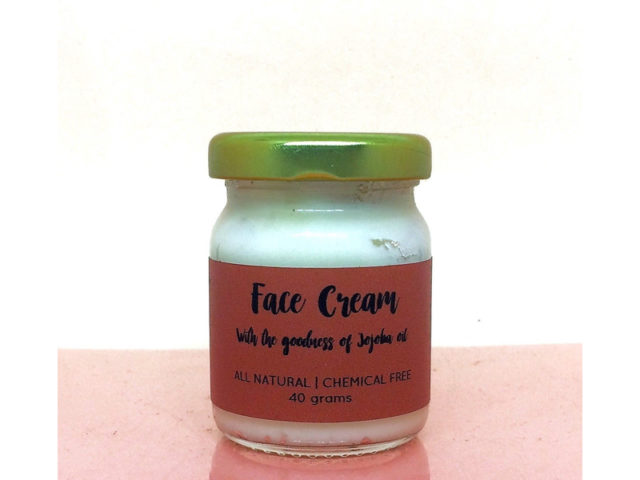 10. Sebamed Lip Defense With SPF 30 Triple Protection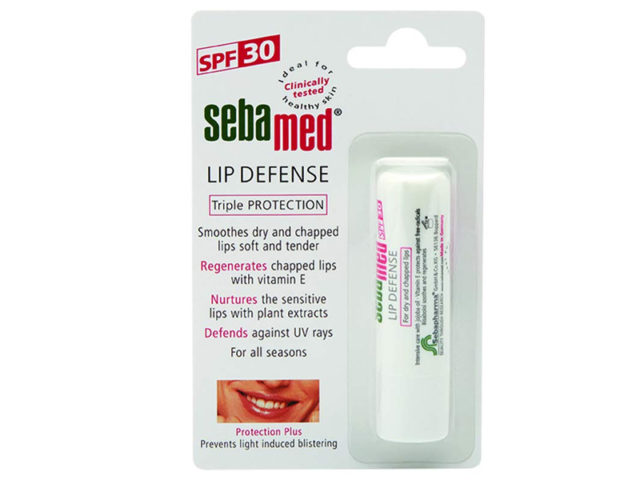 This is a soft nourishing lip balm that provides relief from dry and cracked lips. It not only protects lips but also provides a smoothening effect. This German lip balm with pH 5.5 makes your lips healthy. It also protects from UV radiation and irritating environmental pollutants. Vitamin E and chamomile extract prevent inflammation of the lips. The intensive treatment properties of rice bran and jojoba oil nurture sensitive lips. The triple protection formula of this transparent lip moisturizer with SPF regenerates, nurtures, and defends lips. Sebamed Lip Defense SPF 30 is suitable for use in all seasons. It can be worn alone or before applying lipstick.
Price: Rs 427 for 4.8 gm
Click here to shop for this nourishing lip balm at Amazon!
11. Lakme, 9 to 5 Primer + Matte Lip Color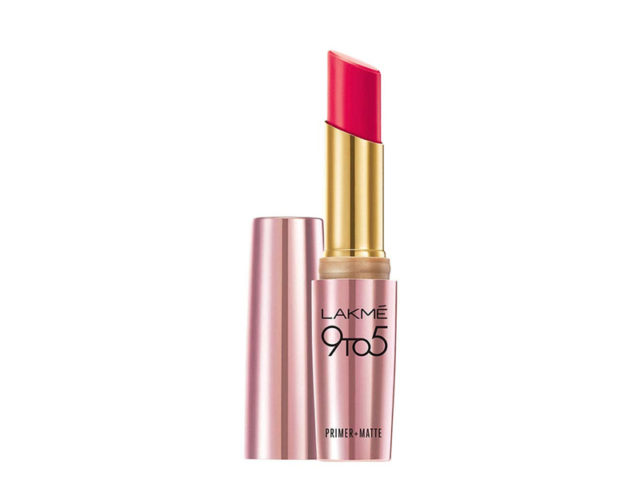 This staple brand name is in every desi girl's makeup bag. Lakme's collection offers 42 stunning shades. A range of highly pigmented lipsticks in reds, pinks, corals, browns, mauves and nudes come with a built-in primer that gives your lips the matte finish for 12 hours. Perfect for workwear, shop for these budget lipsticks if you're looking for a great colour payoff with your mattes.
Price: Rs 500
Click here and get this pigmented Lakme lipstick from Amazon!
12. Sugar Cosmetics, Nothing Else Matter Longwear Lipstick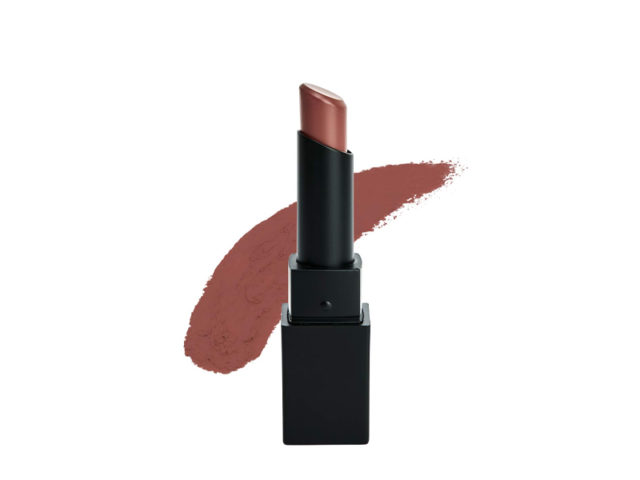 Long-lasting with a smooth application, water-resistant, and with an opaque matte finish, this collection is available in 11 different shades. Perfect for sassy women on the go, these lipsticks can help you transition from day to night looks with ease.
Price: Rs 499
Click here to shop for this matte finish lipstick on Amazon!
13. Nykaa Cosmetics, Paintstix!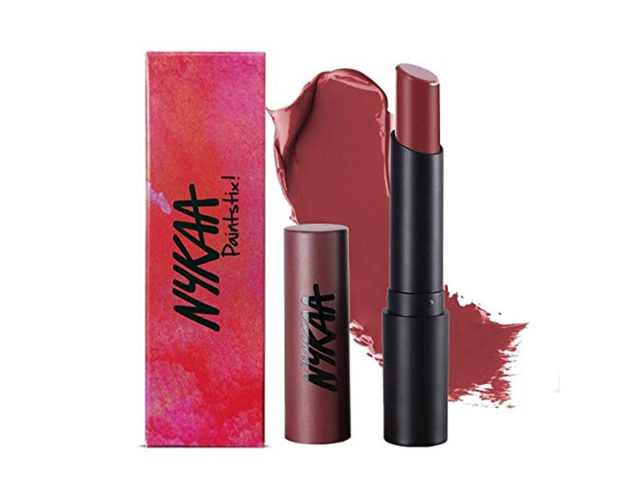 With a rich and intense pigment, these lipsticks have a soft matte finish that's highly blendable and can help you create that perfect pout. The range features 29 different shades. They apply smoothly while still delivering ample colour saturation in a single stroke; you can, of course, build it up for more intensity. Use the Paintstix to colour the town red on your next night out with the girls at the club!
Price: Rs 425
Click here and add this soft matte lip product to your Amazon cart!
14. Lakme 9-5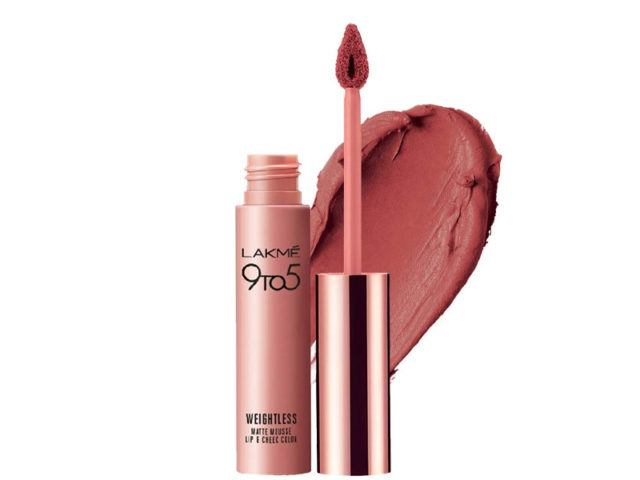 Lakme is one of the original and trusted makeup brands in India. And with their '9-5' range, it is a dream come true for every working woman on the go! This range comes with a matte finish that dries as soon as applied. And also available in liquid and tube applications. Both of the applicator products can be used as a cheek and lip tint!
Price: Rs 500
Click here to buy this cheek and lip tint at Amazon today!
15. Sugar Cosmetics, Smudge Me Not Liquid Lipstick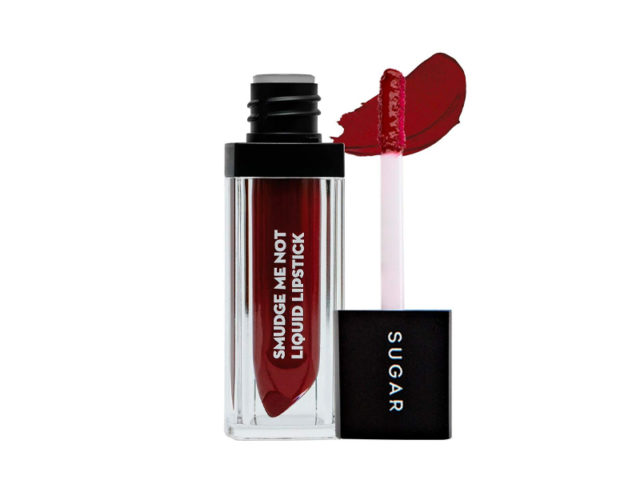 A cult-favourite for party-hoppers, the liquid matte lipsticks are guaranteed to last longer than your longest day. With as many as 52 shades to choose from, these highly pigmented lipsticks are built to last. They claim to be wine, coffee and kiss-proof, and most customers seem to attest to them. Wear them with your next OOTD to see which one looks as good as when you first put it on at the end of the day.
Price: Rs 499
Click here and fill your cart at Amazon with this liquid matte lipstick!
16. Maybelline New York Fit Me Blush – Wine 50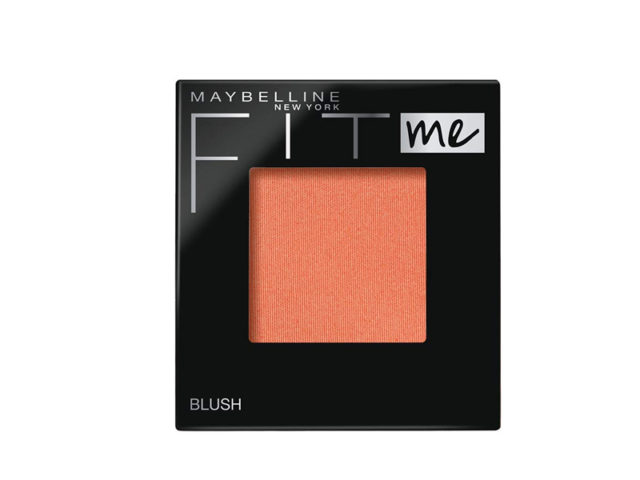 If you are looking for a drugstore matte blush that looks amazing on Indian skin, delivers a natural finish and is lightweight, your search ends right here. Maybelline New York Fit Me Blush is one of the best matte blushes for Indian skin. You won't be able to stop using it once you get your hands on it. It not only provides a beautiful, rusty shade on the cheeks but also looks amazing on your lids as a standalone eyeshadow.
Price: Rs 440
Click here and buy this matter blush on Amazon!
17. Wet N Wild Color Icon Ombre Blush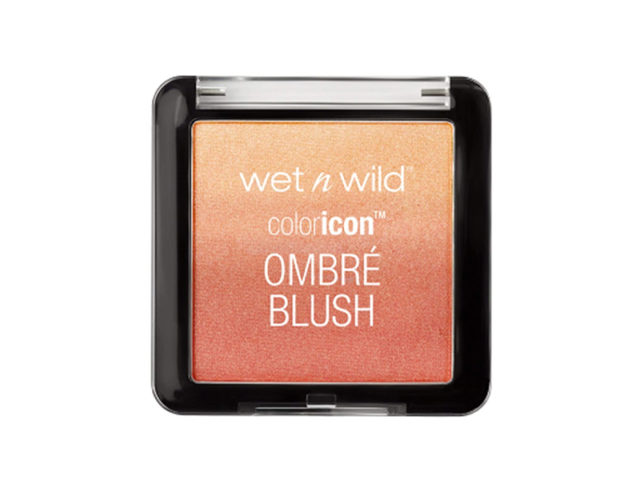 Ride the shade wave to radiance with the beautiful Color Icon Ombre Blush by Wet n wild! Lightweight powders in a soft gradient of ombre hues with a satiny smooth formula that blends seamlessly on your skin for buildable colour. Use it as a blush or even as an eyeshadow for a fun pop of colour. Wet N Wild Color Icon Ombre Blush is just the blush you need if you are looking for the best peach blush for Indian skin. You can use it daily because it is subtle yet amazing. Moreover, Wet n Wild is a Peta-certified, 100% cruelty-free brand.
Price: Rs. 499
Budget Shopper: Find here 10 affordable blushes for every Indian skin tone.
18. Lakme Face Sheer Blusher Sun Kissed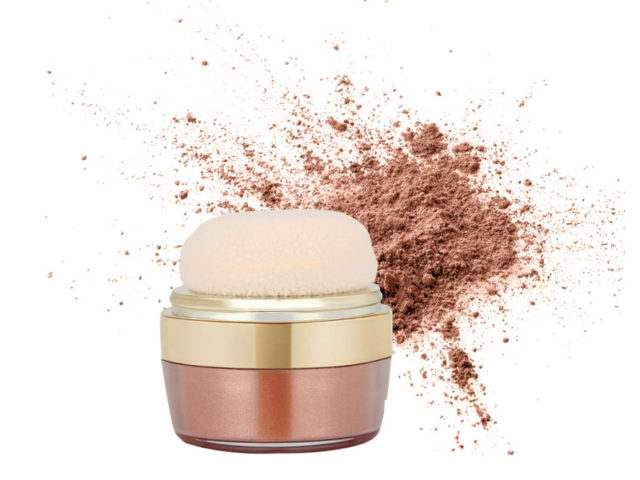 Obsessed with the Instagram sun-kissed aesthetic? Get a sun-kissed glitter glow for your cheeks with this Lakme face sheer blusher. Its intense colour payoff gives you an effortlessly natural radiant look making it the best blush for Indian skin tone. Use it as a blush or a highlighter, your choice. This sheer powder naturally blends with your skin tone and the range has three shades to choose from. The sun-soaked iridescent pigments tint, highlight your cheeks with a beautiful glow. The sponge applicator makes it very easy to apply and it's a compact size that can fit into your bag.
Unsure how to clean your applicator? Find here 5 tried and tested methods to keep your makeup brushes and sponges clean.
Price: Rs 425
Click here to shop for this iconic blush on Amazon!
19. Lakme 9 To 5 Pure Rouge Blusher Peach Affair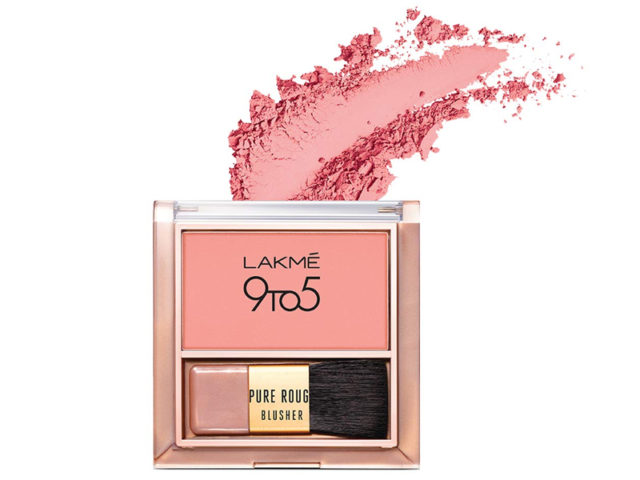 Want to make an eye-catchy entrance to the next party? This blush will make sure of it. This easy to apply pure pressed powder formula provides a sheer, lightweight matte coverage to give a natural glow to your cheeks. This peach blush for Indian skin is a must-have for your makeup kit. It comes with a brush applicator. One sweep and you are ready to go. This rouge blusher (available in 3 different shades) is easy to apply with its pure pressed powder formula and soft-in-built blusher. A few upward brush strokes and you'll be rosy all day! A great pick to have in your bag soon!
Price: Rs 500
Click here to add this lightweight blush to your Amazon cart!
20. Vitamin C-Glow Natural Face Wash – Bella Vita Organic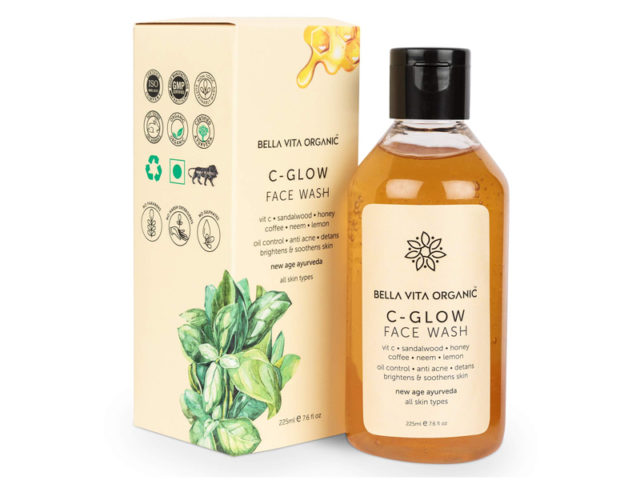 A great face cleanser or face wash is the first step to glowing skin. If you're looking for radiance, try the Vitamin C-Glow Natural Face Wash by Bella Vita Organic. It is a blend of natural and ayurvedic ingredients that help even out your skin tone and reduce the appearance of dull, dark patches. It controls excess oil secretion, de-tans, and brightens your face, making it appear smooth.
Price: Rs 199
Click here to buy this face wash at Amazon!
21. L'Oreal Paris' Revitalift 1.5% Hyaluronic Acid Serum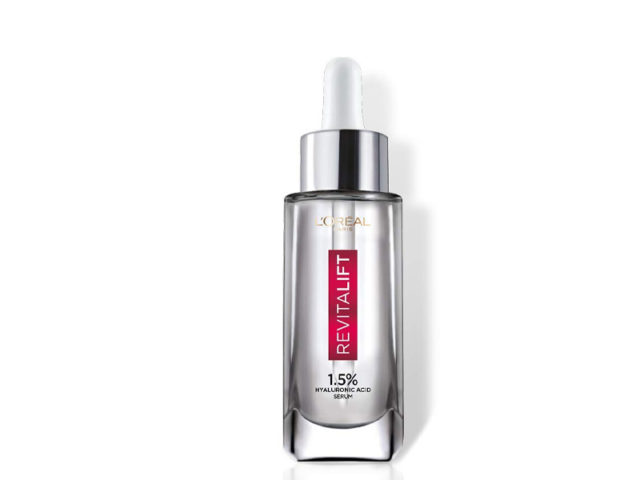 Hyaluronic Acid is a substance that keeps your skin tissues moist and well lubricated. This serum has Hyaluronic Acid as an active ingredient that makes it one of the best face serums available in India. L'oreal has a good name when it comes to its products and this serum has managed to keep up the name.
Price: Rs 499
Click here and shop for this face serum from Amazon!
22. Plum's 10% Niacinamide Face Serum with Rice Water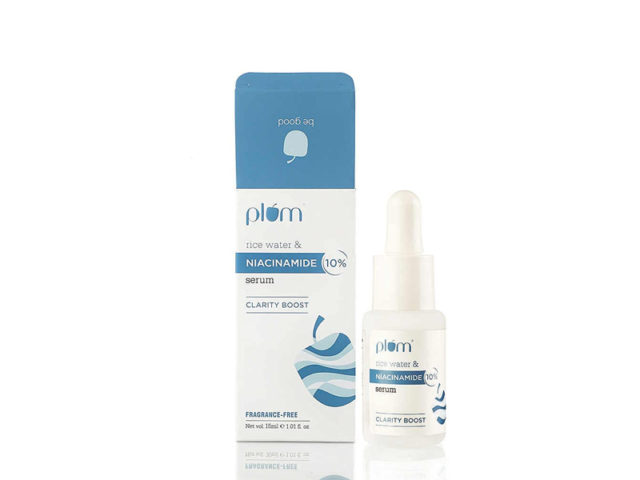 This serum is proven to act on blemishes and acne marks, it soothes acne and protects your skin against sun damage. The 10% Niacinamide present in this serum clarifies your skin and makes it brighter. It also regulates sebum production making it the perfect product for people with oily skin.
Price: Rs 450
Click here to get this Plum serum at Amazon!
23. Garnier's Bright Complete Vitamin C Serum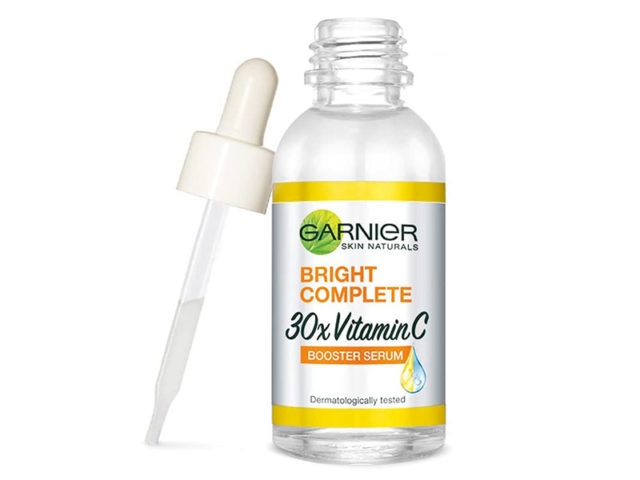 Say bye to the dull pigmented skin and dark spots with this face serum. The vitamin C present in this serum is an antioxidant that starts working on your face from the first application. It reduces dark spots and acne marks in just 3 days and also promises spot reduction.
Price: Rs 314
Click here and fill your cart with this face serum at Amazon!
Here is a dermatologist's guide to vitamin C for all your beauty needs.
24. Biotique's Bio Dandelion Visibly Ageless Serum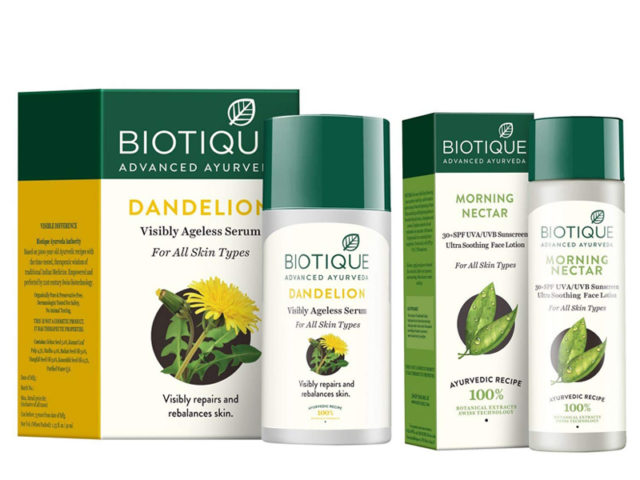 This serum is the most affordable of all. Biotique claims that this serum is a rare combination of pure dandelion that is rich in Vitamin E and minerals with nutmeg oil. If used regularly, this serum can help with skin brightening and easing away wrinkles.
Price: Rs 161
Click here to shop for this antiwrinkle serum on Amazon!
25. Streax Hair Serum for Women & Men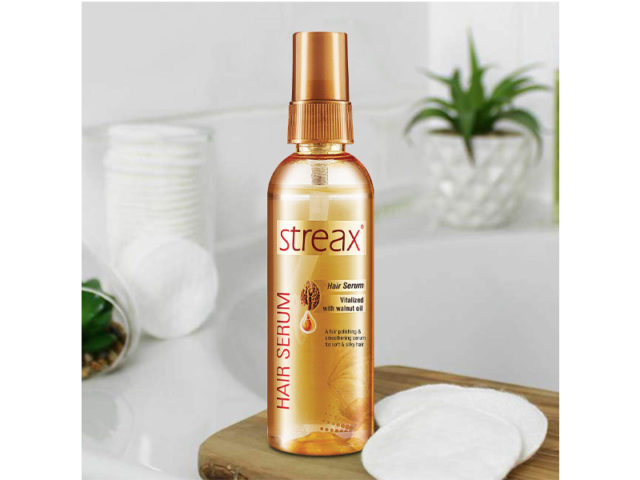 This fabulous hair serum from an extremely popular brand in India gives you just the after-shower moisture you need for your hair to be smooth and less frizzy. The consistency is non-oily which makes it the best choice of them all. It is pretty affordable so if you are looking for that one hair care product you must have, get your hands on this one.
Price: Rs 220
Click here and buy the Streax serum at Amazon!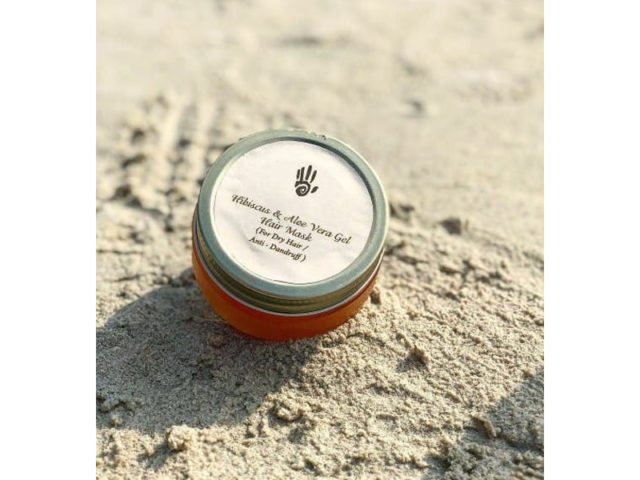 Now that you know the top picks for beauty on a budget get ready to splurge on yourself a little and update that vanity. Which one are you thinking of buying first? Let us know in the comments.