Besides soft and supple skin, everyone also loves our skin to have an even skin tone. Discolouration, especially on the face, can be a serious issue. A common cause of hyperpigmentation is an excess production of melanin. Melanin is a pigment that gives skin its colour. Many factors can lead to discolouration of the skin, one of the main causes of pigmentation is sun exposure. Usually, 70 to 80% of pigmentation is caused by the sun. You can get UV rays sitting indoors or outdoors and in any season, which can lead to pigmentation.
Along with sun exposure, certain medications, hormonal imbalances and conditions like Addison's Disease can also lead to pigmentation. While the foundations do their part to achieve an even skin tone, natural treatments also can prove to be super effective. Yes, home remedies for face pigmentation can slowly but effectively help treat dark spots on the face.
10 Effective Desi Nuskhe For Treating Pigmentation & Discolouration
1. Apple Cider Vinegar Rinse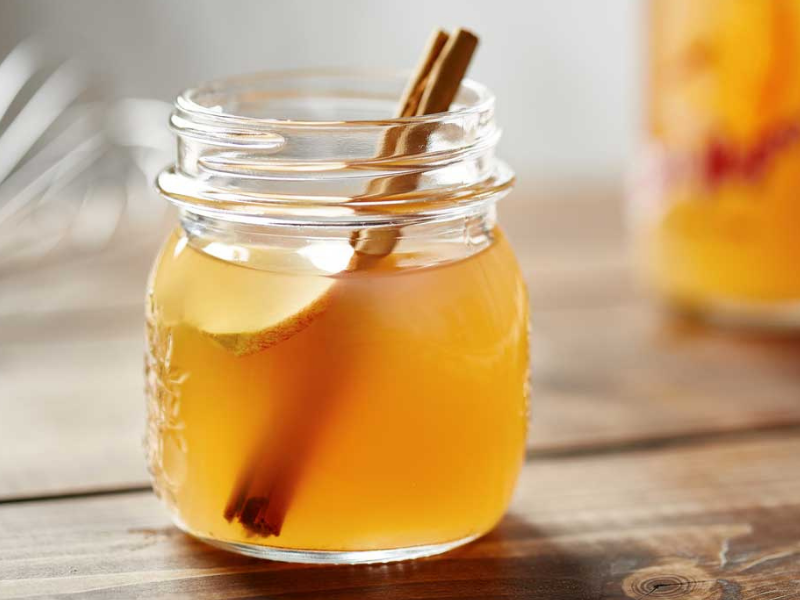 Apple cider vinegar contains acetic acid, which research shows may lighten pigmentation.
You Will Need:
Method:
Combine equal parts of apple cider vinegar and water in a container.
Apply to your dark patches and leave on 2-3 minutes.
Rinse using lukewarm water.
Repeat twice daily you achieve the results you desire.
2. Aloe Vera Gel Rub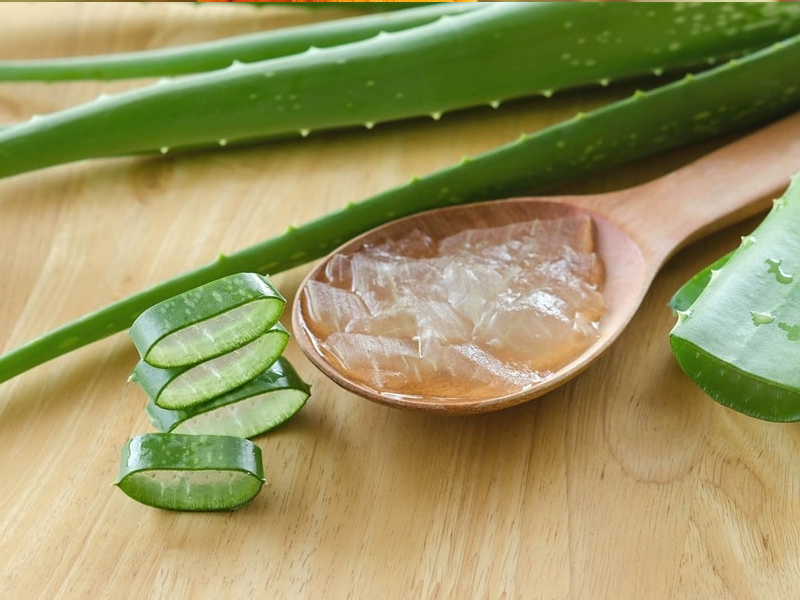 Aloe vera contains aloin, a natural depigmenting compound that has been shown to lighten skin and work effectively as a nontoxic hyperpigmentation treatment.
You Will Need:
Method:
Apply pure aloe vera gel to pigmented areas before bedtime.
Rinse using warm water the next morning.
Repeat daily until your skin colour improves.
3. Neem & Gram Flour Mask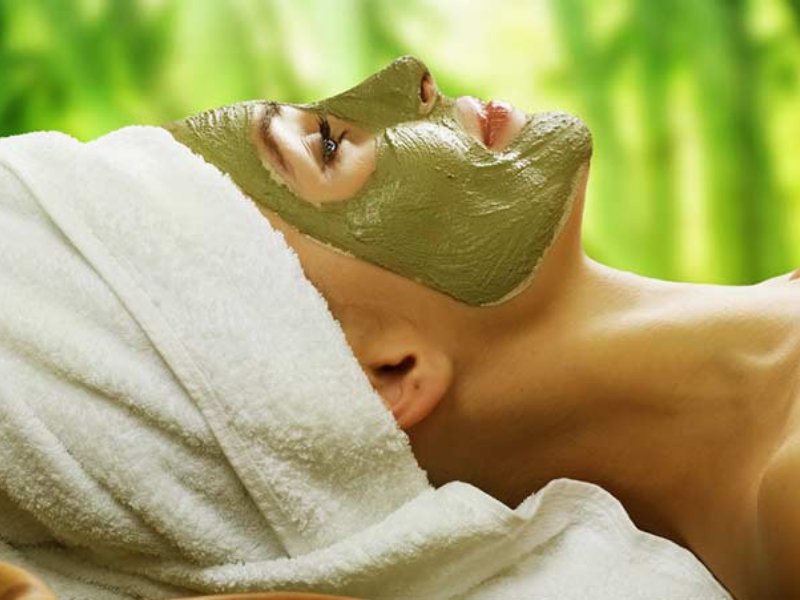 Gram flour has been used for years to treat uneven skin tone and give one brighter skin. Coupled with neem, this mix gives you a flawless skin complexion and removes impurities from your skin to make you look fresh and young.
You Will Need:
1 teaspoon of neem powder
1 teaspoon of gram flour
Yoghurt
Method:
Add 1 teaspoon of neem powder to 1 teaspoon of gram flour in a bowl.
Add some yoghurt to this mix and mix them well to form a paste.
Apply this paste to your face or hands and let it dry for 15-20 minutes.
Once completely dry wash it off with cold water.
This mask can be used 2-3 times a week for the best results.
4. Turmeric, Lemon & Besan Face Pack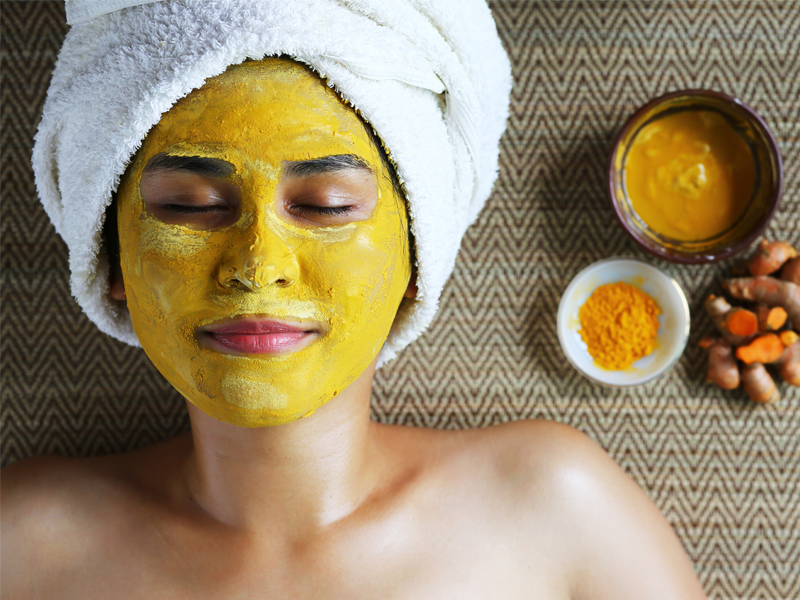 What's better than a plain turmeric face pack? It's this wholesome turmeric (haldi), besan and lemon face pack! Rich in antioxidants, this is the perfect pack to get rid of tan and hyperpigmentation. Get rejuvenated, even, smooth and soft skin with this face pack.
You Will Need:
2 teaspoons besan
2-3 pinches turmeric powder (haldi)
10-12 drops lemon juice
Method:
Take all the ingredients in a bowl and mix well.
Add water to make it a paste.
Apply on face, neck and hands.
Keep it on for 10 minutes and wash it with warm water.
You can also use a haldi and dahi mask to fight acne, pigmentation, and discolouring. Combine both the ingredients in a bowl and apply the smooth paste on the area. Watch this video to learn to make this pack.
5. Cucumber Face Pack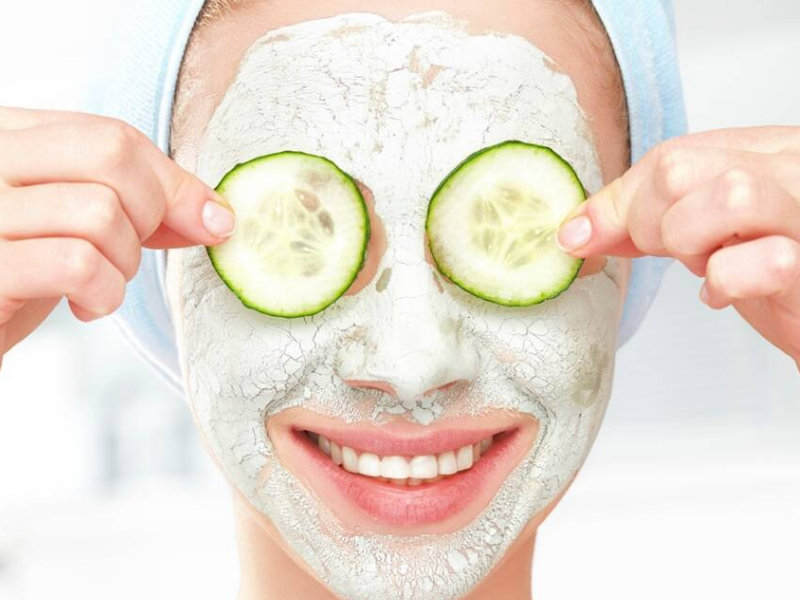 Cucumber has anti-inflammatory properties that soothe the skin and thus help in fading pigmentation.
You Will Need:
Method:
Mix one tablespoon of oats in cucumber pulp and allow it to sit for thirty minutes. Your cucumber face pack for pigmentation is ready.
Apply this pack all over the face and let it sit for 20 minutes.
Wash your face with warm water followed by cold water.
6. Orange & Eggs Face Pack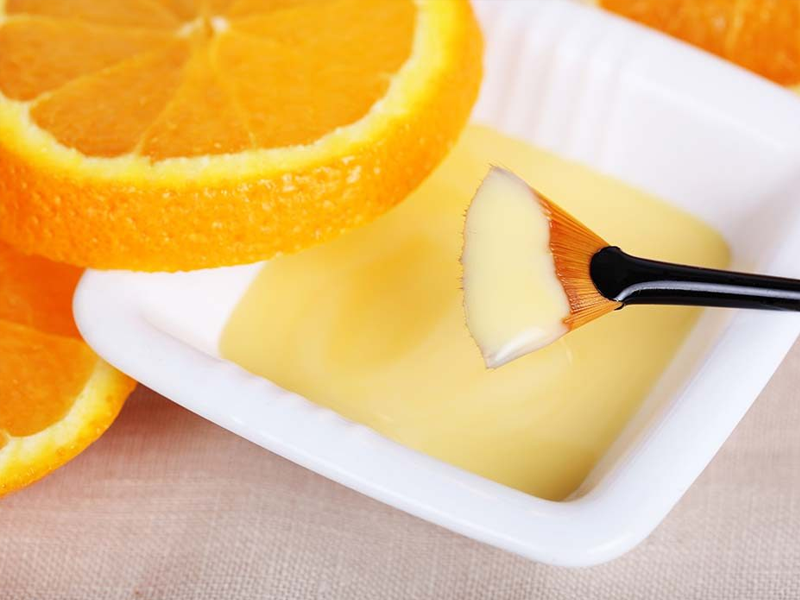 Perfect for those with open pores, this mask helps in tightening the skin and lightening the complexion as well. Oranges absorb excess sebum and effectively works as an astringent.
You Will Need:
Method:
Take 6 pieces of orange and mash it
Add to 1 spoon of egg white
Mix well
Apply for 15 minutes.
Then wash it off with lukewarm water.
7. Coconut Milk & Tomato Face Mask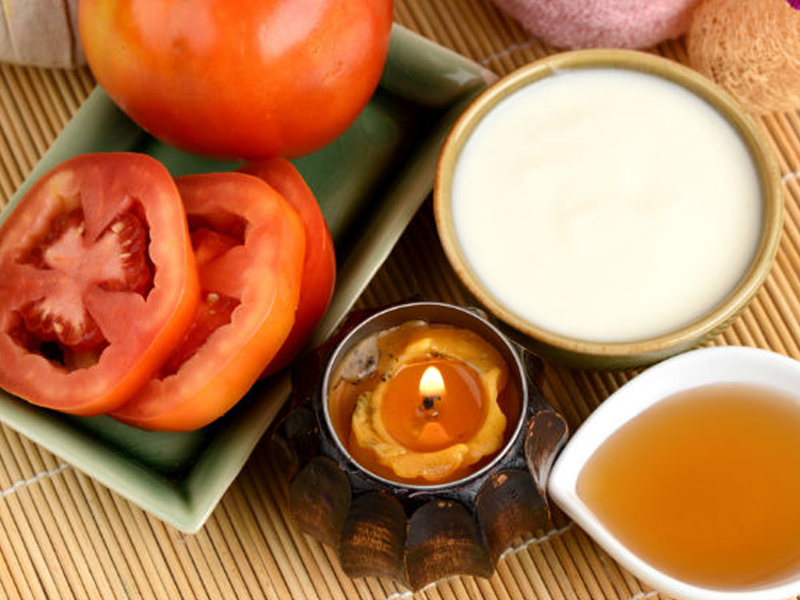 Want silky smooth, tan-free skin? Then you need to try this pack. Tomato contains fruit acid to brighten skin while coconut oil is very beneficial in glowing the skin.
You Will Need:
2 slices of tomato
¼ cup of coconut milk
Method:
Take coconut milk in a bowl.
Soak the slices of tomatoes in the bowl for 10 minutes.
Take tomato slices and rub them all over your face.
Leave it for 30 minutes and wash it off.
8. Mint & Turmeric Face Pack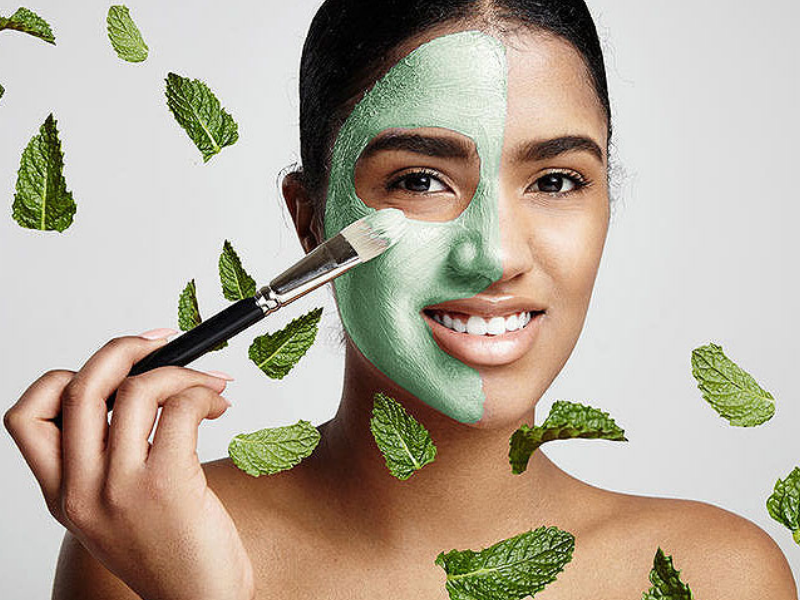 Only the idea of a mint face pack can make you feel fresh in the scorching heat, so imagine how wonderful it will feel on your skin. The cooling properties of the bright green leaves are very well known, when used with turmeric, it helps to clear skin of acne.
You Will Need:
7-10 mint leaves (pudina)
½ teaspoon of turmeric powder (haldi)
Method:
Grind a handful of mint leaves and add a dash of turmeric powder to it.
Mix a few drops of lukewarm or cold water, whichever your skin prefers and apply the paste to your skin.
Leave it for about 10 to 15 minutes and then wash it off.
9. Milk & Mango Face Pack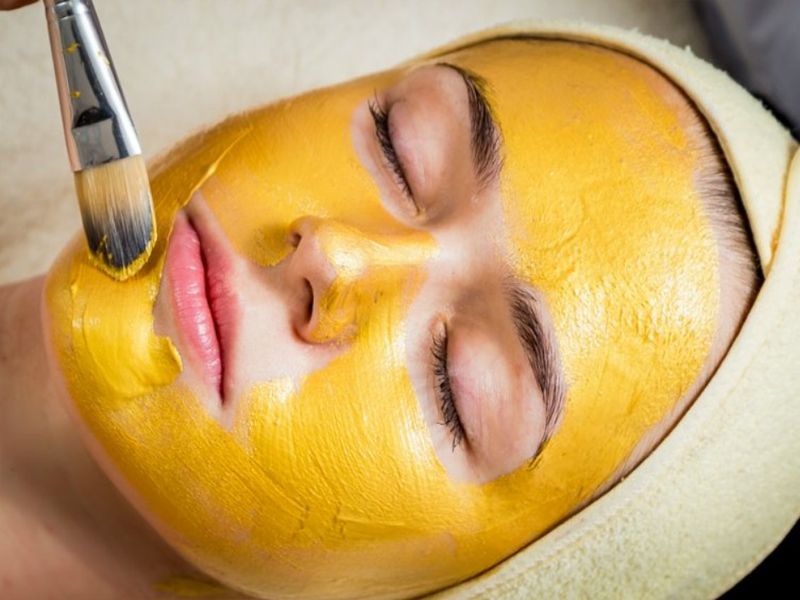 Raw milk is a great treatment for dark spots and blemishes. With regular use, the face mask can help you reduce dark spots and make your face bright and youthful. The use of raw milk and mango for skincare has a great impact on your skin.
You Will Need:
1 ripe mango
2 teaspoons raw milk
Method:
Warm the milk and let it cool down a bit.
Cut the mango and blend the pulp.
Add the blended mango pulp to warm milk.
Apply the face mask.
Leave it for 20 minutes and then wash it off.
10. Masoor Dal (Red Lentils) Face Mask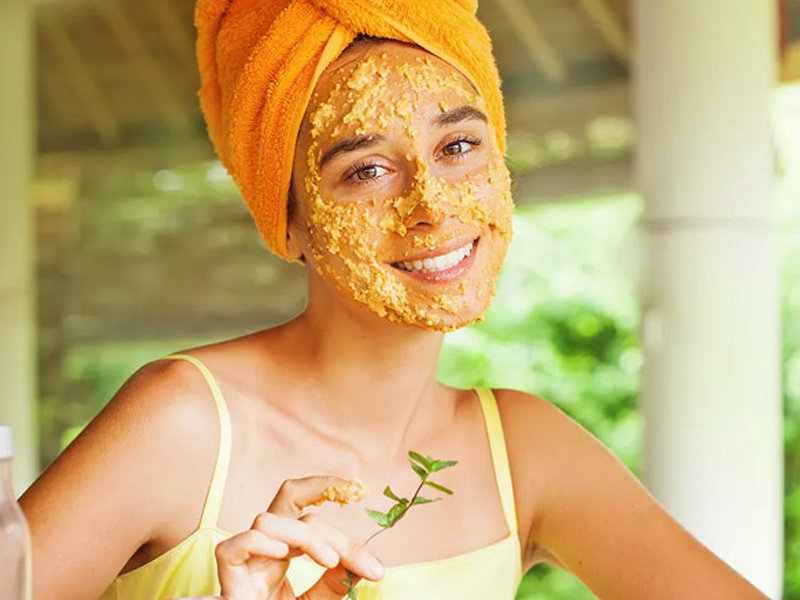 Masoor dal face masks, which are made from red lentils, are popular as a hyperpigmentation treatment. Red lentils are rich in antioxidants that are known to be good for the skin.
You Will Need:
50 grams of red lentils
Water
Method:
Soak 50 grams of red lentils overnight in a bowl of water.
Use a blender or food processor to create a fine paste.
Apply the paste evenly over your face and leave it on for 20 minutes.
Rinse with cold water and pat your skin dry with a towel.
Fighting sun damage need not be so hard, Here is a list of tan removal cream to help you save your skin.
Additional Tips To Reduce Hyperpigmentation At Home
Apart from the above home remedies, you may try and reduce hyperpigmentation by the following methods:
Avoid overexposing yourself to the UV rays of the sun. In case you go out, apply a sunscreen with a minimum of 30 SPF and re-apply it every 3 hours.
Following a proper skincare routine is a must. Every night before going to bed, make sure you clean your face of all the makeup and dirt. Then apply a night cream. From time to time, you should also exfoliate your skin to get rid of dead cells.
Other than other home remedies for skin darkening, drinking at least 7-8 glasses of water daily to get rid of toxins from the body.
Avoiding too oily food if you want to have blemish-free skin, is mandatory. Eat dark green leafy vegetables such as spinach and kale, which are rich in Vitamin A.
TC46 Product Recommendations
1. Natural Citronella Body Balm By Vishisht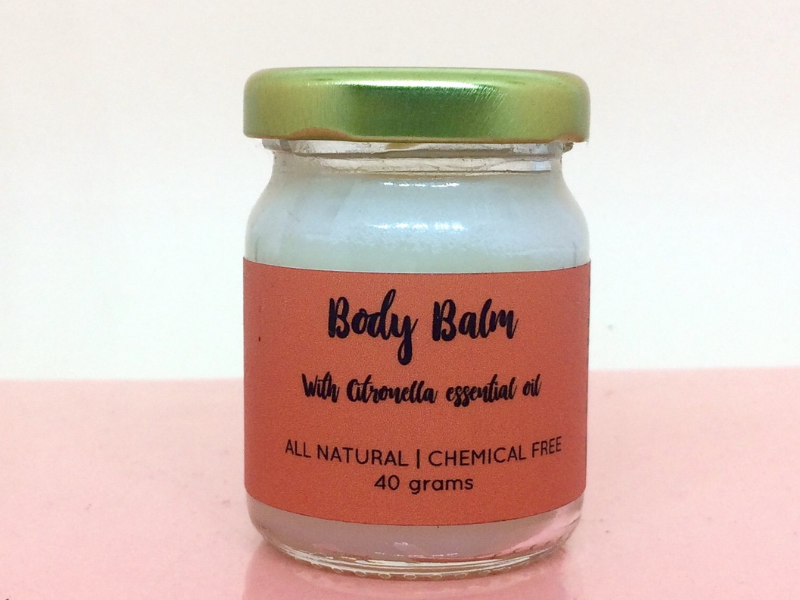 Looking for an all-in-one product that serves many purposes? Try our all-natural, handmade all-purpose Natural Citronella body balm. It is so versatile that it can be used for literally anything! Just take a small amount & apply it to any part of the body that needs a little moisture. Head on over to The Red Dot Shop and buy the magical Natural Citronella body balm.
Price: Rs 299
2. Natural Coffee Body Scrub By Vishisht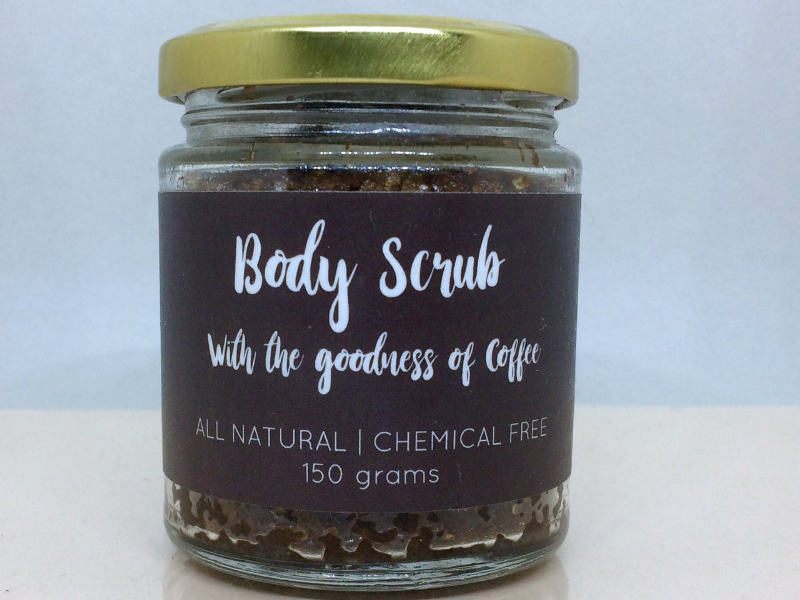 Get smooth & polished skin with our all-natural exfoliating coffee body scrub & have a spa-like pampering experience at the comfort of home.
How to use: Apply all over the body & scrub gently for a few minutes after showering & then wash off. Use once a week or as needed.
Buy this Natural Coffee Body scrub today from The Red Dot Shop and get soft, nourished skin.
Price: Rs 499
3. Calming Mousse Mask By DoYOU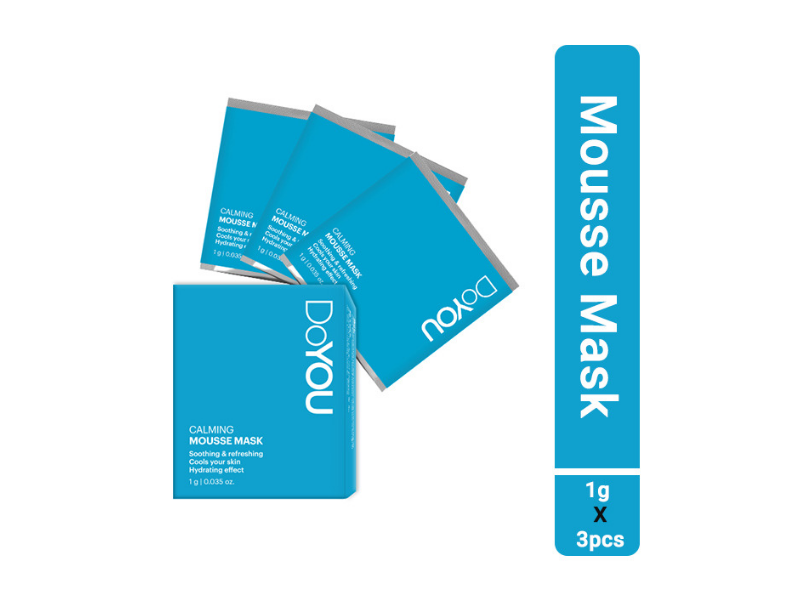 Since you're always up for the next new thing, both in life and skincare, try Calming Mousse Mask. It the masking revolution for your experimental soul. Brace yourself for a quick magic show — this formula goes from powder to mousse in 30 seconds flat! Fun to prepare and calms your skin post your daily 101 with pollution. To pamper yourself with the anti-inflammatory mask Calming Mouse Mask, shop at THE destination for bharatiya naari – The Red Dot Shop.
Price: Rs 495
4. Oil-Free Moisturiser By DoYOU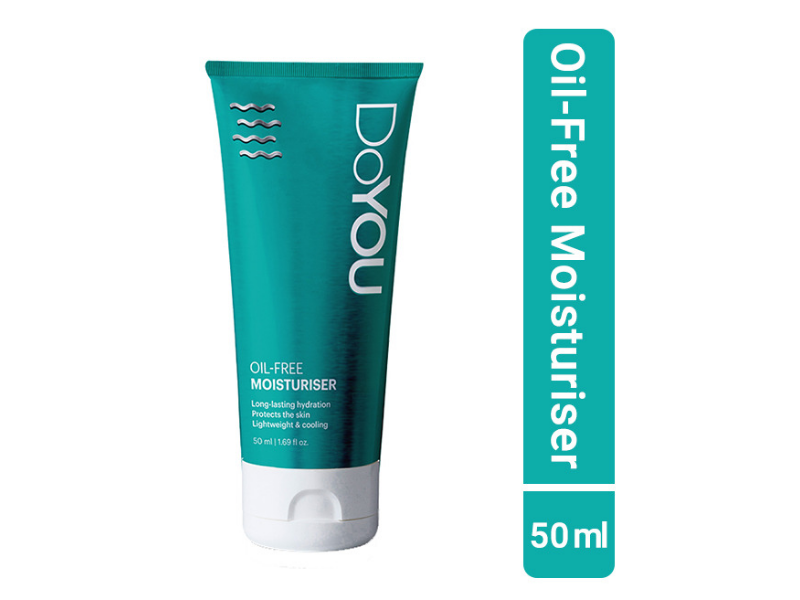 Try this lightweight, Oil-Free Moisturiser with a water-based gel formula that gets your need for highly absorbent hydration amidst daily hustles. But here's the best part — from work to play and then work again, this overperformer also offers all-around protection from urban daily skin stressors. If making your skin glow with this oil-free moisturiser is your goal then fill up your cart at The Red Dot Shop.
Price: Rs 495
Get your hands on these home remedies and watch those dark spots fade away. However, it is advised to see a doctor if any of the dark patches on the skin either itches, bleeds, tingles, or changes in colour or size as these may be indicators of skin cancer. It is also important to understand that all of the solutions mentioned above might not suit everyone. It is advisable to do a patch test first before applying anything to the face. You should know that getting rid of them isn't a day's work; your skin deserves ample attention and care to free itself from dark spots. All you need to take care of your beautiful skin consistently.