Nothing like the 6 yards of canvas draped around you, hai na? A canvas that accurately depicts the rich history of art, culture, and folklore, a saree is a force to reckon with. So, let's dive into the captivating world of silk sarees from across India.
1. Banarasi Silk
Originating from Benarasi, modern Varanasi, from where it gets its name, the silk saree holds indispensable in weddings across cultures. With its heavy Mughal influence, as evident from its intricate yet heavy zari and brocade work, unraveling traditional folklore with traditional motifs like foliage, flowers, and peacock, just to name a few. The threadwork is usually of gold, silver, or copper. The pallu is lined with jhalar or fringes that further accentuate the beauty of this piece of art.
2. Kanjeevaram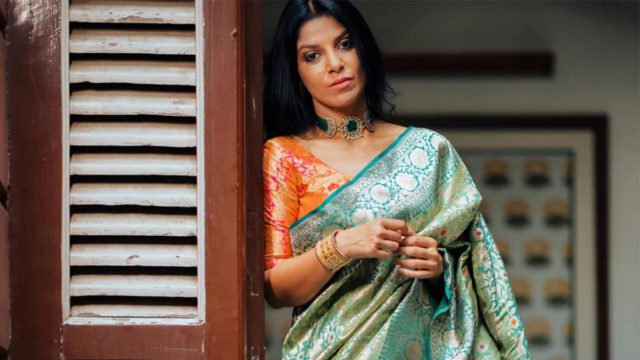 The traditional silk with its roots in Kanchipuram, Tamil Nadu is Banarasi's close competitor. While Benarasi is usually an eternal favourite for weddings and anniversaries in Northern India, Kanjeevaram experiences the same status in the southern part of the country on such occasions. Boasting a lineage that is more than 150 years old, the detailed gold threadwork is no less than fascinating. Kanchipuram, it's a little-less ornate cousin, is as popular as Kanjeevarams and understandably so. 
Read: 10 Best Kanjeevaram Saree Shops In India
3. Lucknowi Chikankari
The usually white thread work on soft pastels is a treat for the eyes. You can find them in darker fabrics too with threadwork of a contrasting colour or whites and pastels with threadwork of a dark hue, but they are few and far between. Because white on a pastel shade has a charm of its own. It may sound odd but only as long as you don't see it. Drape it with pearls or diamonds and be assured of making heads turn.
4. Mysore Silk
Hailing from Mysore in Karnataka, it is one of the most popular drapes in the southern part of India, not that it doesn't occupy a coveted place in the wardrobes of women from other communities. The uniqueness of this saree lies in the subtle shimmery quality of this fabric. With dynamic shades to match the sheen of the fabric, this soft, breathable and easy-to-drape saree is another favourite for weddings. 
5. Pochampally
Named after the town of its origin in Hyderabad, the uniqueness of the designs lies in the symmetrical size of the warp and the weft of the yarns. These are resist-dyed to bring the designs to life. Dyed in vibrant hues like most other traditional sarees, they are now woven in other parts of India as well like Andhra Pradesh, Odisha, and Gujarat.
Read: 10 Best Bridal Lehenga Shops In India
6. Paithani
Hailing from a quaint village in Aurangabad in Maharashtra, the crafting of this saree is a time-consuming and labour-intensive one. This is because of the sheer length of fabric required to weave and create this saree. The weave is perfectly accentuated by traditional motifs like leaves and trees, parrots, and such other designs, which are generally women on its pallu with pure silk gold threads. No wonder, they are considered to be one of the favourite choices for weddings and other special occasions.
7. Bandhani
Originating in Gujarat, the spellbinding colour combinations are bound to leave you mesmerised – colour combos that you perhaps may not have seen or imagined ever before. Contrasting shades and colour blocks galore, another feature that is equally fascinating is the tie-and-dye method for creating the designs on the fabric. The Lahariya sarees of Rajasthan bear stark resemblance to Bandhanis because of their tie-and-dye patterns.
8. Patola
Patolas take 'elaborate' to another level due to the complex weaves comprising as many as five varied colours. These are impeccably resist-dyed into warp and weft threads that create the beautiful designs that Patolas are widely known for. Its versatility lies in its designs which range from floral, elephant and vegetable patterns to geometric abstract designs.
9. Muga Silk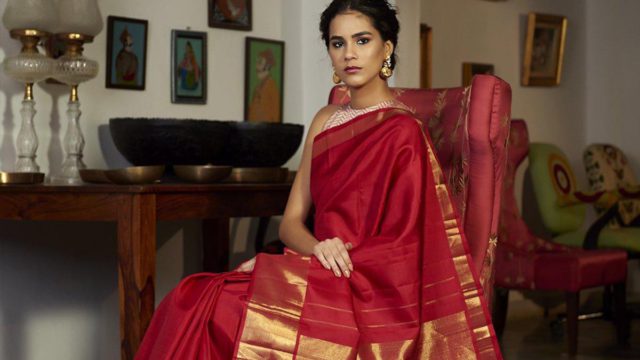 The saree from Assam enjoys distinctiveness owing to the golden sheen of its fabric, which speaks volumes about the premium quality of its raw silk fibre. The fabric is not dyed but motifs are woven in red, black, green or orange, which looks perfect against the golden background.
10. Baluchari Saree
Hailing from Murshidabad in West Bengal, the intricacy of its designs is what sets them apart from the rest. What's more, the pallu serves as a canvas for depicting stories from mythology like the Mahabharata and the Ramayana.
Open up like never before and participate in conversations about beauty, entrepreneurship, mental health, menstrual & sexual health, and more. Desi women, join our community NOW!