Not all fats are to be consumed, and not all are bad for your health. Shea butter – one of the most talked about ingredients in the world of skincare – is one such example. This butter is the fat that is extracted from the nuts of the Shea Tree. It is an off-white coloured extract with a creamy consistency, which is a result of its high fatty acid content. What's more, it also comprises vitamin concentration that makes it an ideal skincare ingredient.
5 Goodnesses Of Shea Butter At A Glance
If you're looking for an active to keep your skin well hydrated, soft, and supple for long, eliminating dryness, dullness, and cracks, shea butter for skin may just be the right pick for you.
The butter is known for its anti-inflammatory properties that heals cracks on your skin and chapped lips. It also works wonders as an exfoliating agent.
It protects your skin from UV rays and sunburns along with it hydrating your skin.
Shea butter for skin boosts collagen production in your skin and acts as the perfect shea butter face moisturiser.
Nourished with Vitamin A, E, and F, shea butter acts as food for your skin – well, no doubt about that! Whether you're using a shea butter moisturiser or a lip balm.
3 Skin Care Benefits Of Shea Butter
After knowing about shea butter benefits for skin in general, let us now break down the shea butter benefits and learn about the core shea butter benefits:
1. Anti-Inflammatory & Healing Properties
With extensive anti-inflammatory properties, shea butter is a great ingredient. If you are suffering from skin irritations, redness or inflammation, this butter can work its magic by soothing and calming the affected area.
2. Emollient Properties
One of the primary shea butter benefits for skin is that the tree-nut oil helps in creating a barrier by sealing in the hydration in the deeper layers of the skin
3. Anti-Aging Properties
Shea butter is also reported to have anti-ageing properties like collagen. As a result, shea butter for face, lips, and your body promotes collagen in the skin and controls the breakdown of this active.
2 Things To Avoid While Selecting A Shea Butter Product
As we began our article by saying – not all fats are bad, we are going to take the liberty to say, not all shea butter is the same. Here are some pointers to keep in mind:
Highly processed shea butter isn't effective. The shea butter benefits get reduced when it is combined with other ingredients.
Check whether the product mentions shea butter as its first or second ingredient. There are certain products sold in the name of shea butter but contain an insignificant amount of it.
Make sure you go through the list of ingredients before buying your shea butter product. And lastly be sure that when you are purchasing the shea butter for dry skin or for any other skin type, you are doing it from a reliable source.
5 DIY Skincare Recipes Using Shea Butter
Now that we are aware of some of the benefits and good things about shea butter, let us look at some homemade recipes.
1. Shea Butter & Honey Face Mask For Dry Skin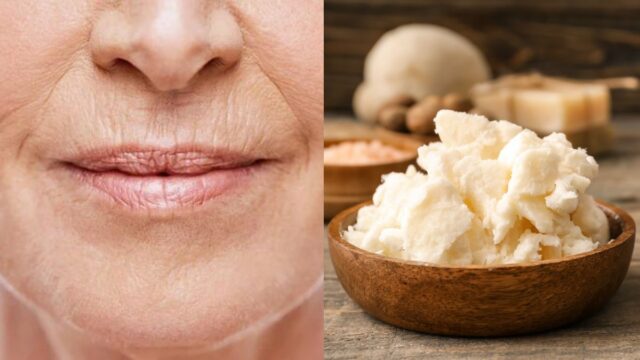 If you have dry skin, which lacks the shine of hydration on your face, this shea butter mask is just the thing for you:
Ingredients
1 tbsp raw honey
3 drops of grapeseed oil
1 tbsp unrefined shea butter
Method
Mix all the ingredients together.
Let the mask sit on your face for about 10 minutes and wash it off. The goodness of shea butter will bring the moisturisation back to your face.
2. Shea Butter, Rose Essential Oil, & Lavender Essential Oil For Acne
Laden with hydrating properties of shea butter, its benefits get further enhanced when blended with rose and lavender essential oils when it comes to treating acne breakouts.
Ingredients
3 drops of lavender essential oil
3 drops of rose essential oil
1 tbsp of unrefined shea butter
Method
Mix the ingredients and keep it in a bottle.
Apply it in the evening on your acne spots, you will see positive results.
3. Shea Butter, Rose Essential Oil & Ylang-Ylang Essential Oil For Treating Fine Lines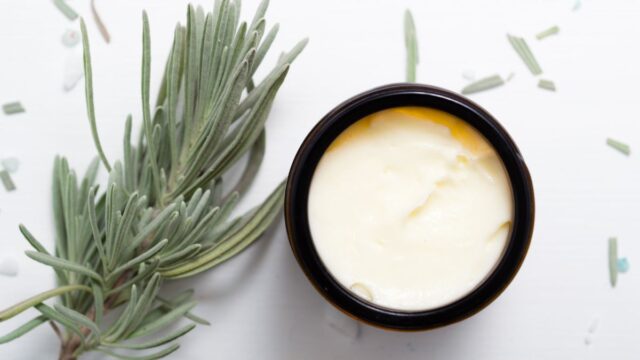 If you are looking for a natural boost to your skin to control the visible signs of ageing like fine lines & wrinkles, this mask is your solution.
Ingredients
2 drops ylang-ylang essential oil
3 drops rose essential oil
1 tbsp unrefined shea butter
Method
Mix the ingredients and keep it in a bottle.
Apply the mixture on your face and leave it like an overnight mask, you will see visible results on your fine lines.
4. Shea Butter & Sunflower Oil Body Wash
One of the best things about using a body wash is the smooth, supple, glowing skin that you experience after applying it. Let us learn about an easy DIY shea butter.
Ingredients
½ cup shea butter
½ cup sunflower oil
A pump dispenser
Method
Mix your ingredients and pour it in a dispenser, for ease of use.
Apply it liberally on your body for best results.
5. Shea Butter, Coconut Oil, & Jojoba Oil Balm For Cracked Heels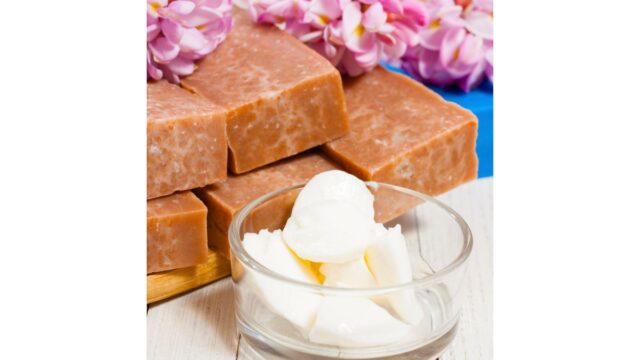 With the smell of lavender and the healing properties of shea butter, this one will prove one of the best DIYs for cracked heels.
Ingredients
2 tbsp beeswax pellets
2 tbsp shea butter
2 tbsp coconut oil
2 tbsp jojoba oil
5 drops lavender essential oil
Method
Take beeswax, shea butter in a bowl, add coconut oil and jojoba oil to it.
Mix the contents to make a thick consistency.
Then add 5 drops of lavender oil and combine well. Your heel balm is ready.
5 Shea Butter Products Recommended For Your Skin
1. Nivea Body Lotion With Shea Butter
The nivea body lotion is one of the best shea butter moisturisers for dry skin, during the dry weathers of winter. The shea butter body cream keeps your skin hydrated for a long time. You do not need to reapply every 2 hours.
2. Nyassa Shea Butter Soap
Shea butter in the form of a soap. Add this in your daily routine and you will see a visible difference. The soap keeps your skin hydrated and moisturised throughout the day.
3. Matrix OPI Conditioner
One of the best hair shampoo out there. If you have thin strands and experience a lot of frizz and dryness, this shampoo may be the best bet for you. The goodness of shea butter makes it all the more commendable.
4. L'Occitane Hand Cream
This is one of the best shea butter hand creams that you can invest in. Priced a bit steeply, but the high quality of the butter in this product, among the other skin-friendly actives, makes it worth a go. And once you do get a hold of this cream, there's no looking back.
5. L'Occitane Face Cream
The shea butter moisturiser by L'Occitane is a great pick for dry skin. The shea butter face cream adds just the right amount of moisturisation on your face, making it look shiny, soft, and healthy.
3 Possible Side Effects Of Using Shea Butter On Your Skin
Let us talk about the risks that could be involved while using shea butter. Generally it is a very safe ingredient. However, there are some possible side-effects that you should be aware of.
If you have nut allergy, you should be very careful and do a patch test before you start using a shea butter product.
It might clog your pores as the fatty acids can mimic the oil that your body naturally produces.
pure shea butter when applied on your face can also lead to breakouts, therefore be careful with the quantity and quality of the shea butter you use.
There are a plethora of skincare products rich in shea butter at all kinds of prices – from affordable to high-end. With the properties to soothe and hydrate your skin, shea butter acts as a great anti-ageing product as well. Do a patch best and see how it works out for you. If there are no side-effects, go ahead and make the most of the goddess of this magic product for your precious skin.
Open up like never before and participate in conversations about beauty, entrepreneurship, mental health, menstrual & sexual health, and more. Desi women, join our community NOW!