When you think of hair fall, you usually assume your hair is not strong enough and that's why it tends to break away. But, most times it is your scalp health that's compromised and causing your hair to fall from the roots. Poor scalp health doesn't just affect your roots but can also affect the lengths of your hair and impact its texture. Our scalp, just like our skin, produces sebum (oil) to keep the surface area healthy. This oil gets distributed through your hair every time you brush your hair or run your fingers down your lengths. A dry flaky scalp, or even an oily scalp that makes your hair look flat and shiny, are both signs that the sebum levels in your scalp are irregular. And these are just surface-level problems. A host of scalp conditions could be causing your hair to fall that you may not even know of yet.
So, we decided to rely on Nature Nuskha to work towards long-term hair fitness by treating the root cause of hair fall—poor scalp health!
6 Common Scalp Conditions That Cause Hair Fall
Dandruff: It is one of the more common scalp conditions that people know about but what you may not know, is that the white flakes on your scalp can appear due to two reasons. One, because of an excess production of sebum, leading to oily dandruff, which manifests through thick yellowish flakes. And, two, because of an excessively dry scalp that can occur due to a yeast infection that manifests through a red, itchy, and sore scalp. 
Head Lice & Ringworm: Invasion of fungi and such other small organisms lead to swelling and pain, resulting in obsessive itchiness, soreness, and even bald patches. Very often it is difficult to self-diagnose these issues and you only realise the extent of damage after you visit a dermatologist or trichologist.
Seborrheic Dermatitis: This severe form of dandruff causes the scalp to become itchy, scaly, and greasy. It can affect adults as much as it can affect babies. When it occurs among babies, it is known as cradle cap. 
Psoriasis: This is an autoimmune condition that exhibits pink-red acne on the scalp or along the hairline. These cause irritation and pain as a result of them being highly inflamed. 
Alopecia: This scalp condition usually results in widespread hair loss and may be a side effect of certain medications, fragile hair, or hormonal abnormalities. In this case, hair loss can happen in small or large patches.
Folliculitis: This condition hits the hair follicles right on the scalp. It manifests through small bumps like acne and pimples, which are filled with pus, causing inflammation. Not just that, it also causes excessive sweating. 
6 Tell-Tale Signs Your Scalp Health Is Compromised
Slow Hair Growth: If your hair refuses to grow at a healthy pace, it is a clear sign that your scalp needs attention.
Dandruff: Dandruff and flaking suggest that not just your scalp, but your hair—right from the follicles to the tips—requires care.
Dry, Itchy Scalp: An itchy scalp, caused due to dryness, possibly indicates that your scalp is not producing adequate sebum or that the haircare products you are using are stripping away the natural oils from your scalp.
Oily Scalp: An oily scalp suggests that your scalp is producing more sebum than necessary. This may, although rarely, be an indication of an underlying health condition.
Red, Inflamed Scalp: This indicates allergies and scalp conditions that are causing irritation and slow damage to your hair.
Excessive Hair Loss: Hair thinning and, in extreme cases, baldness is yet another sign of an internal medical condition or maybe the result of the chemicals in your hair care products.
3-Step Treatment To Improve Scalp Health
Here's a 3-step regimen from Nature Nuskha, curated with natural ingredients, that's just what you need to keep the common scalp problems at bay.
Step 1: Hair Oil (Twice A Week)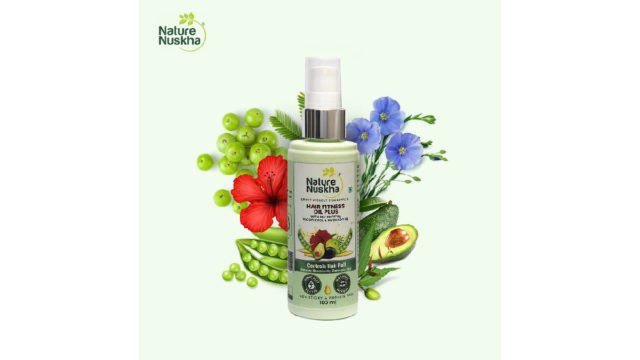 Most people incorrectly think that hair oil treats dandruff. Hair oil maintains hair health, and shine, and helps repair dry and damaged ends. While hair oil isn't a product central to dandruff care, a good oiling ritual is needed for hair fitness end-to-end—keeping the lengths healthy and strong while treating dandruff at the source through cleansing.
Product We Love: Nature Nuskha Hair Fitness Oil Plus
The Hair Fitness Oil Plus is the best oil for ensuring scalp health. It bottles more than 13 natural oils like jojoba, flaxseed, onion, avocado, and argan, just to mention a few. All the oils are rich in fatty acids, proteins, vitamins, and minerals—essential nutrients for your scalp. Use it at least twice a week, if not daily, and don't forget to leave it overnight for the best results.
How To Use:
Pump Hair Fitness Oil Plus onto your palm 6-8 times
Massage into your scalp and draw the oil down to your hair ends with your fingers
Leave it on overnight for the best results
Wash it off with a mild shampoo
Apply 2-3 times a week for the best results
Price: Rs 440 Rs 390 (100ml)
Buy The Nature Nuskha Hair Fitness Oil Here
Step 2: Shampoo (2-3 Times A Week)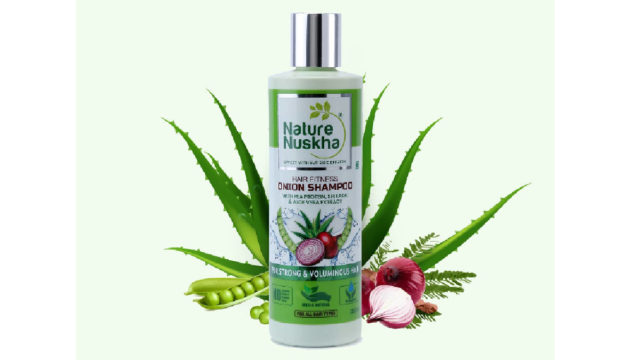 The most important product when it comes to dandruff care is a good all-natural, sulphate-free shampoo. Scalp health begins with the hygiene of the scalp, and you need the right shampoo to cleanse it without overdrying your scalp.
Product We Love: Nature Nuskha Hair Fitness Onion Shampoo
The combination of onion, pea protein, and shikakai in this shampoo improves scalp health. It not only strengthens your strands from root to tip, but it is great for scalp fitness as well.
How To Use:
Apply the onion shampoo onto wet hair
Massage into scalp and hair strands for 1-2 minutes
Rinse thoroughly and repeat if needed
Gently towel dry your hair for the best results
Price: Rs 330 Rs 299 (250ml)
Buy The Nature Nuskha Hair Fitness Onion Shampoo Here
Step 3: Hair Mist (Daily)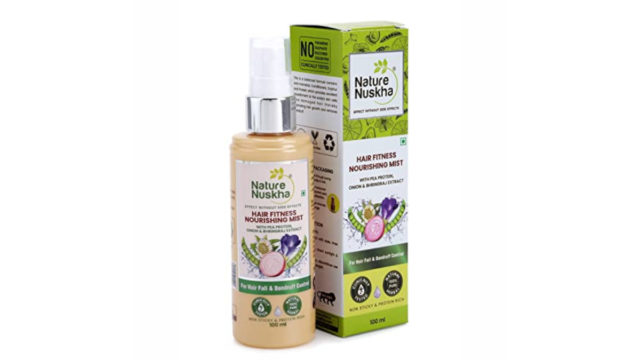 A new, but a must-have product, hair mists are a great way to hydrate your scalp and hair at the roots. Consider this like a daily booster shot for long-term hair fitness, especially if you're someone who uses hot styling tools like hair dryers, straighteners, curling irons, or blow dryers.
Product We Love: Nature Nuskha Hair Fitness Nourishing Mist
Finish your 3-step regimen with this mist for a wholesome scalp and hair care routine. It provides nourishment to your scalp, which gets passed on to your hair as well. It also helps treat external stressors that are detrimental to your luscious locks. You can just spritz some of this no-chip-chip, lightweight formula and head out in style.
How to Use:
From a distance of 10cm, spray the hair mist directly on damp, towel-dried hair
Massage gently for 30 seconds
Comb through your hair to evenly distribute the product
Style hair as usual
Apply daily for the best results
Price: Rs 390 Rs 350 (100ml)
Buy The Nature Nuskha Hair Fitness Nourishing Mist Here
3 Vital Tips To Keep Your Scalp Healthy
1. Follow A Thorough Hair Care Routine
We have already discussed the 3-step regimen that you should follow to maintain strong, healthy, shiny, and bouncy hair. This will save you from falling prey to all the avoidable scalp conditions mentioned above by restoring scalp health and keeping it rejuvenated at all times.
2. Exfoliate Your Scalp
Follow an exfoliation routine at least once a month with ingredients that are readily available at home like yoghurt, eggs, and honey. These beauty nuskhe will enable you to keep the hair follicles on the scalp clean, encouraging hair growth. Also, comb your hair at least once a day to boost blood circulation on your scalp, remove debris and dead skin, and evenly distribute the oils.
3. Don't Use Hair Oils With Comb Applicators
While hair oils that are pre-fixed with comb applicators are marketed as a convenience and claim to stimulate the scalp, the truth is that if you have a scalp condition, the pointed applicator comb is also getting infected or worse, spreading the problem to other areas of the scalp. Always use hair products by first taking them out onto your hand, and then applying them with your fingers. Wash your hands with soap when done.
Give your tresses the TLC that they deserve with Nature Nuskha. Crafted especially for hair fitness and not just hair care, make them a part of your routine for a long-term solution to hair fall.
PS: Nature Nuskha products are also available on Amazon.in.
Open up like never before and participate in conversations about beauty, entrepreneurship, mental health, menstrual & sexual health, and more. Desi women, join our community NOW!