If you usually turn to your parlour wali aunty to shape and maintain your eyebrows, right about now you're probably wondering how can you deal with your eyebrows at home, given the new socially distanced reality. Maintaining your grooming and beauty routines can be an important and soothing ritual that helps you feel like yourself in an increasingly chaotic world. If you have been bit by a beauty bug while in quarantine, then this article is for you! Below you'll find an overview of the basics, including where to start, how to find your best eyebrow shape and steps to tackle tweezing and waxing.
5 Ways To Maintain Eyebrows At Home
Dealing with unwanted hair can be an ongoing struggle, especially if it's on your face. You are aware of methods like face waxing and threading to get rid of unwanted facial hair. You visit a parlour, tell the didi your preferred method and be done in a jiffy. But now you can do facial waxing and more at home with these useful techniques. Learn more about DIY hair removal options for your body and face here. Here's some tips on how to darken eyebrows naturally in quick easy steps
1. Tweezing Your Eyebrows At Home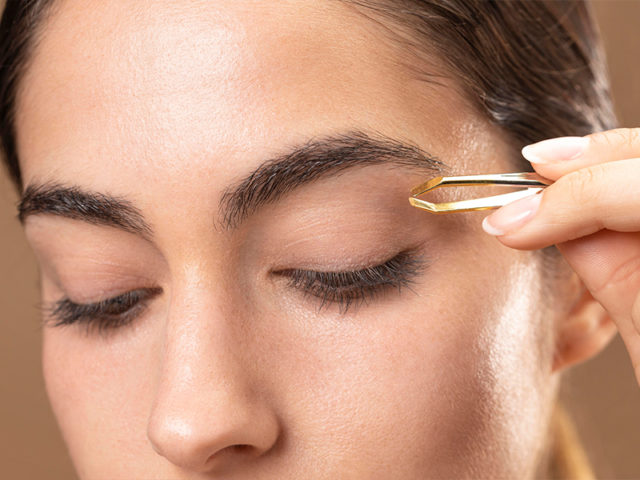 Tweezing works on any facial hair. It's particularly useful when shaping the eyebrows. This method ensures slower hair growth, about 3-8 weeks. If you are not comfortable with full face waxing or shaving, then this one is perfect for you. Read about the 5 step guide to getting your eyebrows on fleek here.
You Will Need:
Method:
Clean your skin first.
Outline the shape of your eyebrows to make the process easier. This is not brow art, it's brow shaping!
Isolate the hairs you want to pluck.
Pull and hold your skin taut and pluck in the direction of hair growth.
Do this one hair at a time and make sure to pull your skin. Make sure you're pulling hair in the direction that it's growing in.
Though there might be some discomfort, with practice it will become less painful.
Follow up with a touch of hydration.
2. Shaving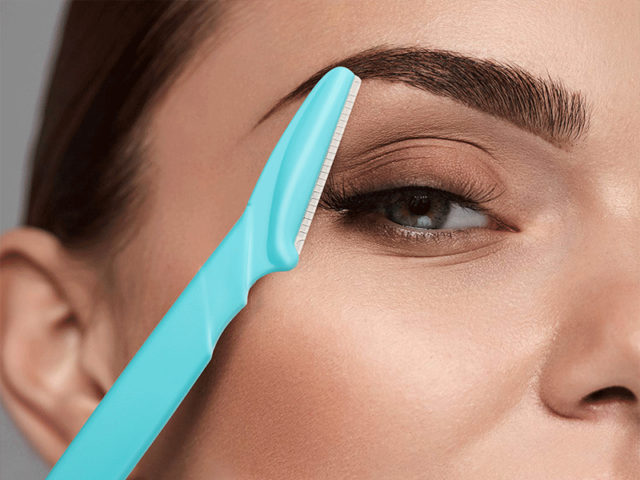 One of the easiest methods for facial hair removal at home is shaving. And no, it's not those jumbo razors men use, but dainty ones that are made specifically for women. You can buy facial razors for women at various online sites and even your local beauty supply store.
You Will Need:
Face Razor/Trimmer
Cleansed dry skin
Method:
Make sure your skin is clean and dry with no products.
Hold the razor at a 45-degree angle and shave your face in short, downward strokes.
You should apply little pressure and it should feel like a spatula on your face.
Avoid areas with acne and bumps.
3. How To Wax Your Eyebrows At Home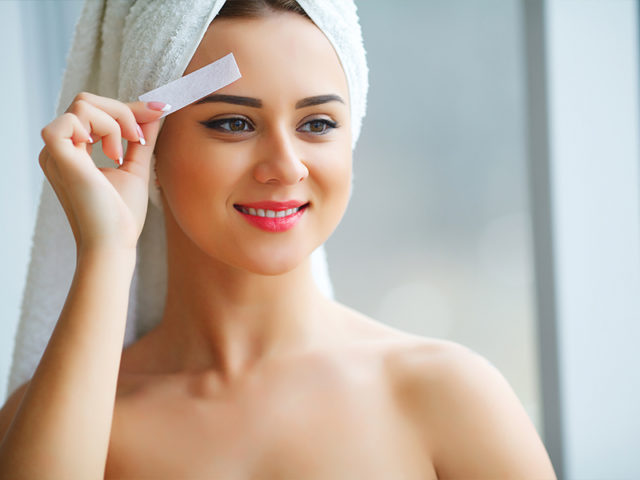 Face waxing is an effective way to get rid of unwanted hair on your face. A lot of women use wax to trim their eyebrows and remove upper lip hair. With this DIY technique, waxing at home is now an easy way for facial hair removal. Check out 5 DIY wax recipes for painless hair removal here.
You Will Need:
Granulated sugar
Lemon juice
Water
Cocoa powder (optional)
Strips of cloth (old cotton t-shirt)
Method:
Mix granulated sugar, lemon juice and water. For chocolate wax, you can add cocoa powder.
Boil this in a pot over medium heat.
Let this cool until it looks like caramelised honey and has the consistency of a thick, malleable paste.
Apply it in the direction of hair growth, press the cloth strip on top and pull it off in the opposite direction.
It is a quick and easy way to get rid of facial hair and is the best wax for the face.
4. Hard Wax Or Sugar Wax For At-Home Waxing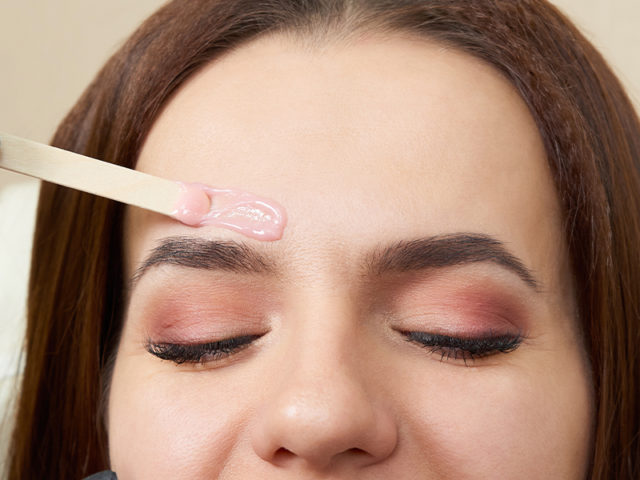 If you're a newbie to waxing on your own and want to try it out, stick to hard wax or sugar wax. They are nicer to the skin for the novice waxer. They're also easier to clean up in case of an accident.
You Will Need:
Wax
Waxing strips
Moisturiser/oil
Method:
You'll want to start with clean skin, so wash your face before diving into your wax kit.
You should also powder the skin. Powdering sops up extra moisture, so the wax grabs the hairs better.
Apply the wax strategically and pull it off correctly.
Once the wax is hot, you want to apply it in the same direction that your hair grows. If you are using hard wax, apply it in a thicker application.
Let it harden.
Then, use one hand to pull your skin taut, and use the other hand to pull the strip off against the direction of the hair growth.
Soothe your skin afterwards with a light moisturiser or gentle face oil.
5. Threading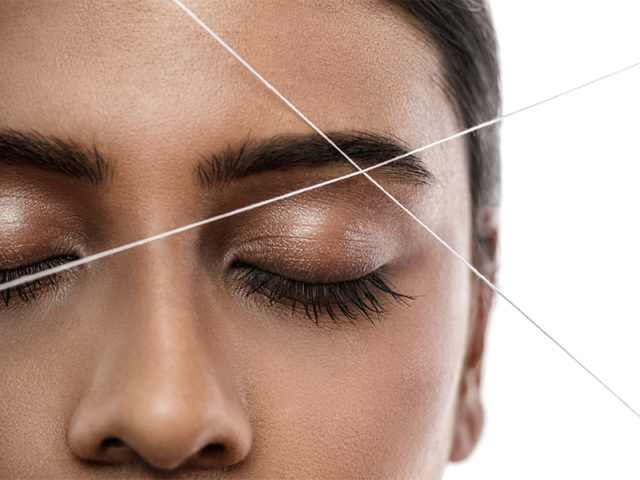 If face waxing at home is not your preferred option, threading is your best bet. A thread bundle is small and easy to carry. And this is the best way to remove facial hair without any mess! Instead of removing hair with a razor blade, threading is designed to pluck or pull hair from the roots. It ensures slow hair regrowth, making it the easiest technique of facial hair removal for women.
You Will Need:
Salon thread or plain thread
Mirror
Method:
Take a 15-inch piece of thread and tie it together to form a loop.
Twist the middle part at least 10-15 times and form two smaller loops.
Practise by pulling and pushing both the loops.
To remove hair, place the thread and widen one end of the loop.
Remember, the thread will remove hair in the direction of the smaller loop.
Though this method takes a little practice, it certainly is the best technique for facial hair removal.
Eyebrow Grooming Tips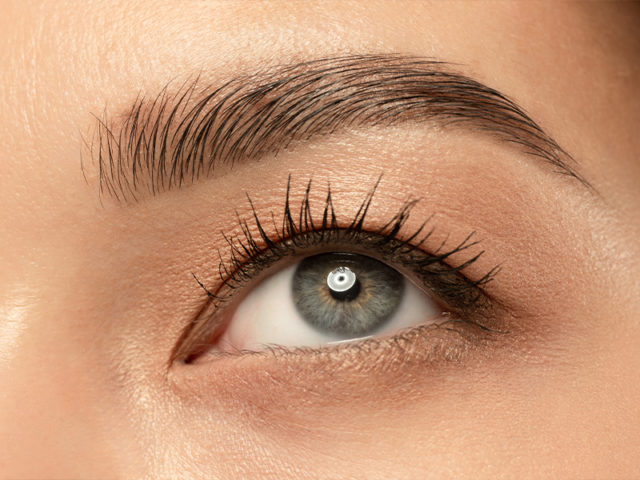 Let's be real, your eyebrows shape your whole face. Whether you pluck on the thin side or let them grow wild, those tiny arches determine how your makeup will look.
Brush them properly to know the natural shape of your brows. Know about natural remedies to grow thicker eyebrows here.
Tweeze after you shower.
Align your brows with your face shape.
Tweeze with good lighting.
Tweeze in the direction of your hair growth
Keep your eyebrows looking fresh by trimming the front part of your brows.
First, find a colour that complements your brows and fill in the spaces. Learn about 5 techniques to darken and fill in your eyebrows here.
Get fancy, use skin-friendly make-up for your brows and really make them pop!
When taking care of brows, why leave your eyes behind? Buy this wonderful under eye serum oil from the Red Dot Shop here and get rid of the stubborn dark circles.
Lockdown has been a tough period but you shouldn't slack on your beauty routines. While shaping your eyebrows at home can seem daunting, follow these basic maintenance techniques that can be easily executed with a little know-how. Take the time out to pamper yourself. Think you have a strong brow game? Take this quiz to find out if you are a pro or a newbie!