Dandruff is one of the most common hair care problems, especially during winters. Those white flakes all over the shoulders, as they show in the ads, are all so real. One good scratch of your scalp and yikes, there goes your self-esteem for a toss! But what can you do to bid these stubborn flakes a final goodbye?!
We are sure, you have come to read this article to find out the answers to the very same question, caught ya! But before we begin – let us discuss about what is the cause of dandruff. These flakes are the fallout of excessive dryness of your scalp – a condition that gets aggravated during the cold months. The dry weather dries out the scalp, leading to the scalp condition to become more severe. What could be the causes of dandruff? Chalo, dekhte hai.
6 Possible Causes Of A Buildup On Your Scalp
Dry Scalp
Oily scalp
Yeast Fungus
Skin irritation like psoriasis or eczema
Weakened immune system
Genetic (inherited) conditions
In this situation, we run to two things – either to anti-dandruff shampoo or to our good old – Dadima ke nuskhe! Things get out of hand when people switch to chemical products on doctor's recommendations or by themselves. Sometimes knowingly, and other times unknowingly, this switch has a great effect on your scalp health. Well, we would not recommend you something out of the box but not chemicals.
3 Benefits Of Aloe Vera Gel To Combat Dandruff
1. Moisturises Dry Scalp
The gel of this plant is hydrating and has minerals, and anti-inflammatory properties that help in providing the scalp with the necessary moisture and treating redness, irritation, and itchiness that occurs as a result of this hair condition.
2. Uproots Bacteria & Fungus
Aloe vera is widely known for its anti-bacterial and anti-fungal properties. It removes these micro-organisms that are the root cause of dandruff, leaving you free of a scalp buildup.
3. Treats Inflammation
The gel of the aloe vera plant includes the goodness of enzymes that treat inflammation and redness of the scalp, which are common symptoms of dandruff. The anti-inflammatory quality of the gel acts as a coolant, providing much-needed respite from the itchiness, irritation, burning sensation, and even pain.
5 DIY Anti-Dandruff Remedies Using Aloe Vera
We have covered up the issue – dandruff, the cause of dandruff and now we have the solution – Aloe Vera. However, how to use Aloe Vera for dandruff? Well, read along to know some effective DIY home remedies to treat dandruff using Aloe Vera and how to use aloe vera gel for dandruff.
1. Aloe Vera Gel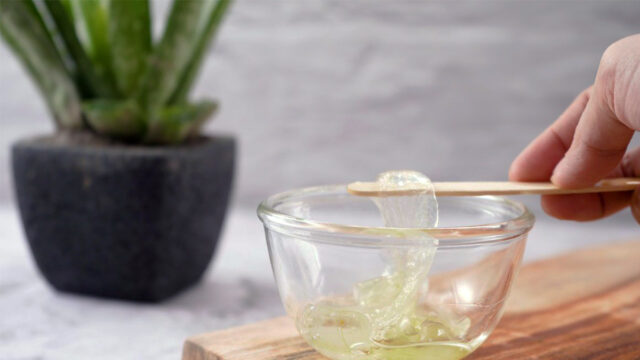 One of the easiest ways to use aloe vera for dandruff is to use it in gel form. We are not only talking about the aloe vera gel for dandruff available in the market but using the raw gel of Aloe Vera freshly taken out of the leaf.
Ingredients
Aloe vera gel
Method
Peel a leaf of the aloe vera plant.
Section the leaf into two parts.
Using a spoon take out the gel of the aloe vera in a bowl.
Using the gel and apply it on your scalp.
Let it dry for some time – 10 to 25 minutes and then wash it off using a mild shampoo.
This simple method will instantly add shine and smoothness to your hair and by applying the Aloe Vera gel for dandruff once a week for about a month – you will see a visible reduction in your dandruff as well.
2. Aloe Vera & Coconut Oil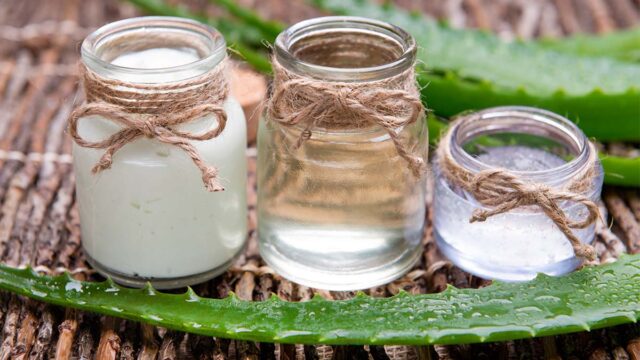 Coconut oil has been the most common oil used in every household – for dandruff treatment with aloe vera, for hair growth, and whatnot! So, mixing it with Aloe vera for dandruff will be a miracle potion for you!
Ingredients
1 tsp Aloe vera gel
1 tsp coconut oil
Method
Take 1 cup of coconut oil
Add 2 tablespoons of aloe vera gel
Mix the two and form a nice solution
Apply it on your scalp
This will help you in two ways – reduction in flakiness and also coconut oil will act as a shield for yeast formation.
3. Aloe Vera & Lemon
Lemon has been the most common and most effective way to treat dandruff. Lemon alone has anti-inflammatory properties which help in dandruff reduction. However, a lot of times lemon alone is way too harsh for your skin. Therefore, by mixing Aloe Vera and Lemon for dandruff we yet again have an amazing treatment for dandruff. The two when mixed and applied on the scalp will show an instant reduction in dandruff. Aloe Vera and lemon for dandruff hair mask shouldn't be used overnight. The reason being a lot of people's skin is not suited to lemon.
Ingredients
1 tbsp aloe vera
1 tbsp freshly squeezed lemon juice
Method
Take two teaspoons of lemon juice.
Add 2 tablespoons of aloe vera.
Apply the mask on your scale for about 30 to 40 mins.
Rinse it off.
4. Aloe Vera & Apple Cider Vinegar Mask
Both Apple Cider Vinegar and Aloe vera come with anti-fungal properties and therefore, make the best combination for dandruff reduction. However, you will need one more essential ingredient to bind these magical potions. Honey!
Ingredients
1 tbsp aloe vera
½ tsp apple cider vinegar
Method
Take one cup of aloe vera gel
2 teaspoons of ACV
1 teaspoon of honey
Mix the three
Apply this mixture to your scalp – slowly taking strands of hair – so every part gets absorbed
Leave the mixture for about 30 minutes
Rinse it off
This is to be applied on your scalp twice a month. Since this is a time taking an effort to make the mixture, you must follow it with complete dedication.
5. Aloe Vera, Olive Oil, & Curd
The other effective mixture is – Aloe vera, olive oil, and curd. You would remember how our grandmothers and mothers have spoken about curd as a great ingredient for treating dandruff. Curd is a great ingredient to hydrate your scalp, it gives you good moisturization. Along with olive oil which not just helps with dandruff but also with hair growth. Coupled with Aloe Vera for dandruff it creates magic.
Ingredients
2 tbsp aloe vera
1 tbsp olive oil
1 cup curd
Method
Take 2 tablespoons of aloe vera gel
1 tablespoon of olive oil
1 cup of curd
Mix the three in a bowl
Apply the hair mask for 30 minutes and cover your head with a shower cap
Wash it off with lukewarm water and a mild shampoo
These were some easy yet effective DIY home remedies for treating dandruff. We have mentioned just a few of them keeping ease and frequency in mind. However, there are more ways to use aloe vera for hair dandruff, one of them being onion with aloe vera gel for dandruff. These easy DIY remedies on how to use aloe vera for dandruff will help you show instant and quick dandruff reduction along with adding smoothness to the hair texture.
5 Preventive Measures For Dandruff
1. Manage Stress
Stress not just aggravates dandruff but only increases the scope of its onset. So, try maintaining a positive mindset at all times and set limits and don't overstep them. Follow a healthy lifestyle, taking time out for a daily fitness routine and meditation, and enhance your time management skills.
2. Eat Right
B vitamins like sweet potatoes, cabbage, legumes, milk, fish, eggs, and broccoli are great for preventing dandruff. Incorporate zinc in your diet, which you can receive from shellfish, red meat, nuts and seeds, and whole grains. Omega-3 fatty acids like cauliflower, salmon, kidney beans, walnuts, broccoli, and kiwi are also beneficial in controlling dandruff.
3. Keep Your Scalp & Hair Clean
True that shampooing your hair can be detrimental for your hair and scalp. However, this is true only if you're using a shampoo that is full of harsh chemicals. Switch over to a mild, anti-dandruff shampoo. Such shampoos typically comprise ingredients like tea tree oil, coal tar, ketoconazole, etc., which does not only treat flaking of the scalp but also prevent the hair condition from occurring again.
4. Embrace Sunlight
Expose yourself to the sun but don't overdo it. The sun is believed to be beneficial to arrest dandruff and dandruff-related conditions like psoriasis and eczema, while staying under the sun for too long can raise the risk of skin cancer.
5. Invest In A Humidifier
Flaking of your scalp gets more aggravated during winters due to the dry weather that saps the skin of its natural hydration. A humidifier serves as an effective option to increase the moisture content in the air around you, which in turn maintains the moisture balance of your scalp.
When To Seek Medical Help?
In most cases, treating dandruff effectively does not require medical attention. However, if you're experiencing a red, itchy, swollen scalp that OTC (over-the-counter) medications aren't able to treat, you should see a dermatologist immediately.
FAQs
1. Are there any OTC (over-the-counter) treatments for dandruff?
There are various OTC anti-dandruff treatments available in pharmacies. These include shampoos, ointments, and leave-on applications.
2. Does dandruff indicate a serious health condition?
Most of the time, dandruff is the result of poor scalp and hair health, which is easily curable and even preventable with OTC (over-the-counter) medications like shampoos and ointments. That apart, you also need to maintain a healthy lifestyle with a proper diet and daily fitness routine. However, at times, flaking of the scalp may indicate an underlying medical condition. When OTC medications do not offer you any positive results, you should see a doctor immediately to evaluate and eliminate chances of a serious health condition.
3. What can I do at home to treat and prevent dandruff?
Following a healthy diet, maintaining a fitness regimen every day, keeping stress under control, and using a mild anti-dandruff shampoo are effective in treating and preventing dandruff. That apart, there are a host of DIY home remedies that you can follow using tea oil and aloe vera oil. They are potent ingredients for arresting irritation, redness, itchiness, and inflammation of the skin, which are common symptoms of dandruff.
Dandruff is not a cause for concern unless you leave it untreated at home or does not provide it with the cure that it requires. Aloe vera is one of the most effective ingredients that take centre stage when you have dandruff. The above article is an extensive guide on the benefits of aloe vera gel for dandruff, home remedies for treating and preventive flaking of your scalp with this gel, along with causes of dandruff and common preventive measures. Keep these tips in mind and the day for bidding a final goodbye to your dandruff condition won't be too far away!
Open up like never before and participate in conversations about beauty, entrepreneurship, mental health, menstrual & sexual health, and more. Desi women, join our community NOW!