The new wave of 'vocal for local' proved to be a boost for Indian entrepreneurs. It has promoted local businesses during COVID-19 and given customers the ability and motivation to shop locally with ease. This rebranded version of 'Made In India' has our support, and every month, TC46 will spotlight small businesses and ventures you can champion and back easily through online and offline purchases.
Artists, entrepreneurs, visionaries and experts, Indian women are shattering glass ceilings and breaking out of the boxes. Success, tied with skills and hard work, is what makes those featured in our list today an inspiration for many. And the journeys of these women of incredible talent, are stories that must be told.
This week, here are some brands we're cheering on; check them out!
Brand: The Indie Home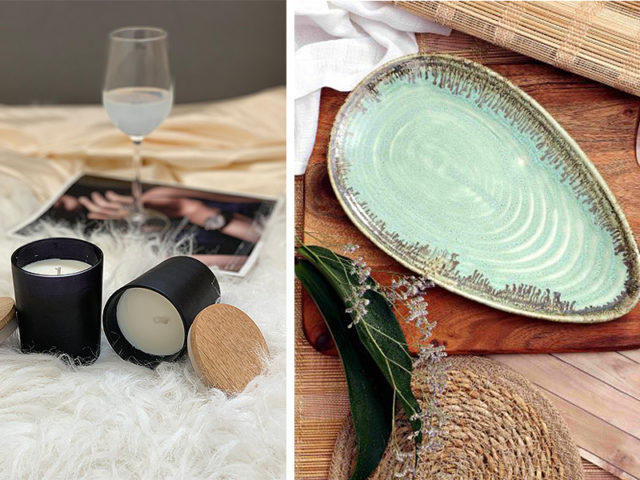 Founder Name: Khushi Singhal
What They Offer: Designer home solutions and luxurious home décor products including home furnishing, dining, planters, candles and aroma diffusers.
TC46 Loves: The brand "The Indie Home" was founded by Khushi Singhal who is a fashion stylist by profession. She is also passionate about home textiles and luxurious home décor products along with classic dinnerware that brings bliss and solace. The brand aims to capture the spirit of modern-day living by handcrafted artistic décor from their Indian artisans and is committed to offering a unique selection of modern and elegant products all over the world. The brand's main focus is to seamlessly blend age-old artisan techniques with contemporary textures and patterns to results that are stunning and to promote the skills of their artisans worldwide. The Indie Home promotes a designer home solutions concept – offering products that complement high-end lifestyles without losing sight of the price points that cut ice with consumers. Also, they are bringing a sustainable and organic clothing sector under this brand.
Price: The price of the products start at Rs 99 and go up to Rs 2,200.
Availability: Head over to the brand's official website and begin your shopping spree. The Indie Home has started shipping internationally too.
Brand: Label Bana
Founder Name: Harshita Agarwal
What They Offer: With sustainability at the core of Label Bana, the brand uses innovative hand techniques to design fun luxury wearables for women, men and accessories as well.
TC46 Loves: Born in Jaipur in 1998, Harshita is the founder and creative director of her couture line, Label Bana. The fashion design graduate has also worked with some of the well-known celebrity designers in the industry. Her appreciation for creative craftsmanship and quality was nurtured during her learning years. She has always been super creative throughout these past years and now implementing it through her designs at Label Bana. While Harshita was in college, she used her time to hone her skills, explore different creative techniques and craftsmanship. After that, she worked with well-known designers from the industry and learned a lot from them. Right after that she found the inspiration for her brand's aesthetic and knew that she could start something of her own. "When COVID-19 and lockdown hit the nation I used that time to be as creative as I can and implement it through sustainable couture for women once this is over", she says. Before starting the label in 2020, she knew she wanted to use ethical trade practices and use sustainable fabrics. Keeping the environment and various skin types in mind, the clothing is made out of gourmet fabrics, recycled organic fabrics and anything that does no harm. The idea was to be unique, ethical, creative, organic and to make sure people get to wear these art pieces. The target audience consists of anyone who is always keen on fun luxury fashion and would love to flaunt and style these long-lasting sustainable designs.
Price: Products are available in every range under Rs 10,000.
Availability: Head over to the brand's Instagram page or WhatsApp or various multi-designer stores or exhibitions, pop-ups to shop.
Brand: Maaticha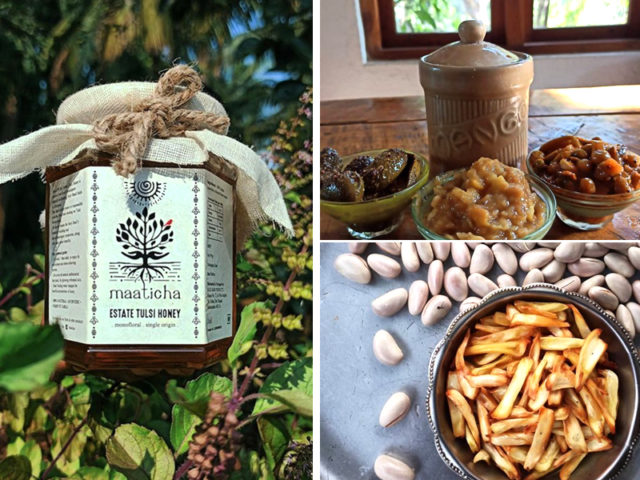 Founder Name: Zeeba Kazi
What They Offer: Handpicked fruits, homegrown spices and homemade preserves. Ethically sourced honey and tribal produce.
TC46 Loves: At the heart, we are "of the soil", 'mee maati cha'. The brand is founded by the third generation of a family of farmers, doing what they do best! Though Zeeba and the rest come from different fields, and professions, farming has always provided their daily food and thus has been the main occupation. You can find the Kazi Farm, just outside Ainghar Village, Raigad – nestled in the biodiverse forest-rich Western Ghats. Their grandfather built the farmhouse in 1983, along with planting 100 Alphonso mango trees, the coconut and chikoo wadis and many other fruit and spice plants. For almost 40 years, Zeeba and her family have been growing their own black pepper, turmeric, grinding their own mango powder and making various fruit preserves. In the last 12 years, they have delved deeper into permaculture techniques, bee-keeping and seasonal agriculture. Continuing on in the tradition of the age-old natural farming techniques, and bringing together the urban needs for farm-to-table produce, the brand's objective is to sell to you what they eat! Zeeba also aims to create a responsible platform for many of the local small farmers and tribal families to share their harvests with a global audience.
Price: Ranges from Rs 250 – Rs 880 for different products.
Availability: Head over to TC46's e-commerce arm, the Red Dot Shop here to buy all-natural farm produce and provide your family with the goodness of natural products.
Want us to be VocalForLocal for your brand or know someone whose work you'd like to cheer on? Drop us an email to be featured on The Channel 46 at [email protected].