Nokjhok and a little bit of friction are healthy in every relationship. In fact, it strengthens the bond between two partners, making the relationship stronger. This holds true for couples as well. However, the big question is, how does a couple strike a healthy work-life balance when they are a part of an entrepreneurial venture too? Spending that much time together, at work, at play, can feel like a dream for some and a nightmare for others.
This Valentine's Day, The Channel 46 is connecting with couplepreneurs who have aced the business of love. Husband-wife duo Megha & Pritesh Asher of the beauty brand Juicy Chemistry share tips and advice on balancing work and personal life with your other half.
1. How and when did you meet each other?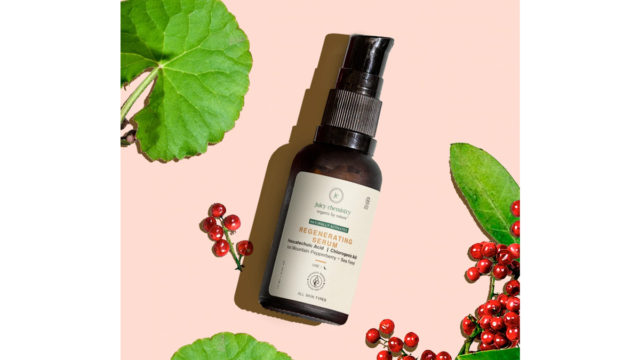 We met at Chinmaya International Residential School, Coimbatore, in the year 2000.
2. Tell us a little bit about your business and who came up with the idea for it?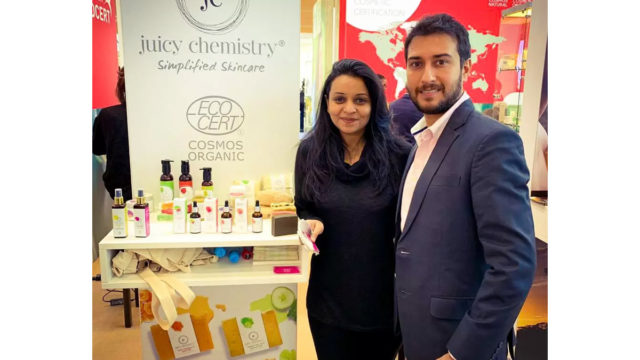 The idea of Juicy Chemistry was conceived when we came across a salesperson at a mall claiming to sell a natural skincare product that was filled with synthetic ingredients and fillers. The experience made both of us sit back and realise that there was something deeply wrong with how brands and consumers were approaching skincare and personal care. After months of arduous research and endless discussions with friends, family, and acquaintances, we came to realise that there was an obvious gap in the market. It really seemed like there weren't any really 'natural' or 'green products in the market'. 
Juicy Chemistry at its core is all about wholesome skin, hair, and personal care. The products are made with the highest quality organic ingredients that address specific concerns without long-term collateral damage. We truly believe that everything we need for healthy and beautiful skin is available in nature's lap. We work directly with farmers from 20 different countries to bring the most potent and skin-loving ingredients to our ECOCERT organic-certified manufacturing facility. This enables us to deliver freshly-made, organic products directly to our consumers for maximum efficacy on application.
3. What's the role each of you plays in your business?
I, Megha, am the COO and handle all things content—PR, social media, marketing, etc. Pritesh, on the other hand, is the CEO and looks into the administrative, finance, and back-end side of things.
4. Do you think it's harder or easier to work with your partner?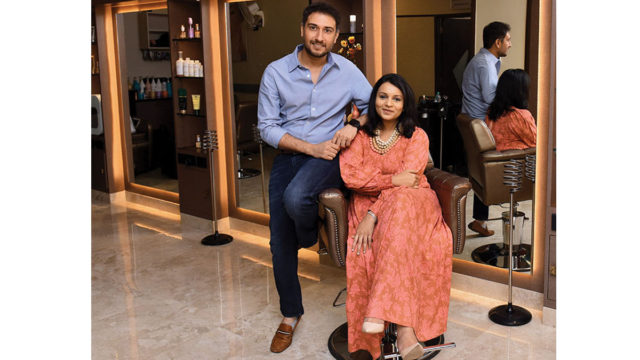 It's quite challenging, no doubt. On occasion, it has happened that either of us has not been able to go to the office for family reasons, and then you have to be prepared to take on your co-founder's workload. Being in a startup, one ends up working long hours pretty much 7 days a week as it is, but in certain situations, we work extra hard when the other is not available. That's why it is so important to understand your co-founder and partner's work well. You never know when you have to jump into a firefighting mode.
5. How do you resolve conflict at work?
Any decision at work generally has teams involved, or other people involved, and through a healthy discussion, we're able to reach a conclusion. Conflict is normal and you're bound to have different opinions. However, while running a business, you also need to look at the practical side of things. We're two different people so we also feel and act differently. So, it's important to accept this difference but also not fuss over it too much. It's our uniqueness that makes our chemistry, extra juicy!
6. What are 5 tips you'd give to couplepreneurs who work together?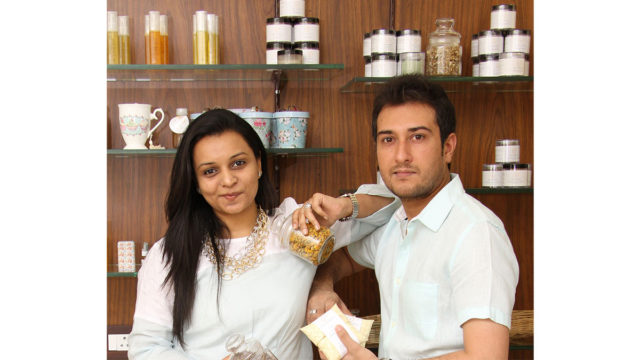 Respect one another. You need to respect your partner and the work that they do. Everyone has their working style and approach, and you need to give them the space to do things their way.
Boost one another. The initial phase of a startup is filled with excitement and energy, but the real challenge comes later on when you're trying to scale up. In this time, it is important that you have each other's backs and that you can motivate one another. It truly makes the difference.
Differentiate between work and personal life. People at the office need to understand that being a couple doesn't mean our business is not our priority—when we're at the office, we're there to work.
Draw the line. Know when to step back. Conflicts are normal and arguments will take place. However, you need to know when to not take things too far.
Have fun and enjoy yourselves. Working with your partner should be enjoyable and it's good to have a little fun and share a laugh at times.
7. What do you enjoy more, your spouse as your work partner or as your life partner?
This is a very tricky question, and we feel it's a mix of both things! For me (Megha), a lot of the respect that I have gained for Pritesh is by seeing him as a work partner and how he handles things at work. At the same time, I also admire and appreciate him as a life partner.