Every girl has a dream of having a shandaar wedding in their own way, whatever your definition of the word may be. Some grand, Big Fat Indian wedding while some others, intimate and minimalistic. But there are some elements that remain constant. What kind of flowers would you want for the decor, what colour palette would you like to go for, what about the other festoons you are obsessed with for your wedding theme? However, as the time for the wedding nears, there are a lot of questions that you might come across. The major one being – what kind of theme wedding do you want? If you have a straightforward answer to this question, woman, you are on fire. If you don't, don't worry at all, we've got you covered.
Depending on your tastes and thought process, we bring you a complete guide on how you can choose your wedding theme ideas. Gone are the days, when everyone had the same wedding decor. Today there are innumerable themes to choose from and why is it important? Well, it adds uniqueness and a personal touch to the decor. As people enter the wedding venue, what they do is see the decor, as that's the first thing that meets their eyes. Correct?
The Need To Have A Wedding Theme Ideas
It is very important to align little decisions together as they are an integral part of the big picture. If your wedding outfits are red and the decor is pastel, the palette doesn't appear to be in sync at all. Now, imagine yourself in a maroon/wine coloured lehenga walking the aisle, and the surrounding is decorated with hues of red on white walls, with yellow dim lights. How do you feel? No less than a queen, right? That's the importance of having a wedding theme.
Additionally, it's your D-Day. How can you not have everything perfectly planned? Now, how do you choose a theme? Well, there are a lot of ways you can ask yourself this question. If you love Disney princesses or are a fan of everything white and pastel – fairytale weddings are the theme for you. Do you like shimmers and shines all around you? The royal wedding is your pick. There is a plethora of wedding theme options like a boho wedding theme, pastel wedding theme, and a lot of unique wedding themes you can opt for. Don't get confused, below are some of the wedding themes you can choose from and plan your D-Day perfectly!
5 Wedding Themes You Can Pick From
1. The Royal Wedding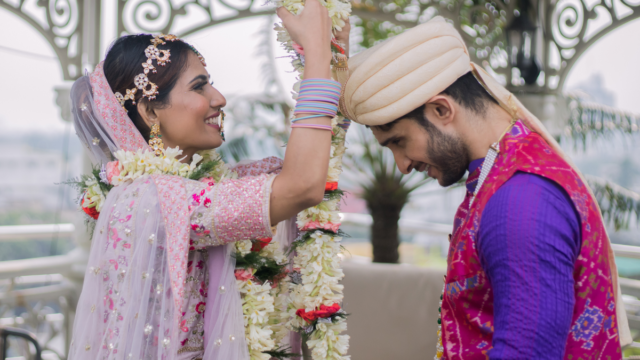 The most classic theme ever! The royal wedding. A royal wedding is all about the heavy embroidery, the lights, and the fabrics of all royal kinds. The colours that go well with royal wedding themes are maroon or wine, and royal blue – well the colour has royal in itself, you can always play with a contrasting colour with them. However, a white base would make a huge difference by adding a subtle touch to the colour scheme. The most important aspect of a royal wedding is the location. A white fort-like structure is the best suited as a part of the set. Even if you are choosing an open lawn, the setup could be of huge white windows and a white wall structure. There is a lot of play one can do with the fabrics. Avoid any kind of small prints. Instead, let the lights do the talking.
The outfit, return gifts, and guests:
The most important part of a wedding is the outfit of the bride and groom. As discussed above the colours you can use for the ensemble could be emerald green, wine, royal blue, and even white with golden work all over.
The return gifts can have a plethora of options ranging from luxury fragrance sets to a mixed bag of coffee, show pieces, to fragrances.
2. The Fairytale Wedding
We have grown up listening to and watching princess tales. Disney has been such an integral part of our childhood that witnessing Prince Charming riding the white horse and you are all decked up in a Princess outfit feels like a fable out of our dreams. Quite a beautiful imagery, right? The decor also plays an important role in such a theme. Where you have fairy lights set up in the venue. Flowers are essential in this kind of theme.
The outfit, return gifts, and guests:
A fairytale outfit color on its own describes a long trail, a simple yet classy gown with a good cancan within. Coming to the colour of the outfits, both the bride and the groom can wear contrasting outfits. The bride with a light-colored lehenga while the groom has a brown tone neutral color. The other option is the light color kurta and a blue-toned sadri.
3. Beach Wedding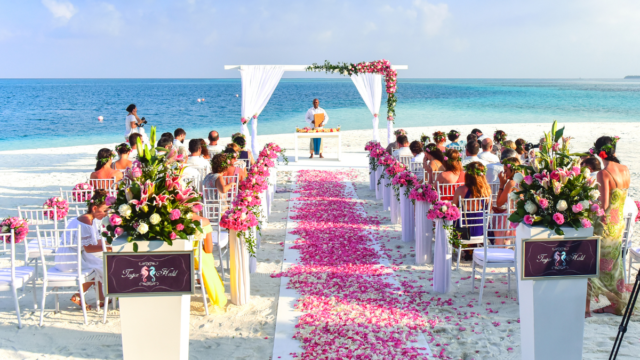 A beach wedding is one of the destination weddings several sea-lovers vouch for. One of the major reasons being, it is a destination wedding, duh? However, the one thing a lot of people make an error or might go wrong is the decor. Why we say so, is that a beach wedding is supposed to be minimal, airy, and oh-so-soothing to the eyes. White would be the go-to colour, with a touch of pink or may shade of pastel for that matter – oh-la-la.
The outfit, return gifts, and guests:
The famous Virushka wedding is the perfect reference for the outfits. Minimal, classy, yet so soothing to the eyes. The color pastel pink was so soothing. The other option could be blue. The lightest shade of blue will double up and match the theme as well.
4. Vintage Wedding
The vintage wedding is a very new wedding theme rolling around. With rustic yet classy vintage feels going around in the wedding, it plays on the element of nostalgia. The trunks could double up with decor pieces as well as store gifts for the guests. This is one wedding theme idea which will also relate with a wedding colour theme – where you can opt for a rose gold wedding theme.
The outfit, return gifts, and guests:
The outfits could be a dicey situation here, but we've got you covered. A vintage wedding is something where the bride could opt for a Banarasi saree, and the groom can have motifs of a similar print on his dhoti-kurta or sherwani. When it comes to wedding gifts, the best option is a trunk filled with Indian vintage crafts – a potli, a leather pouch, or a wooden crafted accessory.
5. Bollywood Wedding
Do we save the best for the last? Well, no guesses, that Bollywood weddings recently have taken the wedding culture in the common man's life to another level. The huge stage, the who's-who of Bollywood performances, and the full-on dancing and giggling. The different ceremonies come along with different themes yet collaborate so well. Outfit themes with different ceremonies – yellow for haldi, green for mehndi, and glitters for the sangeet. The same is applicable for the decor as well.
The outfit, return gifts, and guests:
Do we have to let you know about the designer outfits? Who wouldn't want to down a Manish Malhotra at their sangeet party, or an Anita Dogre for their mehndi, adding the cherry to the cake would be the Sabyasachi outfits for both the bride and the groom – Bollywood enough?
Choose The Best Wedding Theme For Yourself
Opt for a wedding theme that resonates with your personality. There are specific themes that will go well with a destination wedding – a fairytale theme, a beach wedding, or a rose gold wedding theme if you are planning for a fort wedding. So, the wedding theme ideas are all open, it is on your budget, location, or venue that you can opt for.
4 Bonus Wedding Planning Tips
Indian weddings are no less than a royal get-together. You have guests, relatives, friends, and everything that makes your world, but remember it is your day. And, hence, as the bride and the groom, you need to be mindful of the wedding themes. Pick something that represents your personality and not one that will appeal to your dear ones.
Plan well in advance, if that's possible. That way, you will be able to avoid all the last moment glitches and hassles as much as possible.
Note down everything. Literally everything. Right from the start to the end. And follow the list closely. Remember to tick off every task after completing them, to avoid confusions later.
Communicate well with your partner and the vent managers, so that everyone involved in implementing your wedding theme is in sync with what you want.
Open up like never before and participate in conversations about beauty, entrepreneurship, mental health, menstrual & sexual health, and more. Desi women, join our community NOW!