Jewellery designing is all about using creativity and precision to turn metal and stones into uniquely beautiful pieces of art! A skilled designer possesses the ability to create something new, unique, and beautiful each time. If you are fascinated with jewellery as a form of art and think you have what it takes to do well in this field, give your passion the wings that it deserves. Have no idea where to start? We've got you covered! Here is a step-by-step guide on how to become a jewellery designer.
3 Jewellery Designing Specialisations That You Can Choose From
This line of work offers several specialisations for you to choose from. Let's take a look.
1. Electroplating
Electroplating is putting a metal coating on a piece of jewellery to improve its quality and appearance. If you choose this specialisation, you learn all about different types of plating and the equipment and chemicals used for the process. You are also introduced to the tools and equipment required for finishing and polishing jewellery.
2. Enamelling & Engraving
If you are interested in making colourful, unique, and decorative jewellery, then opt for a specialisation in enamelling and engraving. Enamelling is the process of adding colour to the jewellery, while engraving is the art of carving out designs and motifs on it. You learn everything about preparation, techniques, and equipment required.
3. Stone Setting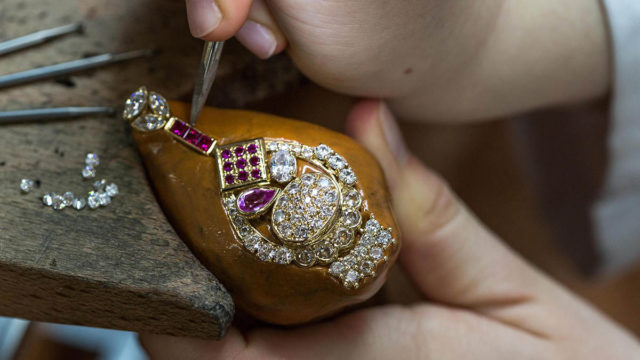 This is another interesting area in which you can specialise, if this catches your fancy the most. Stone setting involves incorporating gemstones securely onto a piece of jewellery to enhance its beauty and worth. You learn how to set different shapes and sizes of stones with proper finishes.
6 Important Skills Required To Become A Jewellery Designer
Before we come to how to become a jewellery designer, you must know about the skills you require to do well in this career. Here are a few characteristics or skill sets that a jewellery designer aspirant should possess to become successful.
Creativity and innovativeness are necessary to make designs that are unique and beautiful.
An eye for detail because jewellery design demands attention to detail in every aspect.
Knowledge about the market trends because only then can you design jewellery that people would want to purchase.
Knowledge about technology, metals, and gems will give you an upper hand.
Communication skills and the ability to work in a team. This will help you collaborate with other designers as well as manage and grow your work.
Visual imagination will help you to think deeper and enhance your skills.
4 Types Of Jewellery Designing Courses That You Can Opt For
If you are aspiring to be a successful jewellery designer, the first step is to find the right jewellery designing course. Here are a few options for you to choose from.
1. Bachelor's In Jewellery Design
A bachelor's degree is a 3 or 4-year programme, depending upon the course you choose. Here you will learn everything there is to know about jewellery design and beyond. Right from conceptualising an idea to marketing the finished product, the course will cover everything.
2. Master's In Jewellery Design
If you already have a bachelor's degree, then you can go for a master's degree in jewellery design to deepen your knowledge through practice and theoretical learning. This is a 2-year jewellery designing course that will encourage you to explore all aspects of your craft and also allow you to pursue a specific subject area in designing.
3. Diploma in Jewellery Design (CAD)
This CAD jewellery design course trains you by teaching the various skills and techniques involved in designing jewellery. The duration of this jewellery designing course online or offline is generally 1 year. It covers design theory and artistry, how to work with different shapes and sizes of stone and types of metal. It will also aid you in developing creative thinking and marketing skills.
4. Certificate Courses
This flexible, short-term jewellery designing course online is just the thing for you if you don't have the time or resources to pursue a full-time course. There is a wide range of certificate courses for you to choose from. You can go for a basic certificate jewellery designing course or choose a specialised one.
6 Possible Career Opportunities In Jewellery Designing
This diverse field offers an array of career opportunities in jewellery designing.
1. Jewellery Designer
As a jewellery designer, you can choose to design jewellery for other brands. Choose your niche according to your area of interest. If you want to serve the high-end market, you can design unique, statement jewellery pieces. Or you can start working for a brand where the objective behind their jewellery line is to cater to the masses.
2. Entrepreneur
You can start your own jewellery business. A successful business needs a well-planned business strategy. Other than designing and manufacturing jewellery, you will also have to focus on market research, marketing, budget planning and more – the end-to-end of a jewellery business.
3. Jewellery Consultant
If you have an eye for fashion, then this career in jewellery designing is perfect to indulge the creative side in you. You just have to understand the needs of your clients, adhere to their instructions and requests and assist them in selecting the right jewellery. You can also work with fashion houses as a jewellery consultant.
4. Repair Technician
If you have a good eye for detail and the ability to completely focus on the task at hand, you can consider working as a jewellery repair technician. A jewellery repair technician is the custodian of restoring damage and giving an old piece of jewellery a new lease of life.
5. Engraver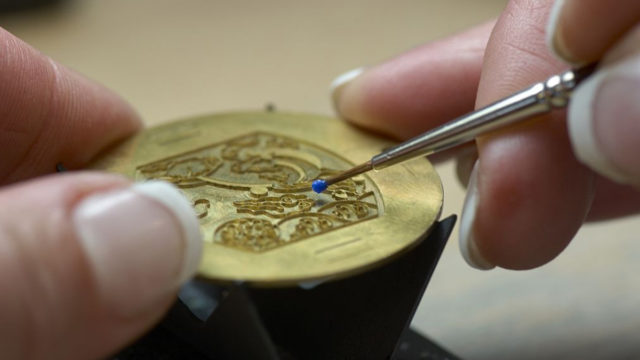 Personified jewellery has been in trend for quite some time. You can also build a career or a business out of engraving on jewellery products.
6. Lecturer
If you are interested in jewellery designing and love to teach, this is the career you should choose. You can teach students in jewellery design colleges and help them build their careers in this field.
The field of jewellery design is full of interesting career opportunities. It offers a lot of creative freedom and has tremendous potential for employment. But for a successful career in jewellery designing, you need to be equipped with the right set of skills and knowledge and choose the right CAD jewellery design course. It always helps to #BeALittleMore informed when it comes to choosing a career. Do your research and connect with others who are working in the same field before making any decisions. All the best!
Open up like never before and participate in conversations about beauty, entrepreneurship, mental health, menstrual & sexual health, and more. Desi women, join our community NOW!