Has the pandemic turned you into a DIY bhakt? Or maybe you're just trying to save money. There's not a bad reason why you shouldn't be mastering the art of nails at home. After all, ever since your bachpan ka at-home play salon with your friends, you've been obsessed with looking after your own beauty needs. Did you know that doing your own nails has therapeutic benefits too? Bet you didn't.
While there is a myriad of choices at your fingertips, choosing the right one can be tricky. The right colour and shape of your nails really shape your whole manicure. But from smudging and chipping, there's a lot that can go south when doing your own nails. There comes a time when even zipping your pants with your fresh nails becomes a life-and-death situation! Don't worry though, here's your nail guide, to help you take care of your nails and choose the best nail shapes for your next (at home) manicure sesh. A little patience and practice will get you far. Tip: Read here for 10 home remedies for nail growth for stronger & shiny nails. 
Nail Care: Do's And Don'ts
Time to inspect your nails! Are they chipped? Are there dents? Do you have that adat of biting your nails too? You can avoid so many undesirable nail conditions with proper care. Here are some do's and don'ts to get your nails in tip-top shape.
DO'S
DON'TS
1. Keep your nails dry and clean.
2. Use a moisturiser on your cuticles.
3. Ask your doctor for biotin if you have brittle nails.
4. Apply a protective layer of nail hardener to strengthen nails.
1. Don't bite your nails or pick at your cuticles.
2. Don't use hard nail products. Opt for acetone-free remover.
3. Don't ignore nail problems. If you face prolonged issues, consult your doctor.
10 Different Nail Shapes For Your Hands
1. Round Nails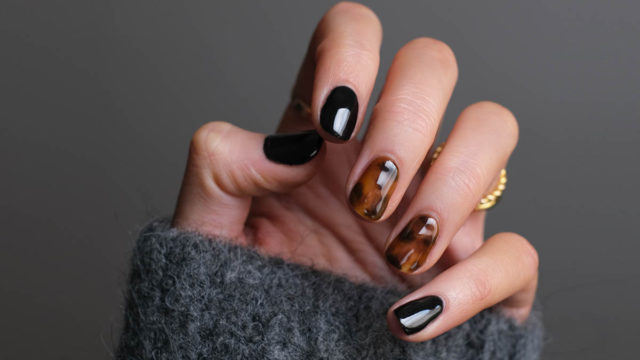 Naam hi kaafi hai. This nail style looks great no matter the length of your nails. But they're your best option if you have short nails and want them to appear longer. They are easy to maintain and to do it yourself at home.
Looks best with: Get the best round nails with a classic french manicure or bold shades like red and blue.
2. Oval Nails
These elegant nail shapes enhance your long nails giving your wide nail beds an alluring touch. To do this on your own at home, file your nails on both sides. After that, choose a slight angle to create an almond shape and then round the tips. 
Looks best with: Any soft colour will look fabulous with these nails, but going for an ombre effect will take your nail game to the next level.
Read 6 Yellow Nail Home Remedies
3. Square Nails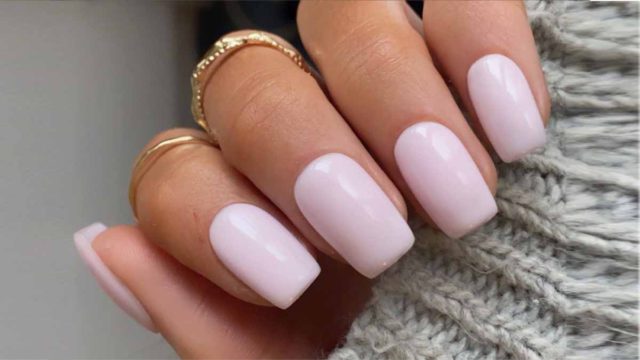 Do you have unrounded cuticles? Fikar not, square nails your BFFs. You can go for longer nails for a retro vibe or short nails for a modern and fresh look. No matter what your choice is, they will look awesome on everyone.
Looks best with: Square nails look fantastic with deeper shades like green and black or you can consider going for neutral colours such as grey and crisp white.
4. Dominating Stiletto Nails
Just like your pointed stiletto heels, these nails give you an edgy and daring persona. It is very popular among acrylic nail lovers. If you have long nails with narrow nail beds, this one's for you.
Looks best with: You can try a variety of press-on and try out a bunch of different styles based on your needs. Rhinestone designs are the clear favourites these days. 
Watch 5 Kitchen Ingredients For Healthy, Shiny Hair
5. Coffin Nails
Another A-list celebrity hit, these nails have angled sides and squared-off tips. If you aren't afraid of looking like a bold baddie, this is your perfect choice. Don't use them as tools and maintain them well to make them last longer.
Looks best with: They look fresh with almost every colour, but a matte finish adds an extra flair of edginess.
6. Squoval Nails
This nail type combines the two best nail shapes and gives you another amazing option. Basically, if you're doing this at home, follow the steps of square nails but instead of the straight cuticle, round the edges. It's the best choice for you if you want to keep it hassle-free.
Looks best with: With its subtle shape, this nail shape goes along with any colour or art. You can try simple colours or extravagant nail art. The world is your oyster! Or shall I say at your fingertips?
Read Tips For Longer, Stronger Nails
7. Almond Nails
This chic and flattering nail shape is fitting for your long nails. You can also go the acrylic route, but either way, your nails are going to look modern and beautiful. For this, file the sides and then create a peak while smoothing the tip-off.
Looks best with: There's so much space for you to try cute nail art, you can also opt for subtle nude shades to look ladylike and elegant.
8. Ballerina Nails
Like ballet dancers' pointed shoes, the shape of the ballerina's nails is similar to coffin nails. But here, the sides curve a bit more before hitting the tip. They look ah-mazing!
Looks best with: Acrylic nails are one of the best options for you. While they will require some salon attention, they will look absolutely stunning in glitter gradients and shiny stones.
9. Lipstick Nails
Wonder where that name came from? That's right! From the stick of your favourite lipstick. These statement-making nails are your go-to for a trendy and edgy look.
Looks best with: Minimal French tips really bring out the shape of the nails and give you a bold feel. You can also try multiple prints with clear nail polish.
10. Flare Nails
This one's a bit tough to achieve at home, and you could really use some outside help on this one. This nail shape has wider flared-out tips than the nail bed. 
Looks best with: Go for a classic French tip or glittering shades with some press-on for some bling. 
Manicure Queens, your nails are coloured, dried and all ready to be launched into the world. And while the main work is done (phew!), there are some things you need to take care of before you go out in the wild. Here's a summary of the nail care tips that you need to know and follow from A to Z.
4 Tips For Nail Care
Take care of your cuticles, do not cut them! Instead, gently push them inwards after your hot shower. Invest in good oil and moisturise them daily.
Strengthen your nails with your diet by including more protein. Take biotin to boost your nail health.
Stay clear of harmful ingredients, read your nail product labels and try to avoid hardcore chemicals.
Treat them gently, trim them from time to time (and yes! don't bite)
See? Getting Insta-worthy nails at home isn't that hard. You just have to follow a good nail care routine and have a clear idea in your mind. Follow the simple steps and #BeALittleMore with your fabulous at-home manicured hands. Have you tried other nail shapes at home and gotten awesome results? Share them in the comments below.
Take This Quiz: Guess These Iconic Beauty Brands By Their Logos
Open up like never before and participate in conversations about beauty, entrepreneurship, mental health, menstrual & sexual health, and more. Desi women, join our community NOW!