Remember Deepika Padukone's stunning burnt orange Kanjeevaram wedding saree? A piece that makes you heart-eye emoji everytime, the charm of this saree is unmatchable. The name Kanjeevaram or kanjivaram saree comes from a small town or village named Kanchipuram in the Indian state of Tamil Nadu. The story of this celebrated craft begins in Hindu mythology, made of fine mulberry silk and real gold zari. This beautiful fabric has earned its popularity and deserves a spot in your wardrobe. And there's no other place to get the most authentic ones than the Gateway to South India. Here are the top 10 places in Chennai that offer the best of Kanjeevaram silk sarees.
Click here to find 10 fabulous shops to buy a pure silk saree or two in Namma Bangalore!
10 Shopping Hubs For Kanjeevaram Sarees In Chennai
1. Tulsi Silks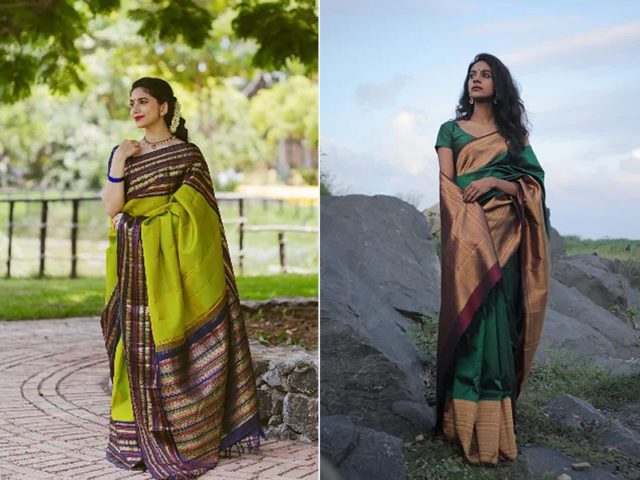 A haven for the best of silk sarees and bridal pieces, Tulsi Silks is irresistible. Colours ranging from subtle to bright, rare combos in sarees, authenticity, zari ranging from delicate to heavy and customizations are some of their strengths. Head on over to the brand's Instagram page to get a sneak peek.
Location: 68, Luz Church Road, Mylapore, Chennai, Tamil Nadu 600004
2. Sundari Silks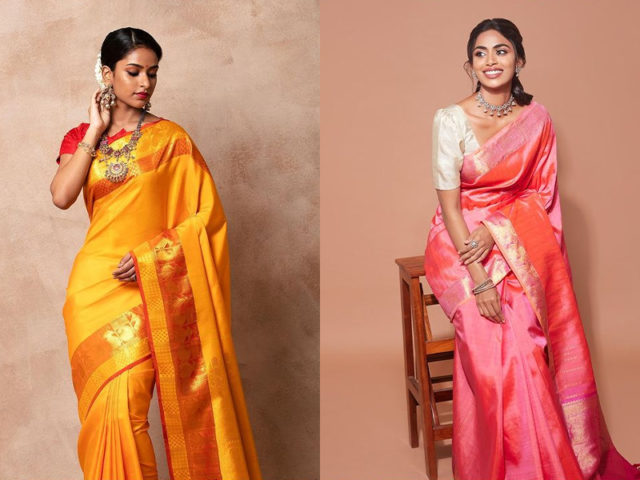 The store is a result of a journey of 80 years of heritage and tradition. They stock hand-woven silk sarees in beautiful, fresh and trendy designs. Get the choicest colours across all palettes. Even the ambience elevates your shopping experience.
Location: 36, North Usman Road, T.Nagar, Chennai 600017
3. Nalli Silks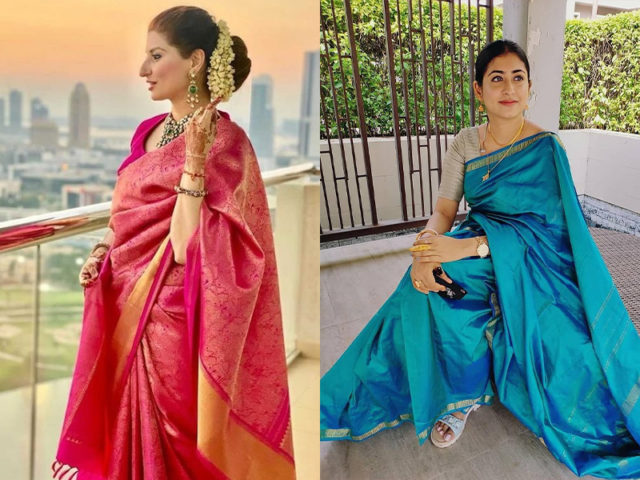 I, the author, can vouch for the grand opulence of the Nalli Silks store in Chennai. One of the most trusted brands for silk sarees, the variety of Kanjeevaram styles and trends you get here is amazing. The iconic 90-year-old T. Nagar shop has three floors full of mesmerizing designs and weaves. Every saree-lover from Chennai has at least one Nalli silks Kanjeevaram as a part of their heirloom collection passed on from generation to generation.
Location: No. 9, Nageswaran Road, T. Nagar, Chennai 600017
4. RmKV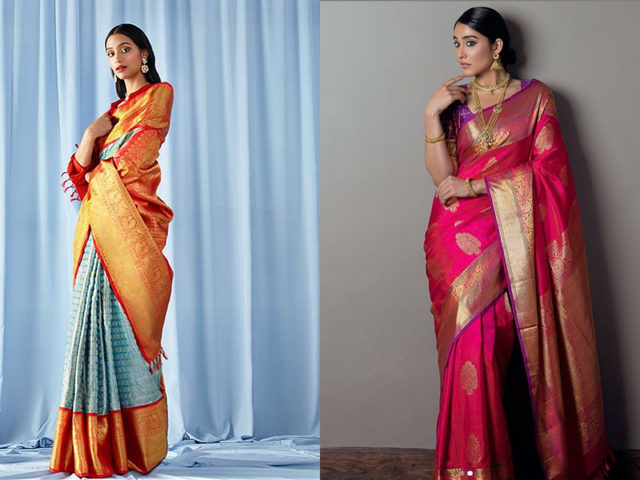 On the hunt for grand wedding sarees? Then RmKV is the place to be. One of the most popular silk saree chains in Chennai, it's well-known for its high-quality silks, bold colours, designs and extensive zari work. This is an ideal shopping destination for the entire family.
Location: 125-127, Usman Road, Panagal Park, T. Nagar, Chennai 600017
5. Kanakavalli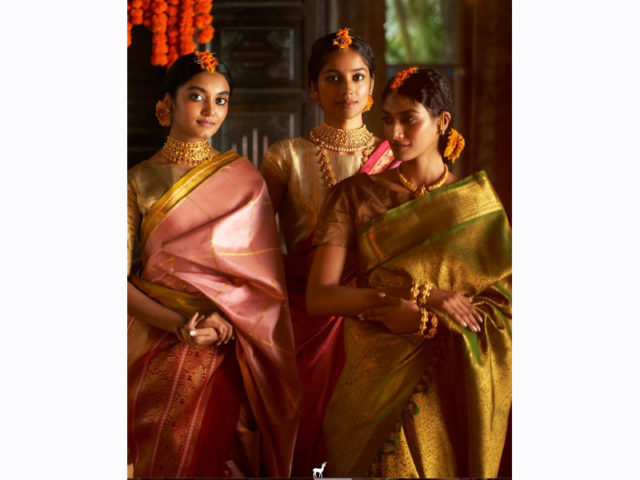 This store offers a curated range of exquisite handcrafted sarees, unstitched blouse fabrics, accessories for trousseaus and more. It's every Chennai bride's go-to trousseau shopping destination. The brand has a huge collection of exclusive and premium Kanjeevaram sarees.
Location: 60, Spur Tank Road, M.S. Nagar, Mukta Gardens, Chetpet, Chennai, Tamil Nadu 600031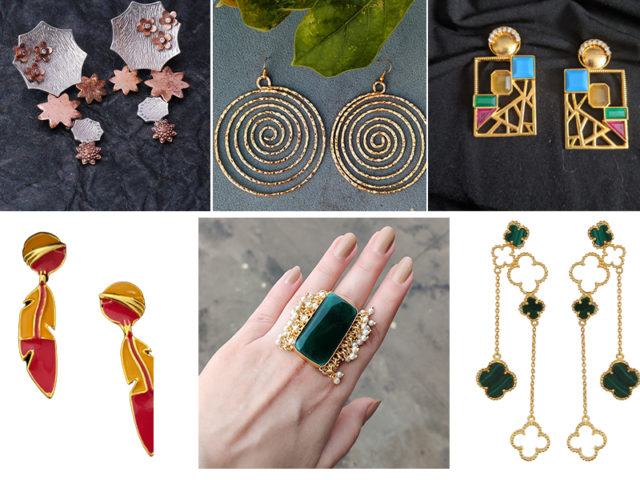 6. Palam Silks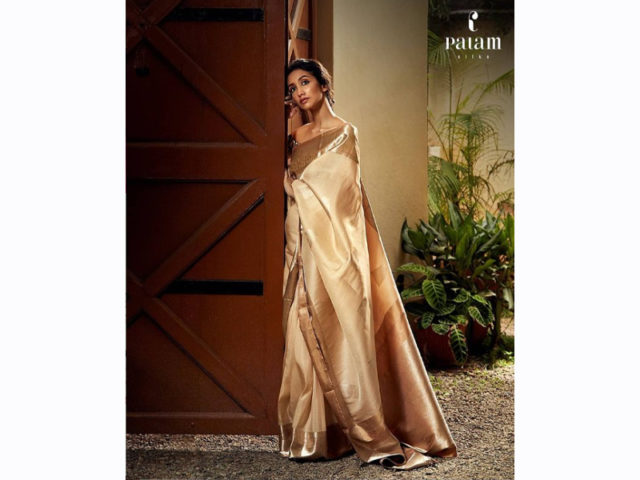 Palam Silks offers you a delightfully rich collection of both traditional and fashionable silk sarees that are sure to catch your eye. It was founded by Jeyasree 'Silkworm' Ravi, the daughter of Nalli Kuppuswamy Chetty in 2003. The store is a haven for the fashionista looking for authenticity, tradition and trending novelty all in one.
Location: Old no. 67, New no. 153, Luz Church Road, Mylapore, Chennai, Tamil Nadu 600004
7. Sarangi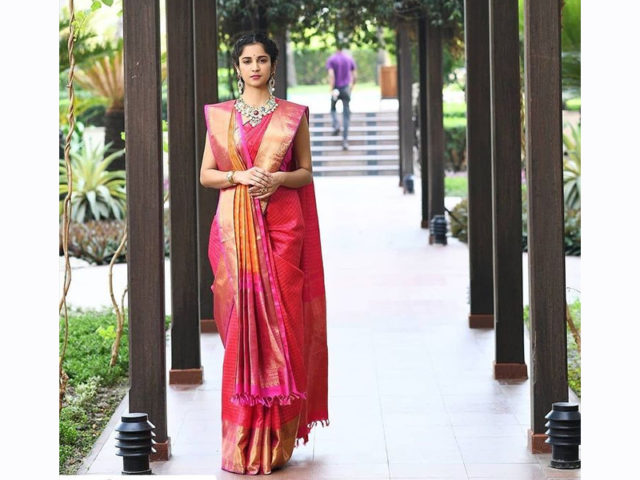 Sarangi curates sarees, accessories and fabrics with contemporary design aesthetics and deep-rooted artisanal values, from around the country. Sarangi is the winner of the Assocham-IMC Women Heritage Award 2010 for its role in promotion of the Kanjeevaram.
Location: 138, Luz Church Road, Mylapore, Chennai 600004
8. Pothys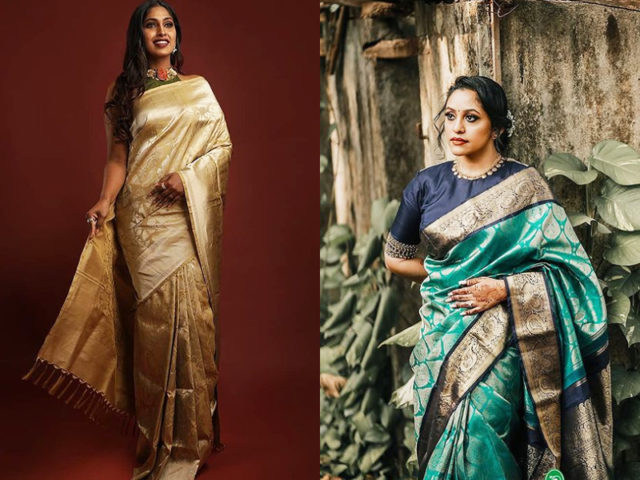 One of the oldest and the biggest silk stores of Chennai, Pothys boasts of a great collection of Kanjeevarams. Buy Kancheepuram silks of all colours, designs and prices for all occasions and events here. The store offers super grand designer silk options for the bride along with a variety suited for every budget. Their modern mixed take on silk is worth a visit.
Location: No.84, 85, N Usman Rd, Postal Colony, Parthasarathi Puram, T Nagar, Chennai 600017
9. Kumaran Silks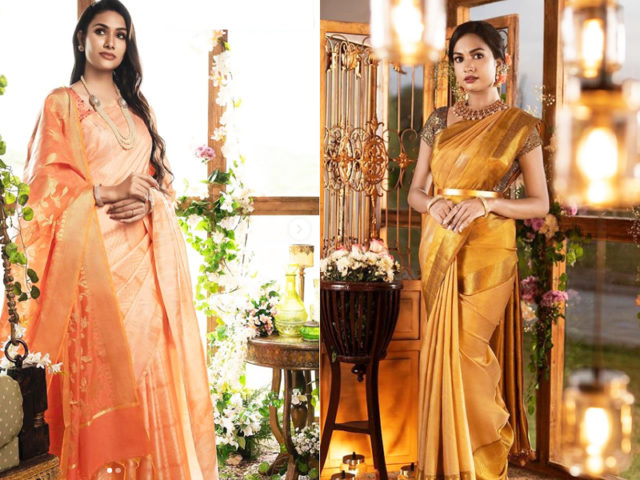 This iconic store in Chennai has been around for more than 5 decades. With a loyal fan following, the shop offers top of the line silk sarees and the latest in Kanjeevaram. The range of sarees is extensive and the prices are quite affordable.
Location: 12, Nageswaran Rao Rd, Parthasarathi Puram, T. Nagar, Chennai 600017
10. Kalanikethan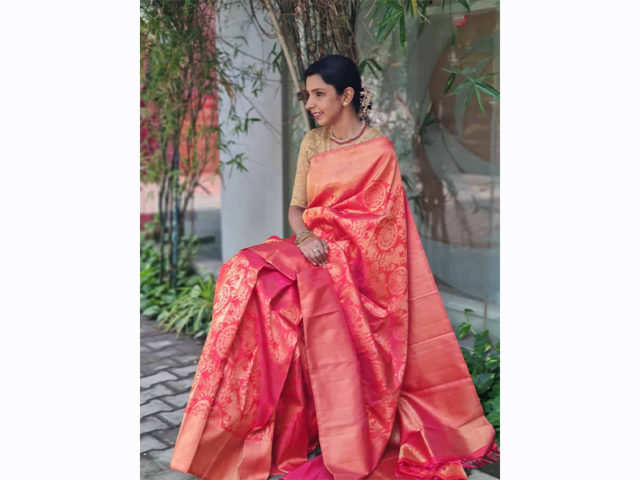 This is the wedding mall that houses Kanjeevarams. It's the top tier choice of saree-lovers and brides looking for the best for their Muhurtham. Although the silks that Kalanikethan owns are slightly higher-priced than the rest of the stores, for all the grand and contemporary designs that they come in, they're totally worth it.
Location: 958, 2nd Ave, near LKS Jewellers, Anna Nagar, Chennai 600040
Though several of these iconic stores have their branches even outside Chennai, buying a Kanjeevaram in the city is a unique feeling. So head on over to these top Chennai shops for a must-have Kanjeevaram saree. Tell us your favourite saree shop in Chennai in the comments below! Are you fond of wearing kanjivram sarees? Check out some really good kanjivaram saree in bangalore.