The 6-yards of fabric are elegance personified. Versatile enough as a daily wear as much as they are for festivities and special occasions. The 90s and the new millennium were all about georgettes and chiffons, thanks to the Hindi film industry. Cut the present time, we are once again open to visiting and celebrating our roots that are heavily drenched in diverse art forms. Some of which spilled over to sarees as well. Because sarees are no less than an artisan's canvas, aren't they? The new decade has brought back traditional cotton sarees to the fore.
Know more about these 11 traditional cotton sarees that you can flaunt in your wardrobe.
1. Kevasu
Originating in Kerala, Kevasu sarees measure 9 yards in length, a sharp contrast to the usual 6 yards. A pristine white or off-white monochrome saree, which occasionally has intricate threadwork, lined with a matte gold border, this traditional saree is a sight to behold. It stands out completely from the bright and dark hues of handwoven sarees. It is only now that you can find these 100% cotton handwoven saree in subdued colours.
2. Chanderi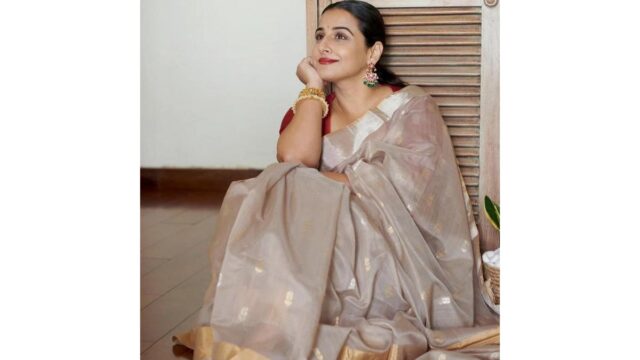 Traditionally from the village called Chanderi in Madhya Pradesh, this saree is a blend of premium cotton with traditional zari work. A fine marriage of luxury, quality, and beautiful prints of peacocks, coins, flowers, animals, and geometric patterns. Feather-light in weight, they are one of the easiest to drape and carry yourself in. They are quite the epitome of impeccable craftsmanship and aesthetic refinement.
3. Mangalgiri
Another stiff saree that continues to rein high among some of the most popular handwoven sarees of India, this is one option you cannot ignore. Its footprints can be traced back to Mangalagiri town of Guntur, Andhra Pradesh. Mangalagiri sarees are replete with traditional handwork that is distinctive to this part of the country. The body of this saree can be plain or laced with traditional prints, but what is constant in all of them is the broad multi-coloured, multi-striated border, which makes this saree special.
4. Pochampally Ikat
There is some degree of unparalleled elegance and simplicity in Ikat prints, hai na? Its USP lies in the traditional geometric pattern, versus the traditional motifs of almost all other handwoven sarees, and is set on the ikat weave that is a blend of cotton and silk. Remember the uniforms of the Air India crew? Their sarees are specifically designed Pochampally Ikat sarees. Quick to drape and a breeze to maintain, this saree is for all personalities and seasons.
5. Chikankari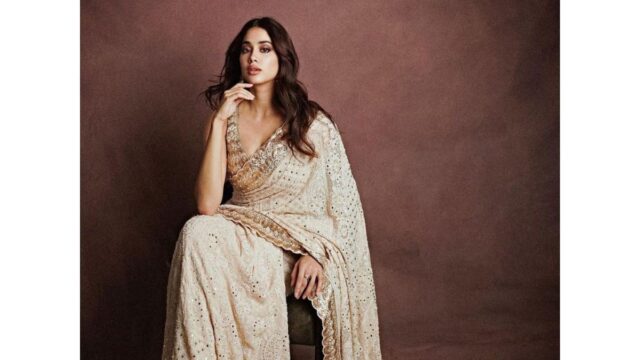 Speaking about traditional cotton sarees, how can we forget Chikankari sarees? This handwoven saree traces its origin to Lucknow in Uttar Pradesh and owes its name to the unique and intricate embroidery work on them. Today, machine-embroidered Chikankari sarees are also readily available, although they lack the golden touch of skilled craftsmen. What separates these machine-made ones from its traditionally handwoven counterparts is the absence of loose threads in the former, a clear sign of authenticity.
6. Tant
Hailing from Bengal, Tant sarees are stiffly starched sarees, owing to the quality of the handloom. They aren't easy to carry yourself in, unless you're a pro at saree draping. However, frequent wear-and-tear and washing wears off the starch enough to make the saree limp, easily wearable and maintainable after a quick ironing sesh. No wonder, they are quickly falling into disuse. Although they remain one of the most favoured handwoven sarees among women of the state. They are lightweight and easy-breezy, and one that should make it to every woman's wardrobe.
7. Sambalpuri
One of the heroes of traditional handwoven sarees and the pride of Orissa – Sambalpuri sarees are easily recognisable due to their hatke embroidered motifs. At times, that is pure cotton, while at other instances, they can also be curated with a blend of cotton and silk. If you cannot have enough handwoven sarees, this is a must-have. These sarees are quite comfortable to wear and allow easy movements.
8. Phulkari
"Punjab ki Shaan, Phulkari"- you may have heard that. We all have loved and are amazed with the colourful and vibrant embroidered dupattas that are undeniable head turners. When the same art is replicated on results, the result is equally enthralling. The meticulously designed sarees are some of India's most renowned handweaves. The popular ones are those with red embroidery with a dazzling glossy texture, quite the life of the party or whatever occasion you grace draped in these 6-yards. The distinct display of flower art on handwoven cotton fabrics, the intriguing motifs on the wrong side of the cloth just makes it so dynamic. If you want to feel out there, bank on this one.
9. Bandhani
When discussing handwoven sarees, this one should find a mention in the list. Bandhani sarees originate in Gujarat and Rajasthan. Crafted with the tie-and-dye method – by tying up certain parts of the thaan (or fabric) with thread and dunking it entirely in dyed water, left in it for sometime for the cloth to get the colour, and then hung out to dry. As fascinating as their end results. A burst of hues, a perfect extension of the splurge of colours and diversity that India is. These sarees come in vibrant colours like red and black, indigo and green, fuschia and yellow – so vivid and lively. Bandhani sarees with kundan and mirror embroidery are back in rage these days. are in high demand. You can find these on georgette as well, although the cotton varieties are far more in demand.
10. Kota
Typically originating from Kota, Rajasthan, these sarees are translucent, and there lies their uniqueness. The cotton kota sarees are suitable for every occasion – from casual to formals to weddings. Made of cotton, they are soft to touch, easy to drape even for beginners, and leave enough breathing space. This makes them perfect for the hot summer months. These are traditionally found in white or beige, but they are now available in a broad range of hues with the introduction of new weaving techniques. Pure Kota sarees, Zari Kota sarees, plain Kota sarees with zari border, add an interesting twist to their traditional counterparts.
11. Kantha Stitch
Needlework is the most common and popular artwork that has been in India since a long time. It was our dadis and nanis' favourite hobby, one that they excelled in. The Kantha embroidery is a form of needlework that originated in West Bengal and Orissa. The motifs sprawled all over the saree, and specifically on the pallu and borders, the designs are inspired from our rich and dynamic folklore. In short, the silk thread work tells tales on a 6-yard of cotton canvas. The off-white, white, matte gold or similar other subdued colours of the fabric perfectly accentuate the bright colours of the thread work.
Open up like never before and participate in conversations about beauty, entrepreneurship, mental health, menstrual & sexual health, and more. Desi women, join our community NOW!