Ever left confused about which earrings will suit you after browsing through pages and pages of designs on websites? Well, if you like it and wear it with confidence, you can rock any design. However, if you are looking for a little help, here's a cheat guide to help you identify the most flattering styles according to your face shape.
The Channel 46 has collaborated with Maneesha Nanda, Creative Head at INKLIME, to list the various styles of earrings that are suitable for different face shapes.
1. Studs
Studs are typically round in shape and come in a variety of designs – from minimal to statement. Due to their round shape, these types of earrings are best suited for face shapes that have length. So, if your face shape is rectangular, diamond, oblong or oval, you can happily wear your studs. 
Who should avoid – For diamond face shapes, it is best to avoid studs that are not round but have sharp edges.
2. Hoops
Circular or C-shaped earrings are most commonly referred to as hoops. Oblong, diamond and rectangular face shapes can easily sport these kinds of earrings. These earrings due to their soft curves are a great fit for square faces as they help take attention off your face's natural sharp edges. 
Who should avoid – Round face shape should avoid these as they will add on to your already circular structure making your face look rounder.
3. Drops
Drop earrings are mostly simplistic and minimal and drop just below your ear lobes. They are typically smaller in size and are great for adding a sense of curve to the diamond, oblong and heart face shapes. For the round face shape, they create an illusion of elongation due to the 'drop' structure and, hence, will certainly look pretty. 
Who should avoid – Square face shapes should best avoid such short drop earrings.
4. Danglers
Dangle earrings are those that are slender and drop from your ear lobes but are longer in length. They typically dangle back and forth or side to side when you move and, hence, the name. Due to their length, these are great for face shapes that are round and square.
Who should avoid – Longer face shapes like diamond and oblong.
5. Jhumkas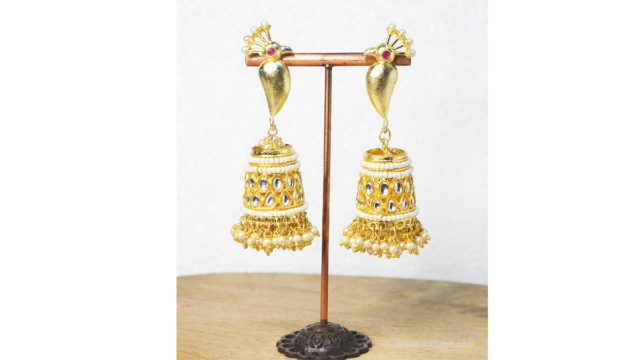 Let's just say jhumkas are your best friends. Any and every face shape can adorn them with aplomb. If you have a smaller face shape like round or square, go for longer jhumka designs. If you have a long shape such as oblong or rectangle, wear jhumkas that are shorter and fall closer to the ears so as to pseudo-eliminate the extra length off your face structure.
6. Chandbalis
Chandbali literally means moon (or crescent) shaped earrings. Since the bottom part of such earrings are wider, it's a great choice for people who have a heart-shaped face with a wide forehead and tapered chin. Diamond and oblong face shapes can also easily carry off chandbali style.
Who should avoid – Faces with natural width aka square and round face shapes
7. Tassels
Tassel earrings typically have a tuft of threads or beads. Tassel earrings look great on circular, oval, and oblong faces. 
Who should avoid – Tassel earrings might be a bad choice if you have a square or diamond face as they do not add any curve to balance your sharp angular face.
8. Chandelier Earrings
Earrings that fall in a cascading shape akin to a chandelier is referred to as chandelier earrings. They have a narrow sturdy top and an often intricate wider bottom due to the cascading structure with some decent length. These earrings suit the heart, oval, and diamond face shapes due to their wider bottom that balances the natural taper of these face shapes. Round face shapes can also sport the lengthy chandeliers, so as to take attention away from their face structure.
Who should avoid – It's best for the square shaped faces to avoid these, so that the wider bottom of the earrings do not add on more to the already wide face structure.
9. Threader Earrings
Threader earrings, needle thread earrings or sui dhaaga earrings, as they are known, are simplistic earrings. Such earrings mostly consist of a simple design backed with a flexible chain that can be easily inserted through the ear piercing and comfortable dangles there on. These earrings look dainty and are slender in style. They are best suited for round, square and oval face shapes. 
Who should avoid – Lengthy face structures such as oblong and diamond faces should best avoid these looks.
10. Shoulder Dusters
These are very long danglers that almost reach till your shoulders, hence the name. Due to their length, these really flatter the round and square face shapes creating an illusion of elongation.
Who should avoid – These earrings, due to their length, can cause the oblong and rectangular faces to look longer. Therefore, they are best avoided.
11. Cuff Earrings
Earrings that are worn around the ear cartilage without any need for piercing are referred to as ear cuffs. These designs are best suited for the long face shapes such as diamond, oblong and rectangular. 
Who should avoid – People with round and square faces shapes can avoid these items as they do not lend their face structure the much-needed length.
If you have an oval face shape, then you are indeed in for a treat. You can actually carry off all the above designs with flair!
Now that you know the reason behind why the same design looks different to people, have a gala time finding your best suited matches and step out in style.
Open up like never before and participate in conversations about beauty, entrepreneurship, mental health, menstrual & sexual health, and more. Desi women, join our community NOW!