When the sweltering summer sun becomes too much to bear, a relaxing getaway seems like the way to beat the heat. And what could be cooler than spending a few days samundar kinare?
The golden sun rays falling on the sea bed, the cool sand under your bare feet and miles and miles of deep blue waters…beaches are all about sitting back, unwinding and having a great time. India is home to dozens of top-notch beach destinations that offer scenic natural beauty, enthralling adventure activities, delicious cuisines and whatnot!
To help you out, we have curated a list of top beach destinations in India. Let's take a look.
10 Best Beach Destinations In India
The following are the top 10 beach places in India where you will find some of the most exotic beaches in the country! So, here's your opportunity to plan a beach holiday and #BeALittleMore adventurous.
1. Andaman & Nicobar Islands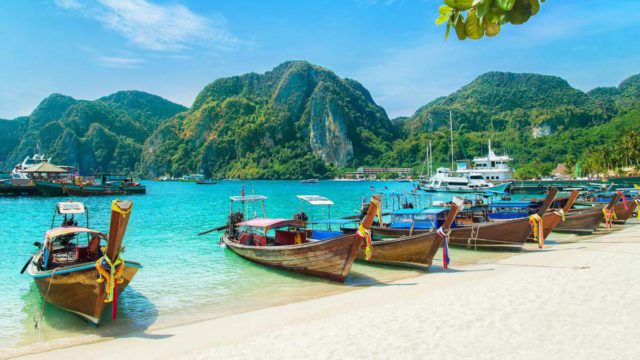 Situated amid the Bay of Bengal and the Andaman Sea, this lovely island is your dream destination for a fun trip with friends or family or a romantic getaway. It is one of the top beach honeymoon destinations in India and offers everything you can possibly ask for in your ideal holiday destination.
If things like pristine beaches, spectacular views, adventure, and exotic marine life are on your bucket list, trust me, you will not be disappointed! You can also indulge in activities like glass boat rides, scuba diving and snorkelling, to name a few. This destination is home to a number of serene beaches including Vijaynagar Beach, Aam Kunj Beach, Raman Bageecha Beach, Lakshmanpur Beach, Baludera Beach, Elephant Beach and the extremely popular Radhanagar Beach.
2. Daman & Diu
Whether you are an adventure sports lover or simply love to laze around and soak in the sun, you are going to love the isolated sandy beaches of Daman & Diu. The best part is that this beach destination in India has pleasant, breezy weather almost throughout the year. However, the best time to visit this place is between October to March.
Witnessing the serene sunsets, indulging in water activities, going on long walks or peaceful boat rides are just a few of the many things you can add to your list while visiting this destination. One of the most popular beach places in India, Daman & Diu is the perfect place to visit with your partner!
A few popular beaches in Daman & Diu are Devka Beach, Jampore Beach, Tithal Beach, Ghoghla Beach, Jallandar Beach and Nagao Beach. Other than astute beaches and natural attractions, the place also boasts of historical monuments, age-old churches, magnificent temples, caves, museums and more! The blend of Indian elements with hints of Portuguese influences is what makes this destination so special.
3. Goa
No matter how cliche it sounds, a Goa trip with your friends should be one of the top things on your bucket list. Be it a trip with your buddies, or a romantic getaway with your partner, Goa is the perfect destination. And kyun, you ask? From pristine beaches to exciting beach activities, from soaring nightlife to wild parties, this destination offers all this and much more. The land of the sun, sea and sand is also known for its scrumptious seafood, beautiful churches and lively flea markets. Moreover, Goa has some of the best beach resorts in India.
The best time to enjoy your beach vacation in India at this destination is between October and January. Varca Beach, Vahatir Beach, Anguada & Candolim Beach, Colva Beach, Baga Beach, Anjuna Beach and Dona Paula Beach are a few popular beaches you can visit in Goa.
4. Lakshadweep Islands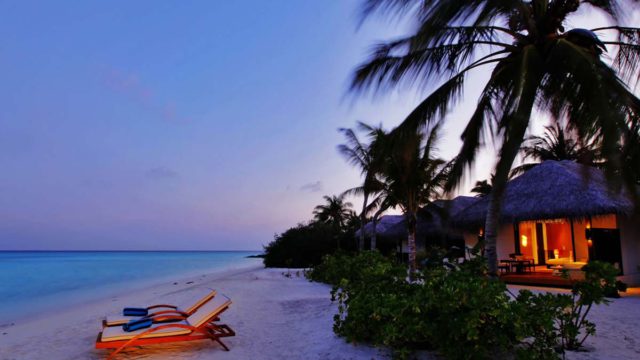 Surrounded by the Arabian Sea, this idyllic beach destination has as many as 36 beach islands. Lakshadweep offers everything you expect out of your perfect beach vacay! Be it an awe-inspiring scenic view or a bunch of interesting activities like swimming, fishing, snorkelling, knee boat riding, scuba diving….Lakshadweep offers all this and some more!
Witness the breathtaking beauty of Lakshadweep's colourful coral reefs, emerald beaches and shimmer turquoise water. This dreamy and romantic atmosphere of this destination makes it the perfect choice for your honeymoon! Kadmat Islands, Bangaram Atoll, Agatti Islands, Kalpeni, Kavaratti, and Androt are some of the top beach locations in Lakshadweep Islands.
5. Pondicherry
When it comes to beach places in India, Pondicherry is sure to secure a top spot on the list. This coastal haven is home to stunning colonial architecture, statues, churches, boutiques, cafes and of course beaches. Pondicherry has an old-world charm that is hard to find at most other beach destinations. If solace and tranquillity are what you are looking for, then Pondicherry is the perfect place.
But that's not all this place offers! When you finally get bored of enjoying the seashore ambience or sunbathing at the beach, you can go for thrilling activities like kayaking, canoeing or backwater sailing! Also known as 'The Little Paris', The destination has an artsy, boho-chic appeal to it. The remnants of its French colonial past can be seen all across this quaint town. A few amazing beaches you must visit while in Pondicherry are Promenade Beach, Auroville Beach, Paradise beach, Karaikal Beach, Serenity Beach, and Mahe Beach.
6. Kovalam
Other than being one of the best beach places in India, Kovalam is known for its Ayurvedic therapies and yoga centres. If rejuvenating your mind, body and soul is your priority, this is the perfect destination for you. From pristine beaches with swaying coconut palms to unmatchable cruise experiences, Kovalam has a lot to offer.
While visiting this top beach destination in south India, you can indulge in activities like boating and surfing or go on a shopping spree. Or you can simply lay back and enjoy the winsome view of the sun setting on the horizon…the choice is yours. Hawa Beach, Kovalam Beach, Samudra Beach, Lighthouse Beach and Varkala Beach are a few popular beaches situated here.
7. Alleppey
Next up on our list of best beach destinations in India is this not too mainstream beach heaven! The alluring beauty of this Alleppey (or Alappuzha) can't really be put into words. But if you are looking for something hatke from popular beach destinations, this picturesque coastal delight is where you should go.
A long list of unique experiences awaits you in this adorable town. Also known as 'Venice of the East, this holiday destination is known for its quaint villages, pretty houseboats, refreshing lakesides, and tranquil backwaters and lagoons. Canoe rides, kayaking, spas, shopping, scrumptious local cuisines, boat safari, temples and churches, are just some of the things you can enjoy while in Alleppey.
A few places you can include in your list while beach-hopping in Alleppey are Alleppey Beach (don't forget to check out the famous Alappuzha lighthouse here!), Marari Beach, and Punnapra Beach.
8. Vizag
Visakhapatnam or Vizag is another popular beach destination that you can visit to rejuvenate yourself in the lap of nature. This coastal city, situated by the deep blue waters of the Bay of Bengal, is home to several lovely beaches and best beach resorts in India.
Even if you are a party person, Vizag will not disappoint. A few of the lovely beaches here are known to have a hip nightlife. For the adventure lover in you, this city offers activities like water skiing and windsurfing among other water sports. Yarada Beach, Rama KrishnaBeach, Rishikonda Beach, Appikonda Beach and Lawson's Bay Beach are a few popular beaches in Vizag.
9. Gokarna
The next option on our list of best beach places in India is this small seaside town in Karnataka. Gokarna is popular for its picturesque blend of hills and pristine beaches. Its luxuriant resorts, fancy dining options and yoga and meditation centres will make your stay here a comfortable and enjoyable one. You can also add things like temple visits and water activities to your itinerary. This place is a less expensive and more tranquil option to alternative beach destinations like Goa. Half-Moon Beach, Kudle Beach Paradise Beach and Om Beach and the popular beaches located here.
10. Puri
This beach holiday destination in Odisha is one of the most captivating beaches in India. Swim, sunbathe or take a long walk by the beach with your significant other, there is so much for you to do here! Some of the most popular beaches in Odisha are Balaramgadi Beach, Aryapalli Beach, and Baliharachandi Beach.
Could there be a better way to enjoy your holidays than enjoying a relaxing week amidst golden sands, exotic coastlines and soothing waters? With so many options available, it is not really difficult to find that perfect beach destination that matches all your expectations and fits within your budget. Happy journey!
Open up like never before and participate in conversations about beauty, entrepreneurship, mental health, menstrual & sexual health, and more. Desi women, join our community NOW!