Muharram marks the first month of the Islamic calendar. The tenth day of this holy month is observed as Ashura, defining Ashura meaning and the significance of Ashura. It would be misleading to say that there is just one story of Muharram. The holy month and the day of Ashura are enshrouded around several beliefs and Muharram significances, emphasising why the day is celebrated differently by Shia and Sunni Muslims. Despite that, Muslims unitedly consider this month to be one of the holiest, second only to Ramadan.
This year, the month of Muharram begins on 20th July. So, the day of Ashura will be observed on 8th August, Monday. The year 2022 is the 1444th year of the Islamic calendar.
Muharram History & Significance
Muharram significance according to the Islamic or Muharram Hijri calendar has influenced Islamic history and the lives of Muslims to a great extent. Some believe that Adam was born during this month, apart from several other noted prophets and messengers. Despite the fact, Shia Muslims consider the Muharram month as the month of mourning. And that is because they have several reasons to mourn, as legends say.
One of the primary Muharram meaning for Shia Muslims arises from the battle of Karbala in 680 AD in which Hazrat Imam Hussain, Hazrat Muhammad Mustafa's grandson, died on the tenth day of Muharram. He was left in the desert without food and water, and mercilessly killed by the Caliph Yazid's men. He was martyred, along with 71 other soldiers and his 6-month-old son, while fighting for justice and equality, while his family was imprisoned.
To discuss about Muharram for Sunni Muslims, significance of Ashura sprouts from it being the harbinger of happiness and is celebrated as an auspicious day, as per Muharram history. Sunnis believe that Moses guided Israelis through the Red Sea on the day of Ashura and emerged victorious against the Egyptian Pharaoh when he was saved by God. This is one of the most important significance of Muharram for Sunnis.
Another story of Muharram is that Prophet Muhammad is believed to have referred to these days as the most blessed month for Muslims, according to Muharram history. The Ashura meaning does not end there. It also holds importance as Noah or Nuh left the Ark on this day.
Customs & Traditions Of Muharram
As mentioned earlier, Muharram meaning for Shia and Sunni Muslims is different because the day has different significance for each of these communities. Shia Musllims consider the day of Ashura as the day of mourning. Hence, they strictly wear black and participate in special prayer meetings at mosques and other public places. Weddings and other happy occasions are avoided because taking part in street processions take precedence over them. Not just that, Shia men also participate in chants and beat themselves up with whips as an act of remembering the immense hardships undergone by Hazrat Imam Hussain for the greater good. It is a way of paying homage to his sacrifices.
On the other hand, Ashura meaning for Sunni Muslims is to fast as a way to celebrate the victory of Moses over the Pharaoh of Egypt. Importance of Muharram fasting is prevalent among both the Shia and Sunni communities. Although the fasting ritual is not mandatory, it is considered that those who fast are rewarded by Allah.
Muharram Celebrations By Sunni & Shia Muslims
Muharram meaning is defined by the pursuit of peace and #BeALittleMore as human beings through deep reflection. Shia Muslims mourn the death of the Prophet family. They pay respect to their bravery and for having lost their lives during a month when violence is forbidden. They gather at mosques to remember the sacrifices of the Prophet's family and whip themselves up as a part of mourning rituals. Chest-beating, forehead-cutting, and self-flagellation are an integral part of such rituals. Walking on coal and spending longer hours at the mosque are also a part of the lamenting process. All Muslims can observe a fast during this month.
2 Muharram Delicacies
1. Mutton Haleem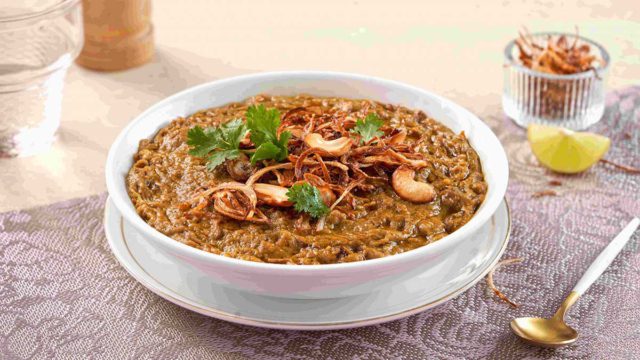 Ingredients
500 gms mutton – 500 gms
Ginger garlic paste – 4 tsp
Salt (to taste)
Red chilli powder – 2 tsp
Dhaniya (coriander) powder – 2 tsp
Haldi (turmeric) powder – 2 tsp
Garam masala powder – 2 tsp
Yoghurt – 1 cup
Chana dal – 1 cup
Masoor dal – ½ cup
Moong dal – ½ cup
Rice – 300 gms
Wheat – 1 cup
Barley – ½ cup
Oil – 3 tbsp
Onion slices – 1 medium size
Brown onion, green chilies, fresh coriander, and julienne ginger for garnishing
Method
Soak all the lentils overnight upto a maximum of 8 hours.
Wash the soaked lentils and drain the water.
Place them in a pan with 4 cups of water and add half of the mentioned quantities of turmeric, coriander powder, red chilli, and garam masala.
Mix them well, cover the pan, and cook for about 1 hour over low/medium heat.
Meanwhile, pour rice, wheat and barley in another pan and cook them over low or medium heat until they become tender. Add salt to taste.
Take another pan and heat oil in it.
Add ginger-garlic paste and saute for a couple of seconds over medium heat.
Add meat and put the gas on high heat.
Add the remaining quantities of coriander powder, red chilli powder, garam masala, turmeric, and salt.
Next, add beaten yoghurt and blend well.
Cook this on high heat till oil separates and floats on the surface.
Pour 2 until cups of water and sprinkle 1 tsp of garam masala.
Cover and prepare for about 40 to 50 minutes until the meat is tender.
Assemble all the ingredients together and coarsely blend them with a hand blender.
Prepare a tadka of onion by heating 1½ tbsp of oil and frying one medium-sized onion in it till it turns golden brown.
Add the tadka ot the haleem, keep it covered for ½ hour on very low heat and then blend all the ingredients well.
Garnish with golden brown onions, fresh coriander, green chillies, and julienne ginger.
2. Gulaab Sharbat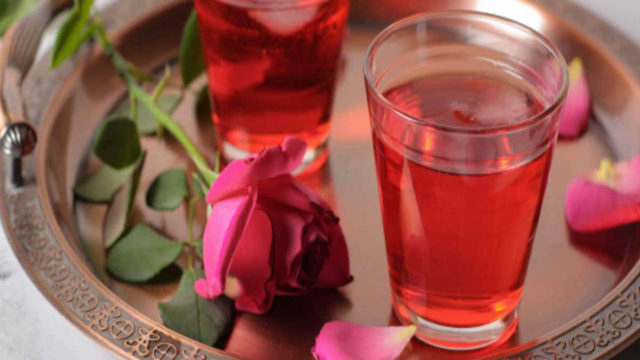 Ingredients
Gulab (rose) syrup – 4 tbsp
Fresh lemon extract – 2
Sugar (as per taste)
Water – 1 litre
Ice cubes – 10 to 15
Method
Pour rose syrup in a blender.
Add fresh lemon juice into it.
Add sugar according to your taste.
Next, add water and ice cubes.
Blend all the ingredients together and serve chilled in a glass.
Irrespective of how each of the Muslim communities chose to observe the holy Muharram month, the objective remains the same – peace and self-reflection. Get together with your family and seek to achieve peace in your own way. Muharram Mubarak ho!
Open up like never before and participate in conversations about beauty, entrepreneurship, mental health, menstrual & sexual health, and more. Desi women, join our community NOW!