In Hinduism, Karva Chauth is a festival for married women celebrated every year. Not only married women but unmarried girls also partake in this one-day Nirjala fast. Surya uday se chand ke nikalne tak, women keep this fast and pray for their husband's long life and health. This upvas also symbolises their love and affection for their husbands as the women pray for the long life and health of their spouses.
It occurs on the fourth day of the dark fortnight (Krishna paksh) in the Hindu lunar month of Kartik. The date falls anywhere between mid to late October. This year, the auspicious occasion will be celebrated on 13th October. It is primarily observed in Northern Indian states such as Punjab, Haryana, Himachal Pradesh, Uttar Pradesh, and Rajasthan.
While the ladies gear up to celebrate this occasion, let's try to understand more about this auspicious festival.
What Is Karva?
The word Karva means "earthen vessel" and chauth means "fourth". The earthen vessel is of importance because traditionally women use it to offer water to the moon to break their fast. According to the Hindu calendar, Karva Chauth happens on the fourth day after Poornima (full moon) in the month of Kartik. This month marks the harvest season, which is a time for socialising and joy. Karva Chauth honours a husband and wife's wonderful bond, celebrating love and togetherness.
How exactly did this festival come to be? Read on to find out.
Karva Chauth History & Significance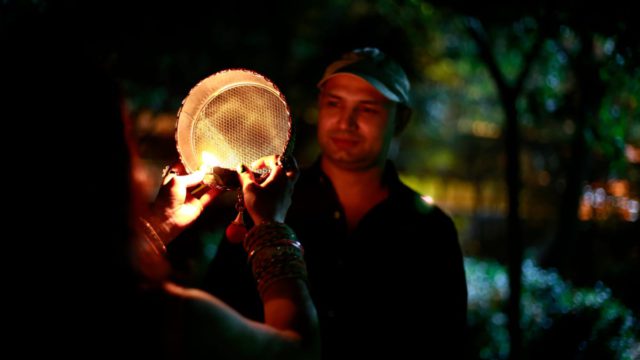 The origin of Karva Chauth history can be traced back to the Mahabharata, when Savitri pleaded the god of death, Lord Yama, for the soul of her husband. Another Karva Chauth story from the epic is about the Pandavas and their wife Draupadi.
Arjuna was believed to have gone to the Nilgiris to pray and contemplate for a few days, and Draupadi, concerned for his safety, sought the assistance of her brother Krishna. He instructed her to fast as strictly as Goddess Parvati did for the safety of her husband Shiva. Draupadi stuck to it, and Arjuna soon came home safely.
There are several Karva Chauth story and tales that can be found throughout the history that mark this festival's origin.
Karva Chauth fasting is an important day in Hindu women's lives. On this day, married women fast for a day and pray for the long life of their husband. Adding to the charm of this festival are decorated markets where women enjoy their shopping spree and other rituals that follow on the joyous day.
Karva Chauth Vrat Rituals
Karva Chauth fasting preparations normally begin a week before the actual day. On this day, married women rise early before daybreak to receive the 'karva chauth sargi', which is a collection of sweets, snacks, and ornamental objects given to women by elders of the house.
Women who take part in the Karva Chauth vrat must abstain from food and water until the moonrise and recite mantras to recall the Goddess's name. Pregnant women can eat sweets, fruits, and other milk products. Unmarried girls can also practice fasting in order to find a suitable and caring life partner.
Women dressed in bright new red clothes visit local Lord Shiva temples. They pray with devotion and faith to Karwa Mata, Lord Shiva, Lord Ganpati, and Lord Kartikeya. Women also read karva chauth katha and ancient tales about the Karwa Chauth. They perform Puja to placate the Lord before waiting for the moonrise to end the Karwa Chauth vrat.
Women look upon their husband's face through a sieve once the moon becomes visible and offer water to the Moon. Following that, their husbands assist them in breaking the Karva Chauth vrat by feeding them fruits and sweets. The pair then seeks blessings from elderly family members.
4 Things To Not Do While Keeping Karwa Chauth Vrat
Every vrat comes with its dos and don'ts, Karva Chauth is no different. Here are a few things to keep in mind:
Women keeping the vrat should take a break from their gharelu kaam.
Colours to avoid wearing: black, white, and dark blue. They are considered unlucky and shouldn't be worn.
It is also not a good idea to use needles, scissors, or other sharp objects when sewing clothes.
After breaking the fast, no onion or garlic should be eaten for the rest of the day or when taking the first meal.
3 Ways In Which Karva Chauth Is Celebrated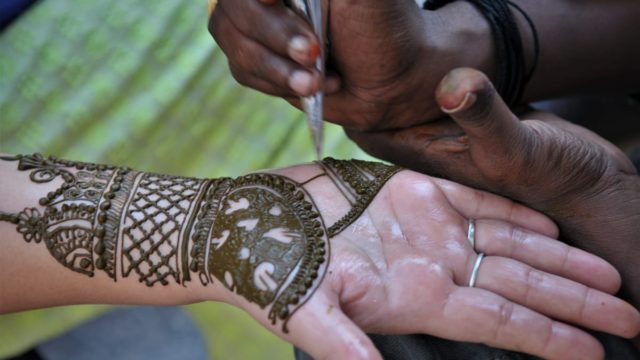 Apart from observing the fast all day, women take part in many other Karva Chauth celebrations.
Applying mehendi is a great part of the tradition. Women adorn their hands in beautiful designs and dress up in gorgeous attires.
The mother of the married woman sends Bayaa a day before the Karva Chauth, which includes clothes, coconut, sweets, fruits and sindoor. It also brings gifts for the mother-in-law. The mother-in-law also gives Karva Chauth sargi to the married women in the morning.
In the afternoons, women gather up to listen to the Karva Chauth katha and sing folk songs together. Different states have their own separate traditions and ways of celebrating the festival.
Want to amp up your thali this Karva Chauth? Here are some decoration tips you can steal from us.
3 Karva Chauth Decoration Ideas For The Thali
There are no rules when it comes to the Karva Chauth decoration of your thali. Which means you have free reign over creativity. Here are some ways you can make Karwa Chauth decoration at home for your puja.
1. Mirror Work
First, choose a light colour to serve as your thali's basis. Choose the pattern or design you want to see on the thali. Draw patterns on the thali with a pencil. Simply glue the mirrors and colourful beads on the thali in the patterns. You can make a glittering diya or a flowery pattern on the thali with designer mirrors and beads. This is one of the most versatile karwa decoration ideas.
2. Velvety Wow
Take the simple steel thali and uniformly apply the adhesive so that the velvet material sticks neatly. Arrange a velvet fabric in your favourite colour on top of the thali. You can even wrap the edges with elastic lace for a more opulent effect. Now you can start making patterns on the thali with the designer mirrors.
3. Lace It Up
Take a simple thali made of steel or brass. Cover it with colourful sheet paper. Glue lovely laces to the borders and sides for a striking appearance. You can add diyas and one or two rose blossoms to your lace thali to make it stand out.
You can easily do these Karwa Chauth decoration at home and spice up your thali in minutes. These thali decoration tips can also double as Karwa decoration ideas.
How Is Karva Chauth Puja Performed?
The Karva Chauth puja is generally performed after listening to the Karva Chauth katha in the evening. Here are some puja samagri that you will need:
Cow-dung for making Parvati's idol
Karwa Chauth book
Matthi
Sindoor
Red thread (kalawa)
Karwa – a vessel filled with water
Fruits
Dhoop or Agarbatti
Match-box
Paan Leaves
Ghee or oil
Sweets
Kapoor
Diya
Channi to see the moon
Married women light the diya and dhoop and offer sindoor, fruits, flowers, and sweets to the goddess Parvati. They then read the vrat katha. The puja takes place in the evening. Women see the moon through a sieve, and then they see their husband's face through the same sieve. After that, the husband breaks his wife's fast by giving her water and sweets.
Tyohar hai toh tohfa bhi hoga. Picking a single gift can be tough, here are 5 gift ideas for your wife. These can also be ideas for Karva Chauth gift for husbands.
5 Gifting Ideas For Your Wife
1. Perfume
Get a great cologne for your wife on this lovely occasion of Karwa Chauth. You can select from a variety of perfumes available in both online and offline shops. It's a gift you can not mess up and who doesn't love receiving amazing fragrances?
2. Saree
If your wife likes sarees, go to the best saree shop in your town right away and get her one of those lovely 6 yards. The market is blooming with new styles and colours during the festive season!
3. Footwear
Everyone appreciates a beautiful pair of shoes. Get your wife a pair of shoes that are both comfy and stylish. Stilettos, ballerina Flats, boots, and other styles of footwear are super trendy these days.
4. Chocolates
Chocolates are always a welcome gift. On this auspicious day of Karva Chauth, get some delectable chocolates for your lady.
5. Wristwatch
Even though we can constantly check the time on our phones, some people prefer to wear a wrist watch. If your wife is one of them, get her a lovely wristwatch. This will make a great karva chauth gift for husband.
With all this knowledge in your hand #BeALittleMore connected with your wife and husband this Karva Chauth. How does your family celebrate karva chauth?
Open up like never before and participate in conversations about beauty, entrepreneurship, mental health, menstrual & sexual health, and more. Desi women, join our community NOW!