Can you imagine, an entire year has almost gone by! As you enter the last month of the year, you cannot help but wonder about how time flies. Now that we're closing in towards the last few days of 2022 (read: party season), you might as well start making your Christmas and New Year plans. Kitty party dates, venues, list of friends, party games, decor, food, et al.
But, truth be told, kitty party games sometimes drab on for too long and turn out to be a bore. But here's the cue. There are a host of 1 minute indoor games for kitty party that you can add to your list, so that all of you have fun. Loads of it. These one minute kitty party games are short and quick, and will keep you all on your toes, so there aren't any yawns at all from your girl gang.
8 Kitty Party Games That You Must Bookmark Right Away
1. The Handbag Game
This is one of the most popular Indian kitty party games for ladies.
What you'll need:
Any number of participants with handbags
List of items you might usually find in a ladies handbag
How to play it:
Make a list of items you might find in a lady's handbag (cards, pins, hairbrush, pen, etc).
Points should be allocated to different items.
Ask all the ladies to gather around with handbags/purses.
Start announcing each item on the list and the first person to get it will be awarded the points.
The game will end once all the items on the list have been called out.
Who wins?
The person with the highest points wins the game!
2. Money Money
This is one of the best hassle-free and quick kitty party games with coins. All you need to play this are some coins. And this makes it one of the favourite one minute kitty party games!
What you'll need:
You can play this game with any number of people but make sure you have enough coins for all
Lots of different sizes, designs, and versions of Rs 1 and Rs 2 (old versions work best if you still have them!)
Few Rs 5 coins and add 50 paise and 25 paise coins as well, if you can find them that is.
How to play it:
Mix all the coins you have in a bowl.
Ask the participants to build sets of coins totalling ten rupees.
Time limit: 1 minute.
Who wins?
The player who makes the maximum sets of 10 rupees wins the game.
3. Coins & Dice Game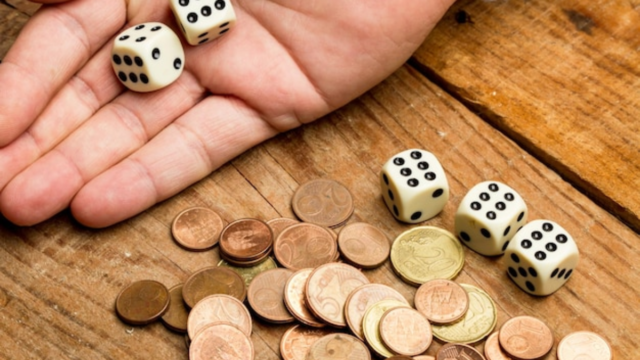 This is another simple game to play using coins to the list of your kitty party games with coins.
What you'll need:
Sets of 6 coins with different denominations
Make sets as per the number of participants playing the game
A digit rolling dice
How to play it:
Handover one set of coins to each participant.
The participant who rolls the dice and gets digit-6 first will start the game.
Suppose she gets number 3 on her dice then she needs to pass 3 coins to the member next to her.
If a person is out of coins, she is immediately out of the game.
At the end of three rounds ask the participants to count the number of coins.
Who wins?
The lady with the highest number of coins wins the game!
4. Matchstick Equation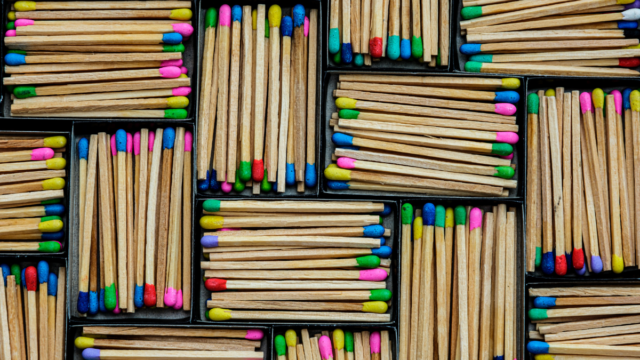 This one minute kitty party game doesn't create a mess and you just need two materials to play.
What you'll need:
Matchboxes (one per participant)
A plain sheet of paper
How to play it:
Write the following equations on paper or display it on a board/tv screen where all your friends can see it:
XX – VIII = XII
XIX – XII = IX
X – VIII = II
VII – II = V
VVIII -III = VV
Give them the papers and ask them to make these equations on paper with matchsticks.
To make it a little difficult, you can ask them to create one equation by themselves and add it to the list.
Who wins?
The person who finishes making the equations first wins the game.
5. Nail Pop
Nail polish is usually that one thing that a girl gang never misses out on, on a sleepover. Apart from oodles of chitter chatter and delish food, of course! So, it's time you make a game out of it, isn't it?
What you'll need:
Your favourite nail colours
A cardboard spinner with messages written on it
How to play:
Spin the cardboard in turns.
Follow the message that points you when the cardboard stops spinning. For instance, colour the girl your bright with a red nail colour, colour half the nail of the girl to your right with blue, etc.)
The girl who paints the most number of times is the clear winner.
6. Polka Dots Tambola
Easy to make but an innovative idea to have pretty looking Housie tickets. This is definitely going to top the list of fun tambola games for kitty party.
What you'll need:
Paper/plastic cups
Round stickers
How to play it:
Paste the colourful stickers on the disposable glasses on it, for writing tambola numbers.
The participants have to write any number up to 99 of their choice on the stickers.
The host starts calling out numbers and the participants can cut their numbers along with sipping their drinks.
Who wins?
You can have multiple winners depending on the criteria you set and a final winner who gets all the numbers.
7. Movie Master
Presenting interesting paper games for kitty party. We all love watching movies, and who isn't a Bollywood buff? Ladies who love Bollywood are definitely on for this game.
What you'll need:
A sheet of paper with the questions on it
Stationery to write
How to play it:
Create a questionnaire based on the cues and synonyms of the movie names. We've created a small list for you here;
Sugar (Cheeni Kum)
Aeroplane (Airlift)
Specs (Chasme Badoor)
Hockey (Chak De India)
Brother (Hello Brother)
Chain (Zanjeer)
Chapati (Roti Kapda Aur Makan)
Needle & Thread (Sui Dhaga)
Salt (Namak Halal)
Stethoscope (Munnabhai M.B.B.S)
You just have to make a copy of this questionnaire for everyone.
Don't forget to time it!
Who wins?
The filmy friend who answers them all or gets most of the answers correct will be the winner.
8. The Brand Game
This is another one of the popular paper games for kitty party. It is sure to make everyone super competitive!
What you'll need:
A sheet of paper per participant
Stationery to write
How to play it:
Ask all the participants to write a list of all the cosmetics, jewellery & bag brands they know.
Time it for a minute or two based on how active your participants are.
Who wins?
The 'Brand Queen' from your group is definitely winning this!
These are some of the exciting kitty party games that are tried and tested. Try these fun themed games along with 1 minute indoor games for kitty party. Your friends are going to enjoy all of these when you're hosting your next party!
Open up like never before and participate in conversations about beauty, entrepreneurship, mental health, menstrual & sexual health, and more. Desi women, join our community NOW!