What's a festival without an extensive spread of delectable Holi snacks, delicious meals, and irresistible desserts! And like all other celebrations, there are certain traditional recipes typical to Holi, savoured wholeheartedly by our taste buds. For this festival, Holi party snacks – healthy Holi snacks and those that are not-so-healthy – occupy a special place in our menu. The Holi snacks ideas drive away hunger, feed our energy, and indulge our senses while we dunk ourselves in colours.
5 Holi Special Snack Recipes That Are Healthy & Delicious
#BeALittleMore this year by trying your hand out at these 5 Holi party snacks.
1. Dahi Bhalla
Preparation Time: 15 minutes
Cooking Time: 45 minutes
Ingredients
For Bhalla
½ cup urad dal or 125 grams urad dal
4 tablespoon moong dal
1.25 to 1.5 cups water for soaking
6 to 7 tablespoon water for grinding or add as required
½ teaspoon cumin seeds
1 pinch asafoetida (hing)
Salt as required
Oil For Frying
Enough water for soaking the dals
2 cups Curd (yoghurt) or curd made from 500 ml milk
⅓ cup pomegranate arils
⅓ cup sweet chutney
⅓ cup Green Chutney
20 to 25 papdis
½ cup cooked chana or white chickpeas or ¼ cup safed chana – pressure cooked till done
1 large potato – boiled, peeled and chopped
chaat masala as required
roasted cumin powder – as required
red chili powder – as required
black salt as required
2.5 cups water for soaking vadas
For Green Chutney
1 cup coriander leaves
1 or 2 green chilies
½ inch ginger – chopped
½ teaspoon lemon or lime juice
salt as required
1 to 2 teaspoon water for grinding chutney
For Sweet Tamarind Chutney
½ cup seedless tamarind – tightly packed
1.75 cups water
½ tsp ginger powder
1 pinch hing (asafoetida)
½ tsp jeera (cumin seeds)
¼ tsp red chilli powder
7 to 8 tbsp jaggery
Rock salt or black salt or regular salt, to taste
1 tsp oil
Method
Keep the tamarind soaked overnight or for at least 4 to 5 hours before you start preparing one of the most favourite namkeen dishes for Holi.
Squeeze out the pulp with your hands in the same bowl in which you'd soaked the tamarind. Strain it out and keep aside.
Heat oil in a pan, lower the flame, and jeera, and fry on low heat till it crackles.
Add red chilli powder, ginger powder, and hing, and then stir in the tamarind pulp. Cook for 2 to 3 minutes.
Next, add jaggery and salt, and cook for about 5 minutes more, or till the mixture thickens.
Keep the chutney aside and let it cool. You can store it in an airtight container.
For the green chutney, grind all the ingredients together and make an even paste out of it in the mixer.
Pour it out in a bowl once done.
Wash ½ cup urad dal and 4 tbsp moong dal under clear water to get rid of the dirt in them and then soak them overnight or for at least 4 to 5 hours.
Drain off the water and pour them into a grinder, along with cumin seeds and hing, and 1 tbsp of chopped ginger (optional).
Add water in the grinder at frequent intervals in every small quantity while blending them to get an even textured, fluffy batter.
Stir the batter briskly for a few minutes to make it fluffier and lighter. To check the correct consistency, drop a tablespoon of the batter into a bowl full of water. If the batter floats, you are ready to move on to the next step. If not, add rice flour or sooji to the batter to thicken it.
For frying bhalla, heat oil in a kadhai till it boils.
When the batter is medium hot, add a small quantity of it to the oil as a test. If it floats, it is of the right temperature for frying.
Add spoonfuls of the batter, as many as you can depending on the size of your pan.
Fry until golden brown.
Remove and place them on layers of tissue paper.
After you've prepared all the vadas, take 2½ cups of water in a big bowl.
Add the vadas to this water and keep them soaked for 20 to 25 minutes.
Take each of the vadas between your palms one by one and press them gently to squeeze the water out of them.
Take chilled curd in a bowl and beat it till smooth.
Individual plates of Dahi Bhalla, place 2 to 3 pieces in a plate, 4 to 5 pieces of papdi, pour curd over them evenly, and top up with chickpeas, boiled potatoes, tamarind chutney, and green chutney. Finally, sprinkle red chilli powder, black salt, and chaat masala.
Garnish with chopped coriander powder and sev before serving Dahi Bhalla – one of the most favourite Holi special snacks.
2. Kalakand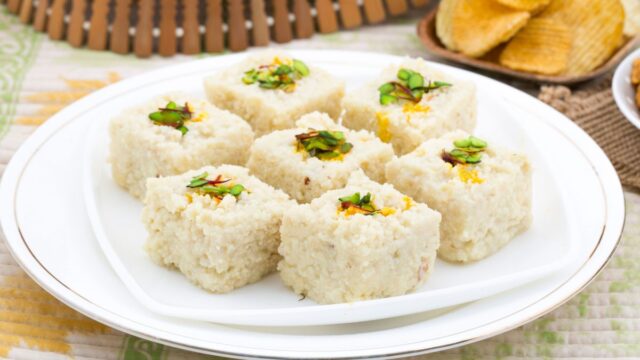 Preparation Time: 10 minutes
Cooking Time: 15 minutes
Ingredients
425 grams part-skimmed ricotta cheese
400 gram sweetened condensed milk
1 tbsp sugar
⅓ cup milk powder
1 tsp ghee + few tbsp for greasing
½ tsp cardamom powder
3 tbsp chopped pistachios & almonds for garnish
Method
Take a large skillet and add condensed milk, milk powder, and ricotta cheese, and combine well.
Reduce the what to medium and keep stirring at regular intervals and keep simmering for 10 to 12 minutes or until the mixture reduces to half.
Pour ghee and cardamom powder, and continue to stir and simmer for 2 minutes.
When the mixture starts sticking to the pan, switch off the oven and let it cool.
When it has reached room temperature, prepare a baking dish by layering parchment paper and greasing it with ghee.
Pour the mixture into a baking dish and even out the surface with your spatula.
Chill in the refrigerator for 4 hours to let it set properly.
Cut into squares and garnish with chopped pistachios and almonds, and voila, this Holi snacks recipe is complete.
3. Gajar Ki Barfi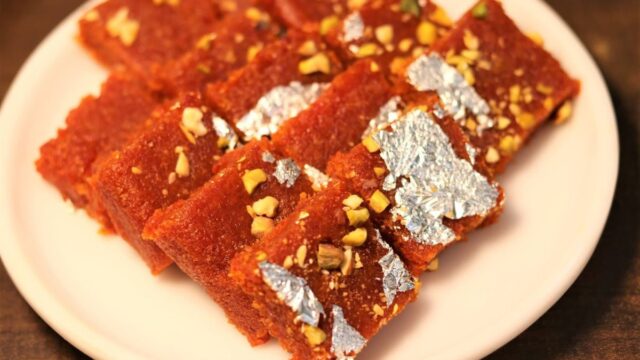 Preparation Time: 15 minutes
Cooking Time: 10 minutes
Ingredients
3 tbsp ghee or unsalted butter
4 cups carrots grated. About 4-5 large
¾ cup milk microwaved
½ cup sugar
½ cup milk powder
½ cup super-fine almond flour
½ tsp of green cardamom powder
¼ cup cashews and almonds (chopped)
2 tbsp cashews and almonds chopped for garnish
Method
Add butter or ghee to a skillet, followed by carrots and chopped nuts. Saute for 2-3 minutes to prevent the veggie from becoming much later.
Add warm water and sugar to a heavy-bottomed skillet.
Cover the pan and cook for 5 minutes.
Add milk powder and almond flour, and keep stirring frequently till the milk is no longer in the liquid state. This will approximately take 10 minutes.
Add cardamom and stir well to blend it thoroughly in the mixture.
Prepare a baking dish with parchment paper and grease it with ghee.
Pour the mixture into the dash and even out its surface with your spatula.
Garnish with the chopped nuts and refrigerate for 30 minutes to 1 hour.
Next, cut into shapes of your choice and serve this mithai – one of the most healthy snacks for Holi.
4. Aloo Tikki
Preparation Time: 15 minutes
Cooking Time: 10 minutes
Ingredients
3-4 boiled gold potatoes 2 cups grated potato
½ cup green peas
½ cup chopped onion 1 small white or red onion
1 tsp grated ginger
1 chilli finely chopped
2 tbsp chopped cilantro leaves
Spices
½ tsp dry mango powder
½ teaspoon chaat masala
1 tsp coriander powder
½ tsp cumin powder
¼ tsp red chilli powder or cayenne adjust to taste
2 tbsp cornstarch + 2 teaspoons for dusting or rice flour
Your choice of oil
Salt to taste
For Serving
Dhania chutney
Imli chutney
Seasoned yoghurt
Method
Boil potatoes, cool them, and then grate to get 2 cups of grated potatoes.
Add grated potatoes, peas, coriander leaves, chopped onions, grated ginger, and all the spices in a large bowl, and mix them thoroughly.
Next, add cornstarch and give it a thorough mix again.
Segregate the above mixture into 8 parts, grease your palms with oil or ghee, and make round shapes with each of them having a ½-inch thickness.
Lightly dust each of these patties with cornstarch from your palms, wiping off the excess with a towel or tissue. This step saps moisture from the tikkis, ensuring they'll be crispier when fried.
Boil oil in a large frying pan on medium-high heat and shallow fry the tikkis for 4-5 minutes or till they turn golden brown.
Let them cool and serve one of the most delicious Holi special snacks and namkeen dishes for Holi with coriander and tamarind chutney.
5. Baked Gujiya
Preparation Time: 10 minutes
Cooking Time: 15 minutes
Ingredients
For The Dough
1 cup all-purpose flour
1 tbsp sooji (semolina)
2 tbsp ghee or oil
⅓ cup water
Binding Paste
Combine 1 tbsp water
1 tbsp flour and mix to form a paste for sealing Gujiya
Khoya Stuffing
6 oz Khoya (type of milk solids) : ½ stick of Nanak khoya
½ teaspoon cardamom powder : 10 fresh cardamom pods
1 tbsp slivered almonds
1 tbsp cashews chopped
1 tbsp raw unsalted pistachio shelled
1½ tbsp desiccated coconut unsweetened
2 tbsp sugar
Glazing Ingredients (for 20-22 gujias)
½ cup sugar
¼ cup water
2 tbsp chopped almonds & pistachio (for glazing)
Method
For this snack for Holi party, take a large bowl and add sooji and ghee, and mix thoroughly to get a sticky dough.
Knead this dough for 1 or 2 minutes, and then cover with a clean, damp cloth. Knead again.
Place a pan on medium heat and crumble khoya into it.
Press down the khoya using a spatula to break it down into smaller pieces. Continue pressing till it becomes soft, before turning off the oven.
Add the chopped nuts, cardamom powder, and coconut powder. Give it a good mix and then allow the mixture to cool down.
Add sugar and mix well again.
Knead the dough for a couple of minutes and divide into 20 equal balls.
Dust your rolling pin with some all-purpose flour and roll out each of them gently into a thin circle of 3-inches in diameter.
Combine the ingredients for the sealing paste to take a dough and use this to seal the edges of half the circle.
Take about 2 tbsp of the filling and place in the middle of the circular shape, fold the circle to get a semi-circular form, and seal the gujiya with the sealing paste.
Take a pan and heat oil between medium and medium-high.
Fry the gujiyas till they turn golden brown on one side. Turn them over and repeat the same for the other side too.
Keep turning them over 3-4 times.
Fry the gujiyas in two batches – 10 each in one round.
While you're frying the gujiyas, prepare the sugar water. Boil water in a saucepan on medium heat and add sugar. Bring it to a boil or till it thickens enough to coat the back of a spoon. Allow this to cool.
Dip the fried gujiyas in this sugar syrup, so that they get coated evenly.
Sprinkle some chopped pistachios and allow it to cool on a wire-rack, and voila, the Holi snack recipe is ready to be served.
3 Tips To Stay Hydrated – Before & After Playing Holi
1. Water
Keep water handy at all times. While you pile on those healthy Holi snacks and those that are not so, remember to replenish yourself with even water.
2. Fresh Fruit Juice
Introduce a healthy twist in your hydration routine with juices of seasonal fruits and veggies – watermelon, oranges, cucumber, tomato, to name a few. Whether they be juices of just one fruit or of a mixed variety – do what your taste buds want on this joyous occasion, for additional hydration.
3. Traditional Beverages
Holi is incomplete without its share of delish beverages – not just thandai, the most popular one, but lassi, shikanji, and badam milk as well. If you prefer to stay hydrated in style on this day, while savouring your favourite snacks for Holi party, these are some of the options you should keep sipping on in regular intervals.
Delish food and Holi go hand in hand. While you prepare for the festivities, plan on the Holi snacks and mithai that you want to enjoy well in advance, so there are no last moment jitters. Happy Holi to y'all!
Open up like never before and participate in conversations about beauty, entrepreneurship, mental health, menstrual & sexual health, and more. Desi women, join our community NOW!