Milk has been a part of our breakfast since our childhood years. Horlicks or Boost, or with cornflakes. Our mornings would not begin without a tall glass of milk. And even when we had difficulty in sleeping or with a cold, haldi doodh was the key remedy. This World Milk Day, let's up our breakfast and milk game with healthy muesli and granola recipes.
Granola is considered a healthy breakfast cereal. A bowl of this healthy, nutty granola cereal can kickstart the energy in your body and power you till your next meal. It's a beautiful toasted mixture of rolled oats, nuts, and a sweetener like sugar or honey, though it can also include other grains, puffed rice, dried fruit, seeds, spices, and nut butters. Here are some nut butter recipes you can check out. There are also some more added ingredients such as chocolate, oils, and syrups. And these may be high in added sugars and fats. Remember to try and consume sugar-free granola dishes. Granola also makes a wonderful snack when added to your yoghurt and fresh fruit. It also stores beautifully, so it makes a great homemade gift for healthy eaters. Granola is calorie-dense, as well as rich in protein, fibre, and micronutrients. In particular, it may provide iron, magnesium, zinc, copper, selenium, B vitamins, and vitamin E.
Health Benefits Of Granola
Granola recipes and homemade granola dishes have numerous benefits. The main ingredients like oats, dry fruits, seeds aid in the overall health benefits.
1. Granola Dishes Are Full Of Fibre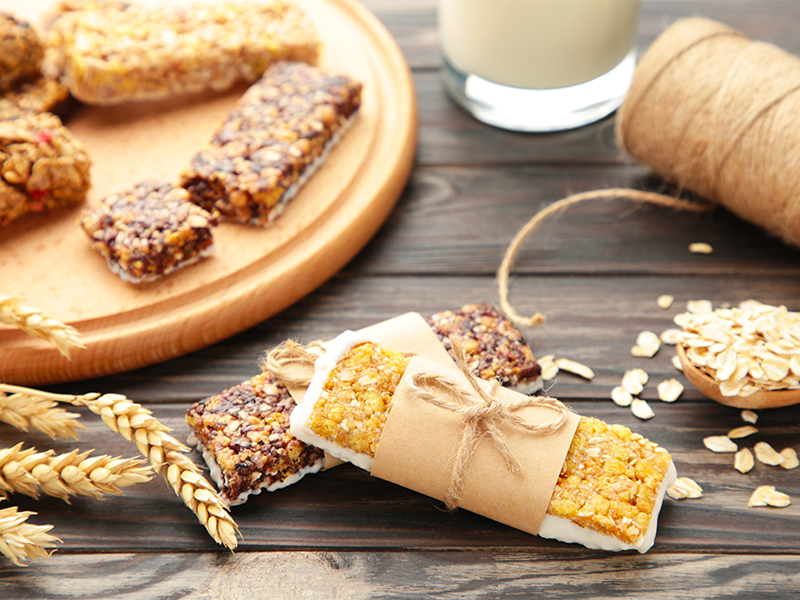 Granola is rich in protein and fibre, which contribute to a full and rich appetite. The high-fibre foods like oats, nuts, and seeds slow down the emptying of your stomach and increase digestion time, which can help you feel fuller for longer. Homemade granola bars can be served as a snack at any time of the day.
2. Good Source Of Proteins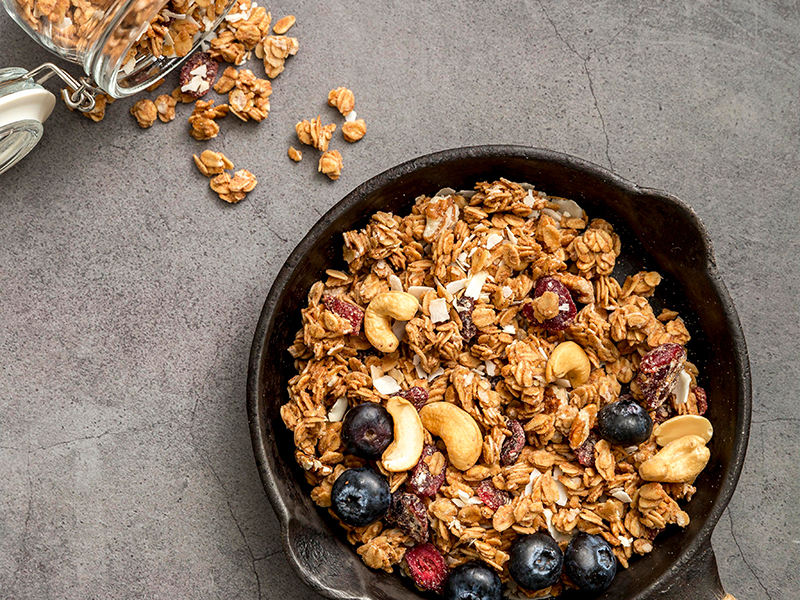 The protein present in granola influences levels of important fullness hormones like ghrelin and GLP-1. High-protein ingredients in granola may include nuts, such as almonds, walnuts, and cashews, and seeds like hemp, pumpkin, and sesame.
3. Improves Overall Body Health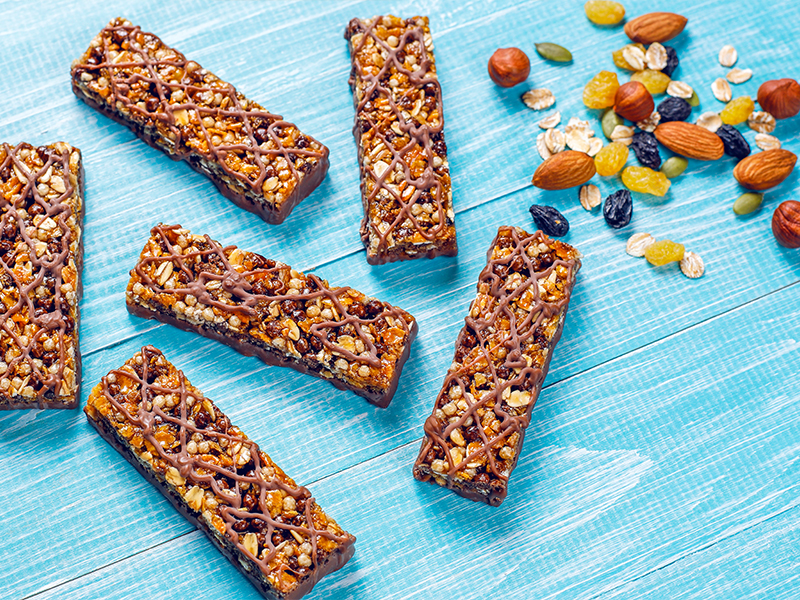 Granola ingredients can aid in multiple health benefits. Healthy granola bars are a great source of nutrients for your body.
High-fibre ingredients like oats and flax seeds have been shown to help reduce blood pressure
Oats are a good source of beta-glucan, a type of fibre that works to reduce total and LDL (bad) cholesterol levels, two risk factors for heart disease
Whole grains, dried fruit, nuts, and seeds may help reduce and control blood sugar levels, particularly in people with obesity or prediabetes
Granola has been found to increase levels of healthy gut bacteria, compared with refined breakfast cereals
Ingredients such as coconut, chia seeds, and Brazil nuts are good sources of inflammation-fighting antioxidants like gallic acid, quercetin, selenium, and vitamin E
10 Homemade Granola Recipes To Start Your Day Right
1. Easy And Basic Homemade Granola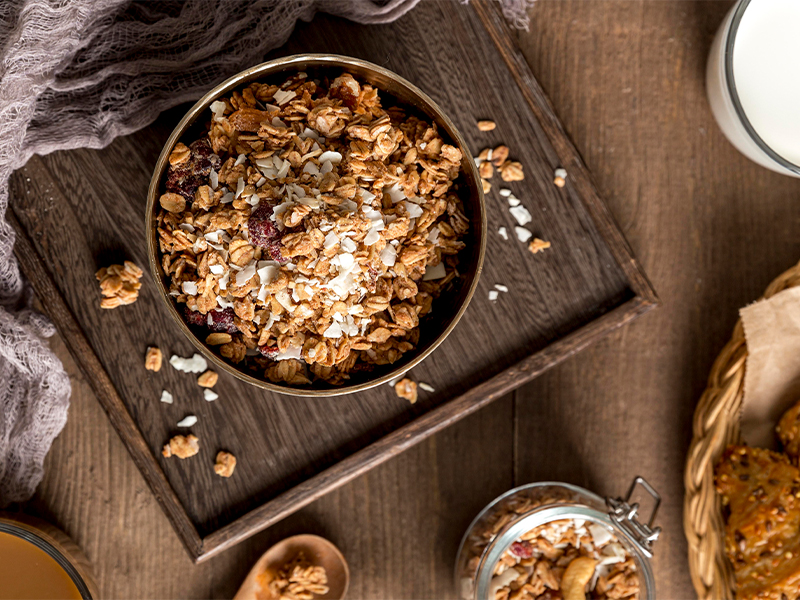 Prep Time: 15 Mins
Cook Time: 25 Mins
Ingredients:
4 cups of rolled oats
1 1/2 cup of raw nuts and/or seeds
3/4 teaspoon of salt
1/2 teaspoon of ground cinnamon (dalchini)
1/2 cup of melted coconut oil or olive oil
1/2 cup of maple syrup or honey
1 teaspoon of vanilla extract
2/3 cup of chopped dried fruit
½ cup chocolate chips or coconut flakes (optional)
Method:
Preheat oven to 350 degrees and line a large, rimmed baking sheet with parchment paper.
In a large mixing bowl, combine the oats, nuts and/or seeds, salt and cinnamon. Stir to blend.
Pour in the oil, maple syrup and/or honey and vanilla. Mix well, until every oat and nut is lightly coated. Pour the granola onto your prepared pan and use a large spoon to spread it in an even layer.
Bake until lightly golden, about 21 to 24 minutes, stirring halfway (for extra-clumpy granola, press the stirred granola down with your spatula to create a more even layer). The granola will further crisp up as it cools.
Let the granola cool completely, undisturbed (at least 45 minutes). Top with the dried fruit (and optional chocolate chips, if using). Break the granola into pieces with your hands if you want to retain big chunks, or stir it around with a spoon if you don't want extra clumpy granola.
Store the granola in an airtight container at room temperature for 1 to 2 weeks, or in a sealed freezer bag in the freezer for up to 3 months. The dried fruit can freeze solid, so let it warm to room temperature for 5 to 10 minutes before serving.
2. Savory Spiced Granola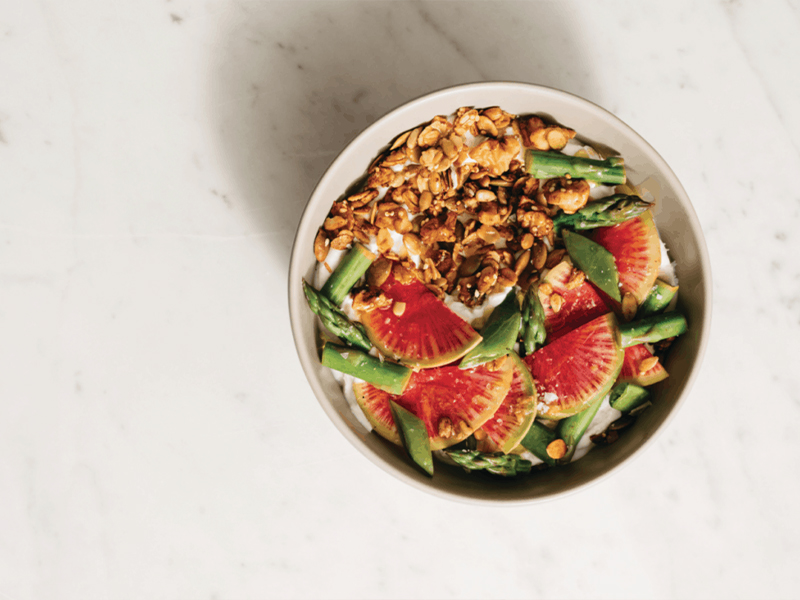 Prep Time: 10 mins
Cook Time: 30 mins
Ingredients:
350gms of oats
100gms of mixed seeds
80gms of peanuts
250gms of canned chickpeas
1 ½ teaspoon of chilli flakes
2 teaspoon of turmeric (haldi)
2 teaspoon ground cumin (jeera)
2 teaspoon crushed coriander seeds (dhaniya)
2 teaspoon of sea salt
80ml of coconut oil
Method
Heat oven to 180C/160C.
Toss together the oats, mixed seeds, peanuts, chickpeas (after draining them and patting them dry) in an oven tray along with the chilli flakes, turmeric, ground cumin, crushed coriander seeds and flaked sea salt.
Stir through the coconut oil.
Bake for 25-30 mins or until lightly golden and crunchy, stirring halfway.
Leave to cool completely before storing. Sprinkle over salads and soups.
3. Cinnamon Berry Granola Bars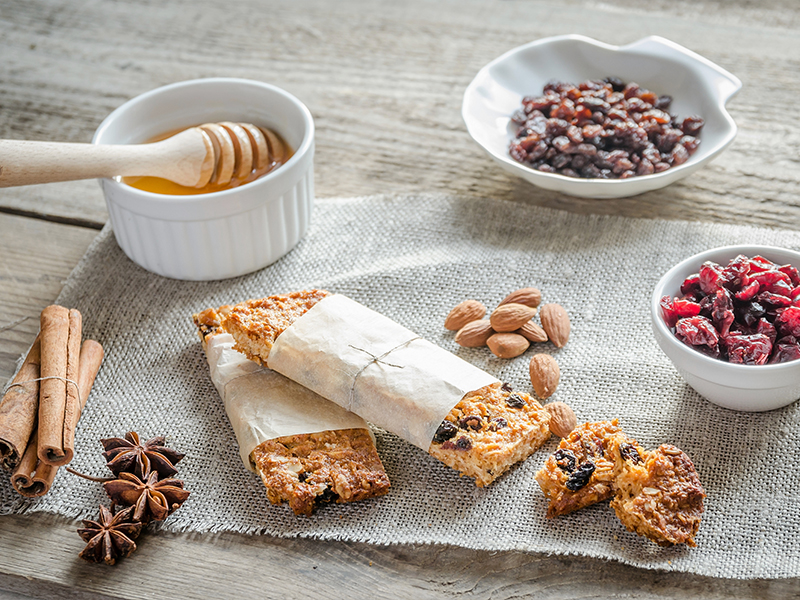 Prep time: 15 mins
Cook time: 10 mins
Ingredients:
100gms of butter
200gms of porridge oats
100gms of sunflower seeds
50gms of sesame seeds
50gms of chopped walnuts
3 tablespoons of honey
100gms of sugar
1 teaspoon of ground cinnamon (dalchini)
100gms of dried cranberries, cherries or blueberries, or a mix
Method:
Heat oven to 160C/fan 140C.
Butter and line the base of an 18 x 25cm tin.
Mix the oats, seeds and nuts in a roasting tin, then put in the oven for 5-10 mins to toast.
Meanwhile, warm the butter, honey and sugar in a pan, stirring until butter is melted.
Add the oat mix, cinnamon and dried fruit, then mix until all the oats are well coated.
Tip into the tin, press down lightly, then bake for 30 mins.
Cool in the tin then cut into 12 bars. Drizzle your granola bars with peanut butter for an extra delicious touch.
Buy creamy peanut butter from the Red Dot Shop here.
4. Granola Smoothie Bowl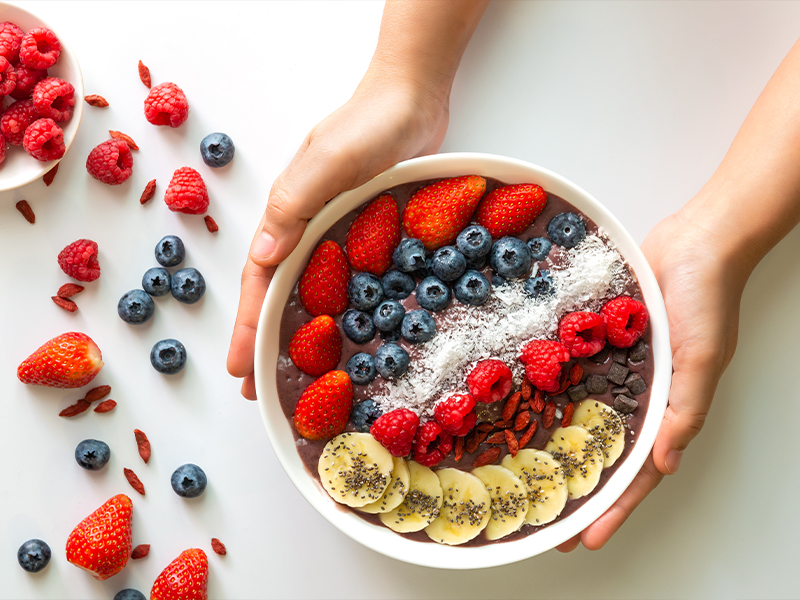 Prep time: 5 mins
Cook time: 0
Ingredients:
1 cup organic frozen mixed berries
1 small ripe banana (sliced and frozen)
2-3 tablespoon of light coconut or almond milk (plus more as needed)
1 tablespoon of shredded unsweetened coconut (desiccated)
1 tablespoon of chia seeds
1 tablespoon ofhemp seeds
Granola
Fruit (optional)
Method:
Add frozen berries and banana to a blender and blend on low until small bits remain.
Add a bit of coconut or almond milk, and blend on low again, scraping down sides as needed, until the mixture reaches a soft-serve consistency.
Scoop into 1-2 serving bowls and top with desired toppings – chia seeds, hemp seeds, and coconut, but strawberries, granola, and a nut or seed butter would be great here, too!
Best when fresh, though leftovers keep in the freezer for 1-2 weeks. Let thaw before enjoying.
For delicious nut butters, check out the Red Dot Shop here.
5. Granola Pancakes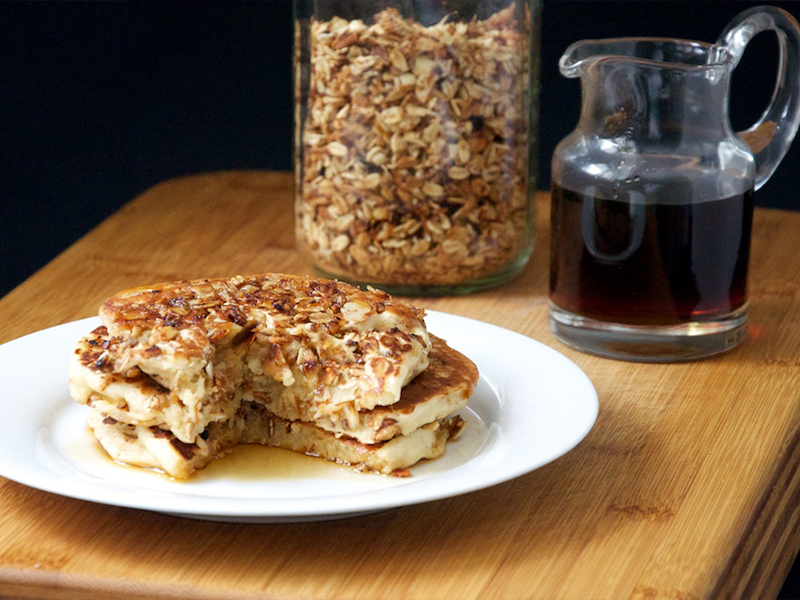 Prep Time: 5 mins
Cook Time: 5 mins
Ingredients:
1/2 cup of milk of your choice
2 large eggs
1 large egg white
1 large banana (the riper the banana, the sweeter the pancake)
2 tablespoons of honey (if wanted)
1 1/2 cups of oats
2 teaspoons of baking powder
1/2 teaspoon of salt
1 teaspoon of vanilla
3/4 cup of dry fruits (chopped)
3/4 cup of unsweetened coconut flakes
Butter (optional)
Fresh fruit for garnish
Method:
In a blender, pour in your milk, eggs, egg white, banana, maple syrup, vanilla, oats, baking powder and salt. Blend until smooth.
Heat skillet over medium heat. Once warmed, spray with non-stick cooking spray or place coconut oil or butter in skillet. Pour pancake batter into skillet in circles.
Sprinkle the top side with cashews, pecans, and coconut. Cook for 2-3 minutes on one side. Turn over and cook for another 1-2 minutes.
Drizzle with real maple syrup and toppings of choice.
6. Granola Parfait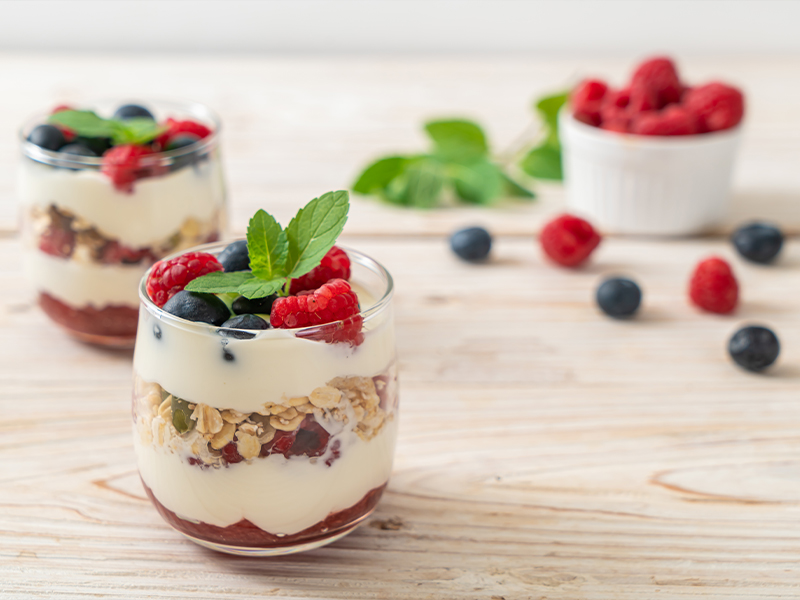 Prep time: 10 mins
Cook time: 0
Ingredients:
¾ cup of sliced strawberries
¾ cup of blueberries
1 container of flavoured yoghurt (preferably vanilla)
½ banana, sliced
⅓ cup granola
Method:
Layer 1/4 cup strawberries, 1/4 cup blueberries, 1/3 container yoghurt, 1/3 tablespoon wheat germ, 1/3 of the sliced banana, and about 2 tablespoons of granola in a large bowl.
Continue to build the parfait, repeating the layers until all of the ingredients are used completely.
Top with fruit preserve.
Shop for rich mulberry fruit preserve from the Red Dot Shop here.
7. Chocolate Granola Bars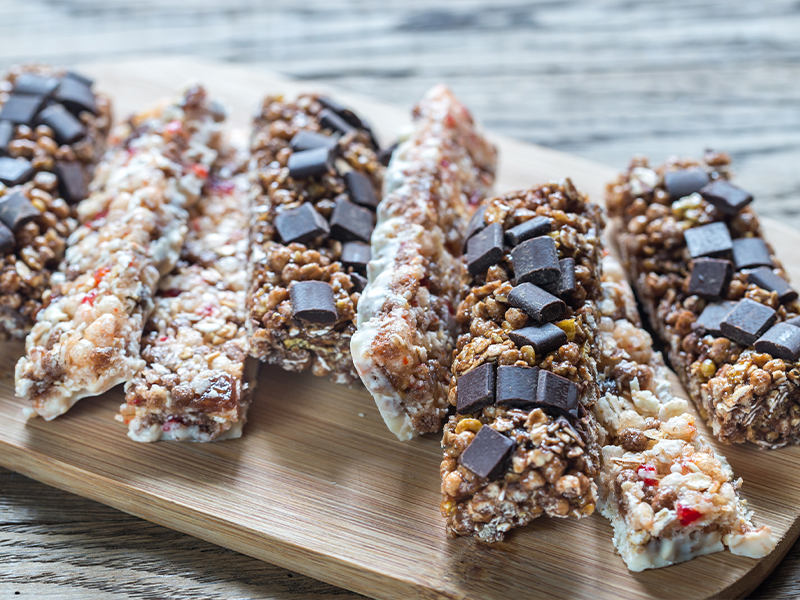 Prep time: 20 mins
Cook time: 25 Mins
Ingredients:
2 cups of oats
1 cup of chopped almonds
1/2 cup of dark cocoa powder
1/2 cup of almond flour
3/4 cup of shredded coconut
1 cup of chocolate chips
1/2 cup of coconut oil
1/4 cup of brown sugar
1/4 cup of honey
1/4 teaspoon of salt
1/2 teaspoon of vanilla extract
Method:
Preheat the oven to 350 degrees F. Line a 9X13-inch pan with parchment paper. Set aside.
In a medium bowl, stir together the oats, almonds, cocoa, almond flour, and coconut.
In a small bowl or liquid measuring cup, whisk together the coconut oil, brown sugar, honey, salt and vanilla. It's ok if it separates a bit.
Stir the syrup mixture into the dry ingredients until evenly combined. Add the chocolate chips and toss them together.
Press the mixture lightly into the prepared pan until it is in an even layer. The harder you press, the less crumbly the bars will be, but don't overdo it. A gentle press with the palms of your hands should do it.
Bake for 20-25 minutes (decrease the time for softer bars or increase for extra crunchiness). The bars will look soft coming out of the oven but will set up and get crispier as they cool.
You can drizzle your granola bars with nut butter for a sweet and salted taste.
Try chocolate bars with caramel sauce. Buy now from the Red Dot Shop here.
Check out this velvety smooth, mouthwatering caramel sauce video.
8. Granola Smoothie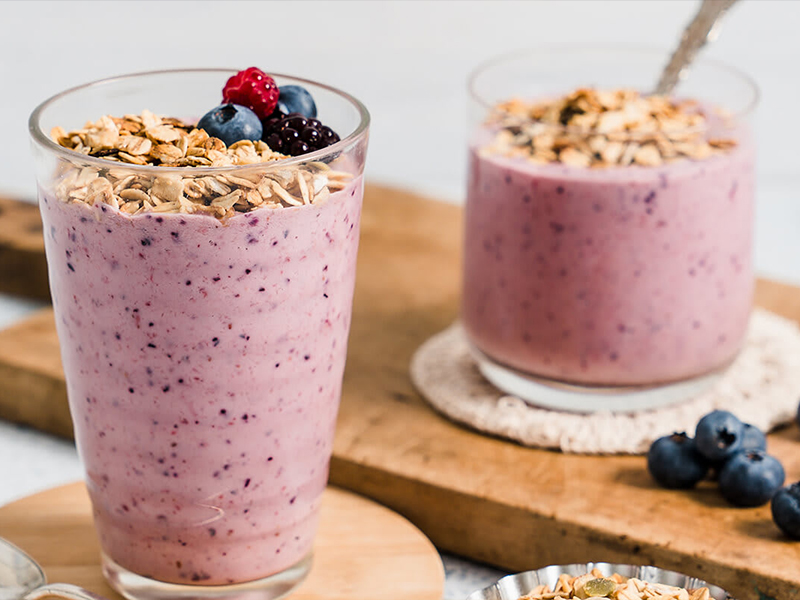 Prep time: 5 mins
Cook time: 0 mins
Ingredients:
2 containers flavoured yoghurt – strawberry, mixed berry or red raspberry
½ cup of milk
½ cup of fresh strawberry
1 banana
A handful of granola oats
Method:
In blender, place yoghurt, milk, strawberry halves and banana slices. Add the granola oats to the blender.
Cover and blend on high speed 10 sec. Scrape sides and blend till smooth.
Pour into 2 glasses. Add a few granola crumbles to each glass.
Serve immediately.
9. No-Bake Granola Bites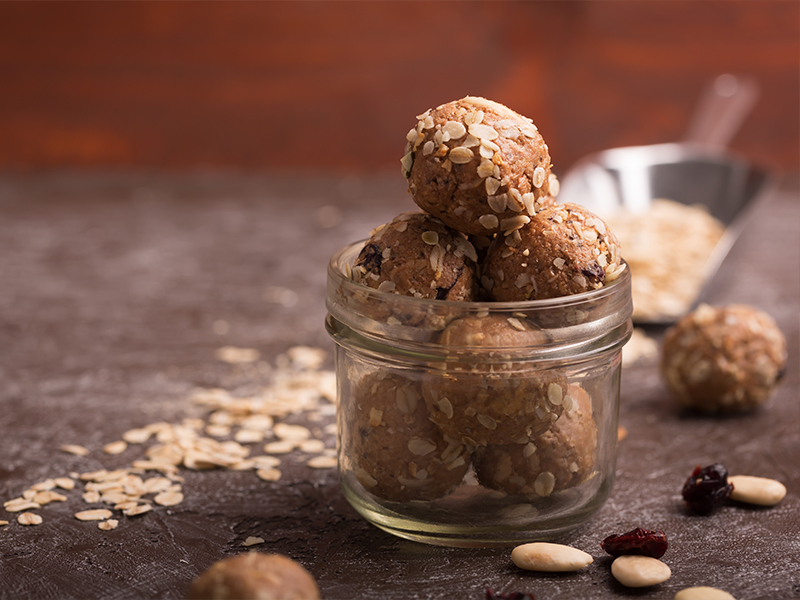 Prep time: 15 mins
Cook time: 0 mins
Ingredients:
2 cups of oats
1 cup of crispy rice cereal
1 cup of creamy peanut butter
1 cup of ground flaxseed
1 cup of mini chocolate chips
2/3 cup of honey
2 teaspoons of pure vanilla extract
2 tablespoons of coconut oil
Method:
Combine all the ingredients in a large bowl, mixing gently so the crispy rice cereal doesn't get crushed. Mix until well-combined.
Using a cookie scoop (or roll small amounts in your hands), drop rounded tablespoonful-sized portions onto a parchment or wax paper-lined cooking sheet.
Refrigerate for 1-2 hours. At this point, you can serve them or combine the chilled granola bites in a large Tupperware-type container or Ziploc bags to freeze or refrigerate. They will stay fresh in the refrigerator for up to a week or for a few months in the freezer.
Buy creamy peanut butter from the Red Dot Shop here.
10. 5 Ingredient Granola Bar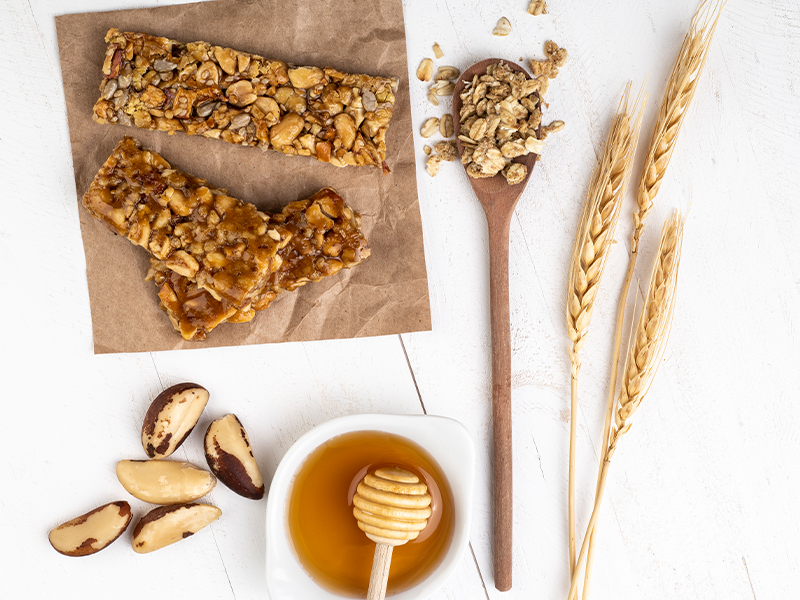 Prep time: 10 mins
Cook time: 5 mins
Ingredients:
1 heaping cup of dates
1/4 cup of honey
1/4 cup of creamy salted natural peanut butter or almond butter
1 cup of roasted unsalted almonds
1 1/2 cups of oats
Chocolate chips, dried fruit, nuts, banana chips, vanilla,
Instructions:
Process dates in a food processor until small bits remain. It should form a dough-like consistency.
Optional step: Toast your oats (and almonds if raw) in a 350-degree F (176 C) oven for 10-15 minutes or until slightly golden brown.
Place oats, almonds and dates in a large mixing bowl – set aside.
Warm the honey and peanut butter in a small saucepan over low heat. Stir and pour over the oat mixture and then mix, breaking up the dates to disperse throughout.
Once thoroughly mixed, transfer to an 8×8-inch baking dish or other small pan lined with plastic wrap or parchment paper so they lift out easily.
Press down firmly until uniformly flattened.
Cover with parchment or plastic wrap, and let firm up in fridge or freezer for 15-20 minutes.
Remove bars from pan and chop into 10 even bars. Store in an airtight container for up to a few days.
Buy creamy peanut butter from the Red Dot Shop here.
Make these granola recipes beforehand for when you are having a late or lazy morning. You can add this homemade muesli or granola to your milk as a healthy cereal. They are healthy, delicious and filling to energize you for the rest of the day! You can use the granola bar recipex as an afternoon or mid-day snack. But remember to store them well. Store granola dishes in an airtight container or freezer for longer shelf life.