A living room is incomplete without a sturdy and stylish sofa set! From family movie nights to get-togethers with friends, this piece of furniture witnesses excessive usage, leading to a lot of wear and tear. Since it's not possible to replace your sofas too often, your best bet is to thoroughly clean them regularly. Now the question is how to clean the sofa at home without engaging the help of professional cleaners?
Crumbs, dust, dirt spots, oil stains, grease, spilt drinks, lint, fur are just a few of the many things that can hamper the beauty of your beloved couch. But what if we tell you it's not that hard to maintain the comfort and beauty of your sofas? All you need is a little time and the right cleaning supplies. The most important thing you need to remember is that there's no one standard method of cleaning sofas. What may work for leather couches may prove to be a disaster for fabric upholstery! Before you rush to gather your cleaning supplies, let's find out what is the right way to clean different types of sofas.
6 Simple Hacks On How To Clean Sofa At Home
1. How To Clean A Polyester Sofa?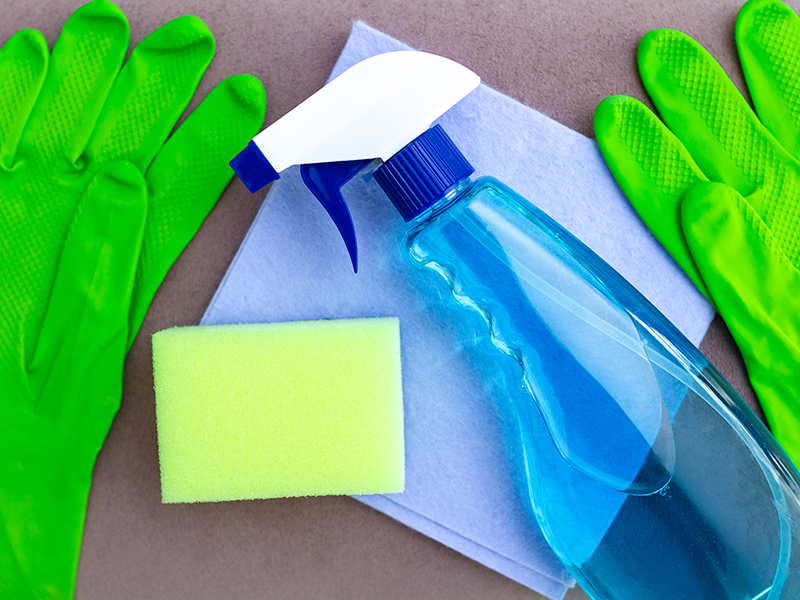 When it comes to cleaning polyester sofas, the trick is to keep it simple. Use water for regular stains and add a little dish soap for tough ones. Using harsh chemical cleaners or deeply penetrating the fabric with water can end up hampering your sofa.
Things You Need:
Method:
Dampen the sponge with water.
Brush the sponge lightly over stains.
For tough stains, dilute some dish soap and rub it over the stain.
Keep brushing over the stains with light strokes. Do not press or squeeze the sponge.
Continue till the stains are gone.
Wipe with a soft and dry cloth and let it dry.
2. How To Clean Fabric Sofa?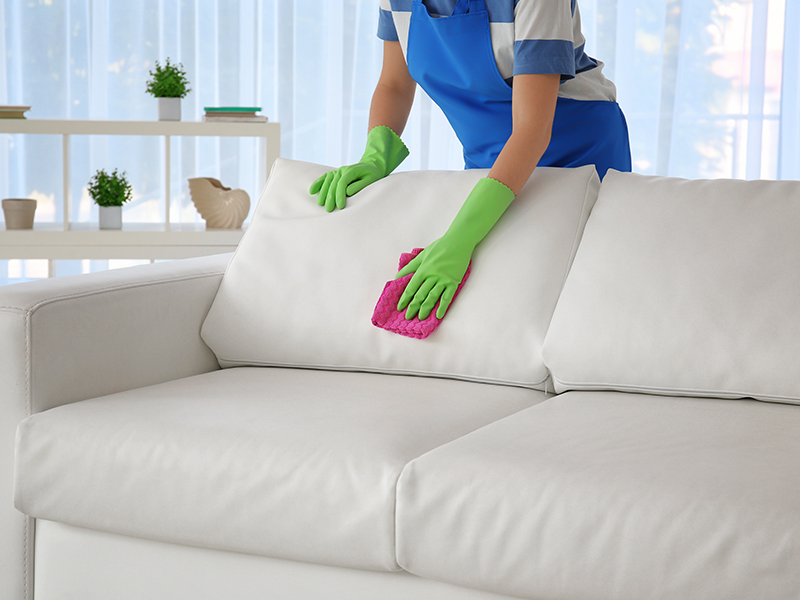 Want to know how to clean a fabric sofa at home? For cleaning fabric sofas (be it rayon or microsuede) You need to start by thoroughly vacuuming the surface. This way the dust will not penetrate deeper as you clean the sofa. Moreover, before you apply the cleaning solution to the fabric, make sure to carry out a spot test on an inconspicuous area. It is also important to use white or light-coloured microfiber cloth while cleaning fabric upholstery as dark-coloured or printed ones may bleed on your sofa fabric. Here is how to clean a fabric sofa without water.
You Will Need:
Butter knife/blunt knife
Upholstery cleaner
Light-coloured microfiber cloth
Vinegar
Method:
If there is any dirt or soil accumulated on the sofa, scrape it out using the blunt knife.
Spray the upholstery cleanser on the sofa. Spray lightly and make sure you are not spraying directly over the fabric.
Use the dry microfiber cloth to gently rub the cleaning solution on the couch. Scrub the upholstery using a circular motion to wipe off the cleaning solution.
Wondering how to clean fabric sofa naturally to get rid of tough stains? Use white vinegar. Just blot the stained area with white vinegar. Continue till the stain disappears.
3. How To Clean Leather Sofa?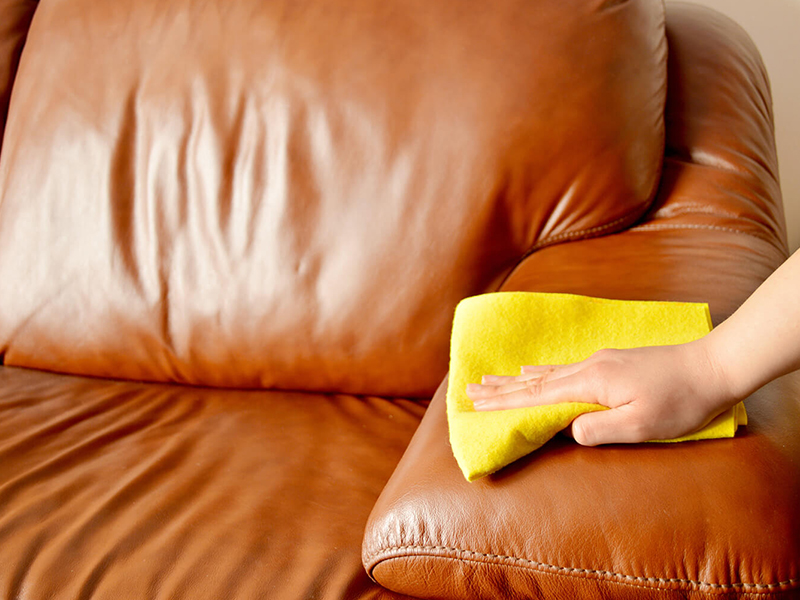 If you are wondering how to clean a leather sofa at home, this is what you need to do! One of the biggest issues with leather furniture is that you need to keep the upholstery absolutely dry. Even a little moisture can lead to mildew formation. It is also important to vacuum leather sofas regularly to avoid instances of dust build-up. Pay special attention to seams, and hard to reach areas where the dust particles may get accumulated.
You Will Need:
Leather sofa cleaner
White vinegar
Microfiber cloth (white or any other light colour)
Hairdryer
Method:
Apply a little amount of leather sofa cleaner on the microfiber cloth. If you don't have a sofa cleaner, use white vinegar instead.
Wipe the sofa using the dampen microfiber cloth.
For tough stains, spray the stained area with the cleaning solution or white vinegar. Let it sit for a while. Use the microfiber cloth to blot the area. You may use a hairdryer to dry the area.
Do not use leather cleaners or solvents too often as this may lead to moisture buildup.
4. How To Clean A Synthetic Leather Sofa?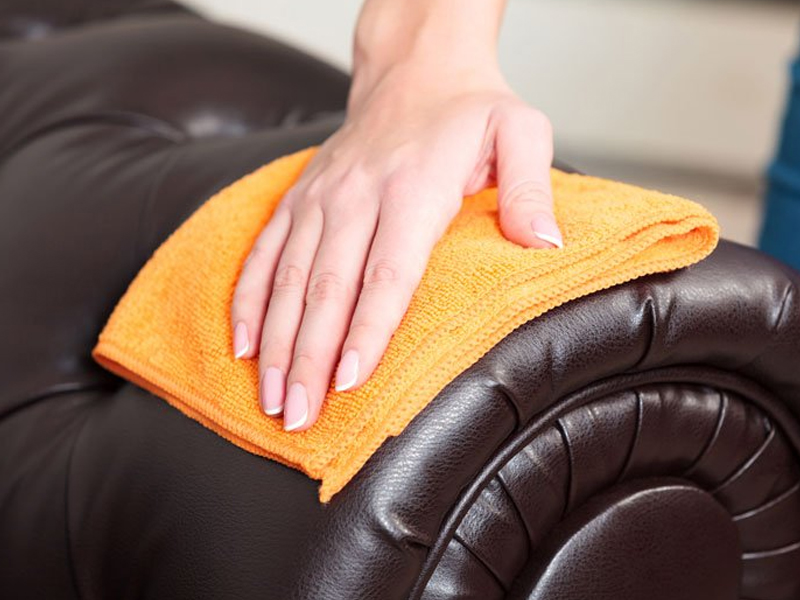 Keeping your synthetic leather upholstery squeaky clean is quite easy. All you have to do is spray multipurpose cleaner and wipe off the dirt from the sofa. In case you do not have a multipurpose cleaner, don't worry! Liquid dish soap will also work just fine! Here is your answer to how to clean the rexine sofa!
You Will Need:
A bowl of water
Liquid dish soap
2 clean wiping cloth
Nail polish remover
Method:
Add a few drops of dish soap to the bowl of water.
Dip the clean cloth in this solution.
Use the damp cloth to wipe and clean the synthetic leather sofa.
Now dampen the other cleaning cloth with plain water and use it to wipe down the sofa. Let it dry.
If you are wondering how to clean sofa cushions with tough stains, a nail polish remover can help! Simply rub the stained area with nail polish remover but sure you don't scrub too hard. Continue till the stain disappears.
5. How To Clean Suede Sofa?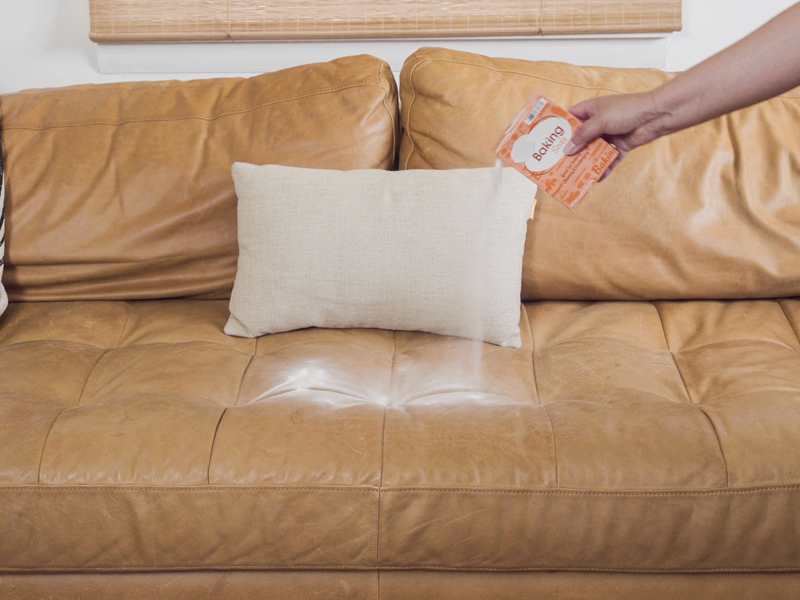 Here is how to clean a sofa with suede upholstery. Suede couches definitely add to the charm of your room but this beauty comes with a price! These are hard to clean and need special care. Regular vacuum cleaning is a must when it comes to suede upholstery.
You Will Need:
Method:
Vacuum your suede couch regularly to keep it clean. Pay special attention to hard to reach areas.
Use vinegar for treating spots and stains.
For tough grease stains, place some baking soda on the stain. Let it stay for a few hours then brush away the baking soda.
6. How To Clean A Velvet Sofa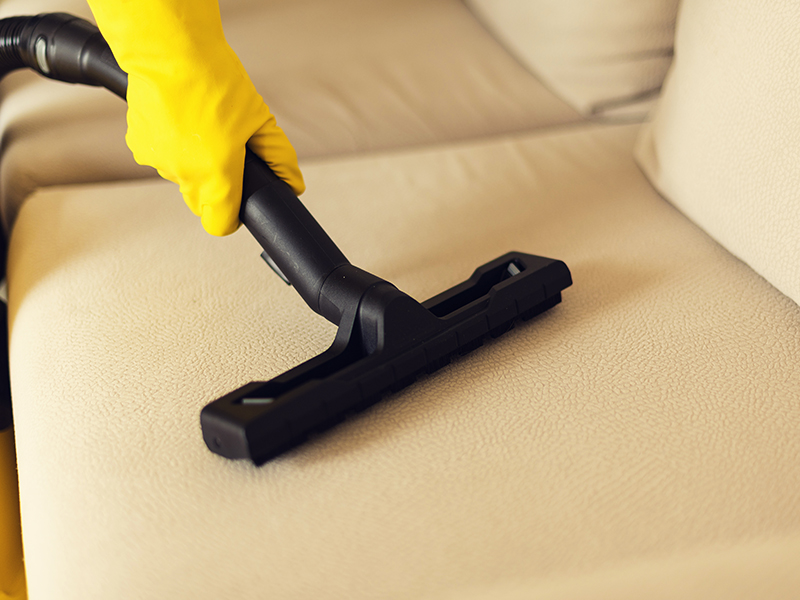 The luxurious look of your velvet sofa might be the highlight of your room but maintaining this piece of furniture is quite a task! Always stay alert about liquid spills. These need to be taken care of immediately by blotting the area until it's dry. You may also want to place your velvet couch away from direct sunlight to keep it from fading. Fluff the fabric frequently and use a handheld steamer (or steam setting on an iron!) to get rid of crease marks and compresses.
You Will Need:
Soft-bristle brush
Vacuum cleaner
Liquid soap
Lukewarm water
Microfiber cloth
Method:
Using a soft-bristle brush or clothing brush, gently brush the sofa surface with long, even strokes. Cover each section multiple times to knock up dirt and dust.
Use a soft brush attachment to vacuum the sofa for deep cleaning.
For dried stains, use soap and water.
Add a few drops of dish soap to a bowl of lukewarm water and mix.
Dip a microfiber cloth in this solution, wring out excess water and use it to rub the stained area using gentle strokes.
Let the damp area air dry.
Gently scrub the area with a soft-bristled brush to restore its plushy look.
Additional Tips For Cleaning Sofa At Home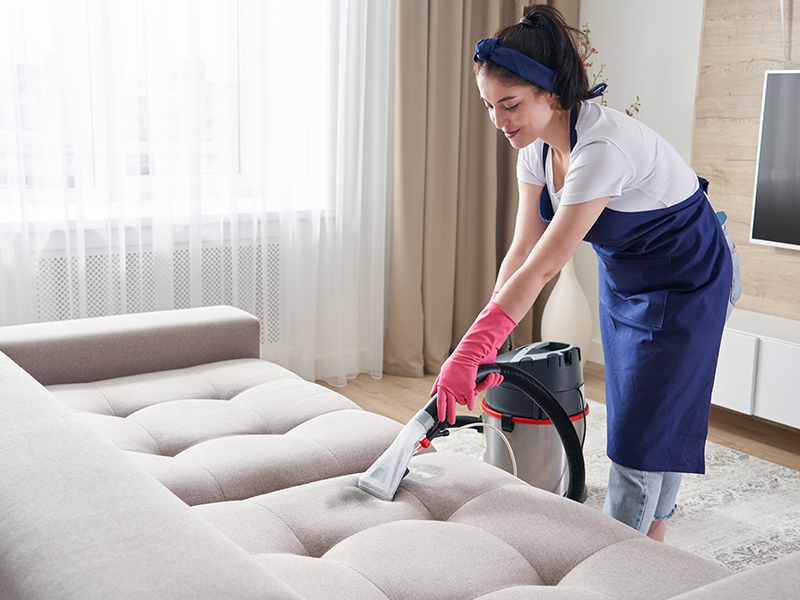 Before you get to giving your sofas a good cleaning, here are a few things you need to know!
1. Know The Fabric
No one method fits all when it comes to cleaning sofas. The cleaning method you use for your sofa depends on its fabric.
2. Read The Tag
Carefully read the manufacturer's instructions and recommendations before cleaning the sofa.
3. Follow The Cleaning Instructions
Before you look for answers to how to wash sofa at home, make sure to go through the cleaning instructions thoroughly
If the tag saw 'W' it means you can use a water-based cleaner to clean the sofa
If the tag says 'S', it means that the upholstery fabric is to be dry-cleaned only. You can use a solvent-based cleaner
'W/S' means that you can use both water-based and solvent-based cleaners
In case the tag says 'X', it means that the sofa can only be cleaned using a vacuum only
4. Act Immediately
Tend to spills or stains as soon as they occur. Waiting will make it harder to clean up the sofa.
5. Use A Brush
A dry brush can be used to get rid of loose parties. Use a stiff bristle brush to get rid of heavy dust or dirt caked on the surface of your sofa. Make sure you brush off or vacuum the dirt after breaking up the spots.
6. Clean The Sofa On Weekly Basis
To get the best results, it is recommended to clean up your upholstery at least once a week. Deep cleaning should be performed once a month.
7. Vacuum The Sofa Regularly
Vacuum your sofa regularly to remove the surface debris and dust. Make to pay special attention to seams, corners, cracks and other inconspicuous areas.
8. Use A Lint Remover To Get Rid Of Fur & Hair
In case you have pets at home, keep your sofa fur-free by regularly cleaning it with a lint brush.
9. Use A Homemade Cleaning Solution
Wondering how to remove stains from the sofa? This homemade cleaning solution will help! A combination of white vinegar, baking soda, washing liquid and warm water can be used to get rid of tough stains. If you want to know how to dry clean sofa at home then baking soda is what you are looking for. This ingredient can be used for spills and odours and make your couch look as good as new!
10. Carry Out A Spot Test Before Using Cleaners
Before you spray your couch with a cleaning solution, make sure to carry out a spot test on an inconspicuous area. This is applicable to commercial as well as homemade cleaning solutions.
11. Removing Ink Stain From Sofa
If you are wondering how to remove pen marks from a sofa, this method will help. Dampen a clean cloth with a small amount of rubbing alcohol. Blot the ink stain gently with the damp cloth. Make sure not to press too hard. Continue blotting until the stain is gone. Clean and rinse the area and dry it using a towel.
Cleaning your sofa regularly is important to maintain its beauty and comfort. Make sure you read the manufacturer's instructions clearly before applying any cleaning solution to the upholstery. If the stains refuse to budge even after rigorous spot treatment, it is best to seek the help of professional cleaners!