Imagine this, baarish ka season, garma garam chai and you're relishing the delight in both while sitting in your heavenly balcony. But wait, something's missing in this fantasy. Your balcony is plain and boring, isn't it? Nothing except a sparse sitting chair occupying this beautiful space?
Balconies are often overlooked while putting together your decor ideas, so while your house looks like it has come out of a decor magazine, the balcony remains bare and unattended. But the smallest changes can yield enormous results. We're working on a limited space, therefore you'll need to squeeze out your last drops of creative juices. But let's make this easier for you. Instead of you scrolling Pinterest and taking tons of screenshots and putting together a list, we've brought you 11 cosy and creative balcony decor ideas for your desi balconies.
Whether your balcony is spacious or occupies just a small space, it doesn't matter. With these top-notch decor ideas, you can #BeALittleMore creative and know how to decorate your balcony like a pro. 
11 Balcony Decor Ideas To Give A Cozy Makeover To Your Favourite Spot
1. Add Rustic Elements
Balcony decor and rustic aesthetic go hand in hand, like a match made in heaven. You can absolutely nail this with just the right items in your hand. If your balcony has enough space, installing a wooden pergola can really bring together the space. Place comfy chairs and sofas and throw in bright coloured pillows to liven up the place. Add small pots of greenery along the lining of the balcony. This will make your balcony modern yet keep it in touch with nature.
2. Matching Table & Chairs
If you live in an apartment and have a tiny space to call your balcony, don't be disheartened, you can still amp up the place with innovative balcony decor ideas. Go for some furniture shopping and get a set of chairs and a matching small table that goes with the style of your house. Give the usual plastic chairs a miss and instead zero in on a rustic-themed or cane sofa set. Just having these out there will really piece your small balcony together and give you space to sit and enjoy your hot cuppa. Add fairy lights and wind chimes to make this place even more khubsurat.
3. Change The Flooring
You will not believe in the magic of flooring until you've seen it with your own eyes. One of the easiest balcony decoration ideas on this list, changing your flooring can instantly transform your shabby looking balcony into a chic outer space in minutes. The market is filled with a ridiculous amount of options for floorings that will make your head spin. You can add wooden flooring and chairs made of the same wood to go with the vibe or choose a polished surface and throw in floor rugs to contrast and bring the design to life. Not just that, you can experiment with faux grass flooring to introduce a touch of nature to the decor.
4. Hanging Gardens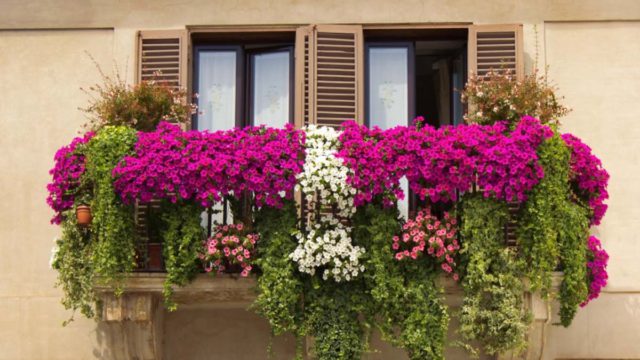 You've seen these images all over your Pinterest page, haven't you? But you can bring your dream balcony ideas from the screen to real life on your balcony too! If you think balcony decoration ideas with plants are only ideal for large spaces, think again. Even if you have a small space, this is something you can easily do. You can have your favourite plants stacked over each other on a simple shelf or plant racks that are readily available in the market, both online and offline.
What's more, you can hang plant pots from the steel ladder that you may be having at home. If you don't want hooks on the wall or your landlord has specifically asked you not to drill hooks into the walls, this is a great idea to have some greenery in your tiny balcony. And you'll be smartly using the square footage and bringing more life to the small space. If you have some space to work around, think about customising a hanging green garden, plant flowers of various kinds and colour your pots in bright colours to make your space fun and feel homey.
5. An Outdoor Reading/Work Space
Are you a booklover? Or do you simply enjoy working outside and are more productive there? Think about turning your balcony space into a reading/ working area. All you'll need is a comfy chair like a high rise sofa or floor cushions and a small table to keep your cup of coffee on. Add in a large rug that spans under your chair and table to make the space even more comfortable. In case you don't want to invest in a rug right away, you can use the extra mattress that may be lying around under your bed. Spread a quirky bedsheet on it, throw in some pop coloured cushions and, voila, you'll have managed to makeover your balcony completely.
6. Add More Green
Your balcony is the ideal space to have your plants, they get fresh air and direct sunlight which is their basic requirement. Balcony decoration ideas with plants are easy and fun to do, you can buy cheap pots and DIY them the way you like to add a personal touch to this place. You can have your family members each do one pot and showcase them on the railing. If you're wondering how to decorate balcony uniquely with more plants, you can grow yourself a herb garden for fresh supplies of dhaniya, tulsi and lavender. Ah! Imagine waking up and taking a deep breath in this space. Kya khushbu hogi.
7. Add Partitions & Curtains
While your balcony connects you to the outer world, it also lets the outer world into your personal space. If you're someone who enjoys privacy and wants some semblance of it in your balcony as well, this is for you. You can put a sturdy and beautiful partition wall to completely seal away the prying eyes of your padosis or hang light canopies and sheer curtains so that you can choose when to block or keep the space open.
8. Balcony Wall Decor
If your balcony comes with a large bare wall, you've hit the jackpot. This entire wall can be your blank canvas so you're free to start from scratch and create magic with your hands. Paint it a new colour or hand draw stylist designs. Even if they're immature, this place is yours and if you like it, keep it! You can even hang colourful paintings or interesting quotes to enhance the overall look of it. There's no limit to balcony wall decoration ideas if you're up for some work!
9. Add Magic Of Lights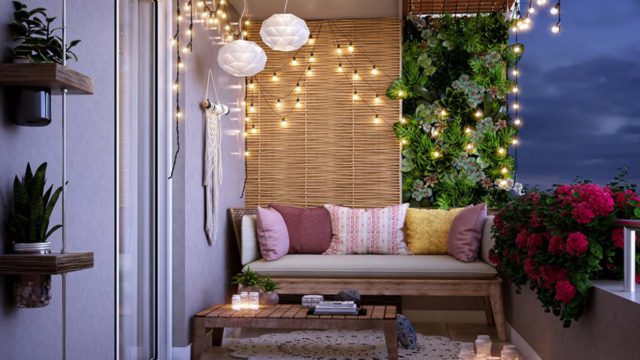 Love to sit on your balcony at night and enjoy the quiet? There are tons of balcony lighting ideas that you can recreate at your leisure. We've already mentioned fairy lights, but you can also string together globe lights instead of the boring ones. You can DIY hanging shades for light bulbs and brighten up the place. This balcony makeover is affordable and easy to do.
10. Sofas For More Seating
Does your family like to gather around on the balcony everyday? Do you have drag chairs from every room to fit in every person? If that's the case you should definitely think about lounging sofas. There are so many balcony seating ideas but having a large comfy sofa that can seat all the members together tops the list.
11. Swings To Add Swag
We all have swings in our dream balcony ideas, don't we? With thandi hawa flowing in your hair and the comfort of cushions making you feel right at home. There are so many options to choose from once you step into the market. You will definitely find something that falls into your budget and comfort. Couldn't have been a better end to this majestic list.
In this list we covered balcony lighting ideas, small balcony decor ideas and balcony seating ideas all at once. With these super chic and easy balcony decoration ideas, you can now have your dream balcony makeover. So, how do you plan to style your balcony?
Open up like never before and participate in conversations about beauty, entrepreneurship, mental health, menstrual & sexual health, and more. Desi women, join our community NOW!