How do you remember Mandira Bedi? From her debut television serial 'Shanti' or as the girl next door in DDLJ? Or maybe it is through those glamorous and witty IPL commentaries. But if you have been following social media, you would probably remember her from the viral video of this bharatiya naari doing push-ups in a saree. She's the one who makes 48 look like 25 by breaking all the stereotypes while lending credence to the adage "age is just a number".
Actress Mandira Bedi is a stunner in every sense of the word. A wife, a mother of 2, an entrepreneur, a fitness enthusiast and an extremely gorgeous woman with flawlessly styled attires that gives many young girls, some serious fashion goals.
She recently made her debut as an author of the book 'Happy for No Reason' and through her book, Mandira talks about her experiences in parenting, keeping fit and striking a balance between work and home.
She says, "It's a balance that any working mother has to maintain. There is no formula, not just one specific way. Every week you have to figure out a new formula of how can you juggle your family and work life. So, juggle is a struggle for every mother but you need to find your formula."
Over the years, we've been impressed with Mandira's fitness and how she has managed to keep herself healthy and her body toned. More than anything, we appreciate how her workouts are simple yet effective. From squats to sprinting, the lady can work out just about anywhere! Mandira has become a fitness icon not just for the young but also the elderly motivating everyone to be their best selves.
On 15th April, which is her birthday, The Channel 46 takes a look at her journey towards becoming a fitness icon and applauds her strength, hard work and determination that's inspirational for all Indian women.
5 Posts From Mandira Bedi's Feed That Are Absolute Workout Goals
1. The Bathtub, The Bikini & The Banging Workout!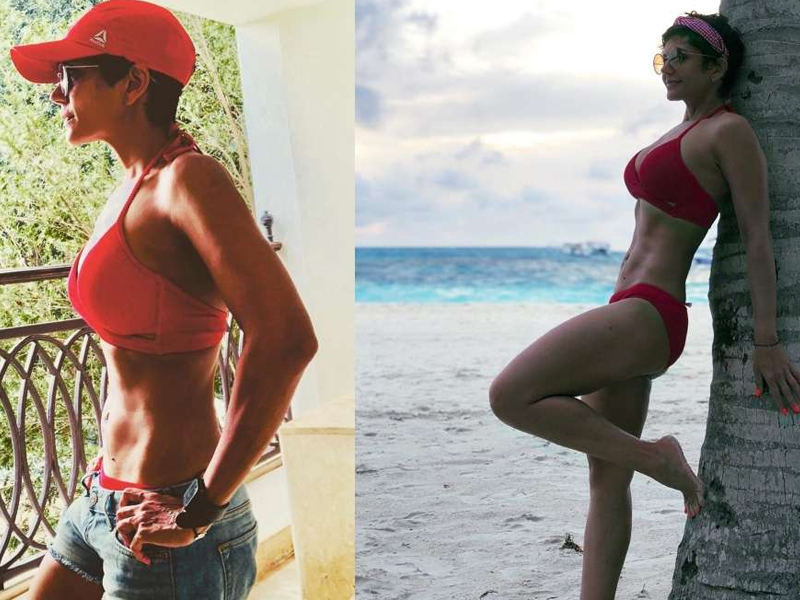 Recently, Mandira Bedi took to Instagram and shared a jaw-dropping workout video in a bikini near the bathtub. She is rocking her fit and fab body. She regularly workout and flaunts her washboard abs to motivate all her viewers. The video has a nice mix of lunge kicks, glute bridges, tricep dips and a decent sweaty calorie burn!
2. When She Did 1000 Squats!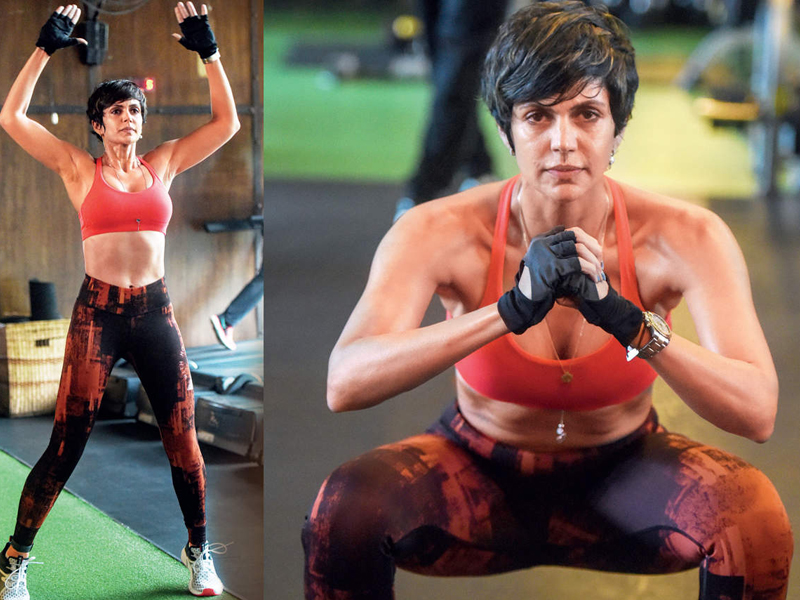 Most of us might struggle to even do a 50 but Mandira pushes herself and sets challenges where she's doing at least 1000 squats in a day! Only a person who has been working out regularly can pull this off and clearly, Mandira is all about regularity when it comes to keeping herself fit.
3. No Break Sundays!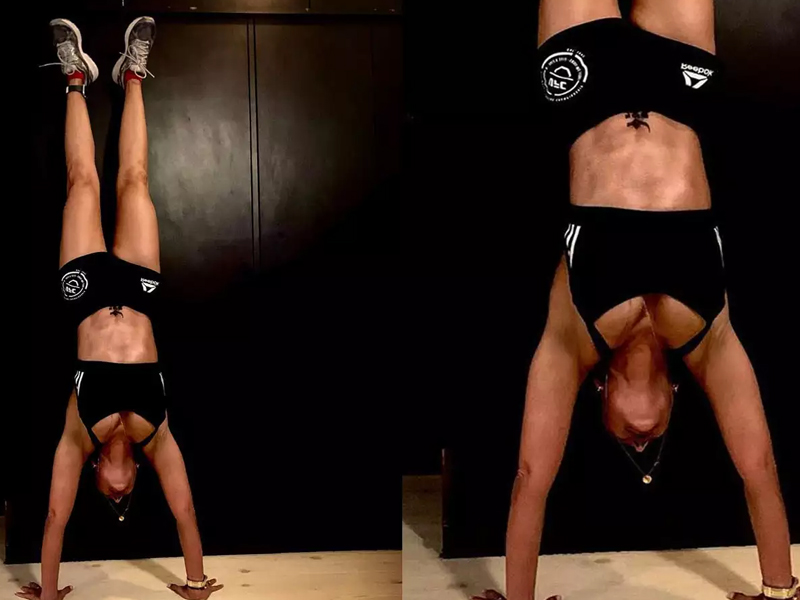 For Mandira, there are no breaks even on Sundays. She shared this video of herself, revealing to her fans that she can finally call her Sunday zabardast after sharing a video of her doing 50 mins of wind sprints and inversion poses.
4. Mommy-Son Workouts!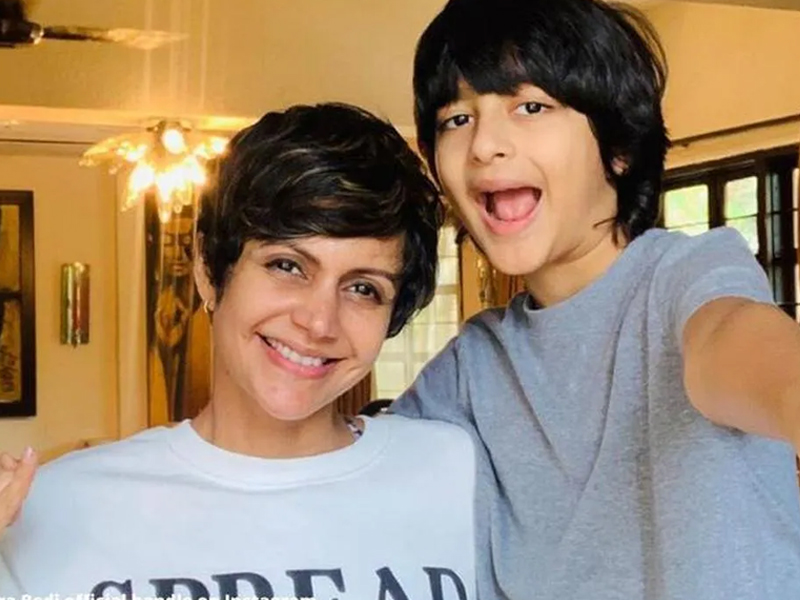 Mommy Mandira doesn't even let her kiddos rest! It is so important for children to realize the value of physical exercise at a young age and here, you can see in the video, Mandira working out with her son Vir who makes for quite a cooperative workout buddy. We're sure this would be the custom with their new family member as well.
5. 60 Minutes Of Pure Workout!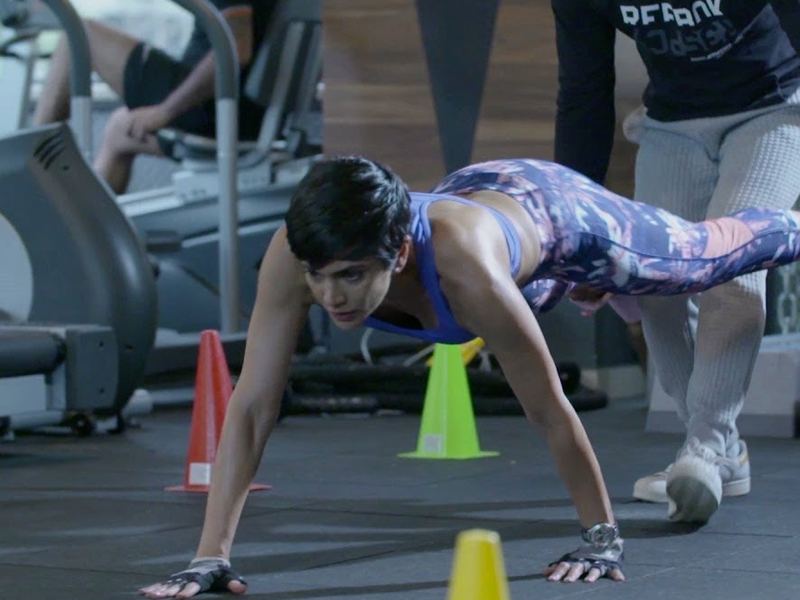 Mandira Bedi often shares workout videos for her fans and followers apart from posts filled with positivity and hope. Mandira broke the internet with her 60 minutes non-stop vigorous workout video from her hotelroom, where she can be seen doing squats, jumping jacks, reverse curls, planks and superman, the entire routine 4 times, that too without any breaks.
As a woman, you tend to face several stereotypes and are looked at differently, but Mandira fought against all these stereotypes and emerged as a boss lady with the message to every married woman to believe in herself and her capabilities, rather than focusing on societal beliefs and norms.
How this gorgeous 48-year-old maintain the balance between leading a hectic life and taking care of her fabulous body is straight-up inspiring. While it might appear as if she has a magic wand, the fact is that this iron woman puts in truckloads of hard work to keep herself in shape and maintain all aspects of her life with grace. Thank you, Mandira Bedi, for setting high bars and inspiring all of us out here to go past it.