Raksha Bandhan is all about family get-togethers, meeting up cousins, bua, maasi and tauji after a long time, relishing seasonal delicacies and exchanging gifts! Here's your chance to shop some truly unique rakhis for your brothers and memorable gifts for all your loved ones.
Red Dot Shop has partnered with beloved brands for its one-stop Rakhi pop-up store which features a curated selection of the latest festive products & hampers for Raksha Bandhan. There's plenty to choose from, for the options are all stunning.
From handcrafted colourful rakhis, floral rakhi lumbas, clay craft rakhis and organic seed rakhis to special gift hampers, artistic pottery gifts and striking gift trunks, don't miss out on this one-stop-shop for all your Rakhi gifting needs.
The Red Dot Shop Rakhi Pop Up Store is live till 22nd August.
Rakhi Gifts We're Loving At Red Dot Shop's Festive Pop-Up Store
1. Nirwaana: Artistic Jewellery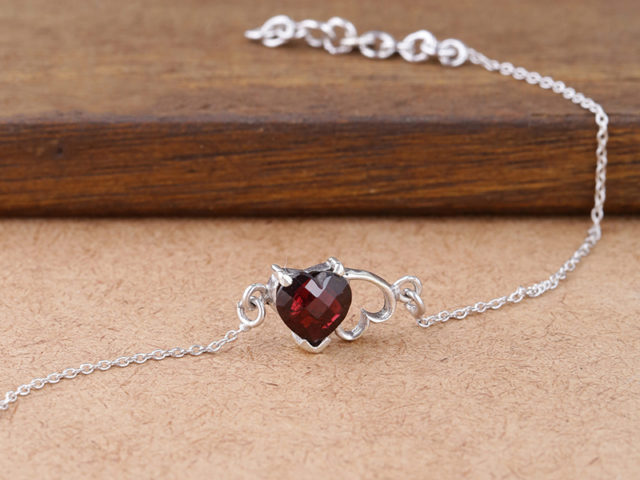 Nirwaana, through its jewellery, collection after collection, is introducing many beautiful Indian crafts, themes, stones and crystals to its customers. Keen on showcasing beautiful 'Kundans', and 'Meenakaris' in front of the world, the brand celebrates skilled artisans using traditional craft and resources.
Take your pick from their Ajna Chakra rakhi with Meenakari rakhi in silver, Anahata Chakra rakhi and lumba set in gold and silver, or Manipura and Muladhara Chakra rakhis with gemstones in silver.
2. Terracotta By Sachii: Handcrafted Clay Goodies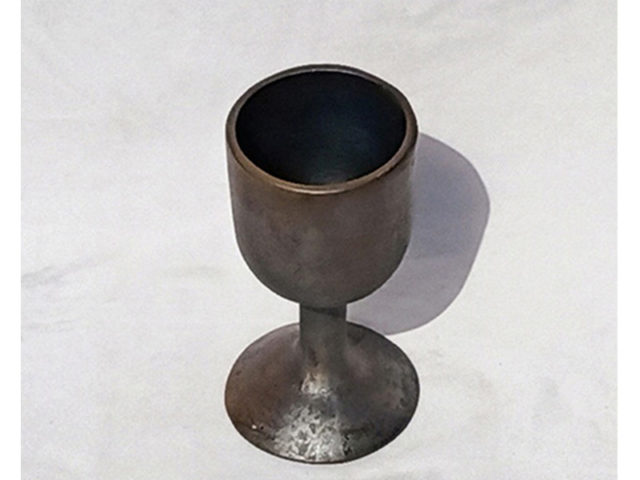 Terracotta By Sachii is a contemporary take on the traditional art of pottery. The brand's natural, humble, sustainable and biodegradable clay products include cookware, serve-ware, home and wall décor, and even architectural accessories like tiles.
At the Rakhi Pop Up Store, you'll be able to get your hands on traditional clay craft rakhi sets, festive gift hampers with Kutch Painted Pottery Craft Tumblers, Longpi Black Pottery Craft Coffee Mugs and Nizamabad Black Pottery Craft rakhi and lumba. There's more! Make gifting easy with the collection of ready gift hampers with exquisite pottery craft tumblers, clay batti and more.
3. Sankalpana Creations: Sustainable Creativity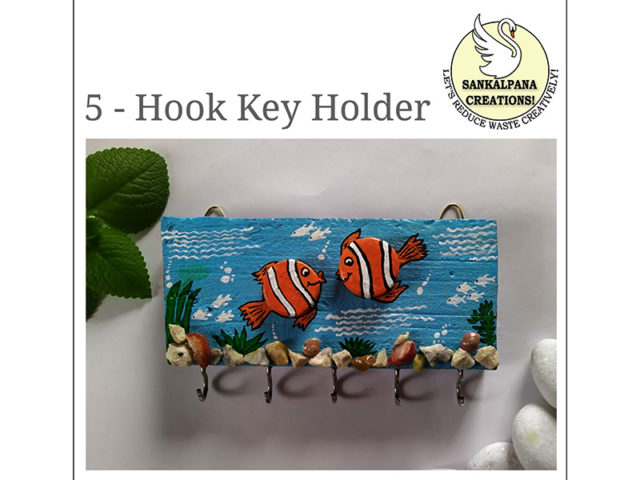 By implementing unique new concepts of turning trash into treasure, Sankalpana Creations produces upcycled and handcrafted products like key holders, fridge magnets, paperweights, showpieces, wall hangings, decorated mirrors and more.
From the pop-up collection of rakhis, buy a gift not just for your brother but for mother nature. Get an Organic Seed Rakhi, or purchase a Set Of Happiness that's aptly named.
4. Narulas' — Feel The Nature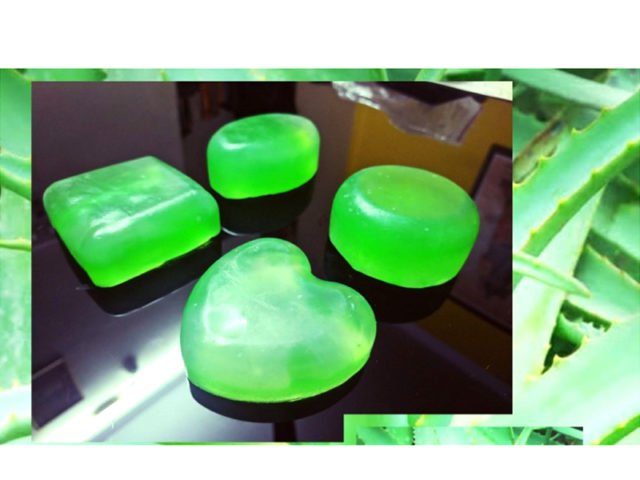 The brand makes herbal handmade soaps made with natural ingredients. From aloe vera, charcoal and lavender to orange and rose, there is a plethora of plain and designer soaps, all with the goddess of essential oils.
At the Red Dot Shop Rakhi pop-up store, shop for their Rakhi Gift Hamper which includes 1 rakhi, 4 handmade soaps, 2 masks and 1 pair of gorgeous earrings in a gift basket. Or, opt for their Rakhi Trunk Box which has 1 rakhi, 2 handmade soaps, 1 scrubber, 1 hand towel and 1 mask in a pretty pink packaging.
5. Sparkling Seeds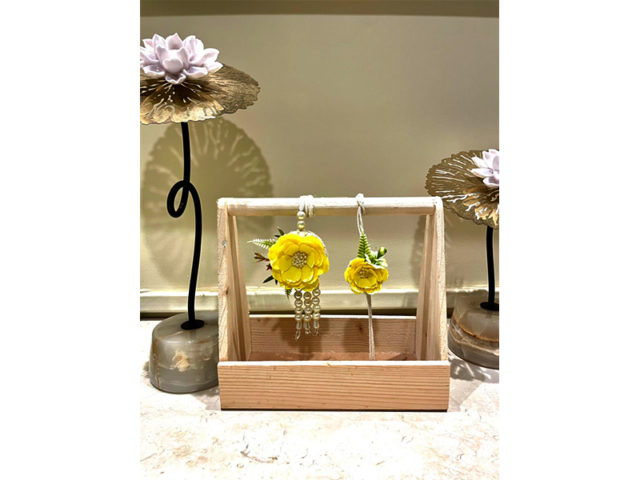 Party planning, personalised hampers and handmade products define the brand Sparkling Seeds, founded by Kolkata-based Prapti Agarwal. With the motto, 'Bringing your dreams to life', the brand brings a rakhi-special curated collection just for you!
At the Red Dot Shop Rakhi pop-up store, choose from an assortment of handcrafted floral rakhis and lumbas in pretty colours and designs with pearls, speaking stones and more!
Curated Rakhi Gift Hampers By Red Dot Shop
Pamper with hampers! Picking out the perfect gift or putting together a gift basket can be daunting and frustrating. Personalised gift boxes and hampers take the stress out of gifting and the Red Dot Shop knows this well! We've curated heartfelt yet convenient options for you to pamper your loved ones with at this Rakhi pop-up store.
1. Native Tongue "Katti Batti" Hamper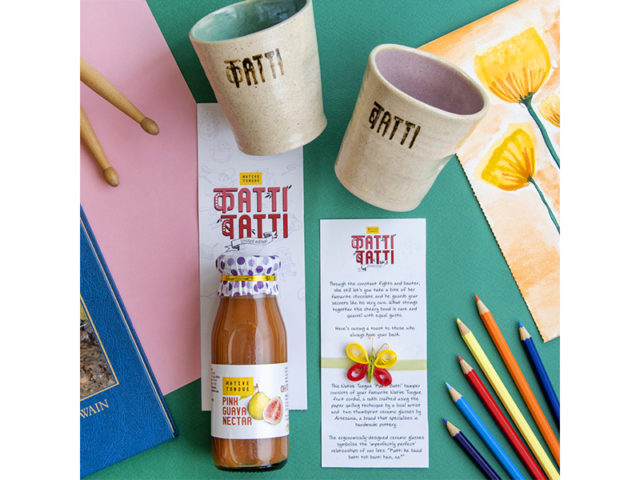 Fresh native Indian produce with a collection that includes nut butters, savoury spreads, dessert sauces, fruit preserves, fruit cordials, and bespoke gift boxes! Native Tongue has brought the hamper of a lifetime to make your Raksha Bandhan a grand and gourmet event. It consists of a choice of your favourite Native Tongue cordial!
What's In It?
Smoked Aam Panna or Pink Guava Nectar or Jamun Kalakhatta
A handmade rakhi crafted using the paper quilling technique
Two thumbprint ceramic glasses by Artesania – The Clay Studio
2. Bellissimo Creazione's Green Tea Rakhi Hamper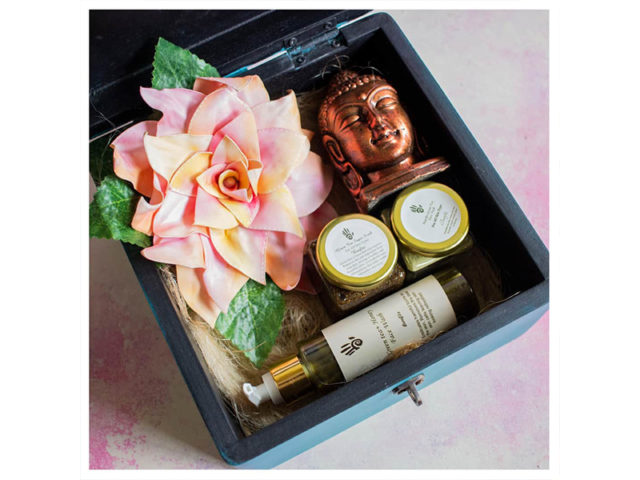 Customised gift hampers without any kind of chemicals or parabens is a dream come true. And skincare tops the list of the top gifts you can give on Raksha Bandhan. This hamper contains the best of face packs, face wash and scrubs that suit all skin types.
What's In It?
A vintage wooden treasure box
Green Tea Sugar Scrub
Green Tea & Honey Face Wash
Matcha Green Tea Face Pack
3. Narulas' Rakhi Gift Hamper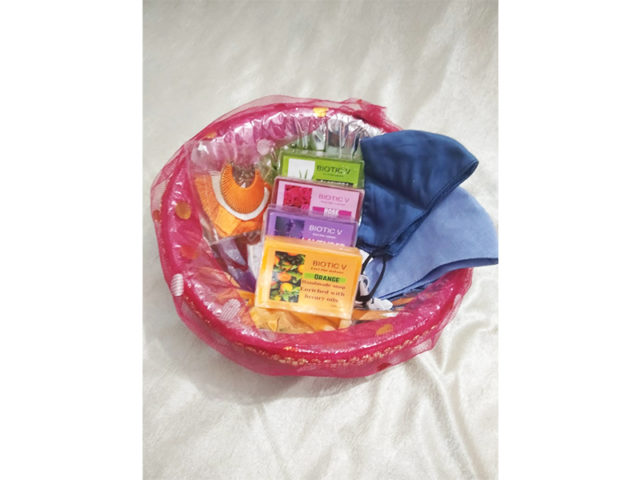 This herbal handmade soaps brand with the Red Dot Shop brings you a curated hamper full of goodies. A wholesome gifting solution, this hamper makes for a unique and out-of-the-box present that's sure to bring a smile to your face!
What's In It?
A beautiful basket
1 rakhi
4 handmade soaps (aloe vera, charcoal, rose and lavender soap)
2 masks
1 pair of Punjabi earrings
4. Narulas' Rakhi Trunk Box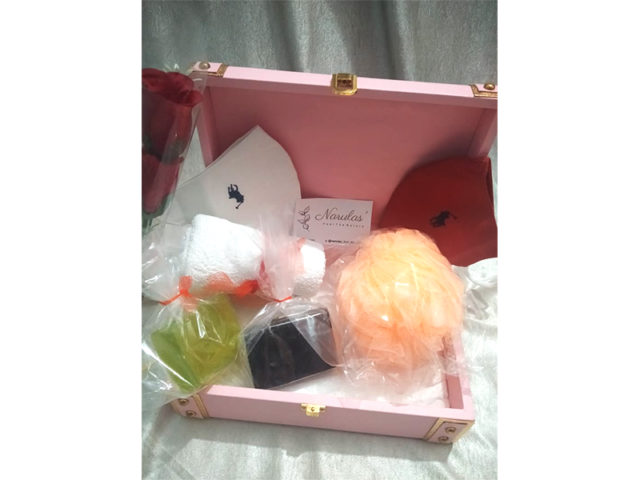 Who can say no to luxurious body care products in pretty packaging! This rakhi-special trunk box gifting solution is a must this festive season. Not only are the products top-notch, but the trunk box makes it alluring.
What's In It?
A beautiful trunk box (pink colour)
1 rakhi
2 handmade soaps (aloe vera and charcoal soap)
1 scrubber
1 hand towel (white colour)
1 mask
And, that's a wrap on a sneak peek of all our partner brands and the merchandise you can expect to find at the Red Dot Shop Rakhi Pop Up Store. The store is live till 22nd August, so be sure to check it out and don't miss out!.