We're all feeling a little stressed lately. Every time you read the newspaper, scroll through your phones, talk to your family, you're constantly reminded of the deadly pandemic. Even if you're safe at home, at some point in time, you worry about the people out there who are putting their lives on the line for the country.
With the pandemic, WFH, economic problems, health concerns and whatnot; stress is at an all-time high. It's a little messy out there, but since you're doing all you can, why put the burden of stress on yourself? No good can come out of you stressing out. As preachy as this may sound, you must stay calm during these trying times. Find ways to cope up with your stress, even if it means taking the beauty route. We asked some desi women to share what they do when they're stressed and you can try these too!
Women Share Stress-Busting Rituals They Trust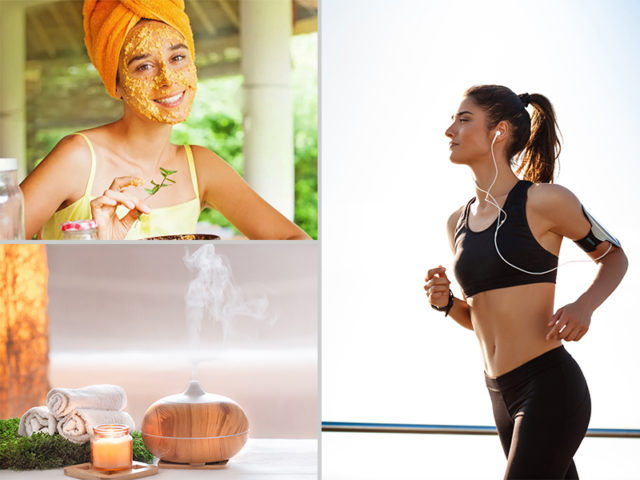 TC46 put out a giveaway contest on Instagram for Mother's Day here asking "What's the one #destressing mantra you've learnt from your mom?" And received a ton of responses! Here are the 10 best tips to decompress that have been passed on from generations, shared by our followers!
"The one #destressing mantra that I learnt from my mom is getting a good oil champi-massage and taking a shower with warm water. Whether it's work stress, a headache, or just a pick-me-up, my mother was all about head massages. A good old, oil champi definitely keeps stress at bay and does wonders for your hair too! " – Aditi*
"Me and my mom's best way of destressing and relaxing is by sipping a cup of hot chai on the terrace garden and pour our hearts out in a blissful conversation. If we make pakoras on top of it then it is a party! Also, Bou's special head massage is to die for. And I can never stop cuddling even if I am 30 and married." – Shivani*
"My mom always taught me how to massage with sesame oil. Later, rest for some time under the sun, take a bath with warm water (not with soap) but with gram flour and turmeric (haldi) because we are both big DIY enthusiasts. I almost do this once or twice a week so that my skin glows and looks flawless. Every Sunday, I apply ubtan (scrub) on my whole body to remove dirt and dead skin. After that apply good quality herbal body lotion and don't forget to stay hydrated, drink 5-6 glasses of water in a day." – Namisha*
"Have super relaxing chamomile or lavender tea. My mom does the same, whenever she is very tired she sits down, has her tea and then goes back to work energised. I also follow it now and it definitely has helped me a lot." – Tanisha*
"The destressing mantra for me is to spend some time alone in nature. Take a walk in a park, or maybe even go hiking, time with nature always helps calm the nerves down. Yoga goes a long way too! Pranayama and meditation are the destressing mantras I learnt from my mom. It helps you declutter your thoughts and bring calmness to your soul." Ruchi*
"The destressing mantra I have learnt from my mom is to listen to music or go for a run. Run as fast as you can with loud music pouring out your phone. This keeps all the bad thoughts away and makes the noise in your head quiet!" – Shreya*
"Slap on a sheet mask! One of my most favourite calming techniques, it feels like an ultimate self-care activity. Sheet masks are more fun when they have bubbles inside of them! Anytime your skin looks dull and tired, put on a sheet mask – your skin will thank you for it." – Priya*
"Start loving yourself before anything else and that will make you a better person. I started working on myself and doing more of what I like. Most importantly, cut out all toxic people from your life! I read more, hang out with friends more often, started learning Spanish and improved my teaching and excelled in my career." – Disha*
"Every day take a time-out and take care of yourself by putting on a face mask and listening to music or watching your favourite series. Have the morning chai with your mother while indulging in a little harmless gossip. Making a routine for yourself helps you feel better!" – Febronia*
"Indulging in a little aromatherapy is one way to beat the stress. We use aroma candles, bath salts (homemade bath bombs) and warm water. Put on some low soothing music, just to kick all stress away! My mom and I use aroma candles and meditation to release the steam, it's really relaxing and makes you forget all the worries in the world!" – Ishita*
Did you know that having positive self-talk can change your outlook on the world? Here is a video of habits that are bound to make you smile!
Being confined to our homes with little or no social interaction has been taking a toll on our mental health with our anxiety levels off the charts. A lockdown that already feels like a zillion-day-long one and the rising number of cases can cause a lot of conflicting feelings. It's completely okay to have those feelings as we're still dealing with a lot of unknowns out there.  Luckily, these simple techniques can help you feel happy and calm! Follow these quick home remedies for vata dosha and manage it easily from home.
Disclaimer: Please note that the responses have been translated and edited for clarity. Names have been changed to respect privacy.
Do you have a story to share or an experience you would like to highlight on TC46? Connect with us on Instagram today!