A quick Google search on stress and you're bound to stumble upon pictures of men and women clutching their hair, ready to pull them out from the roots. Aap toh jante hi honge that stress can feel like this sometimes. But did you know that stress really does lead to hair fall?
It's very common to see your hair fall, in fact an average healthy adult loses about 100 strands of hair everyday. Paired with your natural hair growth, you don't notice much difference. But it is when more hair falls out than it grows that you've got yourself a nasty problem. Do you notice your hair fall pattern when you're more stressed? Quick tips on how to stop hair fall in monsoon season. Know here.
Stress ki vajah se hairfall hona is also very common given today's hectic and rushed lifestyle.
3 Types Of Stress-Induced Hair Fall 
1. Chronic Stress Hair Loss
Stress ke lambe samay rehne se your hormone levels fluctuate, especially cortisol and other stress hormones. These variations in hormone levels can lead to hair fall.
2. Telogen Effluvium
Telogen effluvium is a kind of stress-related hair loss that is more severe and noticeable than the others because it happens rapidly. It is true that you might become so stressed that most of your hair falls out. This usually happens after experiencing a traumatic event. As a survival mechanism, your body diverts its energy away from non-essential tasks such as hair growth and toward more vital functions. Although acchi khabar ye hai ki this is a short-term problem and can be overcome within 6 months.
3. Trichotillomania
People who are constantly worried and anxious may develop a nervous habit of scratching, picking, and plucking their hairs off. Many people pull their hair out at the crown of their heads, resulting in a noticeable bald spot. Because they are constantly pulling on the hair, they are creating "physical stress to the follicles", which can lead to irreversible hair loss. They're breaking hairs and digging up follicles, and the amount of hair loss can vary depending on the severity of your stress and condition.
7 Other Causes Of Hair Fall
Hormonal conditions
Autoimmune diseases
Infections
Medications
Nutrient & Vitamin deficiencies
Diabetes
Genetics
10 Tips To Deal With Stress Hair Fall
Generally speaking, almost all cases of hair fall are curable and can be overcome with some care and time. If you manage your stress well, get some professional help and #BeALitteMore careful, you can easily defeat the problem.
1. Feeding Your Body The Right Food
Biotin and protein-rich foods, such as eggs and milk, can help promote healthy hair (& nail growth). Biotin is also found in bananas. Vitamin nutritional supplements including antioxidants, such as vitamins C and E and omega-3 fatty acids, are also a good option. Before taking a supplement, check with your doctor to make sure it won't interact negatively with any other prescription medications you might be taking.
2. Time To Switch Your Shampoo
Chances are that the shampoo you're using right now contains chemicals that are causing more harm to your hair, causing breaking and loss. To avoid this problem, stay away from sulphates, polyethylene glycol, and parabens. Instead, look for shampoos that have chemicals that help plump each strand of hair, making them appear thicker. Shampoos containing keratin (a kind of protein found in hair) can be beneficial. Biotin, panthenol, and amino acids, among other ingredients, may help your hair look thicker and shinier.
3. Practice Relaxing Methods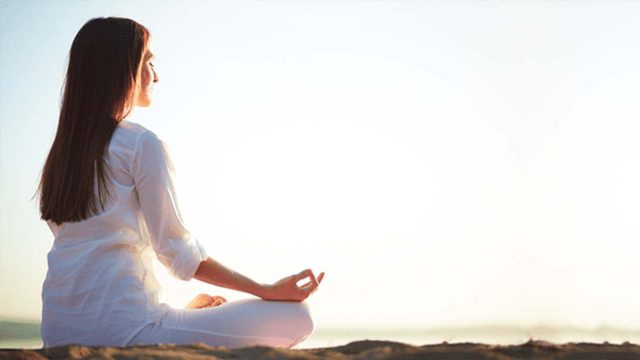 Yoga, meditation, and mindfulness can help you immensely to restore calm and soothe your overworked mind. Even a few minutes of meditation every day have shown to be quite effective in lowering stress levels. It may be able to help you break the stress cycle that is causing your hair loss. Make time for hobbies and other enjoyable pursuits that can enable you to unwind from your life's stresses.
Read: Hair Fall 101 – Save your Strands In Need & Improve Your Hair Growth
4. Talk To A Therapist
It may be very helpful to get professional help from a therapist when big stressor events are causing conditions like telogen effluvium. A counsellor, psychologist, or psychiatrist may be able to help you create better methods to cope with these stressful situations. And, c'mon, break toh banta hai and there's no shame in asking for help when you need it.
5. Get. That. Sleep.
Stress and anxiety and sleepless nights go hand in hand, don't they? This lack of sleep can further cause more problems that will upset your body and its hormone levels. Try to sleep at least 7 to 9 hours each night. Sleeping in a cool, dark room, blocking noise, and keeping devices out of the bedroom are all good ways to develop a habit of sleeping on time and peacefully.
6. #BeALittleMore Kind To Your Hair
Do you always wear your hair in a tight pony tail and keep them tied in a bun all day at home? Think it's time to change things up and be more gentle with your hair. Hair breakage and hair loss can be caused by tugging or pulling on the hair. Be cautious while detangling your hair when it is wet. Because wet hair is more prone to breakage than dry hair. Brush your hair after it has dried and be careful once again. Start at the bottom and work your way up the length of your hair, untangling a little at a time. This will ensure your hair takes least damage.
Read: Janhvi Kapoor's Hair & Skin Care Secrets
7. Say 'No' To Heat & Chemicals
Try to avoid using chemical colours or heat-based treatments like blow drying, curling, or flat ironing on your hair as much as possible. These style treatments can all be damaging to the hair, causing breakage and shedding. When it comes to heat, avoid washing your hair with really hot water. Though hot water may not cause hair loss directly, it can dry the scalp and induce irritation, making hair strands thinner and more susceptible to breakage.
8. Exercise For Your Hair
Regular physical activity can help you cope better with stressful situations and challenges by reducing stress. For the best results, stick to a consistent plan that has a healthy balance of intense and calming down workouts.
Pro Tip: Massage your hair with natural oils gently, focus on our scalp and don't overdo it.
9. Patience Is Your Key
There is no jadu tona at work here, so this process of healing and growth will take time to give you results. Some people will see differences in weeks while others may take months. This is only because we're all made differently and our bodies will also react differently to the same treatments.
10. Consult Your Doctor
If you notice a big chunk of your hair going missing in a short time, it would be good to consult your regular doctor first. You can get in touch with a specialist or a dermatologist to gain further insight and get tailor-made solutions depending on your health issues.
Maintaining a good diet and managing your stress can speed up your regrowth and healing journey. Easier said than done, we know but the more patient and kind you are, the faster you'll see results.
Have you faced hair fall issues in the past? What caused it and how did you deal with it? Share your story and tips in the comments down below!
Open up like never before and participate in conversations about beauty, entrepreneurship, mental health, menstrual & sexual health, and more. Desi women, join our community NOW!