Imagine being absolutely interested in a man, willing to have sex with him and he goes on to say that "he doesn't do condoms"! We all know that safe sex is extremely important! But some men still do not tread carefully and end up giving ridiculous responses that make women lose all their interest. Many women out there are tired of excuses from men who refuse to wear condoms and our followers shared their personal experiences with men like these.
25 Ridiculous Excuses That Men Make For Not Wearing Condoms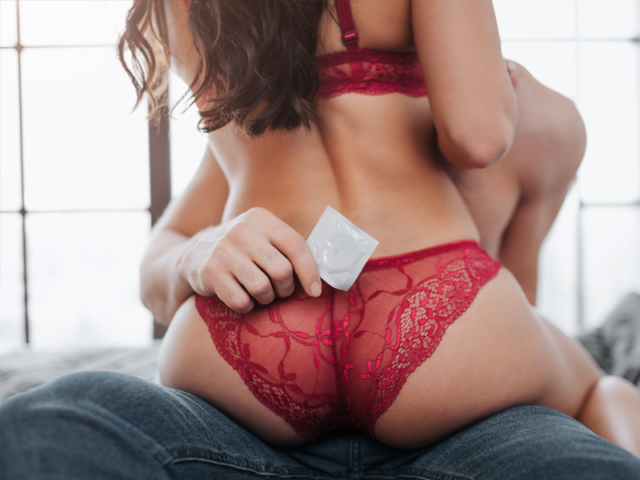 We put out a post on Instagram here asking "What's the stupidest reason a man has given you to not wear a condom?" and here's what our ladies had to say! Read on for some truth bombs!
"I lose my boner every time we try to put the condom on." – Kashvi*
"A few years ago, a friend was dating a guy, and his excuse was that he found out he couldn't have kids. Anyway, her kid started school a few days ago." – Sakshi*
"A guy I met on a dating site insisted that he shouldn't have to wear a condom because I was on the pill. As if sex is a one-sided thing that only women are responsible for!" – Vamika*
"The fact you don't trust me is kind of a turnoff." – Aahana*
"After a 10-minute long argument with me insisting that he wear a condom or get lost, this guy I was dating for 2 months said, "then let's just do anal babe". The sheer stupidity!" – Marcy*
"He insisted that he shouldn't have to wear a condom because I was on the pill. I kicked him out because sex isn't a one-sided thing that only women are responsible for." – Ishani*
"You don't trust me to pull out? I have a lot of experience with good timing." – Tanishka*
"My friend of 3 years with whom I decided to go down the friends with benefits route was appalled and threw a fit when I asked him to wear a condom. He gave me every ridiculous excuse under the sun from him being "clean" to "hygienic" and whatnot! SMH." – Reva*
"Come on, baby. You know I'm allergic to it." – Advika*
"He simply said that he doesn't like the way his penis LOOKS in a condom. I just got dressed and walked away." – Mini*
"It's like taking a shower with a raincoat on." – Gargi*
"Using a condom can never satisfy a partner." – Dhriti*
"It's not necessary; I've been tested, and I'm all negative. And I just wanted to say, sure, show me your reports right now." – Kiyara*
"He said that he's allergic to latex, and I gave him latex-free ones, we broke up that night." – Naina*
"Because I cannot CUM wearing a condom. Like duh, who cares?" – Mishthi*
"I want to feel you completely, no layers in between." – Samayra*
"Why put a condom on when we are gonna eventually take it off? You just start taking pills and we'll be fine" – Eva*
"I didn't wear condoms with my ex-girlfriend. So, why do I have to wear them with you?" – Rizvaana*
"Oh, the condoms don't fit, you know my size babe." – Ginisha*
"I can't feel that hot pleasure and it feels like I get no satisfaction." – Naayra*
"I don't have one and anyway, it kills the fun." – Bhavika*
"One guy went on a narcissistic rant about how great his pull out game was, and that he has had sex with several women with a condom and never had an "issue". The red flag was bright and glaring. I gave him an excuse and just ran! LOL." – Kiara*
"I was told that condoms make sex boring and I said shame that I don't give a damn. Stick it on and stick it in!" – Saanvi*
"Don't worry, women don't get pregnant after having sex once." – Prisha*
"It's not a problem since you're on your periods, women can't get pregnant during that time." – Shanaya*
Ladies, take a hint from these real-life experiences and don't ever let anyone get away with such stupid excuses. Have you ever heard a lame excuse from a guy who didn't want to wear a condom? Let us know in the comments below!
Disclaimer: Please note that the responses have been translated and edited for clarity. Names have been changed to respect privacy.
Do you have a story to share or an experience you would like to highlight on TC46? Connect with us on Instagram today!