Well into 2023 and we still are so conscious about a simple kissing scene in a movie. So much so that we steer clear of watching movies and TV shows with hardly 5-second sex scenes and sexual innuendos because the awkwardness on everyone's body language is so palpable! The usual looking here-there-everywhere, except on the screen or simply changing the channel for something that is considered "family-friendly".
But Lust Stories 2, as is evident from the name, boldly treds on the taboo topic of female sexual pleasure and does a beautiful job at that. Whether you're laughing under your breath because you're with your family or giving out a throaty laugh, from loathing an exploitative character onscreen to sympathising with another, the 4-stories-in-1-movie takes you through a journey of emotions.
Here's revisiting the stories of Lust Stories 2 on Netflix, if you've already watched it last weekend and a spoiler alert for those who are yet to.
Story 1: R. Balki's Made For Each Other
The happily-ever-after story has so much more to say than just being a sweet story of family friends deciding to get their son and daughter married to each other. And the hero here is the girl, Veda's paternal grandmother or Dadi as she fondly calls her. Once when both the families meet over chai and snacks, the superbly progressive Dadi asks Veda whether they've gone on a "test drive" with her soon-to-be husband, Arjun. When the parents of the soon-to-be married couple's parents shares glances of disapproval among themselves, Dadi explains that exploring sexual compatibility before marriage is as normal as going on a test drive before buying a car.
Dadi eggs her on to test her sexual chemistry and experience the burst of sexual energy with Arjun as it is an indispensable ingredient for a long-lasting marriage. She explains in different ways how a marriage will last if the couple is sexually attracted to each other and have a thriving sex life, long after their honeymoon period is over. She goes down memory lane to recollect how she and her late husband had taken several test drives kheto mein and in train coaches before they'd got married. Dadi unabashedly tells her granddaughter how the latter would have found her door latched from inside if her late husband would have been alive. She even points out the unhappy marriage of her son owing to the lack of sexual bliss.
Story 2: Konkona Sensharma's The Mirror
The Mirror starts with Ishita, a middle aged single woman, returning home to a plush home, which speaks volumes about her soaring career graph. As she enters, she bumps into her maid, Seema having sex with her husband in her bedroom. Although she is appalled at this on the first day, her reaction is starkly different when the incident gets repeated a few days later. From then on, she makes excuses at her workplace to leave early, so she can explore her newly-discovered fetish of voyeuristically masturbating while watching them having sex through the strategically placed mirror.
Seema too is no unsexualised woman or abla naari to let this continue to happen unabated. She gives in to her newly-unearthed fetish of having sex with her husband while being watched. At the end, we see both of them making peace with each other a few months after Ishita gets caught by Seema spying on her having sex. Which indicates that they both are comfortable in nurturing a sex life that indulges both their sexual fetishes.
What we get to learn from this story is that it is essential to talk about desires and fetishes aloud than keep them under wraps.
Story 3: Sujoy Ghosh's Sex With Ex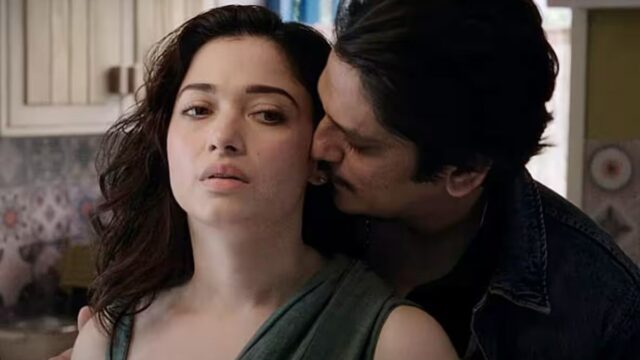 The third story from Lust Stories 2 explores the multiple layers of lust that a successful business, Vijay nurtures. He has a mistress, he has a wife, and then he bumps into his ex-wife, Shanti – a blast from the past. After their steamy sex scene, as he tries to flee on the arrival of his ex's present boyfriend, he discovers… well, that's another story for another time!
Story 4: Amit Ravindernath Sharma's Tilchatta
The last story too explores the theme of deep-rooted lust of Rajasa, who stops at nothing to exploit every woman that crosses his path. His latest is a young maid, Rekha, who has replaced the previous one, who evidently has fled after being exploited by Rajasa, as his wife Ranisa points out.
Ranisa tries hard to send their son to London for higher education because there's no future left for a youngster in the town that they live in. As she had predicted that Rajasa would salivate to sexually exploit the seemingly nubile maid, Ranisa sets her up as bait, so that her plans for a better future for the son comes to fruition. However, in a shocking turn of events, it's the son who becomes a prey of lust this time.
Open up like never before and participate in conversations about beauty, entrepreneurship, mental health, menstrual & sexual health, and more. Desi women, join our community NOW!