Niacinamide is a form of vitamin B3, which acts as a necessary nutritional active ingredient that supports cellular processes to make your skin look healthier, fights free radicals, and protects your skin from environmental damage. It reduces visible dark spots, acne marks, and blemishes. It rejuvenates dry and dull skin and enhances elasticity to make your skin look younger, softer, and smoother. It also controls early signs of ageing like fine lines, wrinkles, and crow's feet.
11 Highly-Effective Budget Niacinamide Serums You Can Add To Cart
1. Minimalist 10% Niacinamide Face Serum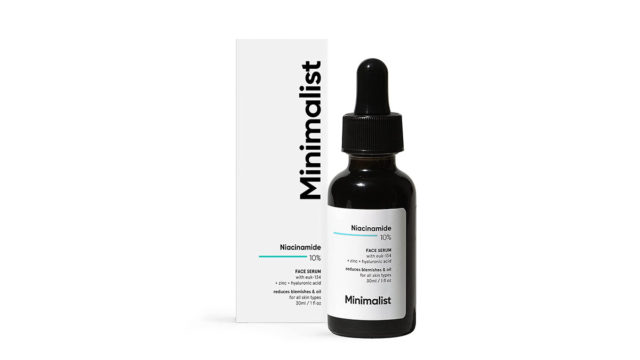 This non-comedogenic formula is enriched with 1% zinc, apart from the 10% niacinamide as the name indicates. It acts by reducing blemishes, and acne marks, and controls excess oil in the skin. It works to enhance the quality and texture of your skin while maintaining a healthy pH balance. The non-greasy serum gets absorbed by the skin immediately after application, and it is suitable for all skin types.
Price: Rs 599
2. Vya Naturals Niacinamide Serum
With 5% niacinamide, this serum bottles the goodness of several other skin care actives like hyaluronic acid, rosemary leaf extracts, and aloe vera. It soothes irritated and burning skin, treats scars, and acne and reduces the size of open pores. This serum is devoid of chemicals and is formulated to control excess oil.
Price: Rs 499
3. Plum 10% Niacinamide Face Serum
The bottle contains 10% niacinamide and is accompanied by a whole lot of other natural ingredients that work wonders for your skin. Japanese fermented rice water is a cleanser that helps in achieving a clear skin tone. It controls dullness and brings a natural glow to your skin. Plant-derived squalane acts as an emollient that is packed with antioxidant properties that prevent inflammation and remove dead skin cells. It controls acne breakouts by unclogging the pores. That's not all! There's also natural caffeine which has antioxidants that enable the skin to fight ageing free radicals, in turn treating skin sagging, wrinkles, and fine lines.
Price: Rs 711
4. The Derma Co 10% Niacinamide Face Serum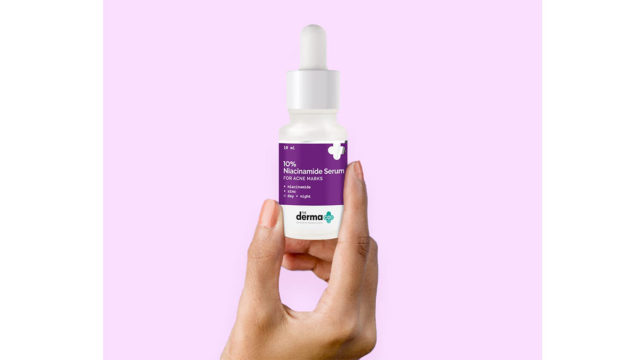 The serum is enriched with 10% niacinamide that regulates the oil production of your skin, thereby, controlling acne. It reduces marks left behind by acne breakouts and leaves your skin looking bright and glowing. It reduces enlarged pores and keeps them clean. The glycerine in this serum nourishes the skin by keeping it hydrated. It tightens the skin, making it look and feel youthful. Free of chemicals, it is suitable for all skin types, but it is particularly helpful for those with acne-prone skin.
Price: Rs 599
5. Mamaearth Skin Correct Face Serum
Niacinamide, along with ginger extracts and zinc PCA, works their magic by helping treat scars and blemishes. The serum brightens and improves your skin's texture, making it soft, plump, and healthy. The lightweight, chemical-proof formula also saves your skin from environmental damage. It is suitable for all skin types.
Price: Rs 599
6. Chemist At Play Pore-Minimizing Face Serum
10% niacinamide and 5% zinc PCA work their way to reduce the size of pores, unclog them, and improve the texture of your skin. The serum prevents breaking out into pimples and other forms of acne, too. Zinc heals and revives the skin and treats the marks and wounds left by acne. The ingredient has a soothing quality on your face. The serum is also blessed with konjac and rice ceramides that hold the skin cells together, leaving you with a healthier skin texture and an even skin tone. The serum is free of chemicals like parabens and artificial fragrances. It is suitable for all skin types, although it is best suited for those with oily skin.
Price: Rs 599
7. Deconstruct Brightening Serum
As the name suggests, the lightweight formula leaves your skin looking radiant and glowing. The 10% niacinamide treats acne marks, blemishes, dark spots, and wounds. It is suitable for all skin types, although it works wonders for dry and dull skin. The 0.35 alpha arbutin has de-tanning properties that protect your skin against the harm caused by the sun's rays. It also works well on freckles and helps you achieve an even skin tone. The serum is free of chemicals and artificial fragrances.
Price: Rs 699
8. Pilgrim Niacinamide Skin Clarifying Serum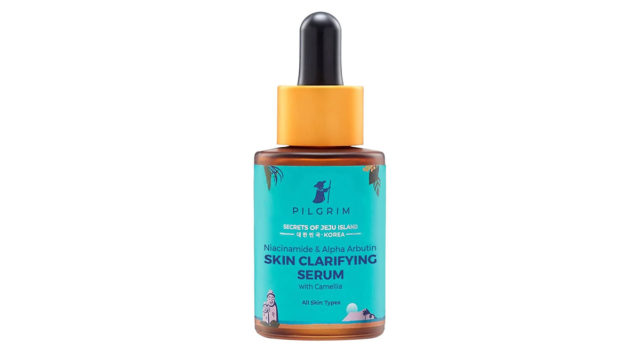 If you are looking for a niacinamide serum that also helps you in controlling sun tan, this is one of the options that you must consider. It is the alpha arbutin that lends the serum its anti-tanning quality. Niacinamide is a blessing for oily and acne-prone skin because it controls the excess production of sebum, keeping your skin looking matte and clean. Another ingredient in the serum is camellia, which is an emollient that keeps your skin moisturised and soft. Devoid of chemicals, this serum is suitable for all skin types.
Price: Rs 650
9. Re'equil Pore Refining 5% Niacinamide Serum
The niacinamide here serves as a potential formula for reducing the visible signs of blemishes and marks—the after-effects of an acne breakout. It also works well when it comes to reducing fine lines and wrinkles. The serum refreshes and revives dull and dry skin, bringing you a radiant glow within a few weeks. It also tightens sagging skin and reduces enlarged pores. The chemical and fragrance-free composition is a good option for those who are allergic or sensitive to artificial scents and fragrances.
Price: Rs 595
10. The Ordinary Niacinamide 10% + Zinc 1% Serum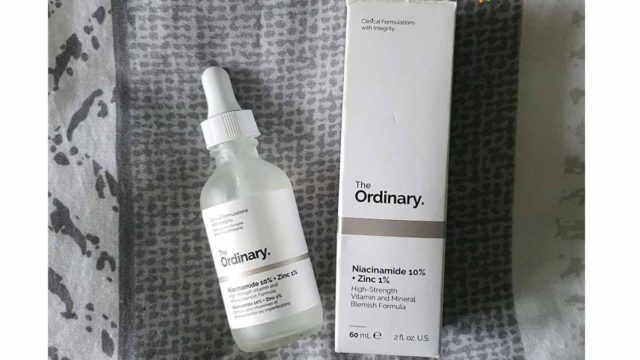 The non-comedogenic composition makes this one of the ideal niacinamide serums that work like a dream to control acne, excess sebum production, redness, and irritation of the skin. Not just that, it also reduces the size of large pores, evens out your skin tone, and makes it appear brighter and healthier. The water-based serum is recommended for all skin types and is a cult favourite among many.
Price: Rs 600
11. Suganda 10% Niacinamide Serum
Along with 10% niacinamide, the serum also contains hyaluronic acid, panthenol, and Centella Asiatica. Centella soothes the skin while panthenol controls overdrying. Niacinamide, on the other hand, controls the balance of sebum production and reduces the size of enlarged pores. The serum reduces the appearance of dark spots, acne marks, and blemishes while enhancing the elasticity of the skin. It is beneficial to unclog pores, and even out the texture and complexion of your skin.
Price: Rs 699
In the end, it's interesting to note how skincare actives have disrupted the beauty market. Women are moving from the simple 3-step CTM (cleanser-toner-moisturiser) routine to 5-8 steps in their skincare regimen. Everything from retinol, vitamin c, and face oils to AHA and BHA exfoliants, hyaluronic acid, and ceramides are becoming part of their weekly beauty must-haves. And niacinamide is definitely one of the more important ones in the skincare actives list! So, grab yours now and try it out!
Open up like never before and participate in conversations about beauty, entrepreneurship, mental health, menstrual & sexual health, and more. Desi women, join our community NOW!